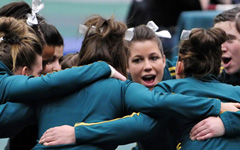 February 13, 2012 by Women's Gymnastics Team
The Tribe just returned from the Sweetheart Invitational in Raleigh this past weekend, a quad meet that included NC State, Penn State, and George Washington.  Posting our second-best score of the season, the competition went really well! The team started the meet off solid earning a season-best on beam (47.575), where Kristin also earned her season-high of a 9.575. On floor Jess led the team with another clean set and Kristin nailed her full-in again! On vault the Tribe posted more individual season-bests with Kristin's 9.8 and Stacia's 9.625. Finishing up on bars, the Tribe was led by Carleigh's solid routine that earned a career high of 9.8 and Larson, Maggie, and Kristin all also contributed to ending the day on a good note.
The Tribe will be back in the gym again this week working hard to clean up every little detail as we prepare for another quad meet this weekend at Maryland! Continually improving each day, we are all excited to keep building as a team throughout this season!
GO TRIBE!
Brandy Stover
February 6, 2012 by Women's Gymnastics Team
After a great performance last week at UNC, early this week junior, Caitlyn Cook Furr, was awarded the ECAC Coaches Choice Award! With this being her first season with Tribe Gymnastics we are extremely proud of Caitlyn for all she has done for the team this year!
This past weekend the Tribe travelled to the University of Pittsburgh, competing in a quad meet against Pitt, George Washington, and Rutgers. The meet went extremely well, and the Tribe ended up finishing with our highest team score of the season so far with a 191.825! As well as a season high team score we also had our season high scores on all four events! The Tribe finished out the meet on bars with an incredible performance hitting six for six routines! The energy level of the team continuously built after each event and we were really able to pull everything together. It was great to end the meet on such a high note! As well as a great team performance, there were many individual standout performances. On vault the Tribe had four career high scores and one season high as well from our senior, Kristin Milardo with a 9.775. Freshmen Maggie Lundeen and Brandy Stover also did a great job on bars and beam! Maggie had the Tribe's highest bar score with a 9.7 and Brandy nailed her beam routine scoring a 9.75! Also Jess Pritchard had a career high on floor with a 9.775. Be sure to check our facebook page to see all of the routines from this weekend!
This week we will be back in the gym for a full week of practice gearing up for our upcoming meet at NC State this Saturday! The team is looking better with each and every practice, and we are looking forward to building on this past meet and improving even more throughout the rest of the season!
GO TRIBE
Stacia Ruse
January 31, 2012 by Women's Gymnastics Team
The Tribe just got back from a dual meet at UNC this past weekend and got our season high of 189.45! We also got our season-high scores on bars and floor. The videos from the meet are already up on our Facebook page, be sure to check them out! Jess Pritchard had an awesome meet with a 38.35 all-around score and earned third place overall. Senior Kristin Milardo also competed a full in on floor for the first time and it was so sick!
Our next competition is at Pitt this weekend. Everyone is back in the gym working hard to go out and dominate on Saturday! As the team is getting more into competition season our routines are looking better and better with each practice. Yay Tribe!
Good Luck this weekend!
GO TRIBE!
Maggie Lundeen
January 20, 2012 by Women's Gymnastics Team
The season has started and Tribe Gymnastics is off to a solid start! Our first competition took place at George Washington University with four other visiting teams: North Carolina, Cornell, Penn, and Temple. The Tribe took fifth place, missing third place by only two tenths of a point.  Be sure to check out William and Mary's Women's Gymnastics Facebook page for videos from the meet! Senior, and Captain, Kristin Milardo led the Tribe, winning third place in the all-around. Kristin has also received the title of ECAC Gymnast of the Week. Great work, Kristin!
The team had a great time during winter break training. We spent a lot of time together in and out of the gym bonding. However, classes are back in session this week, and the Tribe is getting back into a routine schedule and is ready for another successful semester!
Everyone is working extremely hard and cleaning up their routines to fight for those few extra tenths everywhere! We continue to have pressure sets on each event throughout the week to simulate and gear up for our next upcoming meet. This Saturday, the Tribe will be traveling to Maryland to compete against Towson and Alaska Anchorage on Sunday, January 22 at 1:00pm! One more practice to go!
GO TRIBE!
Bree Gawron
January 9, 2012 by Women's Gymnastics Team
'Tis the season, competition season that is! Tribe gymnastics kicked off their winter break training last Monday. There has been tons of great gymnastics, and co-captain Molly Walsh has officially been cleared from her surgery to come back to train, yay! It has been so much fun being back in Williamsburg and bonding together as a team. Everyone has been working so hard, and pushing themselves in being routine ready for season, and I think we can all agree the ice baths have become our new best friends, haha. The practices, overall, have been filled with routines, as we are gearing up for our first meet at GW Sunday January 15th at 1 pm.
Pressure sets began on Thursday, starting with beam, which can be checked out on the William and Mary Facebook page!  Also, the floor squad went to World Class on Friday to train full sets, which helped us gain more experience for our meet season. As we head into week two, five practices to go, we are looking at pressure sets on bars Monday and a meet simulation on Tuesday. The team is getting excited for a busy, yet exciting season to come. I know I couldn't be more excited to put all of our hard work together and show it off. I am also excited for all the freshmen to start their college gymnastics season. Less than one week to go!
Also, Follow us on Twitter @Tribe_WGYM for live results every meet
Lets Go Tribe!
- Jessica Pritchard
December 30, 2011 by Women's Gymnastics Team
With only a few days left of winter break before heading back to Williamsburg, the Tribe is gearing up for what the 2012 season will hold! Everyone has been enjoying time at home with family and friends, getting some much needed rest, and some even getting a little holiday traveling in!  Since the new year is right around the corner, we are really enjoying this downtime before a busy competition season!
The Tribe has been hitting the gym, keeping up with our strength and cardio, while also practicing to perfect the routines we showcased at our Green & Gold Intrasquad. From what I've heard, everyone's training over break has been going really well! In particular, freshman Stacia Ruse has been able to start her progression back into all events over break after a knee injury, and I saw her do some amazing beam sets!
The team will return back to our second home, our gym in W&M Hall, for practice on January 2nd and we couldn't be more ready to go! It will be great to practice with the team again, and even more exciting to see our freshmen get excited to experience their first college meet! I am definitely looking forward to our bus trip to GW with all of them in just a few weeks. Be sure to come to the Lindsey Ferris Invitational on January 15th to support our team!
Let's go TRIBE!
- Allie Marko
December 21, 2011 by Women's Gymnastics Team
So it's the week before Christmas, and finals are finally over and we're all home with our families! While we are all excited for the season, I think everyone was ready for a little break. After almost two weeks of studying, our brains were exhausted, but that didn't keep us out of the gym.  Everyone was practicing as much as they could, between studying and taking those exams, staying in shape for our first meet.  Once we come back to school and train hard for two weeks, we'll be heading to George Washington for the Lindsey Ferris Invitational on January 15.
For now we're all spending time with family and friends and getting into our gyms at home for practice, cardio, and lifting. We're using the time away to relax, because before we know it we'll be back in Williamsburg, and I know we'll all be ready to go!
Happy Holidays to everyone!
Larson Lasek
December 9, 2011 by Women's Gymnastics Team
After a full semester of working out, we finally got to show off our routines and new skills at our Green and Gold Intrasquad Meet, held on Thursday, Dec. 1. Although the Green team walked away with the victory, both teams really demonstrated how hard we've been working out and all the potential this team holds as a whole. Kristin Milardo won vault, floor, and all-around; Caitlyn Cook-Fur won beam, while Allie Marko won bars. There were stellar performances among all though, and I know everyone had so much fun!
However, since the semester is coming to an end, that means it's time for final exams, Yay! We've all been studying and writing papers during our last two weeks at school. Although it's sad to leave everyone, we'll all be heading home soon, where we'll get to spend a nice, relaxing break with our families! We'll be back in the Burg on Monday, Jan. 2 for our first practice of winter break.
I know we're all so excited for the competitive season to finally start and show off all the hard work and time we've been putting in! Go Tribe!
One Tribe, One Family.
Lacy Cummings
December 1, 2011 by Women's Gymnastics Team
As the Tribe returns from Thanksgiving break, we got two great practices in and our focus is now on tonight's Green and Gold intrasquad meet, which we have been gearing up for all semester. Our team is going to be split up into two separate teams to compete against each other with our two captains, Kristin Milardo and Molly Walsh as the leaders of each. We will be judged for the first time this season and are ready to show off what we have. The meet starts at 6 p.m. in our gym in the William and Mary Hall basement.  Please come out and support us!
Also, visit this site to check out the news story done on both the men's and women's teams http://www.wtkr.com/sports/williamandmary/.
Go Tribe!!
Katie Durst
November 21, 2011 by Women's Gymnastics Team
With this semester winding down, we are now just TEN DAYS out from our Green and Gold competition!! We just finished up with our last full week of training before the meet, our last morning kickboxing session, and our final team lift of the semester. We then ended the week with another green vs. gold mock meet.
The teams started well on both floor and vault and then really picked up the momentum and enthusiasm heading into the last two events. Our senior, Kristin, continues to lead the way hitting routine after routine; Marko hit a great bar set finishing with her new half-in half-out dismount; Jess, Larson, and Caitlyn all continued their streak of strong bar pressure sets this year; Katie and Lindsey both hit some impressive yurchenkos; and like Molly said, it is amazing watching our freshmen out there hitting these early pressure sets. Overall, I saw some amazing fights and determination from each and every one of us. The energy in the gym was awesome, and it was great seeing so much improvement from just a week ago. I can't wait to see this carry over into the upcoming season, and especially Green and Gold in just over a week! GO GREEN!!!
Mary continues to post videos from these pressure sets as well as training, so make sure to check out the William and Mary Tribe Women's Gymnastics facebook page!! While you're there, be sure to check out our Stella & Dot holiday fundraiser. Visit www.stelladot.com/ellenbrady to find jewelry and handbags. When checking out, type in Mary Lewis as the hostess, and 50% of the profits will benefit our team!
We took a little break from gymnastics and academics last night to sit down for a nice team dinner at Mary's house. We enjoyed some delicious food, thanks to Tim and Mary, and some quality time together. It was such a nice way to get ready for this last week before break!
I know we all can't wait to head home for Thanksgiving break tomorrow and spend some time with our families and friends, but I will be looking forward to getting back. I am so thankful for all of my Tribe gymnastics family here and for what a great experience this continues to be. Happy Thanksgiving everyone!
Jennifer Ware