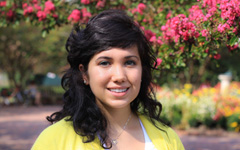 September 13, 2011 by Tarah Romano
I have a confession to make.  My inspiration for this blog came from none other than…Strawberry Shortcake.  Embarrassing?  I'd rather refer to it as channeling my inner child, which seems to make itself evident more often than not.  Whoops.  I'm working on my professionalism this year.  Kind of.
I never expected to have a "light bulb" moment (in the words of Gru from Despicable Me – wow, I really am 5 years old) while watching a children's movie.  Despite the million other thoughts running laps through my mind, I was struck by a few wise words from an animated character.  I am approaching my junior year with a much more positive attitude, but if asked the reason behind my excitement, I wouldn't have been able to pinpoint it until now.  I saw Strawberry Shortcake cruising to "Dream Land" on a hot pink ship with Ginger Snap and Angel Cake, and it hit me:  I'm finally chasing my dreams.  Hesitancy is no more.  You see, Strawberry's ship was about to go down, mayday mayday!  Guess what she did?  She kept her cool.  As I heard Strawberry say to her friends in a pleasantly chipper voice that her ship "just needs a little love," I caught myself smiling and nodding in agreement.  She took a chance flying off to Dream Land and when her comrades were overcome with doubt, she was the driving force of reassurance.
I've made a pact with myself.  I'm taking chances and giving every aspect of my life a little more love.  I suppose my summer sparked the desire to push myself, to do whatever it takes to fulfill my pact regardless of challenges I may face.  Challenges come in different forms for different people.  Me, for example?  I'm a social butterfly and love investing in others.  A challenge for me will be to spread that love to my schoolwork (ew, who wants to give chemistry love? THIS GIRL.)  In order to sail my pink ship to Physician's Assistant school, I may just have to fall in love with chemistry.  I receive a daily quote from Runner's World, and today's was particularly striking:
"Most people never get there.  They're afraid or unwilling to demand enough of themselves and take the easy road, the path of least resistance.  But struggling and suffering, as I now saw it, were the essence of a life worth living.  If you're not pushing yourself beyond the comfort zone, if you're not constantly demanding more from yourself – expanding and learning as you go – you're choosing a numb existence.  You're denying yourself an extraordinary trip." – Dean Karnazes
Talk about motivation.  I read this and asked myself, why is everyone afraid to admit when they're struggling?  I've learned a lot in the past 2 years here at William and Mary, and one lesson this quote helped me to realize is that it's okay to struggle.  It's good for the soul.  So here's to embracing the challenges, facing the demands, and spreading the love.  I'm ready for my extraordinary ride.
October 17, 2010 by Tarah Romano
This Tribe is never stationary.  We're always on the move.
Part of this restless disease can be attributed to the fact that as a student body, we don't know how to not be involved.  Going to class and being consumed by books and papers just isn't enough.  So what else do we do here on campus?  Well, well, well, do I have an answer for you…
If you are a fan of the world of Hogwarts, wizards, World Cups, and flying broomsticks, then the recently founded QUIDDITCH team is just the thing for you.  I was a tad disgruntled when I was unable to attend the first match on the Sunky G's a few weekends past, but from what I hear, it was epic.  If you like to speak in British accents, join the theatre department!  Their most recent play, Table Manners, featured brilliant British accents and hilarious comedy.  If you like to argue, the William and Mary Debate Team wants YOU.  My roommate is really involved with the debate team and she has the opportunity to travel all up and down the east coast for tournaments every weekend.  For fall break, she flew up to Boston to compete at Harvard!  Jealous much?  That would be a yes.  My other roommate loves her Reformed University Fellowship gang.  She went to a Fall Conference where they lip sank and performed an oldie (but goodie) N'Sync song.  She's also helping to run a small group for freshmen and she's a heck of a baker…she makes brownies or cookies for them as a sweet surprise!  On Wednesdays, a capella groups are the biggest rage.  Students flock from all around campus to attend the famous "Wren 10s" – events held on the Wren portico every Wednesday night at 10:00 sharp.  Fans and friends are sure to move their booties over there, usually arriving at least 10 minutes early to secure a cozy seat.  Do you like to get all up in the zen, or enjoy dancing like a fool while simultaneously burning ridiculous amounts of calories?  Sign up for a FITWELL PASS at the Rec, and you'll be movin it like a crazy person!  Yoga, spinning, Body Pump, Body Step, cardio dance, rock wall climbing, you name it we got it.
So there you have it.  To all of the prospies (code for prospective students) joining us here on campus especially in the next few weeks ('tis the height of the touring season I would think) – watch out.  I promise you won't get plowed over or anything by students rushing to class.  Actually, I take that back.  It might happen…but I can definitely say you WILL get stopped on your tour by a friend of your tour guide who can't WAIT to tell y'all about the coolest thing they did within the past week.  It may involve taking a dip in the Crim Dell, attending the latest function of their favorite club, rancing at midnight through Colonial Williamsburg, or who knows what else.
Summary: come here if you're dynamic, quirky, fun, and obsessed with living life  to the fullest.
The end.  One Tribe y'all – peace.
Tarah
P.S. Correction on the title.  WE like to move it, move it.
May 4, 2010 by Tarah Romano
My sincere apologies, dear friends, for being absent for the past … few months.  Yikes.  It's been longer than I thought since my last post.  I sit here in Barnes & Noble (an excellent study location), and all the sudden, I feel like I'm in Ireland.  Yes, you read correctly – Ireland.  Behind me is a group of about six people playing wind instruments accompanied by a guitar and a…violin?  Sure.  I begin to smile because I can't help but think about turning around and seeing a congregation of people in kilts and bagpipes.  While I knew that wish wouldn't come true, I couldn't help but feel…happy.  This unexpected music led me to reflect on my semester as a whole, a semester of happiness.
I was blessed with the opportunity to embark on a service trip over my spring break. That Saturday morning, I met with nine others from Catholic Campus Ministries and 8 hours later, we were appreciating the beautiful scenes of good 'ol Savannah, GA. Working with Old Savannah City Mission, we met several men so devoted to Christ after overcoming many trials and tribulations. We met a fantastic young gentleman who committed his days to eradicating homelessness in the greater Savannah area.  We met a beautiful elderly couple who hosted a Bible study for our group, complete with the most delicious homemade southern meal.  Happiness.
Happiness is found through a professor whose open-door policy is unfailing.  This semester hasn't exactly been smooth sailing in regards to my classes. Biology has presented a challenge from day 1.  However, each time I have sought help from either a TA or from the professor herself, help has been given on the highest level.  Although I have come to realize that biology just might not be my cup of tea, I've found a new appreciation for the material, an appreciation spurred by the professor's dedication and enthusiasm for teaching.  Happiness.
Happiness is found in: a spontaneous 2 hour walk with a new friend – a late night game of bananagrams – a King & Queen's Ball on the Sunken Garden – holding a turtle that is the size of your palm (found by the Crim Dell) – 31 cent scoop night at Baskin Robbins with the best Orientation Aide ever - attending a worship service in the Wren chapel on a glorious Sunday evening – an early morning stroll through CW with none other than Mr. Taylor Reveley (beloved president of W&M) during "Love Your Body Week" – hearing the many beautiful voices of W&M's acapella groups on the Wren portico, every Wednesday at 10 – seeing a giant cotton swab being carried around campus to advertise for the bone marrow drive – free ice cream during the "last day of classes" – seeing prospective students take part in a campus tour - feeling like a gangsta at the K'naan and Wale concert (sponsored by W&M's Alma Mater Productions) – new mascots – rejoicing in the accomplishments of others – spontaneous dance parties to Kesha's newest release – tiedying shirts with your hall – weekend beach trips to Yorktown - discovering new passions.
Happiness abounds here at William and Mary.  It's contagious and it's found in so many forms.  So go on, spread your happiness, because "happiness is never decreased by being shared."
Shine Bright,
Tarah
January 23, 2010 by Tarah Romano
"Why don't we just dance?" — country song, Josh Turner
Curious?  This semester, I want to do things a bit differently.  My adjusting phase is complete.  First semester, over, done, check!  In 2010, I don't want to sweat the small stuff.  I do not want to feel as though my world is ending if things don't go exactly according to plan.  I want slow down.  Smell the roses.  Appreciate.  AND JUST DANCE.
Obviously, I'm using the whole dancing thing as a metaphor.  I mean, don't get me wrong, I do love spontaneous dance parties.  Who doesn't?!  Yesterday morning during my freshman seminar, I was itching to bust a move right there in the classroom at 8am.  I've always wanted to start my day off with Elvis Presley's "Hound Dog." Mission accomplished.  My freshman seminar is Music and McCarthyism, analyzing the music during the 1940s and '50s.  I'm excited to listen to and write about songs for homework!
Aside from this literal interpretation of the chosen lyrics, I'm using this song as motivation for expression.  This semester, I want to express myself.  Every Two Minutes is really kicking off for new members (I wrote about the organization in detail in a previous post.)  I'm becoming more involved in the Catholic Campus Ministries with the contemporary music group and such.  I'm hoping to plan a 5k in honor of my friend Jordan, who passed away in December.  I ran cross country with Jordan in high school.  He had a great spirit and a beautiful soul that shone even brighter throughout his fight with a very rare form of cancer.  I will never forget his smile and his passion for running.  His father is planning a 5k back home (MD) and I would like to spread the event to Williamsburg.  Jordan loved to run.  He loved music.  He loved to laugh.  Jordan wasn't afraid to express himself.
This year, I want to learn to play the guitar.  I want my leg to heal, so I can run like there's no tomorrow. I want to stay in touch with true friends more so than last year.  I want to meet new people.  I want to help those who can't help themselves.  I want to realize what really matters.
I want to dance.
What do you want to do in 2010?
For Jordan,
Tarah
Tribe vs. ODU tonight! LET'S GO TRIBE - xo Tribe love
November 19, 2009 by Tarah Romano
Dashboard Confessional is ringing in my ears and I'm sipping an iced coffee after consuming a lovely dark chocolate bar.  What a dream.
And then I look slightly to my right and see the daunting image of a female strewn across a couch and what looks to be a goblin sitting on top of her…the cover of my Frankenstein book really isn't all that appealing.
What else should I be doing right now?  Scratch that, what else COULD I be doing right now?… Attending the TRIBE BASKETBALL GAME!  I'm not there.  But my friend is texting me the current score, 29-28 us – at the half.  Yeah, that's right, get em bball boys!  I could also be packing my ruck sack for the fall FTX coming up tomorrow.  It's a huge training event for all of the ROTC cadets here and at CNU.  I'm excited.  I love obstacle courses, bring-it-on!  I could also be at the gym.  I could…well, suffice it to say that the possibilities are endless.
I got a call back for the second round of interviews to be a Tribe Guide.  I am really hoping I get a position but if not, there's always next year.  Don't give up just because your way didn't pan out the first time around, be assertive!  I'll let you know when I find out, for sure
On an incredibly happy note, I started attending rehearsals for the Catholic Campus Ministries contemporary music group.  What a wonderful way to blow your stress out.  Music is a gift.  I can't wait to start singing at the Sunday service.  That'll happen when I return from Thanksgiving break.
Oh.  Downer = registration = nightmare = grrrr.  I was told that this is the worst semester of registration, spring of your freshman year…they weren't lyin'.  Professors haven't been very receptive either, which is what is frustrating me the most.  I've asked for multiple overrides and have yet to receive one
 BUT….optimism Tarah, goodness.  I've been told by several upperclassmen to just attend the class on the first day and speak to the professor in person afterwards.  Oftentimes, they'll grant the override that way.  Crossing my fingers!  It will turn out just fine.  Also, my computer "Ruby" (she's red…hehe I love names) died on the day of registration and I had to take her to the IT dept.  It was difficult parting with her.  They took great care of her though.  So, registration was scheduled for the same time as my Bio lab.  I am so so grateful for my amazing lab partner!  She stayed an extra 30 minutes just so I could use her computer.  She is great and I'm sure going to miss working with her next semester.  Actually, the entire section of my lab table is rather entertaining.  We are all so quirky and get along like peas and carrots.  I love it.  Today we did a vigilance lab and went around campus practically stalking people.  We got to be creepers!  It was quite an experience.
I need to get back on track.  Oh boy, Franky here I come.
Until next time,
Tribe love – Tarah
PS: It would probably make my college career if our mascot turned out to be the fighting SQUIRRELS!  So appropriate.  I would definitely audition to wear the costume…only if they put little boxing gloves on the hands. Adorable.
October 28, 2009 by Tarah Romano
My first entry as a live blogger!  The previous ones were completed before my blog was live.  Awh, how memorable…
Much to catch up on before I get to the heart of my post today…I am no longer a crew-mate. 
Sad.  It's for the best though and it's actually not due to the "time/stress" issue at all.  I was loving it when my schedule finally worked out!  However, as an avid runner, my shins aren't at their best.  I've already suffered 2 stress fractures and I am currently coping with one in the opposite leg (my left.)  I need to get this all doctored up before I can pursue any strenuous activities.  I have been hitting the pool and what not as a safe alternative to running.  Doctor's appointment on Friday (aka no classes…ugh I actually hate missing class, you get all paranoid!)  I'll keep you updated.
I AM however, one of the newest members of Every Two Minutes (E2M.)  How cool is that?! I'm excited to learn more about being an advocate to those who are victims of sexual assault, and I'm even more grateful for the opportunity to interact and educate high school students on the dire issue.
Speaking of being grateful…wow.  It just hit me within the past week and a half or so.  The leaves, the Tribe spirit, the people.  There are two particular trees, one outside of Wawa and another on the corner of Richmond and Northern Boundary, that I wish would remain in their current state forever.  After walking back from a morning coffee run admiring the aforementioned trees, I returned to my lovely dorm and what did I find on the door?  An anonymous post-it bearing the greeting "Have a great day! =) " … thank you, whoever you are.  That same day, my friend encountered a similar post-it in the bathroom of Swem (the library on campus,) reminding its viewer that "You are beautiful."  What an amazing soul that would go out of their way to brighten the day of someone they have not even met, and furthermore they did this in a way that would not allow them to see the impact of their kind deed.  Selflessness.
I must now mention the lovely cafe ladies.  Ms. Barbara (oh yes, I know my omelette lady by name) knows exactly how I like my omelette and always greets me with a lively "Good morning sweetheart!" every time I enter her cooking domain.  The Sadler ladies always ask me what I would like to eat with a "baby girl" tagged on the end and every now and then I'll get a question about "how my studies are going."  The other day, after the ROTC cadets bombarded them at 7AM, I made a mistake when asking for eggs and one of the ladies said "Oh that's okay darling, don't sweat the small stuff!"  Needless to say, that phrase graced my Facebook status for the next two days.  They really do care, and it's wonderful.
Will you take the challenge I have set for myself?  Pay it forward.  Perform a random act of kindness, at least one, every day.  Who knows what kind of impact you can have on a stranger's life.  Maybe they won't be a stranger anymore if you reach out to them.  Strive to be selfless.
Make a Tribe choice.

Tarah
September 28, 2009 by Tarah Romano
I told you it'd all be okay.
I'm on the crew team.  I am an ROTC cadet.  And I LOVE EVERY SECOND OF IT!
I'm a morning person, but apparently this does not exclude deliriousness.
Crew a.m. workouts have finally begun.  Setting my alarm for 4:30 is now my routine for Monday, Thursday, and Friday mornings.  No big deal.  Gazing up at the luminous stars and then witnessing the sun rise 20 minutes later is rather soothing.  This past week/weekend has been an assiduous one, leading to a less than ideal sleep schedule.  So, this morning I make the trek from Brown to the SC to meet the crew team.  As I approach the descent from the sunken gardens to the paved road, something catches my eye.  I look down and in front of a grate (those metal things in the ground that serve as drains,) and see the word "JUMP!" in bright pink sidewalk chalk.  I was a tad befuddled and stopped in front of the grate and stared at the word for a second or two.  After weighing my options, which consisted of walking around the grate or doing as the word said and jumping over it, I opted for the latter.  And so I jumped.  I mean, that's what it said to do…right?  Right!  The grate was definitely broken and somebody was kind enough to let the entire population of W&M know so that we didn't have any casualties (a broken grate can be deadly, you know.)  I proceed to walk the decline to the road and see more "Jump!" scribbles.  "Hmm," I thought.  "I know the bricks are perfectly fine, they don't look like they are popping out of the ground, so why should I be jumping over the bricks too?"  Then it hit me.  A big drawing in multi-colored sidewalk chalk… "Submit to JUMP!  Prose, poetry, reviews, essays, visual art." Wow Tarah.  Way to go.  The literary magazine.  I must admit it was very effective advertising and I commended the artists when I passed them 2 minutes after my awkward accident.  I was comforted to know that other organizations wake up at the crack of dawn as well.  Maybe I should submit some photography?  I'll make it abstract and include some form of iron, parallel lines…in the form of a grate.
Tomorrow is a new month, happy September 30th!
Most Sincerely,
Tarah the Terrific Tumbler –> (I thought that'd be a nice synonym for "jumper."  I love alliteration.)
P.S. – get ready for an intense blog on Friday.  What better way to fill a train ride than blogging about what I'm sure will be an amazing week…feel the suspense?  You better, because I do!
September 22, 2009 by Tarah Romano
Rough day.  Exhaustion has struck.  I need to toughen up.
First morning practice for crew yesterday;  aka wake up super early, spend three hours on the site, head back for 8am, 9am, 11am, and 1pm classes (Monday is my busiest day.)  No time to shower until after my 1pm.  No time to eat until 10am.  Study study study after class…all night.  Today (Tuesday,) wake up at 5:30am for Physical Training for ROTC…could not keep my eyes open in psychology.  Not sure if I can keep up with ROTC and crew.
I'm disappointed, but I'm trying to remain optimistic.  This is my first ordeal thus far.  I know it will be okay in the end, I just hate waiting until the end for it to be okay, you know?
I needed to vent.  I think I'm better now.  Time to get some shut eye, night land navigation tomorrow!  Oh my.  I'll definitely let you know how that goes, I'm excited but I think I might get laughed at a bit (all in good fun, of course.)  I'm petrified of the dark.  That needs to change, too!
Remember, in the words of the Rolling Stones:  You can't always get what you want, but if you try sometime you might find you get what you need.  =]
Deep breath.
XO – Tarah
September 9, 2009 by Tarah Romano
I have the self-diagnosed disease of being "directionally impaired."  That's not to say I don't know my left from my right, I'm rather confident on that front.  But if you asked me how to get to the nearest Wal-Mart from my house, I'd probably direct you towards….my mom, because she's the direction genius of the family.  Being that this condition has haunted me ever since I started driving (I've gotten "lost" on the beltway multiple times,) it was no shock to me that I was shakin' in my boots as I made the trek to the Matoaka Trail Head for the first ROTC Land Navigation Lab of the year.
At least I made it there without any difficulty.  It was time for the brief and on the command of "fall out," the company gathered in a horseshoe formation around the leading cadet.  I felt pretty official as I whipped out my pen and paper and began copying down every word said by the MS 4′s (senior cadets.)  I was NOT going to be the cadet that everybody started blowing their whistles for because I had gotten lost.  No, no, no.  I braced myself when I was handed a map, a compass, and a protractor; I began plotting.  And my points were correct!  Granted, I was much more at ease when our MS 4 (the freshman cadets were matched up with a senior) explained the process in such great detail.  His precision and knowledge is amazing!  After getting our pace counts for 100m, we began our journey into the wild abyss before us.  This was shortly after I was the laughing stock of the evening because I freaked out when a spider scurried across my map (as I was complaining because my boots were "too clean;" I wanted to dirty them up.)  Good job, Tarah.  I'm going to be a soldier and I can't handle a teeny spider?  Oh boy.  Anyhow, I ended up with several spider webs to the face and chiggers in my boots (which I am consciously resisting to scratch as I write.)  BUT…my group and I found our points and returned to the designated area right on time, and that is all that matters.  When it comes down to the wire, which it will someday in my future as a soldier in the United States Army, and I am racing the enemy to a certain point, I'm not going to have time to stop and clear the spider webs.
You live and you learn.  Today I learned how to shoot an azimuth, a concept that was totally beyond me 4 hours ago. I learned how to combine the strengths of a team to accomplish the task faster.  I found somebody to admire as a mentor and fellow cadet.  I lived through my first land navigation lab and I loved my first land navigation lab.
HOOAH!
Cadet Romano
September 6, 2009 by Tarah Romano
"We're sweating for you."  The first words I saw as I pulled up to the brick building I would be calling home for the next year or so of my life…were quite understated.  Not only did they sweat for us, they woke up early, greeted the incoming freshmen with smiling faces, and jumped to my every need as soon as they heard the words "first floor."  Shortly after my dad interrogated the poor Campus Loft guy about how many people have fallen off (don't worry, there have been no casualties thus far,) I decided to check out the neighboring room.  As I introduced myself, I couldn't help but admire the bright orange shag rug that graced the standard carpet.  And then I recognized the face of the owner, someone I met on Admitted Students Day.  Ani hadn't even planned on attending William and Mary back in April when we first met.  How ironic that she was now my next door neighbor.  Returning to my room, I met my roommate who quickly set down the two iced teas she bought for us at Aromas, aka the café that would soon become our favorite place in the CW in just a few days.  I took her welcoming hug as a sign of a great roommate match (thank you to whoever is responsible for the hefty job!)  After rearranging our room countless times, the hour was upon us….oh yes, ORIENTATION HAD BEGUN.  I couldn't have had two better Orientation Aides and I know for a fact that my entire hall (all 13 of us gals) would agree with great enthusiasm.  "Whoa, Tarah.  You only have thirteen girls on your hall?" you might say to yourself.  You're probably thinking, "That is so lame.  I want a huge group so I can meet as many people as possible."  Okay.  So I must admit I agreed with you…until after the first day.  Our "little" orientation group had a LOT to offer.  Instead of having to ask every girl "Hey, what's your name again," I was able to recite the names of my hallmates the evening after move-in.  I learned who likes to dance, who can whistle astonishingly well, (I may add that I am rather jealous of that talent,) and who has every pattern, color, and style of duct tape imaginable.  In fact, we rescued an abandoned chair our third night of living together and decided to do a rendition of "pimp my chair."  It turned out quite nice.  Good work team!  One of our most proud moments as new hallmates occurred in front of the entire freshmen class.  Being a part of 2BHOT (our orientation unit, so to speak,) we had the most amazing cheers to represent our…hotness.  Our cheers halted when Brown First's (Brown Hall, first floor,) very own orientation aide graced the audience with his presence on stage.  As the founder of 'Tribal Fever,' Chase made an announcement about the opening football game at UVA.  The crowd went wild.  My orientation experience began with sweat (the best kind imaginable of course, out of the kindness of the upperclassmen's hearts,) and it ended with sweat; everybody "sweatin' Brown First" because WE had the epitome of Tribe Pride as our leader.  How much better can it get?!
I'm writing this about a week and half after the end of orientation and the weather is finally starting to cool off.  I have a feeling my next blog will be about something a bit more cool, calm, and collected…like maybe the Baskin Robbins shop that is right outside my door? We shall see!
Until next time,
Tarah Romano
GO TRIBE!