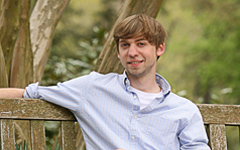 July 5, 2012 by Stephen Dachert
MCAT Prep + Coffee Shop = X; Solve for X
Warning: the following is an account of a rising senior neuroscience major as he prepares to study for the MCAT.  This blog post is meant for mature audiences only.  Viewer Discretion Is Advised.
Last day of finals. Usually one of the most freeing experiences of the year.  However unlike years past, a bittersweet occasion.  This year, the last day of finals meant one thing.  Time to start studying for the one event that every pre-med dreads.  The MCAT.  For those of you who don't know, the MCAT is the Medical College Admissions Test and is the culmination of years of undergrad science classes.  My diet for this month? Three square meals a day of Chemistry, Biology and Physics.  Oh and don't forget about the verbal and writing sections.  Yes that's right- remember those obscure organic chemistry reactions you memorized freshman and sophomore year? Yeahhhhh neither did I…  Time to unearth that truckload of flashcards that have been collecting dust for years.
The setting for this month-long information binge?  Harbour Coffee in New Town; the quintessential coffee shop with a "down-under" feel.  I had heard about this place from a friend, but what kept me going back every day? Yeah, you guessed it.  Free Refills.  So there I stayed for several hours a day, rummaging through my review books, listening to old lecture recordings and taking practice exams.  Throughout this month, I was approached several times, often by current physicians waiting for their morning coffee.  Whether they recognized what I was studying or whether they just recognized the look of anguish on my face, I may never know. But their words of encouragement were "just what the doctor ordered"- ha…
Anyway.  The morning of the MCAT finally came, beginning of course with 15 alarms I set to make sure I got up in time.  A quick breakfast, a shower and I was off.  Having reached the testing center a little early I found it necessary to stop and grab a coffee from the Starbucks that was right next door.  As I sat there, making a final run at my physics equations, I couldn't help to think of my friends at Harbour Coffee in Williamsburg, my home away from home for the past month.  And then it was just me, well me and the computer in front of me loaded with the questions that would inevitably define my future.  No pressure right? I put on the noise cancelling headphones I was given, took one last swig of coffee, and began.