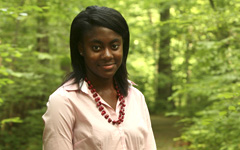 July 23, 2012 by Steph Kumah
As summer draws to an end, I think it's worth posting an update about what I have been up to. First, I "graduated". Why is this surrounded in quotation marks? Well, while I walked in May, I extended my graduation date to August in order to participate in the W&M Summer Institute Program in Washington D.C. So, after walking on Sunday, I packed up my apartment and headed to D.C. for class the next day. You might think I'm crazy for leaving no real time for transition, but, in retrospect, those first few days were well worth the experiences that followed.
The course was taught by Professor Stelljes and focused on the concept of leadership within the nonprofit context. Throughout this course, we were able to meet and speak with leaders in the nonprofit world. After two weeks of site visits, lectures, and group discussions, we all began internships around the city. Over the course of my internship, I've been able to see the leadership we've talked about in practice. In addition to this, I've been able to speak with those around me about leadership: What characteristics are typical of effective leaders? Are leaders born or made? What do the best leaders have in common?
So, what have I learned? I've learned that the leaders often see the world in a way that many do not – full of possibilities and only limited by our own imaginations. Leaders share these visions and give others the confidence to aid in their efforts to reach a shared outcome. Leaders are not perfect, but they recognize the need to let others see their imperfections. Leaders empathize with others on a level that seems unimaginable. Leaders come in all shaped and sizes – the extrovert, the introvert, the charismatic, the shy. Being a leader is hard.
As the paragraph above might demonstrate, leadership cannot always be packed neatly into a paragraph. Leadership is multidimensional and multifaceted. Moreover, one's ability to recognize effective leadership is often subjective. So, let me be slightly subjective for a second. What I have found is that the best leaders are those we might not necessarily associate with typical leadership qualities. Over the summer, I have been most impressed by the quiet leaders; those whose work behind the scenes ensure the success that we see. Often, these leaders shun credit, credit which is often owed. These leaders might not be the most eloquent speakers, but their passion speaks volumes. These are the leaders who have the most lasting effect on me.
As summer winds to an end, I'm very thankful for the experience I've had in D.C. I've learned more than I ever thought I would about leadership and the ways in which effective leadership can lead to amazing outcomes. This summer has reaffirmed my belief that W&M is a place where students are given the opportunity to grow into leaders who will go on to do great things in the world. I'm just glad that I got one last chance to hone my own skills.
This entry is cross-posted in the blog of Professor Drew Stelljes.
May 21, 2012 by Steph Kumah
After experiencing Commencement, I've spent a lot of time reminiscing about W&M. One experience that I kept stumbling upon was studying abroad in Lyon, France in the spring of my junior year. After spending high school in England, I had no desire to study abroad. I had decided that I would spend the entirety of my college years in Williamsburg, Virginia. Thankfully, all that changed after a chat with a very wise French professor.
So, during the spring of my junior year, I studied abroad in Lyon, France through UVA. In a city with almost half a million people, I was able to experience the French way of life. I lived with a French family right in the center of town.  In the mornings, my host mom would prepare spreads of homemade jams and leave out fresh bread (and sometimes croissants!).  Every morning I would walk past the Rhône on my way to class, vaguely aware of traffic and the sounds of sellers at local markets persuading onlookers of the deals to be had that day. My dinners were spent at home, trying the delicious French dishes my host mom, a chef, would prepare. And sometimes, when she thought I was homesick, she would prepare sometime more "americaine". Although, I was thousands of miles away, they made me feel at home.
Some of my fondest memories in France were tied to the most ordinary moments: eating a fresh baguette on the quai with my new American and French friends, watching my host mom perform in one of her guignol performances, or laughing with my host dad about my inability to explain a story in French. Living in France was one of the best experiences I've ever had. I cannot imagine my college experience without it. I am so thankful that W&M actively encourages students to study abroad. Without the encouragement of my French professor, I probably would not have seriously considered study abroad.
Something that always struck me is that this couple I lived with in France always requested W&M students. In fact, as I later found out, every W&M student before me had lived with this French couple.  And later that year, when I would meet another former tenant, I was shocked by how close I felt to someone I had never met.  W&M tends to do that, connect the Tribe in ways that seem to make no sense.  Yet, what struck me more is that this couple discerned the W&M sparkle that we don't often notice ourselves.  As W&M students, despite our diversity, we seem to be connected by our united identity as part of the Tribe.
For those of you entering college or those of you in the midst of your time at W&M – consider studying abroad. Believe me; you'll be glad you did!
October 20, 2011 by Steph Kumah
Given the title of this post, you've probably already guessed that this post will be about Opening Convocation. I know, I know. Convocation happened a long time ago. So long ago that you might wonder why it has taken me so long to write this post. The truth is that being a senior is a lot busier than I expected, especially since I am planning to go to law school. As I have explained to countless friends, the first six weeks of this semester were a blur becaue the LSATs took over my life. Thankfully, the LSATs are officially behind me, and I can enjoy the rest of my senior year. Now that that's out of the way, let's get back to what this post it really about – Opening Convocation.
Opening Convocation is one of my favorite William and Mary traditions. If you are scratching your head wandering what Opening Convocation is, I will give you a quick synopsis. Opening Convocation is the unique way that we at William and Mary welcome new students. At Opening Convocation, students are led through the doors of the Wren building in the direction of Colonial Williamsburg. On the other side, faculty, staff, and students are assembled, ready to cheer them on as they process through the crowd.
Since this year was my last Opening Convocation, I made sure that I was there early so I could get a prime spot near the front. As new students walked passed me, I cheered as loud as I could and gave the occasional high five. The energy was palpable, and in that moment, I could not help but feel that I was experiencing William and Mary at its finest. Did I know everyone around me personally? No. But somehow, I felt an affinity towards those around me in a way that one only feels when surrounded by members of the Tribe.
So to the future class of 2016, wherever you may be, I have one piece of advice: enjoy Opening Convocation. Allow yourself to be excited and don't be so shy about giving high fives to strangers. Above all, realize that we are celebrating you and the fact that you are officially part of the William and Mary Tribe. For those of you who have already experienced Opening Convocation, take time to remember what it felt like to walk through those doors and what it meant to you. Realize that, at that moment, you became part of the Tribe family, a family you will be part of for the rest of your life.
The next time I walk through those Wren doors will be bitter sweet. I will be wearing a cap and gown, and my journey at William and Mary will be coming to a close. But, as I walk through those doors, I have a feeling that memories of my own experience at Opening Convocation will not be too far away.
August 11, 2011 by Steph Kumah
After interviewing prospective students, I've learned a lot about what makes an interviewer great.  However, instead of discussing what to do during the interview, this post will explore the ways in which an interviewee can shine after the interview is over.  Confused?  That's okay.  I'm actually referring to the question portion of the interview when I ask the student if they have any questions for me.  As odd as it might sound, this part of the interview tells me a lot about whether a student is truly passionate about W&M.  Therefore, this post will provide some advice about questions after interviews.
It is worth emphasizing that there is no right or wrong question to ask; however, some questions are better than others. What separates a good question from a not so good question? Personally, I prefer questions that demonstrate that a student has really done their research.  If the answer to your question is online or can be very easily found, I will answer it, but I will be a little disappointed.  Granted, our website can be very difficult to navigate, so if you really can't find something, ask! Nevertheless, as a student of W&M, I can answer the questions that are harder to find on our website.  So, for example, if you're interested about what campus life is really like or what students do to have fun – ask me! I love answering questions, and telling students about W&M, especially since it allows me to reflect on the reasons I love this place so much.  So, ask me questions that a) you really can't find the answer to, and b) could only be answered by a W&M student.
What questions do impress me?  It's hard to say; the best questions I have had vary in subject and in scope. Nevertheless, I will say that the most memorable questions have made me reflect, think, and reminisce about my time at W&M.  Above all, these questions have demonstrated that the student has really reflected upon his or her choice to interview at W&M.  So, really take time to reflect upon why you want to attend W&M. You'll often be surprised by what questions surface.
If it's any consolation, when I interviewed for colleges, I usually did not ask questions.  Looking back, I wish I had.  Not asking a question can be just as bad as asking a question that is not well thought out. Why?  It suggests a genuine lack of interest.  Imagine meeting someone for the first time. They ask you lots of questions, and they really make an effort to get to know you.  A pause follows, and the person you're speaking to expects you to ask him or her about themselves, but you decide to say nothing.  He or she makes a last ditch effort to avoid a longer pause, one which could become awkward. Now, think back to his or facial expression during the pause.  This expression reflects the way I feel when students don't ask me questions: surprised and a little disappointed.
So, my biggest advice to interviewees would be to ask a question – one that shows forethought and demonstrates your sincere interest in W&M.
Any questions?
July 18, 2011 by Steph Kumah
Living in Williamsburg this summer has been great for my independence, especially having to work full-time at the Admission Office and actually cook for myself. However, despite all this independence, I feel more dependent on others than ever before. Why? I don't have a car. While this might not seem like a big deal, I have to specify that I live off-campus, and that it would legitimately take me two hours to walk to campus if I tried. Suffice to say, I have been very dependent on the bus system and friends with cars, but mostly the latter. This is especially true on those days when I miss the bus, try to chase it, stop, and then realize that it's the last bus of the day and that I need to call a friend. I have been so thankful for the voice on the other end of the line saying: "I'll be there in five minutes". So, while not having a car has not been ideal, I've been fortunate enough to have friends who've made my car-less summer more manageable.
For freshmen and sophomores who might be a little apprehensive about not having a car on campus: don't worry! In fact, use not having a car as an opportunity to get to know your upperclassman friends. You'll be surprised what you can learn about someone just by getting rides from them – I would know.
So, I couldn't end my blog post without saying thank you to my summer chauffeurs. You know who you are, and I am glad you offered me rides when it was raining cats and dogs, when it was way too dark to walk from the bus stop to my house, or when you just felt like being a good friend. I don't know how, but I hope to one day return the favor. Thank you!
July 7, 2011 by Steph Kumah
I'm a perfectionist. Not the "what would you say is your weakness?" type of perfectionist where perfectionism becomes a strength, but the type of perfectionist who agonizes over writing the first entry of a blog series. So, in the spirit of honesty, I have to confess that I wrote eight versions of this post and decided that each one, for some reason or another, would not do. On take seven or eight, I decided to bite the bullet and just write. Get ready, get set, and…nothing. So, after a little more thought, I decided that the best way to start this blog would be to start from the beginning, and tell you how I got to William and Mary.
The first time I heard about William and Mary was during my junior year. Although this might sound shocking, it's the truth. I grew up in Oxford, England at a small boarding school where I was more familiar with colleges in England than in America. So, during my college search, I assumed that I would go to university in England. In fact, I had my heart set on going to university in London. So, when a visiting housemistress told me about a small liberal arts institution in Williamsburg, Virginia, that would be closer to home and possibly a better fit for me, I began to seriously consider leaving England and going to college in America. My parents were so excited about the possibility of me being back in Virginia for college that they scheduled an on campus visit for my next break.
I'd like to say that when I visited the campus, I immediately fell in love with it, or that I had some sort of epiphany. But that didn't happen. I liked the campus, and the people seemed really nice, but my decision to apply to and to subsequently attend W&M took time. What I do remember about my visit to W&M was the sense of community on campus, and the emphasis on tradition. Coming from such a tight knit community in England, I was really impressed by the presence of these two characteristics at W&M. So, after much thought, I decided to leave England, excited about starting a new chapter of my life at a small college in Williamsburg, Virginia. I didn't know it then, but W&M would end up being exactly where I needed to be.
So, I hope you enjoyed my first blog post ever! Before signing off, the perfectionist in me has to point out that I used the word "so" a lot, maybe a little too much…