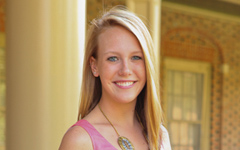 July 24, 2012 by Sam Fansler
Ok, so I am a huge foodie … for those of you who aren't really sure what I am talking about, Urban Dictionary has graciously provided us with a definition that I think suits me well.  "A foodie is a person who loves or a has a deep admiration for food and eating food. They might feel happy or very at peace when around food."  Jackpot!
But my main problem is that I don't have an ounce of cooking sense in my body. Try all I might, I always get something wrong in my dishes … so what is a foodie to do when she can't even cook for herself? First, I watch a lot of the Food Network wishing I could be like Giada or Bobby.  Second, I indulge and eat out a lot!  I am combining those two loves in this blog.  Ever seen the show "Best Thing I Ever Ate" where they interview Food Network stars about, yes you guessed it, the best thing they have ever eaten?  Well here is my version of Best Thing I Ever Ate – Williamsburg Edition, and it is from this adorable little bistro in Colonial Williamsburg called the Blue Talon.
First of all – let me explain how much I love mac n' cheese … That blue box is my go-to meal whenever I need a little comfort food in my life.  So I get to the Blue Talon and see mac n' cheese on the menu, and I'm a little skeptical at first because it is this fancy French restaurant, but I'll go ahead and give it a try. And it was absolutely delicious! It comes out in its little ramekin straight from the oven all hot and melty, and every bite is so rich and so delicious.  It makes my stomach growl now just thinking about it!
Yes, in case you were wondering, I did just write a 300-word blog about macaroni and cheese.  If you have made it this far, thank you for sticking with me! And go try that scrumdiddlyumptious Blue Talon mac n' cheese!
July 6, 2012 by Sam Fansler
I'm spending the summer in Williamsburg as an Admission Intern, and plan to take full advantage of everything this town has to offer:
Make all of my fellow interns ride the front row of the Griffin (has to be the front row, or else it doesn't count!) and the Mach Tower at the Busch Gardens amusement park
Enjoy live music and chocolate fondue at Aroma's coffee shop
Karaoke every Friday night at the always-happening 415 Grill, where the bouncer, Alvis, already knows me by name…
Canoeing on Lake Matoaka – free for students! (As long as its not deadly hot out)
Spontaneous volleyball at the Bryan Courts
Take advantage of every bar special the Delis have to offer for each night of the week (don't worry, we are all 21!)
Ghost tour… BOO!
Spend the day at Jamestown beach and/or Virginia Beach, taking in that warm Virginia sun
Tour and tasting at the Williamsburg Winery
Go on a hike and/or camping in the Shenandoah River Valley
That's about all I can think of for right now… But I'm sure I'll keep adding to the list! Check in at the end of the summer to see how much we have completed!!
xoxo,
Sam
June 26, 2012 by Sam Fansler
Today something very exciting happened to me on a tour, a mom asked if my family was a "William & Mary family"—aka a family that has had a long-standing connection to the College with generations of Tribe members.  The question was brought on because I mentioned as I made the walk backwards throughout campus that my brother was going to be joining me in Williamsburg next year.
At first I thought it was ridiculous, coming from Chicago, to be considered a "William & Mary family."  I was the first in my family to even leave my home state of Illinois for college, and if you had asked me 3 years ago what my family's connection to the College is, I would have said absolutely nothing!  I have friends whose parents, and grandparents went here – and I even have a friend named Wren (as in the oldest academic building still in use in the country… drop!) – THEY are true William & Mary families—mine isn't, right?
But I was so excited to come to the realization on my tour that my family has, over the past 3 years, become a Tribe family.  Not only has my brother sent in his deposit check to enroll next year, but also all the way in Chicago, my parents are each driving cars around with green and gold decals on their windows and bragging to their coworkers about this "great school way down in Virginia."
So I guess the endless William & Mary paraphernalia that all of my family members receive from me at any birthday or Christmas has paid off! Tribe Pride has infected not only myself, but my parents and brother as well—turns out we really have become a "William & Mary Family" after all!