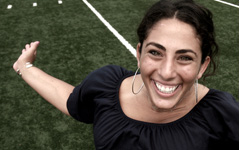 March 23, 2009 by Samantha Fien-Helfman
A group of friends and I went to the Outer Banks on Friday just for the night. That's one of the many beautiful things about college… you can just pick up and go somewhere and you don't have to ask anyone for permission. It's living for four years in a world of immense freedom and very limited responsibilities.
We drove down just in time to pick up Billy's seafood – the best steamed and spiced shrimp in the area and brought it with us to Jockey's Ridge for a sunset dinner over the sand dunes. We sipped on wine like the classy of-age individuals we are and snacked on scrumptious, homemade guacamole. We debated night kayaking and eventually came to our senses that forty-degree weather was just a bit too cold for getting in the water.
Like little kids, we told bedtime stories and slept in until we could no longer ignore the sun streaming through the windows. Saturday evening we returned to William and Mary.
In the fast paced environment of college life we often spend too much time dwelling on the past or worrying about the future. Emerson said it well when he wrote, "We are always getting ready to live but never living." I encourage you to start living.
Even if you can't afford to put life on hold for twenty-four hours like we did, take at least a couple minutes every day to revel in the present. Your life will not only be there waiting for you, but it will be that much more enjoyable. I promise.
January 22, 2009 by Samantha Fien-Helfman
Less than a week ago I was in Paradise. Literally. It was the scene that covers the walls of college dorm rooms all over the country…. A long wooden boat anchored in sparkling blue-green waters with rocky islands in the background. I rocked back and forth in a hammock over the white sand, a frozen drink with a tropical flower in my hand. Eighteen other students and I were at Paradise Resort, the finale of our three-week trip to Southeast Asia as part of a global immersion, marketing course.
And what a three weeks it had been. We had traversed across Cambodia, Vietnam, and Thailand – complete with a five-hour long boat ride along the Mekong from Phnom Penh to Chau Doc. 4am wake up calls were typical and falling asleep by 11pm was considered impressive.  Our days consisted of some sightseeing: winding through the crowded stalls of the markets, admiring the gold Buddhas at the Royal Palace and temples, and cruising through the floating market. But some of my favorite parts of the trip were, surprisingly, our business meetings.
We had met and consulted with companies and individuals ranging from the McCann World Wide Group to Sobbhana Silk Factory, a socially responsible organization run by Princess Marie and Ambassador Eng. We oversaw production at a garment factory and the manufacturing of trucks at the Toyota Company. We learned about working conditions, political environments, and marketing challenges of the different countries. The experience allowed new insights and perspectives which traveling alone would have never provided.
The last three days of our trip were spent kayaking in the Andaman Sea, exploring caves and mangroves and trying to avoid the wild monkeys that would occasionally hop on our boats. Having to leave Paradise and the warm weather was miserable but returning to William and Mary provided its own warmth; that of close friends and an accepting community, which I had deeply missed.
December 21, 2008 by Samantha Fien-Helfman
After three hours of driving and jamming out to embarrassingly awful songs alone in my reliable Saturn, I finally made it home to DC. I immediately dumped my laundry (read: entire wardrobe) downstairs, unpacked my bags, and crashed… hard. So hard that I woke up over fourteen hours later. That's the joy of being back home. As college students, we temporarily relinquish all of our academic responsibilities with that last exam or paper. Now, I get to give my brother that "I'm so sorry you have to wake up at 7am to go to work" as I curl up in my comforters, relishing the fact that I have no alarm clock set. I get to spend my days in furry slippers, watching holiday movies in bed and drinking hot chocolate out of oversized coffee mugs. January 1st, I'll escape the cold weather to head to Southeast Asia with about 15 other W&M students as part of a global immersion marketing course. Hard life, right?
November 16, 2008 by Samantha Fien-Helfman
We've finally done it. After countless strings of e-mails and "I think I might have too much work" freak-outs, four friends and I packed the car at 7am and made our way down Route 64 to Charlottesville. We drove by pastures, farms, and the occasional cider stand. We grabbed picnic food, parked the car, bundled up, and started the trek up Old Rag, renowned as one of the most beautiful and challenging hikes in the Shenandoah Valley. The trail stretches for 8.8 miles and begins with a leisurely incline into the mountains but don't be misled.
The hike quickly transforms into a rigorous climb up boulders and the infamous scramble, where visitors are forced to constantly jumping down, over, and maneuver their way around massive rocks. Although most of the leaves had already fallen off the trees, the hike was still breathtaking…and I mean that in both the figurative and literal sense. In Thoreau's book, "Where I lived and What I lived for",  he writes, "I went to the woods because I wished to live deliberately, to front only the essential facts of life, and see if I could not learn what it had to teach, and not, when I came to die, discover that I had not lived." To be surrounded by such natural greatness is a refreshing reminder of one's priorities and, as tired as I was when returning to the car, I had never felt more alive.
November 11, 2008 by Samantha Fien-Helfman
I always loved photographs: the ability of a photo to express or convey that which my words could not. This past weekend was absolutely gorgeous – the weather, trees, everything. After a nice lunch out, I took the ferry with two friends over to Surry. The ride over was free and relaxing and when we left the ferry we went on a drive. We set out on the winding road with no destination. If we saw an interesting building or sign, we would turn and explore. And that is how we found the Old Fort Plantation, a clearing set up by John Smith in 1609, hidden by oversized trees and a long dirt road. After we returned to campus, I continued to take some photos of friends by the Crim Dell, Sunken Gardens, and Wren building. I always talk about the difficulty of encapsulating the beauty of this campus but these pictures are my best attempt.
October 29, 2008 by Samantha Fien-Helfman
A first lady once said, "I have been very happy with my homes, but homes really are no more than the people who live in them." I have fallen in love with this place – the three-century-old brick buildings, the Sunken Gardens, romantic Crim Dell bridge, and the quaint historic community, but I have fallen more in love with the people. And if graduation marks a farewell, homecoming cites our reunion. As the green and gold leaves transformed into colors of crimson and orange last weekend, new green and gold in the form of hundreds of alumni invaded Williamsburg for the Homecoming celebrations.
It is one of my favorite weekends of the year – an opportunity to put everything on hold for 72 hours to enjoy the company of old friends.We had a slumber party in the house, watched the floats progress down Richmond Road in the early morning parade, cheered along the sororities and fraternities at the Harrison tailgate, screamed for Courtland as he scored an incredible touchdown, hung at the delis and averaged about four hours of sleep a night. We omitted talking about work, jobs, or anything real-world related. Because for that one weekend it was as if nothing had changed and I could revel in the presence of my best friends.
October 16, 2008 by Samantha Fien-Helfman
Fall break is supposed to be four days. A traditional weekend plus an added Monday and Tuesday of no classes. This four day weekend typically consists of going home and seeing family. Driving down to Virginia Beach or the Outerbanks and relaxing with friends. Maybe camping or hiking in the area. A trip to Florida? Now that's just ridiculous. Driving to Florida? Now that's insanity.
But then again, this is senior year and we are living on the edge. On Thursday at 9pm Austin, Sarah, Joey and I pulled out of campus and embarked on a 35-hour road trip. We had everything planned to a tee – snacks and drinks stashed away in a cooler, Mapquest directions printed out somewhere in the car, a stack of mixed CDs made the hour prior to our departure, and an entire driving system in place: we would be split into pairs. The driver and passenger would have to be awake together and the pair in the back would have to sleep. We would take four hour shifts and then switch. We would drive through the night unless we got too tired to continue. There would be no stops unless it was "i'm-about-to-pee-in-my-pants" necessary. Or if it was at South of the Border.
Or if we wanted another caffeinated soda. Or if we saw something so cool that we were pretty much forced to pull off the highway to see it. Ok, so maybe we made some stops along the way.
People couldn't understand why we would spend two of our four five day weekend driving. Sure, maybe we might have been able to go tubing another time or two with my brother.  And maybe my tan would have stuck for longer than an hour if I had spent more time on the beach. But it also would not have been fall break without that car ride. Nor would it have been the same had it not been for our 2AM incredibly sketchy stop at the South of the Border stop where we took our pictures with Pedro or an early morning breakfast at the "All American Waffle House" (read as: another very sketchy food stop). And as we restlessly pulled back into Williamsburg, after driving through sunsets and sunrises, I couldn't help but think about how absolutely wonderful and surreal the past five days had been.
October 1, 2008 by Samantha Fien-Helfman
We had our first President's Aide meeting with President Reveley tonight. There are about 15 students who meet with him once a month so he has a better understanding of student sentiments and the happenings on campus. The meeting was like nothing I could have expected. It was held on the third floor of his house, and while climbing the stairs, my mind drifted to those who had walked up the same steps or slept in the beds that were visible from the slightly ajar doors. William and Mary has such a rich history that imagining Thomas Jefferson or George Washington in one of the rooms is no longer a dream but a past reality.
We ate Cheese Shop and talked about how we could encapsulate the College and what makes her unique. Some students talked about William and Mary as "the alma mater of a nation." Others talked about the school as "the best of the old and new." Describing what makes William and Mary so special is something I struggled with all summer when talking with prospective students and families at Admissions. Sure, you can give them the stats and numbers: You could mention the level of civic engagement on campus by citing our unparalleled number of international service trips and the 300,000 hours of service that students commit annually. Or you might talk about the history by stating that we are the second oldest college and oldest university in the nation and that the Wren building is the oldest academic building still in use in the country. You could talk about the community and relationships fostered by students and faculty by describing the small faculty-student ratio (12-1) and ways in which professors go out of their way to better know their students. Yet even these facts or stories don't do our College justice.
How can you describe the feeling of walking through the Wren on Convocation Day and having 2,000 students cheering on the other side for you, welcoming you to campus? Or the frenzy and excitment as you watch the fireworks illuminate Colonial Williamsburg for Grand Illumination? How do you make tangible the deep friendships and the genuine, intelligent, and compassionate students that pervade our campus? How might you describe the lure and enchantment that accompanies sitting in a three hundred year old classroom? Or the comfort that comes from the smile and wave that always greets you on your way to class? How do you explain that pain in your stomach that prevails whenever you imagine your life after leaving William and Mary? It's difficult. Extremely difficult.
So all I can say for now is this: Come. Come and experience if for youself. And if, per chance, you find a way to adaquetely express these values of community, service, history, and engagement that make us unique, please fill me in on your secret.
September 4, 2008 by Samantha Fien-Helfman
Upon entering William and Mary you can either request a roommate (that has to be mutual) or you are assigned one based on a survey you fill out. The questionnaire is incredibly generic, asking questions such as: "Are you neat or messy?", "Do you like your room to be more a social area or study area?", "Are you more a morning person or late riser?" I remember filling it out and freaking out that based on these seven questions alone, the College would designate a roommate that I would have to live with throughout the year.
I've had my luck at roommates. Freshmen and sophomore year, I roomed with Meredith from Weston, Massachusetts and a neuroscience major. We had guacamole/TV nights and played IM soccer with our hall. Sophomore year I lived with Layla, a Hispanic Studies major from Northern Virginia who, like myself, studied abroad in Spain during the spring. She is a native Spanish speaker and would teach me little phrases or quotes before bed. This year, I am living in my sorority house with Ash, an American Studies major with whom I joined Theta in the fall of our freshman year. We share an oversized bulletin board of accessories and stay up til 2:30am while Ash pretends to take LSAT practice tests and I study. (Read as: We stay up late talking about our respective days and our numerous goals for the year.)
And although traditionally the president will provide dinners for four-year roommates, I don't feel like I'm missing out. I'd trade in that dinner for the multifaceted experiences I've had and girls I've gotten to know any day.