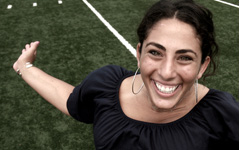 October 3, 2011 by Samantha Fien-Helfman
When I think back to my time at William and Mary, I often think about the individuals that made the place so wonderful. It was the passion and enthusiasm of the students and teachers that inspired me and consistently made me strive to be better. Two years later, I find I am still inspired by the College's graduates.
Last week, I met up with a good group of friends from William and Mary, many of whom I haven't seen since our 2009 graduation. As we sat down to eat, and caught up on our lives and jobs, I realized that the amazing things that William and Mary students accomplish don't end when school does. Rather, they provide a strong foundation on which to build upon after leaving Williamsburg.
To provide an example of this, here are just some of the wonderful things these friends are doing:
From left to right:
Paul Garrity – Paul worked as an elementary teacher in inner-city Richmond before moving to DC this past summer. He now works as a researcher/consultant in the education sector.
Genny Mak – Genny works as a contacts consultant at Noblis, an award-winning non-profit. She somehow manages to find the time to play soccer, volleyball and take woodworking classes on the side.
Adeela Tajdar – After spending time in Pakistan with her family and working, Adeela now is a faith fellow for Tony Blair's Foundation.
Kelley Quinn – Kelley is a contract writer for USAID and incorporates her love of comedy into improv classes after work. In five years, I promise you Kelley will be on Saturday Night Live. Yes, you read it here first.
Me – I spent over a year working in Guatemala with non-profit Nuestros Pequenos Hermanos. I'm now interning at the Meridian International Center and writing these lovely blogs as I look for a full-time job.
Bryan Terrill –  After completing a year in Russia on a Fulbright, Bryan now works at the National Endowment for Democracy. Following work, he takes Turkish classes, recreates absolutely delicious Jamie Oliver dishes, and woos women with his fluent Russian skills.
We enjoyed a delightful picnic dinner on the rooftop of Adeela's new apartment building in Arlington, admiring skyline views of Washington. And with all of the incredible alumni in the DC area, I know that this is only one of many delightful Tribe evenings to come.
July 14, 2011 by Samantha Fien-Helfman
In Guatemala, the main form of transportation is on "chicken buses" or camionetas, old US school buses transformed into brightly colored buses carrying crowds of people and even more interesting luggage (hence the name, chicken buses). Not too long ago, I took this bus – not yet painted – for the ride from Solola down to Panajachel. The bus is yet another constant reminder that no matter how far away you might be, William and Mary and Williamsburg will always find a way to stick with you. <3
July 14, 2011 by Samantha Fien-Helfman
I haven't been so great on writing a blog, and for that, I apologize. I wanted my entries to relate to William and Mary and it took me until now to realize that everything I'm currently doing traces back to my time at W&M. Whether it was the numerous study abroad and service opportunities throughout my undergraduate experience that peaked my interest in international affairs and traveling, the advice of a fellow graduate who led me to NPH (the orphanage in Guatemala where I spent over a year teaching English), or friendships cultivated during my time at W&M with incredible individuals who have supported, encouraged, and inspired me to do something different…. All of these things gave me the courage to take a less-traditional route following graduation and for that, I will be forever grateful to William and Mary. So from now on, I'm just going to blog about my travels – or the month that I have left of them. And from there, it will be the adventure of moving back to Washington DC, entering the so-called "real world" and my attempts, with countless other people, to find a job. Wish me luck.
June 1, 2011 by Samantha Fien-Helfman
Over-sized backpacks, long bus rides, late night conversations in crowded hostels, and some of the craziest adventures and most beautiful places I've ever seen. That's been my life for the past 4 1/2 months since leaving my job teaching English with international non-profit Nuestros Pequenos Hermanos in Guatemala. The trip began, like most things, only as a mere thought or dream – a road trip, Che-inspired, from Argentina to Alaska. It became a reality when one of my best friends from William and Mary (Jed Talvacchia '08) agreed to do it with me and bought a 1978 VW van off eBay. The car was amazing and the epitome of a road trip. It came equipped with a small stove-top and oven and space to sleep up to 4 people. Unfortunately, on Jed's trial run from Florida to Boston, the car broke down twice. That combined with the low gas mileage and the stresses of shipping it to Argentina and then again from Colombia to Panama, made us decide to ditch the car and just go solo with our backpacks.
We began our adventure in Buenos Aires, a romantic and lively city before heading south to Patagonia. Southern Argentina was one of my highlights of the trip – we admired the over half a million penguins in Punto Tombo National Park,  trekked across the Perito Moreno Glacier, went on some jaw-dropping hikes in El Chalten, and ate delicious steaks (obviously accompanied by delicious national malbecs). And it was in a small, parrilla (grill) in El Chalten that we ran into two other W&M students – one of whom is a new addition to my Theta family. It was a random encounter but none the less led to a wonderful and easy conversation and other people in the restaurant assumed we were old friends reuniting. In a way we were – I've learned since leaving William and Mary that the bond amongst students, current or former, is stronger than I had formerly imagined.
And it was again in Peru, that we met up with another W&M alum – this time good friend Jonathan Welle '08, who is currently serving his third year in the PeaceCorps in Chulucanas, Peru. We spent a couple days in Huaraz, admiring the snow capped mountains and going on a hike to a gorgeous green lagoon, before heading to Jon's site. After a week in Chulucanas, the three of us traveled to Loja and Cuenca, Ecuador. And despite some minor (read: major) downturns ie. Jed getting sick with both Dengue Fever and tonsillitis and spending 3 days in the hospital, we had an amazing time together. Jed and Jon hadn't seen each other since graduation '08 and I hadn't seen Jon since I had left for Guatemala about a year and a half ago. But the distance and time apart didn't seem to matter. We picked up right where we had left off: spending 3 hours on the roof of our hostel talking, playing with llamas in the park (no, I'm not joking), and singing karaoke in hole-in-the-wall bars.
Jed unfortunately decided to go back to the states, concerned he might have to take his tonsils out. I continued on my own to Colombia and then headed north, back to Guatemala. And it is here, at the NPH home, where I will spend the next week before heading to Lago Atitlan. This blog will contain my adventures as I continue to travel for the next two months, as well as my return back to DC and transition to the "real world." So I hope you all enjoy the journey as much as I am.
October 31, 2009 by Samantha Fien-Helfman
I love William and Mary but I find myself returning to DC for Halloween. Since I was little, my family has always taken the holiday very seriously. I came home to find my mom hanging black streamers along our porch, taping "beware: caution" tape across our front pillars, placing glow in the dark skulls in the bushes and masks on the trees, hanging skeletons and other fake bodies from the roof, and scattering bones and broken shutters in the lawn. After placing peanuts on the ground to make a crackling noise when guests came to the door and playing a halloween soundtrack, our house was set for the evening.
My mom dressed up in a black outfit including a black, ripped t-shirt with a skull on it and wore a scream mask – opening the door with a large "Boo!" or "Can't you read the sign?! It says not to come here!" The little kids would inevitably get upset and hide behind their parents while the older boys freaked out and then tried to play it cool in front of their lady friends.
One of my favorite parts was hearing my mom guess what their costumes were. The following is just one example:
Mom: Well those are cute outfits, who are you guys?
Trick or Treaters: We're the Jonas brothers and she's Starbucks.
Mom returns to the dinner table….
Me: How was that person Starbucks? Was she a coffee mug?
Mom: I'm still not sure… she had antlers on.
That, or my dad picking up the phone and saying "You have 20 seconds to spell Halloween backwards" instead of the usually "Hello, Fien-Helfman's residence" response. Now I'm just lounging and watching a scary movie with my parents and brother. It's definitely been a more low-key Halloween that it has been in the past but you need nights like this every once in a while. Tomorrow I'm leaving early in the morning to head to Charlottesville with a friend so we can see the changing leaves along Skyline Drive and go apple picking. I'll be sure to upload photos of the trip once I'm back.
October 28, 2009 by Samantha Fien-Helfman
This past weekend was William and Mary's homecoming. The way I felt last year around this time mirrors how I still feel about the weekend so I will repeat it here. A first lady once said, "I have been very happy with my homes, but homes really are no more than the people who live in them."
I have fallen in love with this place – the three-century-old brick buildings, the Sunken Gardens, romantic Crim Dell bridge, and the quaint historic community, but I have fallen more in love with the people.
And if graduation marks a farewell, homecoming cites our reunion. As the green and gold leaves transformed into colors of crimson
and orange last weekend, new green and gold in the form of hundreds of alumni invaded Williamsburg for the Homecoming celebrations.
It is one of my favorite weekends of the year – an opportunity to put everything on hold for 72 hours to enjoy the company of old friends. I had three of my best guy friends crash in my room, watched the floats progress down Richmond Road in the early morning parade, cheered along the sororities and fraternities at the Harrison tailgate, screamed for Grimes as he scored an incredible touchdown for a win against JMU, danced to the jam band music of Robert Randolph and the Family Band, hung at the delis and averaged about four hours of sleep a night.
We omitted talking about work, jobs, or anything real-world related. Because for that one weekend it was as if nothing had changed and I could revel in the presence of my best friends.
October 21, 2009 by Samantha Fien-Helfman
Ah Green and Gold Affair. Around this time four years ago, William and Mary hosted its first Green and Gold Affair, a campus-wide formal that a good friend and I started my freshman year. At the time, we didn't know what we were working towards. I liked event planning and wanted to unite the various sects of campus. He was the treasurer for the junior class and knew how hard it was for different organizations to raise the types of funds they needed or wanted for various projects. After many late night meetings on the terrace comprised of us discussing what to do, we came up with today's Green and Gold Affair. The truth is that we originally named the event Ball in the Fall (yikes!) and after I watched an episode of the Hills where the girls hosted A Black and White Affair (I promise it wasn't as scripted then as it is now), Denis and I decided to rename ours the Green and Gold Affair. Definitely more classy right?
Planning was tough but Denis Beausejour '07, the co-founder of Green and Gold, was who got me through it all. We were a great team – when one of us was stressed out and venting that the dance would never come to fruition, the other would be right there to ensure that we were calm, focused, and knew it was possible. We created an organization (Green and Gold Affair) whose purpose would be to put on this dance, our way of ensuring that it remained a non-biased organization. We looked for seed money – applying for funding from the school. We found three other students – Krystal Keeley, Anne Lefeve, and Colleen Murray to work with us – organizing decorations, catering, the florist, security, organization sign-ups, ticket sales, etc.
We were really frugal our first year – we had a band that played for free as a means of trying to gain exposure, minimal decorations, no ticket takers, etc – so that we could ensure we'd have enough money to give back to campus organizations. We were shameless with ticket sales that year – going into the delis at night or to Swem during the day to make sure everyone we knew (and even those we didn't) were buying tickets.
Our event has really transformed over the years into a spectacular event but our mission has remained the same. With every $10 ticket sold to the dance, $5 of it is donated back to any participating organization that the buyer selects. We try to have a diverse showing of campus organizations and every year the list includes varsity and club sport teams, religious organizations, service trips, Greek philanthropies, and multicultural organizations. The other half of the ticket price goes to fund the dance, which includes a live band and DJ, catered food, and cash bars. Over the past four years, we've raised over $35,000 in ticket sales and returned about $20,000 to campus organizations.
This recent Green and Gold was my last as a student and member of the team. Both of my brothers came to visit for the occasion – my oldest brother Josh flying up from Florida with his girlfriend and my other brother Daniel (also a WM alum!)  driving down from DC – which made it even more special for me. It's been truly amazing to see the effects of Denis' and my hard work as this event has transformed from a mere "crazy" idea into a campus tradition. G&G Affair serves as a constant reminder that the possibilities at this College are limitless and that the our community will support you in making your dreams a reality. While I'm sad to let go of the event, I'm incredibly excited about our new team and know that they will continue to improve and perfect it. If you see Carolyn Sloan, Kristin Rhodes, Liz Purvis, Jake Wolfe, KC Maloney, Sarah Hwang, Giselle Hundley, Caitlin Kenney, or Shannon Bryan, be sure to thank them for their hard work. Without them, this would not be possible.
August 18, 2009 by Samantha Fien-Helfman
Founded in the late 17th century, the College has created and preserved strong traditions, many of which fall around or near commencement weekend. One of my favorites is the Candlelight when members of the graduating class stand in front of the Wren Building the night prior to graduation, dressed in their caps and gowns and accompanied by their families and friends. Each student is given a small white candle to hold during the ceremony while a selected member of the graduation class, an administrator, and a professor from the College are all invited to speak. After the last speech, the class officers begin the lighting of the candles and the flames quickly spread throughout the crowds. As Vice President of our class, I had the opportunity to stand on the steps during the ceremony, looking out over the crowds. The image of that light spreading and symbolizing the warmth and community in our class was one of the most beautiful sights I have seen. It was while standing on those steps and looking out at the faces of close friends – some huddled together as they cried to be leaving, others with smiles spread across their faces in celebration of the weekend's festivities – that I was reminded just how much I love this place. Your tour guides will talk about the distinct and valued community we have here, but it is not until traditions such as Candlelight or Convocation that you will truly understand the meaning behind their words.
The following morning all of the students again congregated at the Wren building but this time to participate in the Commencement Walk, a traditional walk across campus from the historic Wren to the Hall, where the graduation ceremony is held. The entire walk was surreal – linking arms with close friends and crossing over the Crim Dell Bridge while family members snapped photos along the way. Despite our rainy morning, students were excited and cheerful as ever – charging passed the Sunken Gardens and over the bridge triumphantly, umbrellas in tow.
Just over three months later, when I look back on that weekend, I don't really remember much of what was said during the actual commencement ceremony. It was all of the build-up – the spreading of the candlelight, the hugs and stroll down campus with my class, and the mere thumbs up and high fives of those we passed along the way – that I still and shall continue to remember. This is truly a place like no other.
June 24, 2009 by Samantha Fien-Helfman
It all started off as a requirement for one of my psychology courses: a small asterisks on the syllabus denoting that we would have to spend at least thirty hours volunteering to work with at-risk individuals at either the infant, adolescent, or elder age. I was placed at Merrimac, a juvenile detention center in James City County and would be serving as a mentor and role model for the students there. I could not have even begun to imagine then how transformative that one classroom requirement would be. I went from being a nervous college student who silently sat observing the activities and youths at the Center, to devising my own group sessions and talking one-on-one with any of the students who desired a listening ear. The students became more than just offenders who deserved their time in Merrimac. I grew to see them as the real human beings they are: individuals, often the product of parents, teachers, or an environment that failed them, who had made a bad choice or mistake. Long after my thirty hours were complete, I continued to return to Merrimac once a week for a couple of hours. Those hours off campus were some of the most draining but rewarding I've experienced.
I recommend to any prospective student, whether you end up at William and Mary or another institution, to take time and find a volunteer opportunity in your area. Then, fully commit at least a couple hours a week so that you may fully reap the benefits of being engaged in the organization. If you are fortunate, it might even help you discover a passion or foster your own personal growth as Merrimac has so unexpectedly done for me.
This summer, I was a very grateful recipient of a grant from the Bionetics Corporation, which provides money to William and Mary students every summer who wish to volunteer at an organization that benefits the Newport News area. My grant, in addition to the free housing I have been awarded for conducting summer research, has allowed me to stay in Williamsburg for the summer. I will continue to volunteer at Merrimac as well as participate in research projects under Dr. Dallaire, the same psychology professor who first required my volunteer placement. As the summer continues, I will be sure to add some more information about these projects as well as reflections of my placement.
March 25, 2009 by Samantha Fien-Helfman
When I picture the typical college spring break, I imagine a tropical locale such as Miami or Cancun. I envision shirtless men with steroid-like bodies crushing beers and tossing a football on the beach. Nearby, girls lie on oversized, neon-colored towels, pretending to be engrossed in the music blasting through their iPods or the latest "How to Satisfy Your Man," column in Cosmopolitan. They showcase their sun-kissed and spring break bodies in the cutest bikinis they could find from Bloomingdales. After all, they haven't been working out the past four months for nothing. The guys happen to "accidentally" throw the football near them and a flirty conversation ensues. They make plans to meet up that night for a bonfire and drinks on the beach and, if they're lucky, they will still remember each other's names come morning.
While this might be the typical college spring break experience, William and Mary is far from your typical school. When students at other schools line up days in advance for basketball tickets, we camp out for the opportunity to go on a service trip. I was one of those students – gladly trading in a carefree vacation with my closest friends for the chance to build houses with Habitat for Humanity and fifteen other students I barely knew. Yet I'm no saint. I represent only one of over a hundred students who participated on an alternative break trip and am only one of close to a thousand to apply. William and Mary students are unique and diverse but a common thread that binds us together is our commitment to service. Our school boasts more international service trips than any other in the nation – especially impressive when you consider our small size.
My spring break experience was transformative. Our group spent ten days in Champerico, a small coastal town in Guatemala, building two houses for some of the most deserving and hardworking individuals I have ever encountered. We spent our days mixing cement, carrying blocks, and overcoming the language barrier with smiles and games of charades. During lunch, we would play soccer against the neighborhood children. We finished each day with sore bodies covered in dirt, sweat, and cement. Our nights were comprised of sprawling out on the rooftop terrace of our hotel – sharing our experiences, exchanging back massages, and exploring the root of the area's housing problems. I left Champerico with much more than awful glove tan lines, an unsettled stomach, and a suitcase full of disgusting clothing. I brought onto that flight a much better understanding and interest in the issues surrounding Guatemala's socioeconomic divide, a vested interest in service, two new penpals with whom to practice my Spanish, some basic construction skills, wonderful photos, and fifteen teammates who had quickly become my best friends.