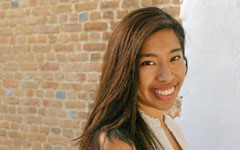 January 23, 2014 by Ryann Tanap
To my incredibly talented and inspiring Tribe Family:
1. You're not going to get straight A's anymore. It's a terrible thing to realize, as many of you are used to being the top in your class. However, the courses at the College are downright challenging, so there's no surprise there. But guess what? You don't have to be perfect, because no one is. Just keep in mind that grades do not define you or your character. Do your best and put in the effort, because that's all that is asked of you.
2. Pick a few extracurriculars to join, but don't go overboard. Like many of your peers, you're probably used to doing a million things at once — and excelling at all of them. However, it's important to know how to balance your classes, work and student activities. When I was a student at the College, everyone I knew seemed to be taking 18+ credits, holding down one (or two) on-campus jobs, and serving on the executive board for almost every organization they were involved in. And while many were able to juggle it all, a majority of them sacrificed sleep, healthy habits, and just plain time to themselves. Be passionate about what you do, but don't forsake your personal well-being.
3. The trek between Morton and Wren will always take you the full 10 minutes between classes. That's just how it is. Even if you're on a bike, it's still going to take you a while to weave through and dodge pedestrians.
4. Don't go to Swem during midterms/finals. Trust me. Swem is crowded with other students who are constantly on edge, or haven't showered, or worse, actually packed all their meals with them for that day and refuse to give up their computer on the second floor (yes, I will admit to doing the latter once or twice…). No shame. Still, there's no sense in stressing yourself out searching for a study spot, unless you don't mind camping out on the carpet. There are other places to study, so feel free to change it up every now and then. Empty classrooms, computer labs (my favorite was the one in the ISC), dorm lounges, the Barnes & Noble Bookstore, and more, await you! Plus, it's nice to get a change of scenery.
5. Do go to Swem during other times of the semester. It's actually a really nice environment to do work in, and for some, to socialize. I wouldn't want you to miss out on a crucial part of the W&M experience. Plus, you'll always find a study table that meets your standards and is adjacent to an electrical outlet.
6. If you find someone's lost ID, go to the Directory. You can type in their last name and email them directly to notify them of your discovery. It just makes their search so much easier – they won't have to search all of the front desks on campus, nor retrace their steps from the past couple of days. Plus, you'll have to meet up with them to return their card to them, and there is nothing wrong with making new friends!
7. Take advantage of the Rec Center (and running trails if you're the outdoorsy type). Students need only present their student ID to gain access to the facilities at the Rec! Looking back, I wish I had gone much more frequently (3x a week would have been a good goal), because I would have established much healthier habits for myself sooner. After you leave college, you actually have to pay for a gym membership, unless you live in an apartment complex with its very own gym.
8. Purchase a CW cider mug at the beginning of the year (since it's January, do it now!). You'll get free refills for the remainder of the year! And if you're 21 and up, invest in a Green Leafe mug. You'll thank me later.
9. Are you, or is someone you know, going through a tough time? Go to the Counseling Center. I can't emphasize enough just how underutilized this resource is. Can you believe it took me until my sophomore year to realize that such a place existed? It wasn't until I was in crisis mode that a kind language professor suggested I make an appointment there; I'm happy to share that I ended up attending sessions there until my senior year. I participated in individual counseling and later transitioned into group therapy (the latter being my most memorable experience at the College). There are other services there, as well, including couples and family counseling, outreach programs, and resources for helping a friend in need. There is absolutely nothing wrong with asking for help. You won't be penalized, you won't be judged, and you won't regret it. After all, when you break a bone or catch a nasty virus, do people tell you to not go to the hospital or clinic? Of course they don't. They tell you to seek medical attention immediately, if not take you there themselves. The same is true for your mind. If you have mental health concerns, address them! Take care of that beautiful mind of yours. 
Hope these were helpful. I know I wish I learned them sooner. If you have any additions or rejections of any of the above, feel free to share your thoughts by commenting below or emailing me at rmtanap@gmail.com.
Cheers,
Ryann
September 11, 2013 by Ryann Tanap
Long gone are the days of cold calling (and emailing)! It's time to take matters into your own hands, with a refreshed perspective.
By now, I'm sure you're all experts at applying to college (and maybe internship and jobs as well). However, there are some things we may overlook or forget. Below are seven tips for all those navigating, or preparing to navigate, through the seemingly stagnant sea of unemployment. These tips are also for those seeking an alternate route from their current career path. The following aren't necessarily a perfected formula to get you hired, nor do they lead directly to the dream job of your choosing. However these tips provide insight on how to be proactive and vigilant while steering through the job search.
1. Make a road map of everything.

If you don't know exactly what your calling is (that's okay, no one has it all 100% figured out during, and even after, college these days), then it's time to take a step back. Construct a visual that encompasses you as a person. Look at the big picture. It's more than just a resume – it's seeing if what you already have aligns with what you envision for yourself. If they don't, then outline the steps to get there. This can be in the form of a list, diagram, drawing, collage, or whatever helps you to visualize your goals, and the steps to reach those goals.
As you prepare to create a road map, consider the following questions: What do you want in your next job? What experience – including work, internship, volunteer and leadership – do you have? What are your most important goals and values? How can you tie in everything to lead you to those goals, while staying true to your values?
Some things you may want to highlight include your:
Assets (degrees, work experience)
Career Goals (graduate programs, the type of job you want, the hours you'd be willing to work, preferred environment and locations where you'd like to work)
Interests (professional/personal interests and how you are working towards said interests)
Guiding Principles (personal values, Life Values inventory, causes you want to stay involved with)
Personal Goals (actions you vow to take to improve your emotional, mental, emotional and social well-being)
Try to do this exercise a couple times a year, to see if your goals are shifting and to keep track of your progress.
2. Polish off your CV (and other application essentials).
Compile a giant CV (even if they're more so for established professionals) that contains all of your work experience, education and skills. Provide as much detail as possible (careful to not over-exaggerate or misrepresent yourself, it will catch up with you later).
For your resume: If you are exploring more than one professional field, make different versions of your resume, drawing from the comprehensive CV you already have.
For your cover letter: Again, if you are exploring more than one professional field, you'll find it helpful to have different versions of a cover letter to tweak as needed (once a job application comes around).
3. Network with everyone, even if you don't think it'll lead to a job prospect.
Most jobs and gigs we get result of a connection that we have. It's all about the people that you know. Having that road map and CV updated will help you to clearly voice your career goals, as well as the direction you'd like to go in.
Contact friends, family, professors, former employers, colleagues, mentors, etc. Update them on your interests and experience and ask for help, and to pass along any info they may come across.
Reach out to people who already specialize in a field you're interested in. Pick apart their brain. Ask about their experience, as well as any advice they'd be willing to offer.
4. (For current students and recent graduates) Take advantage of all that the W&M Cohen Career Center has to offer (workshops, networking days, office hours, Alumni network, etc.).
Not enough students utilize the Career Center! There are many opportunities, often free! One event that graduating seniors should look out for is the Etiquette Dinner. Registration goes by a first-come, first-serve basis, and allows students to learn about proper etiquette for formal or professional meetings over meals, dinners and special events.
If you're a recent graduate, you may use the Career Center's resources for up to two years after graduating. Don't squander this opportunity.
5. Apply.
Easier said than done, but it's no use sifting through the countless applications you've come across if you don't sit down and start filling out the application. And if you did Step 2, then you're at an advantage.
6. Ace the Interview(s).
If you are notified that an employer would like to interview you, be as proactive as possible. Respond on time. Ask questions. Show that you're genuinely interested in the position, and are looking forward to the interview.
While preparing for the interview, do your research (especially if you didn't when you were applying). Be knowledgeable of the organization/business/firm. Know their mission statement, core values and projects they are working on. Prepare questions you anticipate the interviewer will ask you. Prepare questions you want to ask the interviewer (about the position, the organization, advice, etc.).
Following the interview, send a thank you letter (if it was a panel interview, send a letter to each individual who interviewed you), stressing your interest in the position, as well as your qualifications that would make you the best fit.
7. Follow Up.
Upon receiving a response (hiring or rejection), reply promptly and courteously. Even if you didn't get the position, express your interest in working with the organization in the future. If the interviewer is able, ask them to notify you of future openings that they believe would be a good fit for you. Don't sever ties with them simply because you were rejected. Maintain contact, especially if you're still interested in that particular organization. They may even be able to refer you to other positions with other organizations. Keep your options open.
May 28, 2013 by Ryann Tanap
It's been a year since I graduated from W&M, took a leap of faith and moved to Thailand – completely on my own. Since I've been abroad, I've had the pleasure of working with some of the most inspiring people. I teach English at a school in the mountains. It's a remote village, and the nearest city is a six-hour bus ride away. The hotspots to go to during the day are the 7-11 and a couple of coffee shops in town. It's quiet here. There are no tall buildings, lanes of traffic or smog hanging in the air. Instead, I see mountains and rice fields in the valley below the school. But I'm not alone. In fact, I feel more immersed in a community than I ever have before. I didn't think that was possible, especially after going to W&M for four years – the College will always be my second home.
It wasn't easy to get here, to this point of contentment, to this place of peace in my life. I have never lived on my own before (with the exception of a summer internship, but I had random roommates for that experience), let alone move across the world to a completely foreign environment, only to immerse myself in a culture far from my own. Here, the languages I hear the most are Thai and northern Thai. My students come from hill tribes and their native languages are Karen, Lawa and Hmong. English and Chinese are taught at the school where I work, though no one is fluent in either languages other than the native speakers (I'm the native English speaker at the school, and we just started our Chinese program so we have university students from Guanzhou, China on rotation here to complete teaching internships).
Moving abroad for an extended period of time (though, now that I've been overseas over ten months, I feel like it's just short-term), can be a big change. If you've never been out of your comfort zone before, this is certainly the way to do it. I've encountered a variety of hurdles along the way, but nothing was impossible. Everything until now has been an experience or lesson for me, and has certainly made me more open and understanding of the world.
So, if you're preparing for a big move (be it to a new city, a new part of the country, or halfway across the world), do not fret. And if you're thinking that one whole year overseas is a long time, I would say it most certainly is not. Time moves a lot faster than you'd think. If I could, I would stay here even longer. I feel like I just arrived and my job here has just begun.
Just the other week, I was talking to one of the teachers here.
"I don't think it's a good idea if you go back to your country. You have to stay here," she said.
"Why?" I asked.
"Because I'll miss you," she responded.
I'll miss her, and all of the teachers and students here at my school, more than she'll ever know.
January 25, 2013 by Ryann Tanap
For all of you preparing for graduation, listen up. I have some valuable advice for the class of 2013. To the classes of 2014, 2015, 2016, don't worry! You still have time. However, this advice is certainly just as applicable to everyone at the College, so you may proceed.
Slow down. How, you ask? Well, if you're anything like the rest of the TWAMP population, you are taking 21 credits, juggling part-time jobs and running a handful of organizations and organized sports teams. Breathe. Where is the time that you reserved just for you? I know it pains you to hear this, but this is your last semester as an undergrad student. Drop a few commitments; no one will judge you. Please do your all-too-precious mind a favor and learn to do things that make you happy. Once you enter the "real world" – which by the way, isn't as scary as you think – you'll be much more busy. Take this time to relax. We all know you're a professional at multitasking, but don't overwork yourself for no reason. You'll have plenty of time to work (say, the rest of your life).
Exercise! I know that the "gym" may not be in everyone's vocabulary, but who says it has to be? Spring semester is upon you, and so are copious amounts of sunshine and fresh air. If you know that you don't have time, make time! Remember, you've just dropped some of your extracurricular commitments. Go on a run (jogs and walks count too) around campus. Take a bike ride around CW. Grab some friends, head to Lake Matoaka and rent a canoe or kayak at the boathouse. It's free with your student ID. And even if you haven't been to the Rec Center yet, there's no better time to start. Sign up for a Zumba class, or ask to join a friend who frequents the Rec. Your body needs exercise, so stop holding back.
Spend your time with the people you love most. To my dear brilliant and radiant social butterflies: I know you love making new friends. That's great! But just remember: Commencement is in May, so reach out to friends you've made along the way, or have unintentionally lost touch with. After Commencement, you won't be able to knock on your hall mates' door to ask them to join you for dinner. You won't be able to go on a late night trip to Wawa with the friends who've camped out at Swem with you during exams. You won't be able to wake up your roommate at 3am to tell her about your night out, or about that job offer email that found its way to your inbox. This is your time to be with those who brighten your day, with those who you've made lasting friendships with. Your time at W&M is finite. So who would you rather spend it with? I want you to imagine their faces. That person (or group of people) that just came to your mind? That's who you're going to call right now. You're going to make plans to catch "The Hobbit", which you haven't been able to see since you've been busy. You're going to drive to their dorm or apartment to pick them up so you can grab froyo together. You're going to agree to meet for tomorrow's yoga class. After all, you have more time, especially since you're not attending (or running) five meetings this evening. Right?
Attend campus events! Speaking of extracurricular activities, instead of running a bunch of clubs, why not attend other organizations' events this semester? This is your chance to check out events you've always wanted to see, but never had the time to do so. There are always guest speakers and entertainers, fundraisers (selling delicious treats of course), and performances around campus this time of year! I know money may be tight, but when else do you have the opportunity to attend an event for less than $15 (or even better, for free) and not have to drive 45 minutes to get there? I recommend FASA's Annual Culture Night, which will be held on the evening of February 8th. The show (filled with exciting dance numbers, musical performances and stellar acting – all rehearsed in a matter of weeks) is in the Commonwealth, and is followed by a delightful Filipino feast. Tickets go on sale the week before the show in Sadler, or you can contact the President, Dannie Angeles, at daangeles@email.wm.edu, for more information. Okay, that's my shameless plug for this blog post. But seriously, you should go!
Check out the Williamsburg Winery. Are you 21 or older? Perfect! Just bring your ID you can join a free tour and wine tasting! If you want, pay $5 to keep the wine glass. Tours are held on Mondays through Saturdays from 10am-4pm, and on Sundays from 11am-4pm. I recommend you grab your freshman hall mates and head to the winery's Gabriel Archer restaurant for lunch, then top it off with a lovely tour!
Cherish these last few months at the College. It's easy to wish your classes and work would vanish. But this community (that I hope you've grown to love as much as I still do) is truly unique. Where else can you leave your laptop and TI-83 for hours on a study table in Swem, while you jet off to philosophy class in Wren? Where else can you lose your wallet (containing your ID, credit cards, cash and insurance information) by the Units on a snow day, and have it returned to you in just a few days time? Where else do the Dining Services staff sing as they cook and serve your lunch? It truly is the little things, so take some time to acknowledge and appreciate them.
Now go forth, friends! Embrace and love every minute you have in the 'Burg. You won't regret it.
Cheers,
Ryann
September 3, 2012 by Ryann Tanap
Dear classes of 2013, 2014, 2015 and 2016,
Welcome back! And for the freshmen and transfer students: Welcome to the Tribe family! Green and gold now flows through your veins, so do the Tribe proud! I write to you from a little town in northwest Thailand called Mae La Noi. Tucked between picturesque mountains and rice paddies, I am appreciating the peaceful view. This is my new home, and it will be home for the next year. But realizing all of this is starting to bother me a little. Let me explain:
A little over a year ago, I was in your shoes. I was gearing up for the beginning of fall semester—which actually means battling Banner for the classes that I wanted (or needed to take) and jumping back into the sea of organizing/attending meetings and events. I cannot fathom the fact that this semester I am not on campus to join in on the festivities, traditions, and late-night adventures (in and outside of Swem, that is…). You're all incredibly lucky!
Did you catch that hint of jealousy? Yes, I am having classic W&M withdrawals. But that is because I consider the College my home. Realizing that I'm somewhere else (where I'm becoming more comfortable in my surroundings) instead of the College truly scares me! The uncertainty of the "real world" is a terrifying thing. Between graduation and now, I've realized that a major part of what made W&M a home were the people. I met some accomplished and inspiring people during my time at the College. These people became my support network of friends, classmates, faculty, staff, and mentors. They became my family. Not a day goes by that I do not think about how the people at W&M helped me grow. When I was faced with troubling times, there was always someone I could turn to for advice, comfort and strength. I am grateful.
A little over a year ago, I also started to panic. I was stressing out about life after college, even though I still had my senior year to enjoy. The pressure to find something for post-graduation was weighing down on me. I was afraid, but I wasn't paralyzed by that fear. Instead, I did something about it. Between the job search/applications and W&M life, I started a new project. I decided to reach out to my mentors (from the classes of 2009, 2010 and 2011) once more. This time, I had the intention of receiving advice for not only myself, but for others at W&M. After graduating this past May, I finally released my project to my friends and family. This is what I came up with:
The Happiness Handbook: A collection of inspiration, advice and love
Members of the William & Mary Tribe: I hope you can find some inspiration and strength somewhere in it's pages. Let its wisdom serve and guide you. Know that the Tribe family (current and alumni) loves you, and is always willing to help. Best of luck to you all!
From someone who never chose to pull an all-nighter in undergrad (and neither do you!),
Ryann
P.S. If you have trouble accessing the Handbook, let me know! I'll gladly email the PDF to you.
July 16, 2012 by Ryann Tanap
Hey Tribe!
A wise friend once told me to find joy in the little things in life. He's still one of my closest friends and mentors today, and his words continue to hold true. The truth is, we all lead quite busy lives. And if you are part of the William & Mary Tribe, then I'm sure you know how to successfully balance 18 credits, six or more extracurricular activities (with leadership positions in half of them), a part-time job (or two), and a social life, all on only five hours of sleep a night.
Well my friends, it is time that I break it to you bluntly: your time at the College will end soon. Sooner than you think. If you thought four years was plenty of time to try out everything in the book (and then some), you have been mistaken. The truth is, time goes by quickly, and you can get lost in all that you set out to do. I'm not saying you shouldn't reach for success, but you have to remember that you are only human. There is still plenty of time to save the world, so for now, just hear me out.
For my first couple of years at the College, I tried to live up to the expectations I had created for myself. These expectations were perpetuated by my need to be involved 24/7, and the self-created pressure to compete with my peers (most of whom are valedictorians of their high schools with near-perfect SAT scores). During freshman year of college, I learned that getting a B+ in a class was an accomplishment worth reveling in at W&M. This was one of the easier lessons I had to learn. It was not until junior year at the College that life hit me like a wave, as life has a tendency to do so at unexpected times. I found myself to be juggling more than a handful of academic, social, and personal struggles, and it was not healthy. I rarely had time to take a breath, and found myself constantly studying, stressing out, or worse: both (simultaneously). I'll spare you the details, but just remember that everyone has their fair share of hardships. Always give others the benefit of the doubt.
After seeking the advice and comfort from friends, mentors, professors, and the Counseling Center, I decided to set a new course for myself. I dropped a few extracurricular activities (if you ever decide to, do not worry because no one will think less of you nor judge you), and considered switching my double major to a major and minor. I sought out new hobbies and activities that could be both therapeutic and constructive.
It's not that hard to appreciate the little things at W&M; just look around! Beauty can be found anywhere.
Eventually, I started to truly understand what it meant to find and embrace the little things in life. I found myself making time to hit the gym a few times a week, cooking my own meals (which is quite a healthy option for college students), and investing more time in my creativity. I even began to write more often, and started a one-a-day poetry project. I became much more comfortable sharing my work, and found constructive criticism and commentary from friends to be really encouraging that I was doing something positive with my time. I have since found the courage to perform some of my poems as spoken word pieces at open-mic nights at William & Mary, and hope to do so in other venues (the Nuyorican in NYC, anyone?). At press time, my project consists of 390 poems, and is now complete.
So, Tribe, this is my challenge for you now: seek out the little things in life. Find things that can put a smile on your face. Make time to do what you love. Pick up a new hobby, or revisit something you have forgotten. Give yourself some breathing room; you won't regret it. You can still stay active in the "overachiever culture" that exists at the College, but trust me when I say others will envy you if you know how to make time for yourself. If you can balance your life in college, you'll certainly be ahead of others once you graduate and enter the real world.
Yours,
Ryann
July 6, 2012 by Ryann Tanap
Hello Tribe!
It's good to be back here, this time, blogging as an alumna of the College! Commencement was only a couple of months ago; still, I miss those warm brick paths, spacious grassy areas for lounging/studying, and people watching on the Sadler Terrace.
Today, I am writing you from Chiang Mai, Thailand; it is a growing city in northern Thailand that I am just starting to get familiar with. This week is the start of my teaching fellowship with Global Playground (GP), a non-profit organization that works to connect classrooms around the globe.  I am here for in-country training phase, as I am here for the first couple of days with Hana, the current Thailand teaching fellow. I'll be taking her place in Mae La Noi (a mountainous village in the northwest) when she heads back to the US in late July.
So what led me to Thailand and GP? I'm still answering that question myself. I began stressing out about post-grad life during junior year; I wasn't quite sure how I could connect my major (IR) with the non-profit sector.  I remember popping into various faculty and staff offices on campus, seeking advice and guidance. I am truly thankful for the following individuals who put up with my constant stress and panicked emails: Professor Sonn (Religious Studies), Professor Tanglao-Aguas (Theatre), Professor Quark (Sociology), Dr. Vernon Hurte (Center for Student Diversity), Margie Cook (Center for Student Diversity), and Melody Porter (Office of Community Engagement and Scholarship, or OCES). They pointed me in the direction of job openings and grad school ideas. But, they mostly reassured me that I was going to be okay and just needed to relax. It's funny how life works out, because each person I went to was right. I would be okay.
By chance, I decided to take a Teaching English Overseas course during my final semester at the College. I wasn't sure if this was something that I wanted to do in life, but I knew I was passionate about traveling and education. How could I join these together? I came across GP through the OCES. This is the office on campus that provides support and opportunities to get involved with service initiatives within the community and beyond. I applied and went through an extensive interview process. It was not until my last week of classes (literally) at the College that I found out I was selected as the next Thailand fellow. I am truly thankful for OCES, as they granted me with fellowship funds to cover my expenses while abroad.
Everything fell into place, but not without hard work and taking some risks along the way.  I must have put in at least an application a week throughout senior year; some of them resulting in interviews, and some of them not. Believe me, not having something post-graduation for most of senior year was a headache, but that did not stop me from spending time with the people that mattered most, and enjoying the last of my time at the College. I wouldn't have done it any other way.
I'm not sure if this is my dream job. Or if it something I can see myself doing ten years from now. To be honest, I'm not sure if dream jobs even exist. Perhaps we should just be searching for fulfilling lives and genuine happiness. Nothing is ever perfect in life, so why should we force ourselves to find the perfect job?
Whether or not you're a prospective student, or a rising senior at the College, I can tell you that you should not be stressed looking for a job or future career path. Rather, you should seek happiness as often as possible. You never know when a great opportunity will come your way.
Yours,
Ryann
January 20, 2012 by Ryann Tanap
I know many of you may often feel loss, as I know I do most of the time. And when it comes down to understanding why something happens, or why we cannot control nor contain situations, we end up overexerting ourselves. I know I do.  But it's exhausting. And while it's easier to offer my thoughts on this than it is to take a dose of my own medicine, I wanted to remind you all to embrace that life is good.
When push comes to shove, we can end up leading ourselves astray. We may get lost in our initial response/reaction to an event. But it's important to always be willing to shift perspectives. Be free, and allow yourself to shift gears. Perhaps you're moving at 90 mph when you should be going 55 mph. Or, you're adding less spices and herbs for fear of overpowering your dinner. What you must do is learn to reevaluate. Widen your view and accept that what you experience is part of something much bigger. We may not understand it now, but when we do, it will be worth the wait.
After all, we each have to try many different combinations before we can open our own lock to our locker of life. Remember, it's okay to pick the wrong combination of numbers beforehand. As long as we're willing to reassess and rearrange, we'll be set for whatever lies ahead. We're the W&M Tribe; I'm pretty sure it's in our blood to succeed—no matter how difficult the struggle.
August 3, 2011 by Ryann Tanap
A couple of weeks before the end of the Spring 2011 semester, I had the pleasure of serving on the "Panel on Mental Health Issues in the W&M Community." The panel, which included Dean Volp (Dean of Students), Dr. David Goode-Cross (Counseling Center), and myself, served as an open forum for the student body, staff, and administration. It addressed mental health and safety, and was one of many events organized for second annual "I AM W&M" Week. This year, this very special week was led by Student Assembly's Diversity Initiatives, the International Performance Arts eXchange (IPAX), and Professor Tanglao-Aguas, and I very much look forward to it next Spring.
Although, to be fair, I think I should explain why I look forward to this life-changing week.
As a prelude to the Panel (which was held on April 20th, 2011), IPAX and members of the Tribe, performed several pieces of spoken word, rap/lyrics, and songs. Each of the performers were asked to focus on self-expression. To my surprise, I was asked to also share some of my own work. It started as an event where I was to perform four of my own poems (and represent the student voice by serving on the panel), but it has led me down a path of self-discovery, compassion, and joy; after that evening, I felt as if the community had truly come together to listen and understand one another, which is something about W&M that I love. We are a community. We are a family.
So, after the panel, I decided that sharing my poems (and myself) was something I just had to continue. I decided from that night on, I would write every single day. I have kept to that promise, and I now write a poem every single day. I intend to do so until I graduate next Spring. For me, I see each blank page as a new beginning, as I sit myself down every night to piece together the little notes I have made throughout the day. I send out each poem to some of my closest friends for comments, critique, and advice, in hopes of developing my own voice. Today marks Day 105 of my "poetry project," and since I have already broken 100, I thought it was time to share my work with my family – my Tribe family. The family that inspires me to be better, and to always fight for more.
So this afternoon, I present you with three of my pieces. I'd love it if you shared your thoughts, but most importantly, enjoy!
–
Day 56 (6/14/2011)
Sequoias Know Best
I once heard that Sequoias are different from most trees
Other trees send their roots deep below
Into the soil to absorb nutrients for growth
But Sequoias, they are unusual
For they know the true meaning of respecting their roots
For the roots of the Sequoia do not seek the depths of the earth
Nor do they rely on water from deep, dampened soil
Thick root systems form early on during the life of this tree
And their roots sprout from the base
And they grow
With dexterity, with grace
And soon, they show that they must reach
Towards the surrounding sturdy Sequoias
And rather than growing independently
They extend and intertwine
So by growing with those around them
With much support in shallow soils
The Sequoia can grow towards the greatest heights of the sky
Two, Three… Hundreds of feet above
Until nothing is impossible
Not even reaching for love
–
Day 81 (7/9/11)
All is Fair
Consider this a warning:
I'll burn you
Scald you
Torment you
Hurt you
Break you
Chain you up
Hold you hostage
Your weaknesses
Are no longer secret
(Exposed)
They are mine
And I will use them
Against you
So before you wear
That heart on your sleeve
Know that you are vulnerable
To all of the possibilities
Of war
–
Day 104 (8/1/11)
Be Honest Now
As you outstretch your arms for the warmth of the sun
Let us just start again with page one
Listen and understand as I draw what is said
So you can watch me weave this soon-to-be tangled web
Something pretty similar to what you can do
But I can probably do it a little better
For I've seen the master at his best
Carefully carving away the excess
And revealing the beauty that was hidden
Almost as if you are unveiling the bride
Or unmasking the hero
So that identity is more than just an acquaintance
You should become more familiarized
With the infatuated look in their eyes
And let the hurricane come rushing through
Or let the tornado invade and take you away
Twisting and cursing you to your personal fate
Just remember that truth in this life is what you create
–
-Ryann
April 12, 2011 by Ryann Tanap
Dear Spring Semester of 2011,
You have surprised me; I have never seen a more unified community. With each semester at the College, I realize how much this place resembles a tight-knit family. Following the tsunami in Japan last month, several initiatives on campus arose. Our campus is driven by service and community engagement, and I certainly saw that with the Japan Recovery Initiative. Several organizations, like those involved in the Asian Student Council (Chinese Student Organization, Vietnamese Student Association, Japanese Cultural Association, Korean American Student Association, South Asian Student Association, and the Filipino-American Student Association), have dedicated the past month in raising money and awareness about the catastrophe in Japan. With events like ASC's "A Dance for Chance" and FASA's Annual "Turon Fundraiser", organizations on campus are working hard to increase support for this particular initiative.
Another instance of community that I have witnessed is the College's very own Relay for Life. Held this past Friday and Saturday, from 7PM to 7AM, several groups on campus gathered to remember those affected by cancer, provide an incredible support group, and remind each other of the fight against cancer. This year, Relay for Life raised over $30,000 for the American Cancer Society. Even though we're a small school, we certainly have a big heart for fundraising for a cause.
Members of the Tribe are not only concerned with volunteering their time for others. They are also compassionate toward one another. Within the past year, I have seen (and participated with) the growth of on-campus initiatives that raise awareness of mental health and safety. Known as "The Little Things at William and Mary", this particular organization works to remind each other of the beauty and love present in our lives; thus, we should all take a step back and realize that there is more to life than "the hustle and bustle." Right now, The Little Things facilitates an anonymous online blog, which encourages submissions from all members of the Tribe (poetry, prose, short stories, links to YouTube videos, photography, favorite quotes – basically anything that makes someone smile). Feel free to check out The Little Things Blog, as all are welcome to share why and how they've realized that life is beautiful.
Another organization that I have come to respect greatly is known on this campus as "The Circle." This organization hosts weekly cyphers (every Monday night at 9:30PM at the Phoenix Seal by the Crim Dell for those who are interested). These "cyphers" provide a safe space for self-expression. Members gather every week to free-style, rap, recite poetry/floetry, beat box, play instruments, and more. I've never seen a more diverse, yet dynamic, group of individuals, as they are certainly from all walks of life, and have many different interests altogether. You can check out more on The Circle if you're on Facebook!
It's events and initiatives like these that remind me why I'm at William & Mary. This place is certainly an incredible environment for our family of compassion and love.
Thank you, Spring. You truly are amazing.
-Ryann