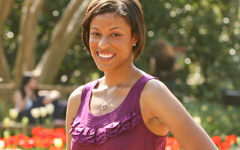 June 27, 2010 by Noelle DuVall
Back in the admissions office! As I ended last semester, as a spring intern working on the Day for Admitted Students, there was a great feeling of accomplishment as the event was a success. Welcoming so many families to the college campus, helping organize all the volunteers that made the day possible, I was amazed at what the admissions office could do. So when I was welcomed as a senior interviewer for the summer, I was excited to look at the admissions process through a different light!
As a senior interviewer, you are forced to remember the times of applying to undergraduate schools all over again. As much time as you put into those long nights of SAT studying, worrying if all your essays were spell checked one last time, and wondering if you even answered those interview questions remotely correct… I must say, I'm not too envious of those high school seniors. But it does put everything into perspective, and continually makes me grateful that William and Mary is my home. It was a daunting process applying to schools, but looking back on the college selection process, it was more than worth the effort. Seeing how excited the rising high school seniors are to discuss their potential future at the College really shows how committed theses students already are to W&M.
While these rising high school seniors take on the task of applying to undergraduate schools, I am constantly reminded of what's next in my life. As they are starting to write their essays, I revise my personal statement and we both make our lists of potential recommendations. In a sense it's very full circle… interviewing those students who would like to come to the school that has given me so much. The difference between current students looking at William and Mary as their home, as compared to prospective students and their families seeing their own future as they walk around campus is vast. Yet everyone has that tug, that draw, to the College and everything that it has to offer. So as the summer is in full swing, I look forward to meeting new high school students, and hope that they look at the amazing history of the College as a place to make a future for themselves!
June 26, 2010 by Noelle DuVall
After getting used to the 95° average that just seems to be the norm here in Williamsburg, I am very grateful to be spending the summer before my senior year at William and Mary. The campus is undergoing a lot of construction and there are, of course, less students on campus, but W&M is still thriving.
As a friend and I walked around Colonial Williamsburg last week, I realized how much of the area I had not seen. So I purchased my Colonial Williamsburg mug (which was a steal at $11, because you can get unlimited refills throughout the year, including slushies and ice cream) and embraced the tourists! We witnessed an auction, had lunch near the Governor's Palace, and baked in the heat! But it was great to venture past the bookstore and see all that Colonial Williamsburg has to offer.
Many of us head to the Rec Center after work, meet up with friends, and still go to the Leafe on Mondays for half-priced hamburgers. Everyone is up to date on World Cup matches and the early rounds of Wimbledon. All in all, William and Mary might be lacking a few students around campus but the sense of home is still here. Without the hustle and bustle of classes, exams, and group meetings I think we all see W&M in a different light. I'm certainly enjoying my summer here so far and hope that I can take this relaxed summer vibe into the fall semester!