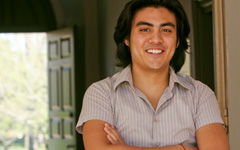 May 2, 2011 by Nick Velleman
Every year William and Mary opens the doors of its admission office to rising seniors in high school who wish to interview with current William and Mary students. This past summer I was one of those students fortunate enough to interview with nearly 200 prospective students as part of their application process to William and Mary.
I met so many different people. I met a student who was displaced by Hurricane Katrina. I met a student who could figure out in his head the perfect square of any number from 1-1000. I met another student who started an annual concert series for blues musicians in her little town in North Carolina. I met a girl with cerebral palsy who started her own blog and through it was able to meet her favorite feminist activist and personal hero. The list goes on and on…
But don't get me wrong, if you're going to interview you don't need some grandiose story about how you disproved E=mc2, or stopped a stampede of bulls from ravaging a little village in Brazil in order to be successful (though if you do have stories like this, don't be shy about sharing them).
Here are a few things to keep in mind when interviewing:
-One kid said to me in an interview "you don't care about my grades" and he was right. In the 20 minutes that we have in that room, relating to you in some way and getting to know what makes you tick as a person is much more important to me than trying to judge your scores. Everyone we interview is in National Honors Society, has awesome SAT scores, and a 4-point-something-ridiculous GPA. We know that there is more to your life than the classes you take, so relax, be yourself and share that with us.
-Have questions prepared for the interviewer. This shows us that you are interested in our school. Also, it allows the interview to become an exchange as opposed to an interrogation. When I ask someone if they have any questions and they just say "no" and leave, it feels like some sort of twisted academic one-night-stand.
-There is no single formula that is guaranteed to get you into a school, so stop acting like you know it.
-One kid asked me to rate the girls on campus on a scale of 1-10. Don't do that.
Finally, remember that interviews at William and Mary can't make or break an application. So instead, think of it as an opportunity to meet a current student and to see if W&M is a school you'd like to attend. Relax, get to know them, and enjoy some good conversation. Good luck!
January 24, 2011 by Nick Velleman
For me, William and Mary has been especially rewarding not because of the things I have accomplished in the classroom, but rather the activities I've pursued outside of the classroom. I never would have imagined that a college could offer so many opportunities for students to pursue, get involved, and gain real live experience with what they're interested in. With over 400 student clubs and organizations, I think W&M excels at providing these opportunities for their students. And because of one organization in particular, I am about to fulfill a dream.
Before I continue I must say that I love music. I am always listening to music. It is my coffee in the morning and my lullaby at night. It is an integral part of my well-balanced diet. It is one of my best friends. It is the aural wallpaper to my bedroom. My favorite band of all time is the Roots. I've seen them ten times in concert and used to write for their website. I think their use of live instrumentation was one of the pioneering moves that is currently bringing rock and hip-hop closer and closer together today. I think they do a great job of emphasizing the element of jazz that are inherent to hip-hop music (but are often lost in the mass produced, formulaic, hip-hop inflected pop music you hear today).  I admire their showmanship and believe that every other band should look up to them when it comes to live performance. I think you get the point…
My story starts at Freshman Orientation. I asked my Orientation Aide, "so, who decides what artists come to play concerts here?" He replied, "that would be UCAB, they have a specific committee for all different sorts of events. For example, there's a Comedy committee that brings comedians to campus, a Films one for movies, and there's a Music committee that takes care of concerts." At that moment I knew that I had to get involved with UCAB's Music committee.
Spring of my Freshman year I joined the Music committee and worked my first concert. Gym Class Heroes came to perform at our Lake Matoaka Amphitheatre. The day of the show work started early. We loaded in sound and lights equipment off the trucks and moved them to the stage and helped set them up. We carried the band's instruments, set up their dressing rooms, and a table for their merchandise. I had no idea that so much work went into making a concert happen, but at the same time it didn't feel like work. I may have been on my feet, running around, pushing and lifting heavy equipment for 16 hours straight that day, but my excitement and passion for the music kept my energy high. I had this a-ha moment when doors opened that evening. Students started pouring in, smiling-wide and excited for the show that night. Seeing their excitement gave me a sense of fulfillment that I was giving something to my peers and my community.
The organization is now called AMP, but since then I've worked all types of shows from big amphitheatre  concerts to auditorium shows to small afternoon gigs on our terrace. I've had the chance to work with GirlTalk, Wale, K'Naan, the Ting Tings, the Cool Kids, Eric Hutchinson, and Guster just to name a few. I grew as a member of the committee learning valuable lessons in time management, communication, budgeting, negotiation, leadership, and business etiquette. I've gained a better grasp of how to work with others in small groups and within a larger organization.  All of these lessons and the experience I've gained brought me to become the chair of the committee by my senior year.
Now it is the Spring semester of my senior year and I am about to face something entirely unprecedented. Throughout this year I've been working with a couple other students to turn our College's birthday, Charter Day, into a larger, more festive, more student-oriented celebration. One of the ways we are doing that is by holding a large concert that weekend. After working with the Student Assembly for the funds, and spending months researching for available artists to play (not that many bands tour during the winter), we managed to book the Roots for our Charter Day concert. This February 5th my favorite band of all time will be coming to my school to perform for my friends and my community. I get to share my favorite thing in the world with my entire school. I get to meet and work with my heroes. If you would like a sense of what this means to me, try and imagine an 8-year-old boy getting to meet his favorite comic book superhero.
It is a paralyzing feeling knowing that your dreams are about to come true. It can leave you speechless and your mind frozen with pure joy and excitement. Part of me is still in disbelief. It may be weeks before I come down from the high I'm on right now (I'm sure I'll be talking about this for the rest of my life). Though paralyzed, I feel extremely thankful. I'm thankful for AMP, thankful for student activities in general, and thankful that my school is giving me this opportunity. I have had such rewarding time planning concerts for my school and I firmly believe now it is because of times like these that the college years are truly wondrous.
Now if only I can re-create this success after I graduate…
July 26, 2010 by Nick Velleman
We are fortunate enough to have one of the greatest food establishments that the East coast has to offer within two minutes by car from campus. The Zagat rated, "Willy Wonka of Burgers" better known as Five Guys is the Mecca of burger lovers like myself. It is easily one of the most popular destinations to eat off-campus for students. With their seemingly unending menu of toppings, the burgers are entirely customizable. Nothing quite equals the sensation of biting into a burger wedded to a collage of flavors (I'm looking at you Kaveh). Not even the Blue Talon eggy burger (you know the one) replicates this unique gastronomic experience. Personally, I order a bacon cheeseburger (that means two patties) with onions, lettuce, sautéed mushrooms, and barbecue sauce. Though lately I've been considering trying a burger with everything on it (still looking at you Kaveh). If I'm feeling particularly ambitious (or hungry) I'll get an order of Cajun fries as well. It is a Five Guys practice to fill a cup with fries, put the cup in a bag, then fill the bag with more fries under which your burger and maybe a napkin are buried. It is excess at its best.
After enjoying this meal of champions with equally savory company, I'd suggest going to see this summer's greatest blockbuster, Christopher Nolan's Inception. It's a high concept thriller that keeps your attention in it's clutches even after leaving the movie theater. I'm not a film critic so I wont even attempt to review the movie, but take my word that it is up there with The Dark Knight. Fortunately, mere footsteps away from Five Guys is Williamsburg's Movie Tavern where matinee tickets are just $6!
So there you have it. A delicious meal followed by a captivating movie. Just beware of the itis…
June 27, 2010 by Nick Velleman
I have a friend (shocker, I know). You might know him. He's a tall guy and can be frequently spotted cruising through campus on his longboard. He inspired me to take up skating again this summer.
I swear, when Tony Hawk's Pro Skater came out back in 5th grade it seemed like everyone had picked up skateboarding. I used to spend hours upon hours playing that game. It was so revolutionary because it introduced everyone to the previously fringe world of skateboarding. A world where something as mundane as a set of stairs could suddenly open up endless opportunities for tricks and combos. Where the pace was fast and the music even faster. Where everything was dangerous and exhilarating at the same time. Where it didn't matter if you fell because you could just get up and keep going (in the video game at least).
Naturally I asked for a skateboard for my birthday so I could start bombing hills and busting 360 flips and stuff. Immediately I realized that skateboarding isn't as easy as it looked in the video games. I got the hang of just rolling around on it pretty easy, but learning to ollie was freaking impossible! How was I ever going to boardslide down the handrail of a set of stairs if I couldn't ollie up onto the thing? I hit a brick wall pretty early.
I'm surprised I stuck with it as long as I did though. I remember some of the most exciting days of 6th grade were when a few of my friends and I would go to the skatepark at the mall after school on a Friday. In all the times I went there I can't say I ever landed a best trick or anything like that. I just enjoyed the free feeling of going fast and riding up and down and the ramps. I learned that skateboarders weren't just misfit athletes of an unconventional sport, but stuntmen constantly daring themselves to try harder and more complicated tricks. After a couple years of that my skating habit diminished. I guess I outgrew it.
Well this past semester I thought I'd borrow my friend's longboard and take it for a spin. That was an awesome feeling. It was a little different at first because the board was bigger which made for a smoother ride. It was midnight and I just went up and down Jamestown Rd. a few times. I remember every time we'd get lunch at the Marketplace I would take it for a spin all the way up to Griffin St. and come back saying something like "sorry dude, I just had to get that out of my system."
So now that I'm here for the summer I brought my two skateboards down. One I'm letting a friend have who's also interested in picking it up. I've started skating all the time now. I skate to work at the ampitheatre, to my friends houses, to the bank, everywhere. Almost every night I've been here I've taken it out and skated through campus. It's a great feeling. I love the air rushing past me as I whizz by Zable or tear up the Business School. Since no one is here I practically have the whole place to myself. I love that freedom of being able to go anywhere I want.
I really appreciate it now too because I feel skating through campus is another way to form my own special relationship with the school.  It's hard to describe but there's a certain magic skating through campus. It's a whole new way of encountering it. I thought I was so familiar with the campus, but skating adds a whole new novelty to it.
June 25, 2010 by Nick Velleman
One warm evening this past May, I stood in front of the Wren building as I watched one of my closest friends deliver a speech to his classmates. I was far away, standing by the Botetourt Statue as I looked on the cap-and-gowned Class of 2010 assembled below him.  I felt like I was eating my last meal before receiving the death penalty. It was like witnessing the foreshadowing of my own death. I couldn't appreciate the ceremony, nor the tradition behind it. I had numbed myself from the whirlwind of emotions that blew through the week leading up to graduation weekend, but I still felt upset. I didn't want to be there, but where else would I have gone? All of the people I wanted to be with were there. And as much as I disliked being there that evening , the truth is that there was no other place I would have rather been. I had one of those soothingly melancholy moments where I was reminded of how beautiful this place is.
After he finished, I didn't linger. I left and spent the rest of the evening setting off fireworks over Jamestown Beach with a couple of friends.
The next afternoon after the Commencement Ceremony, I felt like I needed to escape. Being on campus only reminded me that something great just ended for some of my friends and that I was next.
Nearly a year before that night, I left to study abroad for awhile. I'm not really sure how it came together or what really made me want to go, it all just kind of fell into place and then suddenly I was about to embark upon the biggest trip of my life. Initially, I was very upset that I had to forfeit an entire semester away from the College. I had met so many incredible people, and had the opportunity to do so many incredible things that part of me didn't want to leave. But after road tripping across England, punting on the river Cam, working on a Beaujolais vineyard, and chasing Cezanne's legacy armed with a pallete, a paintbrush, and a canvas, I returned to a snow-covered DC in December thinking, "that was totally the right decision."
Returning to school in January was sort of a rude awakening for me. In addition to adjusting back to campus life among other changes, I began to fear graduation; that of my friends in the Class of 2010 and my own which had just started to emerge on the horizon for me. By mid-May, I couldn't think anything, but "you're next, Nick."
Now it's June, over a month after 2010′s graduation.  After spending some time at home I've returned to Williamsburg and I think I've got my head on straight, for the summer at least.  I had some time to have space to myself, and re-assess my attitude going into my last year at the College. I mean, it's not like I have any other choice really. What am I gonna do, NOT enjoy the time I have left? What's the point in being miserable all the time right? I've vowed to take my time and cherish every little thing that this school has to offer for the next twelve months. This summer I'm fortunate to be an intern at the admissions office, really allowing me to spend as much time with the College as possible. I love the people I'm working with. I swear the admissions deans are some of the coolest people on this campus, and it's a shame some people go through their college careers without ever meeting them. One of my friends inspired me to take up skateboarding again. At night I'll skate through campus and enjoy the freedom of having it all to myself. Just earlier this week my favorite band, The Roots, dropped their 9th album (How I Got Over is so freaking good, pick up a copy). Things right now are so good it may as well be my birthday. I'm really excited about spending the summer here in Williamsburg, and as for senior year, well…I'll cross that bridge when I get there. In the meantime, I'll be bumpin music in the basement of the Admissions Office.