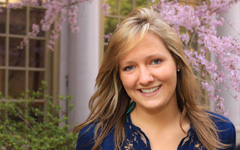 December 28, 2012 by Madelyn Smith
If I had just one wish it would be this:
I wish I could sit down and have the most beautiful meal you have ever seen in a dining hall with a 3 year old Maddy, a 6 year old Maddy, 8 year old me, 12, year old Maddy, and so on until the present day Maddy. I would sit at the head of the table and ask myself questions about my thoughts on the world, on my passions, my life goals, my ambitions and dreams at each stage of my life. I would sit and look around the table seeing the effects of time and change. I would likely envy the innocence of my little self, and say a prayer over the middle school Maddy for all of her insecurities. I would celebrate my accomplishments of the years, and cry alongside of the younger versions of me for the different struggles that I am facing at each of these stages of life. I would listen to my stories intently focusing on the detail taking myself back to those moments in life that were so sweet. The future Maddy would be standing just on the other side of the door waiting her turn to enter, listening through the walls and waiting for the moment when she too can join the table. Occasionally she gets to peak into the room as the servers open and close the door. She has a flash back into the past for just a moment before the door closes again and she is back in the future moment.
I wonder if the little Maddy would be proud? Would she look at me and celebrate the person that I have become; would she want to be me when she grows up? Or would she look at me and think that I've disappointed her because I didn't do all that I was capable of? Whenever I doubt what I'm doing or where I'm going I think back on whether or not she would be proud of the person that I have become. I hope that she would look on me in awe and wonder impressed by all that I have accomplished and curious to know how I got there.
Time is an interesting phenomenon that continues running forward despite how hard you try to stop it. Regardless of whether or not I want it to, May 2013 will come, I will graduate from William & Mary and my life will continue moving forward. So, my hope for you is that you embrace it. Appreciate the moment where you are, here and now and don't wait for something to happen; create the moment yourself. If you want to take a risk, embrace it. If love is what you seek, chase it. If your heart calls you to serve, do it. If you are pushed out of your comfort zone, enjoy it. If you're broken, fix it. I do believe that you write your part in the story you create, but the little girl in me secretly likes to believe in wishes. If wishes inspire dreams and dreams do come true – for this New Year, what would you wish?
November 13, 2012 by Madelyn Smith
It dawned on me a few days ago the importance of sharing your love language. I was sitting in the middle of a crowded cafe watching old couples, young students, children and families interact. Conversation flowed easily for some, more forced for others, but together this sea of voices created a melody that served as soft background music to my lame attempts at studying. In a quick glance scanning the room, I was able to recognize multiple gestures of love; the way that he leaned in close to hear her Halloween story, the look the little boy gave his father as he reached to grab his hand, the giddy talk of the two girls sitting in the corner who sent laughter echoing throughout the café, and the romantic gaze between the couple who looked into one another's eyes as they enjoyed a late afternoon coffee. As I carried away busily typing my paper and furiously scribbling notes from my textbook I looked up to catch the eye of an older gentleman sitting in the corner of the room. He politely smiled and turned back to his book. It was such a simple gesture, but so unexpected and genuine that I nearly got up out of my seat to thank him. Over the next ½ hour I watched people come and go from the café each of them passing by the old man, without a second glance. I can only imagine his story, all that he has experienced in his life, and it is likely that I will never know. But as I observed the hustle and bustle of the café I noticed something special about him. Periodically, he would stop, look up from his book, make eye contact with someone, smile the most genuine smile I have ever seen, and then turn back down to his book. He clearly understood the power of a smile. The language of love. Love language is something that we often overlook, but I think is truly necessary to share and to spread…
They say that there are five official love languages that drive our interactions with one another; words of affirmation, quality time, giving gifts, acts of service and physical touch. Each individual has a love language they speak and receive, perpetuating positive feelings and encouraging love. Take a moment to stop and consider what language you speak. Kind words. Meaningful cards. Thoughtful presents. Endless time. A heartfelt hug. Volunteering to help. What ways do you like to receive? A pat on the back. Help completing a project. A warm plate of cookies. An ear to hear your woes. Someone telling you you're good enough. What makes you smile?
I believe in the goodness of people. In a world where color means beauty and class is just a word. I believe in a world where love is a universal language that can be understood across seas and beyond boundaries. I believe that emotions are the common thread between us all, and love, or lack thereof, defines those feelings. In this world, you decide your part. You have the power to tear others apart or build people up with your words, actions and thoughts. What amazes me is why anyone would ever choose the former. Ultimately, there's no way to "love right" the important thing is that you're doing it; you are loving and living every day trying to share it; your love language.
October 10, 2012 by Madelyn Smith
There are things we all strive to be. Expectations we hope to meet and goals we work to attain. It's human nature. This afternoon we were graced by the presence of His Holiness, the Dalai Lama, who reminded us that at the end of the day we are all human and we are all capable of practicing compassion and spreading love. Regardless of our history, or beliefs, our backgrounds or ambitions we can love without bounds. He challenged us to practice living with open minds and remain clam in the chaos. But, of all the quotes, stories and anecdotes, I came away with one thing; the joy in his laughter. As it echoed across William & Mary Hall contagiously sweeping across the crowd, his laughter filled the auditorium. I couldn't help but smile as I turned around to see hundreds of people beaming. His life is a gift. His message is a prayer. And, his inspiration is indefinite. He is one man who has committed his life to making the world a better place. One man who is challenging what we know. One man who is encouraging us to practice our virtues. One man.
As he talked, his eyes danced and his mouth bent up in a small smile. The ease in his voice and comfort in his disposition made it feel as if the audience was sitting on his living room floor listening to a story he had told a million times. He spoke from his heart. His talk got me thinking a lot about the power of one life and the message that you can send through your life's song. As an individual who is passionate, curious, and intelligent, you have the power to impact the world. You can choose to build people up, encourage their dreams and foster their interests. You can build organizations, better relationships, support leaders and vocalize issues. You have the power to make the world a better place. You, too, can spread laughter.
September 19, 2012 by Madelyn Smith
Years from now you'll look back on this moment and smile. You'll smile because you'll realize what you have created. You'll smile for the many lives that you've touched and the impact you've made. You'll smile with gratitude and thanks in your heart, grateful for the people in your life who have helped shape you.
You might not realize it now, but someday you'll look back and smile on all of those times you were scared of what the future would hold. You'll smile thinking about those fears and understand that you ended up exactly where you need to be. You'll smile thinking of the many innocent memories and reminisce on the days when you weren't responsible for anyone other than yourself. Maybe you'll still be alone, but you'll smile knowing that you wouldn't have done it differently. When you look back on these times you'll smile when you remember your awkward moments and greatest achievements. You'll smile at the many things that have changed and likely the many things that have remained. You'll smile at the vistas you can remember and the world that you have experienced. You'll smile for your loved ones and the ones who lost touch, imagining their lives and their happy moments. You'll smile for the days when you would sleep until 1pm without a worry in the world. You'll smile for the times you just skimmed by and the times you worked your hardest. You'll smile for the peace you'll find in your heart when you realize that you're smiling and then… You'll smile again.
September 17, 2012 by Madelyn Smith
"I'm Good." "Great, Thanks!" "Doing well." "Having a great day!" On the outside, everything's fine… But, do you want to know the truth? Everyone struggles. Everyone faces adversity. Everyone feels insecure and everyone wants to belong. Everyone searches for love, longs to be needed and hopes to be OK.
It's all good. There is something to be said about acknowledging where you are and being who you need to be. We say that we're fine because of instinct, habit or simply because we don't want to "talk about it". And, that's OK too.  Just know that you're not alone. No one is perfect. Even those people who seem to have it all together, the perfect grades, the perfect hair, perfect car, perfect Facebook pictures; they're all searching too. Isn't that what life is? The process of discovering yourself. Getting to the place where you're not comparing yourself with others, but living life for yourself. Doing things you love to do, because you love them, not because someone or something tells you that you should. Part of discovering your heart and your passions is acknowledging these struggles and listening to them so that you can move forward.
I believe that you should experience one thing every day that puts you out of your comfort zone. You should seek these moments and embrace them, because it is those experiences that help you realize what you are capable of. Sometimes your greatest personal growth comes from those personal struggles and insecurities; those moments when you are completely out of your comfort zone. If you allow yourself to learn from failure and see imperfections as opportunities, you might just find that your weaknesses are your greatest strengths.
September 11, 2012 by Madelyn Smith
If I could tell you one thing in a 100 words…
Life comes around once, and your decisions dictate your journey… There are two things that you can control in life; what comes out of your mouth and how you interact with people – your emotions and reactions. These two things make up the essence of who you are, define you and the legacy that you will leave behind. You are… Unique. Bold. Curious. Passionate. Honest. Genuine. Open. Caring. Intellectual. Compassionate. Driven. Contemplative. Adaptive. Searching. Loving. Longing. Aspiring. Choose to… Explore. Create. Imagine. Dream. Commit. Learn. Read. Contemplate. Dance. Laugh. Love.
August 27, 2012 by Madelyn Smith
"Where are you from?" "What freshman dorm are you in?" "What introductory econ class are you taking this semester?" "Your mom cried when you pulled out of the driveway and didn't stop until after you moved in? Funny, mine too!"
There is nothing better than those first few, sometimes painfully awkward, days at orientation.
But let me tell you something, Class of 2016… YOU MADE IT! You have flipped the page and are currently writing the next chapter of your life. A chapter full of curiosity and wonder. A chapter where you can be any character, conquering any challenge and exploring any adventure… YOU control your story.
Three years ago I was exactly in your position with a blank sheet of paper in front of me, a pen in my hand and a few notes from my past beside me. I was so anxious to see what the next four years would bring and was dying to skip to the next chapter to see what the ending would be. Would I make friends at college? Would I live through my first chemistry class? How would I ever survive orientation that first week? I just wanted to know that I would be OK.
Class of 2016, I can promise that you will be more than just OK. In fact, chances are you are going to thrive at William and Mary! You were selected to be a part of this class because you are a remarkable student. Your hard work, determination and drive brought you to where you are today and you should be incredibly proud of yourselves. One of my favorite campaigns at William and Mary is the "I AM W&M" week. Say to yourself, "I _________ AM W&M" Because, you are. You are the essence of the College, the future of the College and the intellect that fosters the reputation of the College. Together you and your peers will make the College into what it will become. So, get out there and create the best story ever told!
If you don't know where to begin, start by taking initiative. Explore a facet of your character that you have always been curious about; dive into a new interest. Try a new sport or pursue a quirky passion. Experiment with different story lines and use the setting of this chapter, the College, to your advantage. William and Mary, it's students, faculty, staff and administration are here for you. These people are here to see you grow, help you discover and teach you how to learn.
Over the course of my time at the College, different characters have come and gone, taught me life lessons and given me pieces of advice. I have journeyed through frustrations, trials and great accomplishments. But, the beauty is that this is only one story. One story of 5,000 stories at the College of William and Mary. You have a chance to set your pen to the page for the first time in this chapter, what will you do?
Class of 2016, what's your story?
August 13, 2012 by Madelyn Smith
I believe in an economy of love, where every action that you make touches on a chord that will play for eternity. I believe if you serve the song of your heart, the world will listen. History, time and space prove that relationships are the foundation of our world and our lives, and constitute our reality. Without relationships this economy of love would not function. Supplying the economy's demand for love is simple, and it starts with the most basic resource: you.
Your thoughts, your mind and your ability to interact with others in a way that perpetuates goodness and kindness are the necessary elements that contribute to the creation of a stable economy of love for us all to feed off and grow. There is this commercial I saw recently about a man who holds a door open for an elderly woman, minutes later a young girl who witnesses the interaction sees a piece of trash on the ground and throws it in the garbage, a new mother sees the young girl throw away the trash as she is driving by in her car and just seconds after stops to let a couple walk across the street. This goes on for about two minutes until it comes full circle back to the man who originally held the door for the elderly woman. This is the economy of love. The act of doing something greater than yourself for another because you believe in something bigger than you.
Operating from this place is selfless and not always easy. It requires you to act in the present moment and set yourself aside. But the reality of it is, we all take from and give to this economy of love. In this economy, there is no such thing as diminishing marginal returns, because the more that you give, the more you receive. The more that you participate and give of yourself and your love, the stronger the economy.  The demand is high, but the potential to meet that demand is also great. And, it's simple. All that's required is a smile, a touch, a kind word, a sweet gesture or loving thought.
The truth about this economy of love is that it exists wherever you are and your participation is involuntary. Harsh comments, snide remarks and rude gestures tear apart the fabric of the economy and make it unstable. But on the contrary, acts of love and kindness perpetuate the cycle and stabilize it so that we all can succeed. Imagine what the world would look like if we all operated selflessly in this economy, if our drive was not self-indulgent or based on monetary value, if we contributed with no expectation of return and humbly gave of ourselves. Just imagine …
December 12, 2011 by Madelyn Smith
The moment when you know that you are exactly where you need to be. You don't once second guess your actions that led you to where you are today, but somehow you trust that it just feels right. Serendipity. The bliss of knowing that you followed your heart, embraced a challenge and disciplined yourself to trust your intuition. Serendipity. There are those few who choose not to believe in serendipity on the tenets that one cannot truly know that they are right where they are supposed to be, but that is the beauty of it. Faith in the unknown. You miss a train because the one that you were supposed to be on goes off the track and crushes the seat that you should have been in. You trip and fall down the stairs, only to look up and notice a sign directly above you reading "hiring" and you're out of a job. You spontaneously show up to a friends house that you haven't seen in years only to learn that they are going through a tough time and could really use a friend. Some call it chance, I call it serendipity.
I want to share with you a story. A story of serendipity. She was 45 and single. Worked a 9-5 as a successful consultant at one of the top firms in New York. He was a teacher. 47 and single. Born and raised in NYC he had only been out of the country on one or two occasions. Both rode the metro to work. She would read her newspaper, he would work a crossword puzzle. The same routine each morning. Both wondered if they would forever be alone. One morning the woman was sitting on the metro when she noticed a small white feather float through the metro doors just before the doors slammed shut. Her eyes caught hold of the feather and held onto it in boredom. The metro raced down the tracks towards her office on 32nd street, but still she kept her eyes on this elegant little feather. Slowly it began to float towards her. Dancing across the heads of strangers, catching coats and then letting go to continue on its journey. After minutes of gently floating through the chaos of the metro crowd the feather finally floated right next to her. Her head turned towards the random stranger sitting next to her; still the only thing she noticed was the little white feather. Watching it fall slowly, slowly ever so slowly. Suddenly she raised her gaze to realize that he too had been following the feather from its entrance. The random stranger was the 47-year-old school teacher. The random stranger was her future husband. They laughed, got to talking and the next thing you know they were dating and married. Serendipity?
People say that life isn't like the movies, but I can't help but think that these stories are real and could happen to any one of us. If life isn't like the movies, then what are the movies based on? Sure, we all have fantasies, things that we would like to see happen in our lives that may be slightly unrealistic, but the truth is that these stories have happened to someone somewhere out there. It's just a matter of who is observant enough to notice and appreciate the beauty in simple little things.
November 8, 2011 by Madelyn Smith
I think we all reach a point in our lives where we feel like we've hit a wall. The excitement and growth that was once tangible continually shrinks until you feel like you are stagnate and can't catch a break. Exhaustion prevails and the next thing you know you find yourself stuck. In a rut, with nowhere to turn.
These times can be frustrating because you can't quite put your finger on what it is that is stunting your growth. You've tried treating yourself to your favorite chai tea or reaching out to give someone else a hand with hopes that it will reignite the spark that once burned inside you. But nothing seems to do it…. Then, you realize: In order to succeed, you have to fail.
Live for today and don't fret about tomorrow. Regardless of how you look at it, tomorrow will come and until that time there is no use worrying about it. Instead of looking at your to-do list as a daunting dark cloud looming over your head, see each little moment as an opportunity to shine. There is no such thing as a menial task, because every action contributes to a greater purpose. Everyone has their moments where they feel the weight of the world on their shoulders and if anyone tries to tell you otherwise, they need a serious reality check. Being stuck only helps you define your character by proving to yourself that you can do it. Think back two months ago… What was your looming cloud then? Maybe an event you had to plan or a difficult conversation that you had to make? At the time those struggles feel like they will never end. Yet, here you are, two months later having survived something you maybe never thought you could. These moments make you stronger.
Look back and be proud of the walls you have jumped and the times you have failed. These trials shaped you and brought you to where you are today. A rut can be a positive thing if you chose to see the light at the end of the tunnel. Embrace it. Treasure it. Outlast it. Because you can and will survive it.
George Carlin once said, "It's not about how many breaths you take, it's about the moments that take your breath away." Go out there and greet this day, it was made for you.