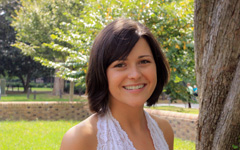 March 21, 2011 by Lisa Risely
In all of my three years at William and Mary I have seen many people grow and I have seen some stay stagnant.  I can testify to the challenge many, if not all, students face upon entering W&M and throughout their experiences here: a challenge of identity.  Attending a rigorous university has its set of personal and professional trials, through which we begin to discover our place and our identity as emerging young professionals.  However, attending what some may call a "public ivy-league" university adds a whole new perspective to this process of growth.  We are the best of the best, very selectively hand-picked.  Thomas Jefferson was our fellow alum, along with many other famous people and leaders.  To be admitted to the second oldest university in the country, once rivals with Harvard, is an immense accomplishment.  However, these are not the things that make us great.  It is through a life-long process and dedication to personal and professional reflection, growth, maturity, and positive contribution that we truly can begin to live up to the reputation that has been bestowed upon us as we earn the title of William and Mary Alumni.
This school, as an undergraduate and graduate institution, is geared toward complete and utter development and molding of the self.  We are pushed, pulled, and challenged by our faculty and peers to grow and become all that we can be and all that we want to be.  Many people only dream of such opportunities. Many people just see it in the movies.  But, we have this opportunity and should seize it now and throughout our lifetimes.  In fact, this growth and development can and should occur no matter where you are, what you study or do for a living, or who you are around.  This is our calling and our personal and societal obligation: to make a difference.  If we truly seek to be the best we can be, our priorities will include concern for more than ourselves and our "prestige."  It is okay to be proud. Sure, we deserve it!  But, I challenge my fellow peers to not let that pride inhibit growth or keep us from making great contributions to our society and helping those around us.  You do not need a license in a helping profession or even a degree to do good things for others and help those who are struggling.  You do not need to be Valedictorian to make a difference and be remembered.  You just need to be you… in search for your best.  My fellow friends and neighbors, get serious about life, not conceited.  Be kind and generous to those around you and those in need.  Live each day as if it is your day to make a difference and be a light to this world in times of great hardship.
February 3, 2011 by Lisa Risely
When I first began my graduate program at W&M last semester, I initially hypothesized that W&M has a similar level of rigor in undergrad and grad school.  I thought that maybe that left me more prepared for grad school at W&M than those coming from other institutions because I was used to the pace and level of difficulty.  What I found over the semester, was quite the contrary.   I was committed to a smaller quantity of things, yet I was busier than I was in undergrad and had less of a social life.  However, for a while I could not pin point what was making graduate school more challenging than undergrad.  In time I came to a couple conclusions:
1.       W&M faculty demand excellence, but as the name suggests, graduate work is more demanding, time-consuming, energy draining, and mentally stimulating.
2.       Being in a specialized program, doing what you love, naturally elicits a strong desire to thoroughly complete all reading assignments (and thus takes a lot more time) to get the most out of the program as you can.
3.       Having a full-time graduate assistantship, while attending a full-time graduate program is very time consuming.
4.       Living off campus and having to travel through Williamsburg does, believe it or not, take some precious time out of your day.  It must be the 25mph speed limits that dominate this small town.
5.       Self-care is mandatory!!!
6.       Undergraduate education really isn't enough… graduate education is more valuable than you think, not to mention education should be a life-long, on-going process.
Graduate Prospectives:
If you think W&M is a top-notch, rigorous, and highly esteemed undergraduate university, you are correct!  However, W&M really is that much more top-notch, rigorous, and prestigious in graduate studies!!!  As a fellow graduate student at W&M, I highly regard the department I am in and strongly support those brave enough to charge this exhilarating and stomach-wrenching path of personal and professional development.  Don't be afraid, but get ready for the ride of your life.  I used to refer to W&M undergrad as a very fast moving train, but I have begun to conceptualize W&M graduate school as a runaway train that will pass you by and take you with it whether you are ready for it or not.  The great thing about this is that the faculty will make sure you get to the finish line.  I have never known faculty to be as helpful, caring, and empathic as the faculty in my graduate program.  There are a lot of resources available and many people supporting you along the way, such that even when something seems impossible, you really can accomplish anything when you commit to the process.
October 27, 2010 by Lisa Risely
It is hard to believe that it is already that time of year.  With paper after paper and exam after exam the demands are high and the time is flying by.  At some point in this madness I will stop and wonder, "Where did the semester go?"  Although my work load never fails to be intense and sometimes exasperating, I cannot help but admit that I am having fun! Graduate school is so much more meaningful to me than undergraduate.  I get to study what I love and practice what I love.  There are very few times now where I have to do something that is tedious and futile.  Even when I am frustrated that I have to write a long paper and would rather sleep, deep down I know how much I am growing from every experience I am having in my graduate program and I appreciate the challenge.  It would be nice if graduate school was completely experiential learning, but the reality is that the other parts do matter and are worth your time.  I guess I cannot complain, because I am where I am supposed to be and I love what I do.  I just have to tough it out and never take it for granted because this is the time where my education is going to be personally the most valuable and mold me into the woman and counselor that I will become.  Although W&M undergrad and grad both feel like you are on a runaway train holding on for dear life, my goal is to maximize and enjoy the experience and take every moment I can to stop and breath in the very joy I get from spending time with my family, my boyfriend, my fellow counseling students/faculty.
September 7, 2010 by Lisa Risely
The end of my senior year came quickly.  It seems like it has been forever since I last blogged, but at the same time it seems like just yesterday.  The last month and a half of my undergraduate education was overwhelmed by the intense demands of my honors thesis.  My thesis ended up being sixty pages long and a 45 minute defense presentation.  This sounds and feels like a lot, but the amazing part of it all is that there is still so much more that can be said and done.  Originally, I was terrified of the thought of completing a Master's thesis and especially, a dissertation.  I never thought I would do such a thing in undergrad.  But, I look back on it now and I have to say that conducting my own senior honors thesis was the best experience of my entire education.  It was a lot of work, but it was also a lot of fun.  It is really satisfying to be able to spend a year of your life critically assessing and researching a topic that you are passionate about.  And the feeling of success and accomplishment that you get when you finish that defense and know that you did it… that moment is irreplaceable.
I completed my senior honors thesis this May and was awarded High Honors in the department of Psychology at the College of William and Mary.  That is a big statement.  And it is a statement that will take me places. The topic: therapist interventions used to stimulate paternal involvement in therapy and in the family. The irony: I am now a Masters student at the College of William and Mary's School of Education for Marriage and Family Counseling.  I suppose it was meant to be.
May 2010: I graduated with a BA in Psychology.
Summer 2010: I oscillated graduate school decisions and pondered on how surreal it was that graduation came and went, and life was dramatically changing.
August 2010: The wonderful tradition of Convocation warmly invited me back in those wren doors for another two years of W&M history.
Now… though I wonder where I will end up for my doctorate degree (i.e., UCLA, U of Oregon, Duke, etc) and what exactly I will study (i.e., Counseling, Social Work, Clinical Psychology)… I must tame my typical W&M over-achiever mentality and focus on the new and exciting path in front of me.
P.S. In February 2010 my baby brother was born… and he is absolutely the coolest baby ever!!!
Enjoy life! Enjoy family! Enjoy friends! Enjoy your education… because time flies and if you are not looking it will sweep you off your feet.
"In the end, it's not the years in your life that count. It's the life in your years."
–Abraham Lincoln
March 15, 2010 by Lisa Risely
Spring Break 2010, it is senior year and I thought I should go out with a big bang! So, a few friends and I took a week long trip to NYC. I always love to travel to NYC and enjoy the thrill of seeing the sights, constantly being on your toes, and running from taxi cabs. In fact, I always thought the best compliment a guy could give me was, "Times Square can't shine as bright as you" from the song Hey There Delilah. However, during a week in NYC, to my surprise, I found myself missing Williamsburg. I was so ready to come home. NYC can keep the subways, rude masses of people pushing you around the sidewalks, and cabs trying to run you over as if it is Grand Theft Auto and they get points for every pedestrian they hit. Oh, and the horns! I will not miss waking up to car horns. The ironic part is that there are street signs posted all over NYC that pose a $350 fine for honking your horn. Go figure.
The point is… I am glad to be back to William and Mary! Believe it or not, this place has established a deep feeling of home to me and I am not sure that I want to go to graduate school anywhere but here. A few months ago I was burnt out and ready to depart from this state, but now I think I want to live here. In NYC I found myself thinking of Williamsburg quiet often, pointing out that NYC bricks were not like our bricks, criticizing the lifestyle and inconvenience of the city, and longing the peacefulness here on campus. I love waking up to the smell of morning Williamsburg dew and the sound of birds, unlike car horns.  NYC will always be a fun place to visit, but Williamsburg is a place to be at home.
For those familiar with the area and the campus traditions, and for those interested, check out the wonderful music video on youtube.com called Williamsburg State of Mind:
http://www.youtube.com/watch?v=NbnxUXtzc6k
I love this rendition of campus/Williamsburg life, except for the part about it being boring. Williamsburg is far from NYC, it is not a traditional "party" town, but it has so much more to offer.
February 19, 2010 by Lisa Risely
Being a good student at William and Mary often means that you will have many days of non-stop movement. Wake up, throw on clothes with 10 minutes to get to class, grab a pop tart, run to class and wish that it was slightly warmer outside (in the winter), trip on a risen brick, plan out when you will get work done in between classes/work/research/organizations/internships, sit in class thinking "if only I could have slept another 10 minutes or so, feel gross for having eaten several pop tarts during the week, etc. My two years here have felt like a never ending marathon, even during the last semester of my senior year where I thought my work load would have been a little lighter. Now, I know not everyone at William and Mary has as much of a crazy life as I do, but I would like to think that a good majority of the Tribe are over-achievers too. I have always taken my work and my goals above and beyond what is expected of me, and considering the prestige of William and Mary, I think I am not alone. This lifestyle is rough, thrilling, and sometimes stomach-wrenching. It is one of the most exhilarating experiences of my life and I love it! I just wish I did not eat a pop tart this morning.
Point of advice: You will have many more days without nausea if you train yourself to not snooze the alarm. Get up a few extra minutes early to eat a healthy and sustaining breakfast. It is worth losing those extra 10 minutes of sleep because the stomach ache from the pop tart makes it really hard to pay attention in class.
P.S. I am in class now! :-p
February 9, 2010 by Lisa Risely
So, I am a senior. And yes, this is my last semester. Many seniors around me are dreading the big day where we walk out the doors of the Wren building, opposite the way we came in during convocation. However, I have been in college for almost 5 years and I find myself to be one of the few that can't wait for commencement to come. Don't get me wrong. I love William and Mary!! I am just so ready to break out of the beautiful cocoon that college has wrapped me in, spread my wings, and fly. I am ready to live off campus. I am ready to get a job that specifically relates to my ultimate career goals. I am ready for Grad School! Ultimately, it is time for bigger things in my life.
One big question you might ask is how I came to this point or what I did to become so confident and prepared. First, I started college at a very young age. I graduate high school at 16 and went straight into community college. That was 2005, which feels like a long time ago. Second, I have been conducting research and volunteering in clinical settings since I started college. I guess you can say I dove right in. In a sense I feel married to my education/career goals. It has been the focal point of my life, other than my relationship with God, for as long as I can remember. People say that I am blessed to have known so early what I want to do for a living. To me, it is no surprise. The events in my life have continuously directed me to a career in Clinical Psychology. In addition, one of the most useful techniques to have at William and Mary is the ability to multi-task regularly. Being at William and Mary really has been a marathon from the beginning. It is the lifestyle here. We are the Tribe and we are going places. There are so many opportunities here, and you can't do it all, but you have to be good at juggling multiple responsibilities in order to take advantage in at least some of the great opportunities at W&M. Here is a list of many of the things to do on campus:
1. Sports, intramural sports, sports clubs
2. Dancing groups
3. Singing groups
4. Clubs
5. Sororities and fraternities
6. Service and philanthropy organizations
7. Research labs
8. Internships
9. And much more.
It really is almost impossible to not be involved on this campus. There are so many things to participate in that it really makes time go by fast. This is the end of my second year here (I transferred) and it feels like it went by before I could blink. It is amazing, and yes, it is exhausting. However, when I graduate and walk out those Wren doors I
will be able to forever look back on my experience here at W&M as the most amazing and intense two years of my life. And I love it! This campus is its own community and I encourage you to take it seriously and dive right in!
My involvement: Nu Kappa Epsilon, Tribe Rides Car Club, Transfer Student Ambassadors, Self-Determination A'Capella, Psi Chi Honor Society, Golden Key Honor Society, Progressive Learning Therapy Intern, PLT's Tae Kwon Do Volunteer, Dream Catcher's Therapeutic Riding Center Volunteer, DOC Probation & Parole Office Volunteer,  Professor Zeman's Children's Emotional Regulation Lab, and other research.
Oh, and I was one of the dance trainers and dancers for April 2009′s Guinness World Record Break for the largest Thriller dance! I am a big Michael Jackson fan and this was an awesome experience.
November 3, 2009 by Lisa Risely
Managing Time…
This has been one of the hardest tasks at William and Mary, primarily because there is so much to do here. There is an overwhelming amount of clubs, singing/dancing groups, sports groups, sororities/fraternities, events, volunteer opportunities, etc. at William and Mary, which brings me to my point… You cannot do everything! So relax and enjoy the experience while it lasts. If I had it my way I would be in several dance teams, sports, and the Equestrian club. However, I do not have the time to take advantage of every opportunity here. Sometimes it is disappointing, but overall it is one of the things I appreciate the most about this campus. There is something available for just about any interest you may have. It is a great thing that William and Mary is as small as it is (though it does not feel small to me).
The Fall semester of my senior year is a month shy from ending and I feel like I have been running the biggest marathon of my life. Somehow, and sometimes I am not sure what I was thinking, I ended up with 18 credits, including an Honors thesis and research lab, as well as 3 internships, two jobs, physical therapy twice a week, graduate applications, and the GRE all in this one semester. Crazy, I know. And yes, I do not have much of a social life at the moment, but I do try to keep my feet on the ground. This is my point for today…. Chill out! Pace yourself and enjoy the experience. If you are at William and Mary you definitely do not need to be in a hurry to grow up. You have already taken a big step in that direction. Celebrate it! Cherish it! And please try to keep your feet on the ground too!
With love,
Lisa Marie
October 7, 2009 by Lisa Risely
Here we are approaching Fall break already and I have had barely any time to reflect on the great experiences of Family Weekend. My dad and step-mom flew out from California and boy was I excited. I remember how I couldn't wait for Family Weekend when school first began and now I can't believe it is already gone. These experiences go by so fast. I don't even remember blinking. As fast as they went, they were pretty special.
My parents stayed in the beautiful Kingsmill resort, thanks to the gracious discount they got just for being the parents of a William and Mary student. Their first night here we walked around campus and ate dinner at the Cheese Shop in Colonial Williamsburg. The cheese shop closed just after we got our food, so we had to eat outside. Guess what happened next…. torrential downpour. Yes, Williamsburg has a sense of humor. However, my parents and I had a blast eating sandwiches and drinking old fashioned root beer on the patio of a deserted, wet CW.
The rest of the weekend entailed various events, including a convertible drive down Colonial Parkway, dinner at the great Yorktown Pub with a peaceful beach view, concert of William and Mary Choirs and Orchestras, delicious Italian ice cream from Rita's, and a lantern tour of ancient campus. Saturday we took a tour of the Jamestown settlement, went canoeing on Lake Matoaka, took a walk through CW, and ended the night with a victorious win for Tribe football. My dad and I are football fanatics, so this was my most anticipated event to share with him. It was just a bonus that we won the game against Delaware, leaving the Tribe 3-0! Sunday morning we had a great breakfast at the Cracker Barrel, went to church, and ended the weekend with a somber goodbye.
A few things I learned/relearned over Family Weekend:
Goodbyes are awful!
William and Mary students get free admission to the Jamestown settlement and museum with their student ID. This goes for the Yorktown settlement as well.
Tribe football is doing great this year!
There is too much to see in this community of ours. It will make your feet, legs, and back hurt for days if you try to see it all.
Cracker Barrel is open at 6am even on Sundays, which is a shock for Williamsburg since everything here closes early and opens late on Sundays.
I love my daddy!
GO TRIBE!!! Have a safe and fun break!
September 25, 2009 by Lisa Risely
I moved to Virginia two years ago in efforts to attend William and Mary. My first year in this state was spent attending Tidewater Community College in Norfolk, VA (i.e., from where I transferred to the great W&M), and it was quite an adjustment. The people were different. The culture was different. The speed limits and driving styles drove me nuts. I felt like I was living in a world that constantly moved in slow motion. Ok, it was not as bad as it sounds. However, I was pleasantly surprised that life at W&M was much different than the surrounding cities.
The most popular question I have received since I came to W&M is why I left SoCal for Virginia. But, to be honest, my answer is no big surprise. I did not come here for the state. California is wonderful year round and I love my home very much. I could live very happily without the bugs, humidity, and allergies of the east coast. However, after years of contemplating which college was best for me and fully pursuing a future at Yale, I discovered that W&M was going to be the next chapter in my life. It was the only school that I applied to in the end and it is a great match. Yes, the environment is different, but it is a good change for me. The pace is quite similar to the hectic life that I am used to back in SoCal, the scenery is beautiful, and the small community provides me with a sense of "home-away-from-home."
I love being a transfer student, especially being from another state. I believe that being a transfer student gives me a special relationship with W&M. It enables me to realize just how prestigious W&M is and appreciate aspects of it that may otherwise be taken for granted. To some W&M is the neighborhood college, but to me it is a wonderful experience and a huge stepping stone to fulfilling my dreams.
Just a pointer to current and future W&M students: don't sleep on the job! W&M is like a huge candy store: more sweet opportunities than you are capable of digesting in one sitting. Take advantage of it while you have the chance. Before you know it you will be walking the other direction out those mighty doors of the Wren Building and saying farewell to this chapter of your life. Make the most of it.