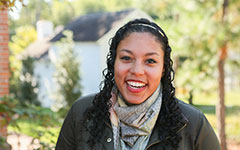 May 1, 2013 by Laura Aragon
After hearing that it offers free wine tastings for students, my friends and I recently made our first trip to the Williamsburg Winery. Only a five-minute drive from campus, the Winery has a great wine selection and a beautiful vineyard that includes two restaurants and a gorgeous indoor venue for formal events.
After a short tour that showcased the Winery's history, equipment and wine-making processes, we were taken to taste a few wines. Along with wine lists, pairing suggestions, and background information on each wine, the Winery also served crackers and Gouda cheese, which was a delicious surprise. Visiting the Winery was a tasty and informative change of pace from the college routine, and I highly suggest all the 21 year olds out there make the trip.
March 13, 2013 by Laura Aragon
Every spring, the Sigma Chi Fraternity hosts Derby Days, which is a week long philanthropy event that raises money for the Children's Miracle Network. Throughout the week, William & Mary's sororities compete in different events for the title of Derby Days champion. Because all of the sororities participate, it is one of the biggest philanthropies of the year, and it just happens to be going on this week!
Each event of Derby Days scores sororities based on their participation and creativity. Then at the end of the week, all of these scores are combined to determine the winner. The events raise money for the Children's Miracle Network in a variety of ways, including selling Derby Days t-shirts, rewarding the sorority that raises the most money (which encourages sisters to donate), and of course, Penny Wars, where sororities are each given a jar and they compete to fill theirs with the most coins. The most popular event of the week is the Lip Sync, in which each sorority dresses up in fun costumes and performs a choreographed dance. The Lip Syncs are as much fun to watch as they are to participate in, and many people see this as the grand finale of Derby Days.
While Derby Days is a lot of fun, it also raises money and awareness for an important national philanthropy, and it brings the Greek community together. Students definitely look forward to it all year, because even if your sorority doesn't get first place, it is always a good time for a good cause.
February 1, 2013 by Laura Aragon
As college students, my friends and I are always looking for a good deal, and Williamsburg's local businesses are always hosting fun and affordable events for those of us on a budget. Here are a few of the area's best bargains:
Half-priced Burger Night: The Green Leafe Cafe sells all of burgers for half price on Monday nights. It can be a really fun way to eat out without spending a ton!
Corona Night: Corona beers for a dollar! Wednesday and Thursday nights at Paul's Deli.
Mug Night: Sundays at the Green Leafe. Cheap prices on beer if you bring your own mug!
Williamsburg Premium Outlets: J. Crew, Kate Spade, Nike, Under Armour, and a billion more of your favorite brands, all on sale! I'm obsessed.
Free Birthdays: Blue Talon Bistro and The Crust both offer free entrees on your birthday. This is perfect for having a nice birthday dinner without racking up the bill.
Half-Priced Wine Night: Blue Talon sells their elegant wines for half-price (a highly luxurious experience for college students).
Qdoba Half-Priced Menu: All menu items are half priced on Monday. Yum.
The Crust: $5 meal combos for students from 11-4pm. The perfect place for lunch between classes.
Sweet Frog: Self-serve frozen yogurt with a great selection of flavors and toppings, plus the option of getting a smaller portion to save money. What's not to love?
If you're looking for a way to spice up a dull week, I'd definitely recommend taking advantage of these deals. Happy savings!
January 24, 2013 by Laura Aragon
As at most schools, the first few days of classes are kind of a breeze because you don't have any assignments (yet), you still have the option of dropping that class that already seems like a hassle, you have yet to buy your textbooks, and the professors spend the majority of class time going through the syllabus.
At William & Mary this first week of the semester is often referred to as Syllabus Week, which is known to be short and sweet. Students spend their ample free time catching up with friends, trying out new classes at the gym, browsing Amazon for deals on textbooks (and maybe clothes…), and listening to professors explain midterm assignments that seem very, very far off at the moment.
While Syllabus Week is definitely not demanding, it comes after winter break, where you have no responsibilities to speak of. After 5 weeks of never having to set an alarm, waking up for a 9:30 class can feel like a drag. Still, the first few weeks of the semester are filled with a combination of relaxation and blissful optimism about your ability to keep assignments organized, workout every day, and get more sleep. I personally am enjoying these first days of my last semester, and I intend to spend them color coding my planner and/or catching up on episodes of Parks and Recreation.
November 30, 2012 by Laura Aragon
For years I've been running on the exact same path through my neighborhood at home, and, because I'm very selective about my running routes, the thought of changing up my routine was unheard of. In my opinion, all running routes must have limited traffic, some scenery, very few hills (because I have bad knees…and I'm lazy), and be neither crowded nor deserted.
But in September, my mom convinced me to sign up for a 10k on Thanksgiving Day and it slowly dawned on me that in order to survive the hilly, 6 mile race course, I would have to branch out and start running in Williamsburg to stay in shape during the semester.
Before long though, I discovered that the Williamsburg area is surprisingly ideal for a runner.  The roads of Colonial Williamsburg are closed off to cars (to preserve the colonial vibes, I guess), so I don't have to worry about stopping at traffic lights, crossing at crosswalks, or staying on sidewalks. It manages to be quiet, but not deserted, almost all hours of the day, and the quaint buildings, wide open spaces, colorful plant life, horse drawn carriages, and the occasional person in colonial garb all definitely qualify as scenic. It can be really refreshing to get away from campus for a while and clear my head, and I feel very lucky to have this space available to me on a daily basis. Even after I successfully ran my 10k, I've continued to run through the area and consider it one of the best parts of my day.
October 22, 2012 by Laura Aragon
Hey there! I'm one of the interns with the Undergraduate Admission Office and a new student blogger for W&M. I thought I would use my first entry to talk about Homecoming week at W&M, and why it is arguably the best week of the year.
Every fall, the College has a Homecoming football game and along with it, a week's worth of celebratory festivities before hand, just to get really pumped up. This year, the Tribe will take on University of Maine, which will undoubtedly be a thrilling game (that we will win, of course). But, at W&M, the Homecoming experience is much, much more than a football game. There are a ton of activities that take place during the week leading up to the game (aka Homecoming week) that are just as fun as the game itself. From Greek social events to parade float building to free concerts on campus, there seem to be about a hundred things going on in preparation (or should we call it celebration?) of Saturday's game, and yet, there's always that one teacher that thinks it a good idea to schedule a midterm.
By Friday, after successfully juggling schoolwork, extracurricular activities, and social events for 5 days straight, you get to reward yourself with a flurry of Homecoming Weekend festivities. Friday is marked by the Homecoming parade, followed by a Pep Rally, and wrapped up with a Block Party right in the middle of Williamsburg. And then after all of that, you still have Saturday to look forward to.
Homecoming Day has tons of great events, including a cappella shows, tailgates, brunches, concerts, pig roasts, and BBQs (yes, I realize that most of them are centered around food), not to mention the actual football game. It's even crazier than the rest of the week because alumni of all ages flood back into Williamsburg to revisit campus, watch the game, and catch up with old friends. On top of all that, the day usually ends with a free concert on campus (this year it's Ra Ra Riot!). While it is definitely as exhausting to partake in as it probably just was for you to read about, the fact is that Homecoming is one of the most fun weeks of the school year and one of my favorite W&M traditions. It is truly a celebration of every element of the College in one single event. It incorporates current students, alumni, Greek organizations, student clubs, and of course, athletics, and in doing so, it really captures the W&M experience.  As a senior, I am a little sad to be going into this Homecoming season for the last time as a student, but am comforted by the fact that I know I'll be coming back for years to come.