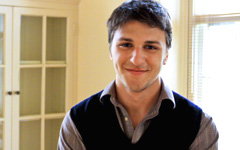 August 4, 2010 by Kaveh Sadeghian
So, I've been meaning to update this blog for a long, long, long time, and didn't know how to jumpstart my blogging career again. Honestly, I was a little intimidated to start writing again, so I figured I could enlist the help of the readers. Yes, this is a Mad-Lib Blog.
Conjure away, folks!
Noun 1: ________________
Noun 2: ________________
Adjective 1: _____________
Adjective 2: _____________
Verb 1: ________________
Verb 2 (past tense): _______
Noun 3 (plural): __________
How am I supposed to write about William & Mary if I'm not even on campus?!
I kept asking myself how I'm going to update my blog for its long overdue new entry. I'm the worst blogger. No seriously, the worst. I can't keep the following things alive: a planner, a journal, a pet, a   (Noun 1) , or, you guessed it, a blog. I think its because I have this tendency of second-guessing whether the things I'm thinking are even worth a blog post-my posts that are to be broadcast to thousands of readers who could just read my words and think, "What a  (Noun 2) !"
So, I finally conjured up the strength to sit down by a computer, open up Word, and stare at that blank, white page that would soon be filled with my inspirational, new, re-inaugural blog entry. What it was going to be about, I don't know, but I knew it would be (Adjective 1) , (Adjective 2), and (Verb 1) readers to high heaven. Then that question came up that would be played on repeat for the next hour: Kaveh, how am you supposed to write about William & Mary if you're not even on campus, you (Noun 2)?!"
See, I'm spending my summer in Washington, DC interning for a non-profit. It's been great. I get to live in DC on my own, cook for myself (Simply Asia is my microwave dinner of choice), travel, and give the corporate lifestyle a chance. But once I(Verb 2) out of campus last May, there hasn't been too much W&M related activity happening around me.
In my endless quest for a topic, I figured I should at least do something other than stare at a blank screen and procrastinated instead. So, I checked my twitter. A bunch of my William & Mary friends had tweeted about how W&M was ranked in the top schools for "Happiest Students" this year by the Princeton Review. Then I went on Facebook and checked up on a couple threads my friends and I have to keep in touch over the summer. Then I went on YouTube and watched a video my friend from W&M and I made to Lady Gaga's "Telephone" recently (Yes, we learned the entire choreography. No, there will not be a link to this YouTube clip). Then I uploaded a couple photos I had taken during another W&Mer's birthday outing. All of a sudden it struck! "Holy (Noun 3), I've been at William & Mary this entire time."
Ironically, I ended up being a (Noun 2) for not realizing that I've been, in fact, surrounded by William & Mary. I've been fortunate enough to stay in touch with friends who live as close as next door to me in DC, or as far away as Nairobi, Africa. Occasionally at work, I write articles and am reminded about that class I took at William & Mary that started making writing easy. I log onto twitter to see my friends celebrating our school's various accomplishments, RT after RT. I go over a friend's apartment and meet some William & Mary alumni, only to be shamelessly dancing with them within the hour.
You know, I never (Verb 2) out of campus. Frankly, I don't know if I ever will.
January 22, 2010 by Kaveh Sadeghian
Nape kampe ak Ayiti.
It means "We stand with Haiti" in Haitian Creole, and it's the slogan for the "William & Mary Supports Haiti" student organization on campus. We had our first meeting a couple days ago, and the slogan rang more true than ever. By 5 o'clock, we were looking at over 200 students who had come to the interest meeting to see how they could help. It was a great meeting—but what I remember the best was the sheer energy in the room. There was this incredible, unifying, almost electric spirit that was this potent combination of everyone's collective social responsibility, motivation, and empathy. And it buzzed between everyone in that room, regardless of what background they came from on campus. After going through all the information cards we received from all the students present, the multitude of campus groups and individuals present was staggering.
It really was an awesome sight, but frankly, I don't know if I would have expected any less from this campus. We always say how much of a socially conscious campus we are, how the students here relish in being proactive, how any of us can spout out definitions of civic engagement on cue. We all (and fellow tour guides can attest to this) love to blurt out our favorite statistics about how W&M has the largest number of students who go into the Peace Corps and Teach for America per capita of any institution in the United States (and trust me, I do. That's one of my favorite W&M fun facts). I always thought that there was this civically charged undercurrent in our community, silently steering students and faculty alike — and sure enough, it showed up that night, more than 200 times over again. Those statistics, which I would eagerly spit out during tours to the extent that they'd merely become eulogizing words, came back to life. Seeing these 200+ students under the same roof, for the same cause, revealed the depth and the frank honesty behind the statistics and claims we all hear about this campus all the time.
I could keep going on and on, but I should start summing this up before I lose you. In the end, I want to thank the community, students and faculty alike, for proving to me, once again, that this school really is everything it claims to be. The WMSH slogan is "Nape kampe ak Ayiti", and that day I saw more than 200 undergraduates, graduates, college administrators, and faculty stand with Haiti. I am nothing short of excited to see what else this campus can and will do in the weeks, months, and years to come; the mere thought of it is intoxicating. Thank you, William & Mary.
September 29, 2009 by Kaveh Sadeghian
Alas, I can finally say I've settled into school… a whole month later. Sophomore year has proven to be as exciting as freshmen year. It's a whole different experience coming back the second year. I mean there are the obvious things. You know your way around campus, you can wave and say hi to friends on the first day of school, and you're on the other side of the convocation walk. But at the same time, sophomore year presented me with some things I was not expecting, and it's great so far.
The best way to explain it is that you really hit the ground running. Freshmen year was great—it is great for basically everyone who has the fortune of spending it at William & Mary. You do ridiculous, spontaneous things with your freshmen hall, explore and learn more about the campus everyday, and starting rooting yourself in what you're interested. Sophomore year is when it really starts. You literally start the year off right where you left off— at about the point you were ready to launch headfirst into the remainder of your three years. I love sophomore year because I've been able to utilize all the growth I experienced freshmen year and finally apply it. All those freak-outs about what I'm going to do with my life and the subsequent therapeutic sit-downs with academic advisors have finally amounted to a major I'm planning on finally declaring. The 238 interest meetings that you went to freshmen year have dwindled down to the mere top 20 favorite activities you think about day and night. It just goes to show you that we're always, constantly evolving.
Maybe that's why W&M hasn't gotten boring yet. While the surroundings aren't necessarily changing, our perspectives constantly are. As students evolve and grow on campus, we keep entering into a new perspective. We find things we never knew existed before on campus, from friendships, to resources, to random statues around campus that definitely were there last year. We keep growing, and everything becomes new again. So, I may be a little late, but here's to the new year, William & Mary. It'll be just as exciting as the first.
June 19, 2009 by Kaveh Sadeghian
Okay, I'm going to be straight with you. I've been procrastinating about writing this blog for quite sometime now. Like maybe 3 weeks. It's not that I've been lazy or lounging around and doing nothing, milking my summer for every last, idle minute. The situation's been quite the contrary actually. I've just been avoiding writing this blog because I was afraid I couldn't, probably for one of the first times in my life, adequately articulate my experiences and thoughts. Well, three weeks in, and I think it's about time I flaunt what I've been doing and where I am for all its worth. Here goes.
I usually write my blog entries in the comfort of a suave coffee shop, with chill lounge music softly playing in the background. Well, not today. Not for the next two months, actually. The earth-toned coffee shop has been replaced with white walls and a tin roof, the lounge music with a symphony of roosters, trucks, and stray dogs. That familiar coffee smell still lingers every now and then, though considering I'm in the heart of one of the world's best coffee-countries.
Well, I'm writing this entry from Magdalena Milpas Altas, Guatemala, a tiny pueblo in the mountains surrounding Antigua. I was fortunate enough to be given an opportunity by a grant from the new Office of Community Engagement to spend my summer in Guatemala, interning for a social entrepreneur organization and researching the effectiveness of various non-profit models. I'll be spending two months in Guatemala; and, honestly, it's already been one of the most eye-opening and rewarding experiences I've had yet-and I'm not even halfway done.
Let me tell you a little about Magdalena. The streets are narrow and the houses small. Stray dogs are as common as the squirrels on William & Mary's campus. I'm currently in a house that has three rooms:  a kitchen, my room, and the bedroom that all five of the family members sleep in. There are businesses in every home. The oldest son just went next door to get a haircut, while the daughters were sent two houses down to get some bread. Water only runs two hours of the day here, from 6:30am to 8:30am, so the entire village fills up these big sinks called pelas, and use that as their water supply for the entire day.
And Magdalena is one of the more developed areas I've been able to live in. Just a week ago, I was in Nebaj, Guatemala, which resides in the heart of the Ixil Triangle. The town was absolutely surrounded by huge mountains (the altitude there is 1900m) and, honestly, the culture is as rich as the landscape. This area represents one of the smallest minorities in Central America, and it's obvious. Walking around, you would immediately notice that all of the women wore the traditional guipiels and cintas still, which were adorned in bright red, green, & yellow prints. The people of Nebaj were proud of their culture– there's no doubt about that. What's even more incredible about all of this is what these people went through some 20 years ago. There was a huge effort from the Guatemalan government to wipe out the guerilla armies that presided in these areas. The villages are still spotted with bomb craters– there were literally massacres, where entire villages were wiped out. The government was, in essence, trying to eliminate this culture from the Guatemalan landscape. But it's pretty empowering to see these people still holding onto their culture with such an incredible amount of pride. It reminded me a little of a phoenix rising from the ashes. Despite all the destruction and horror that literally everyone in the area experiences, they still stand proudly by their culture and heritage, maybe even stronger than before. And on top of that, everyone I've worked with in Guatemala so far has this incredible drive to work.
This all ties into what I'm working on while I'm here in Guatemala. The company I'm interning with has already helped set up a couple businesses that have in turn been handed off to locals to own and run. We essentially travel to various villages within Guatemala and set up businesses that sell everything from lenses, to water filters, to solar lamps. All the products address community issues (i.e. blindness, unsanitary e.coli-ridden water, and a lack of electricity, all of which are very common here), and we train individuals within the community to set up businesses to sell these products themselves. And these individuals are probably some of the smartest and most motivated people I've ever had the honor of working with. It's all really incredible to be a part of.
I'm back around Antigua now, but I'll be traveling around to other parts of Guatemala as well, continuing to do some development work. As expected, I definitely don't think that I got across how beautiful and, frankly, inspirational this country is. If you're interested in seeing more, visit my photo-blog at www.kavehsinguate.shutterfly.com. Aside from
pictures of us climbing a live volcano, visiting Nebaj, and a bunch of other things, I also have a mini-blog going on there accounting for some more specific experiences (some of which I used for this blog). I think the pictures would speak a lot more effectively than I have been able to thus far.
Anyway, I'll end on this note. If there's one thing I've learned so far it's that, while the people of this country may not be rich in their finances, their wealth in traditions, culture, and sheer drive are amongst the most abundant of any place I've ever been.
May 14, 2009 by Kaveh Sadeghian
Okay, so here's a disclaimer. This is the longest blog I've written yet, mostly because it's about the absolute most ridiculous thing that's happened to me yet. So, I apologize in advance, but it'll so be worth it.
So, my friends and I went on what we thought would be a fun, average hiking trip up through Williamsburg the other day. Well it was anything but average– we ended up holding a mammoth's tusk, a dinosaur bone, and basically went on the single coolest field trip ever.
I don't even know where to start to explain how this happened. It was the most bizarre series of events. So, I guess I'll just start from the very beginning, when I reluctantly got out of bed. I really didn't want to go hiking, and I knew exactly what would happen. We would get out of bed at 9:00am, we would get on a bus, go on a hiking trail, hike for 5 miles, sweat through everything, and then come back to school by 1:00pm. Well, by the time we actually got back, which was closer to 5:00pm, I think I would have literally kicked myself in the face if I hadn't gone.
The trip didn't start so grandly though. My original suspicions that it would be lackluster were only being confirmed. The bus ride took about 20 minutes, and then the hike to the start of the hike trails was about a mile itself. Best of all, we forgot to fill our water bottles for our 5 mile hike. Well, on our way down, we passed this older guy who was gardening diligently in this small-enclosed garden. He was in his mid-seventies, balding, and sported a thick white beard. We made small talk and moved on. Once we got to the trails, we realized that this would be pretty unrealistic without water, and since there were no water fountains in the area, we figured we'd hit up the guy we had just seen in the garden to see if he knew where there was running water.
We walked up to him, and he immediately perked up and asked in I think a Dutch-German accent, "Vhere are you from?!"
"William & Mary", we replied.
"Vhere is that?!", he retorted back. At this point, we were getting a little antsy about this guy. And we were by ourselves in the middle of the forest, so we were starting to get sketched out. But, there was one of him and four of us, so we kept going.
"It's up the road… in Williamsburg", one of us answered.
"Vell, vay is Villiam & Mary so flat?!", he fired back.
"Uhhhh…"
"It's because it used to be the bed of the Chesapeake Bay! DUH.", he said excitedly. At this point, the wrinkles around his eyes carved in by his many years of laughter deepened as he gave out a chuckle. We stood there in silence, totally sketched out at this point. He dropped the accent and said, "I'm just messing with you. I'm actually a retired geology professor at William & Mary. Pleasure to meet you."
The rest is history. He was actually in the area doing research. He led us through his garden, showing us all the
different species of plants and trees. You could tell he was in his "professor mode." It was obvious that he conducted one of those classes that everyone wanted to take. Regardless, one thing led to another, and he offered us a ride back to William & Mary, so we could avoid that annoying 20 minute bus ride back. We made a pit stop though, at his house. The house in itself was incredible. You could immediately tell that a handyman lived there. This same 70-some year old man had already added a deck, a birdbath, and an entire extension to his home. He was working on a waterfall feature when we were there.
We also met his high school sweetheart, and wife of 50 years, who immediately poured us all glasses of water and warmly invited us in. We talked about his years at William & Mary, their trips around the world, how he proposed to her by putting her engagement ring in a geode and having her break it open– it was just an incredible conversation. Then, he kicked back into professor mode, giddy that he could teach once again (and trust me, the excitement was totally contagious).
On our way out, we made one last stop, where he showed and talked us through all of the fossils that were in his front yard. He would never tell us what the fossil was though; he would talk us through it until we could guess. We were actually learning in the process. A mammoth tusk, a dinosaur bone, a 2.65 billion year old rock, and a whale rib later, we were like kids in the candy store, giddy and overwhelmed from our surroundings. I think I may have actually giggled with excitement when I saw the whale vertebrae sitting in his driveway.
The whole experience just went to show me that once you're at William & Mary, you really don't leave it, ever. The man was a retired professor (and a true renaissance man). He ran into W&M students and was still, after 5 years of retirement, itching to teach us. It was a really defining day for me in that it reminded me why I came to this school. There's a really potent combination of curiosity, trust, and passion that makes learning painless—we didn't even realize it was happening. William & Mary has a tendency of making that happen.
And now, one of my friends who was on that trip is taking geology next semester to further quench her curiosity. It was nothing like what you would expect a hiking trip to be, but amazingly enough, he was everything you would expect a William & Mary professor to be.
April 27, 2009 by Kaveh Sadeghian
It's hard to believe that the year is coming to an end already. It's the final countdown before the last day of classes and the recent 93°F weather's already been teasing everyone on campus, reminding them that the summer's coming right around the corner. So, I sit here in the suitably air-conditioned Sadler Center and wonder how it's summer-weather outside already.
I literally don't remember when the campus turned back to its violent shade of green. I don't remember when the flowerings started blossoming. I literally did not see this coming. So, all I could ask myself as I was sweating my way to the Sadler Center a couple minutes ago was, "Where the heck did all the time go and when did this even happen?"
It was kind of a freaky moment. I still remember that random snow fall that we had earlier this semester. I remember the 5+ layers I wore. I remember the midnight snowball fights in the Sunken Gardens. I remember the middle-school excitement that resonated throughout the campus when a snow day was declared. I remember it like it was yesterday. Well, it wasn't. It was exactly 8 weeks ago from today. So today, when I had my sweaty epiphany, my surroundings were a little different. Instead of two wool sweaters, a waterproof windbreaker, and ski gloves, I'm sporting shorts. Instead of throwing snowballs on the Sunken Gardens, people are tanning on the Sunken Gardens. But that third-grade excitement is still the same. That anxious anticipation that you felt in elementary school, during that last week of school—well, it still exists in college.
I don't remember where the last 8 weeks went. I really don't. But it was totally one of those moments where those annoying clichés that are overstated (like "Time flies when you're having fun" or  "It'll be done before you know it") all actually meant something to me. It freaks me out that I'm only here for another 3 years now. Before I know it, I'll be saying four years ago…
April 12, 2009 by Kaveh Sadeghian
The title lies. There's no such thing as a typical weekend at W&M. Don't believe me? Well, the other weekend, I stayed up overnight with more than 600 other students, painted breasts on people's faces, and got arrested. All in one night. And all in the honor of cancer research.
It was all at W&M's Relay for Life. Partnered with the American Cancer Society, 605 William and Mary students fundraised like crazy, stayed up all night, walked a countless number of laps, and ultimately raised over $43,000. And if the money the event raised wasn't incredible enough, the experience itself was.
This was my first Relay for Life. My freshmen hallmates and I created the "Spottie Hotties" team (we're from Spotswood Hall, therefore the ingenious name). I had heard from my other teammates that Relay for Life was so much fun and so beautiful and so touching, etcetera, etcetera. Obviously, I didn't really take it to heart; I just thought it'd be cool to stay up overnight and put a tent up on Busch Field.
I was proven wrong within the first 30 minutes of the event. Relay tradition has it that the first lap around the field be the "Survivor Lap". So, all the cancer survivors at the event took their first lap around as all the other 600+ students clapped and cheered on. It set the tone for the rest of the night. For the next 10 hours, everyone was buoyant and excited, but everyone still remembered why we were there.
In the end, Relay for Life was a big, huge overnighter party. It was a celebration for the people who have survived and a party to recognize the lives of those who haven't. There was never a moment of mourning or despair. No one, especially the survivors, showed an ounce of cynicism or depression. Rather, the cancer survivors at the event only expressed thankfulness and hope, something that seemed to then resonate to every student there.
Yes, Relay for Life was a massive party. This is where I can start explaining to you why I drew breasts on people's faces and
was arrested. Well, all the teams could continue to fundraise at the actual event. So, you would think teams would bring cookies and brownies and sell them, but W&M students like to spice things up. So, my team, the Spottie Hotties, decided to do some face painting. Coincidentally, because we were advocating breast cancer awareness, a couple students asked us to paint, well, boobs on their faces with a breast cancer ribbon next to it. Little did I know, but I was actually a very adept artist. Other teams thought of extremely creative fundraisers as well. There was one point that I looked across the field and thought, "This can only happen here". A team was dragging around a wooden wagon and offering rides, while a yoga class was meditating behind me, while another team was issuing arrest warrants on other students. This is how I got arrested. The pre-law fraternity Phi Alpha Delta, appropriately sold arrest warrants as their fundraiser. A student could buy an arrest warrant, have one of his/her "friends" arrested, put into plastic handcuffs, and then put behind bars until someone else posts bail.
Anyway, it was about 4am, somewhere between the somersault lap and the log roll lap around the field, that everything my friends had told me about Relay hit me. It was that perfect juxtaposition of honoring and celebrating cancer victims and survivors, all with that distinct William and Mary spirit. Over a weekend, William and Mary students camped out, partied for 12 straight hours, and raised over $43,000, all at the same time.
Like I said, there is no such thing as typical weekend at William and Mary.
March 11, 2009 by Kaveh Sadeghian
"Pavaraccia" (pronounced Pa-Var-Asha). To me, it sounds like an exotic jewel that's so big it could eat the diamond Rose stupidly threw over the Titanic, or a rare, luxurious silk woven by virgins in the lost lands of Atlantis. Pavaraccia.
Okay, so I wish the origins of the word were as magical as I make it seem, but really it's just a word I made up for my favorite sandwich at the Cheese Shop, an awesome small restaurant on DoG Street. Pate and havarti cheese on focaccia bread = pavaraccia. Why I picked those three things is even less magical. I picked the three things on the menu that I couldn't pronounce. Pate was "Pat-eee," havarti was "haa-vaa-rat-e," and it wouldn't be appropriate for me to write how I said "focaccia." Anyway, I would never have guessed, but it ended up being a sandwich that Rachel Ray herself would drool over.
It's the only thing I order when I go to the Cheese Shop. And then I thought about it, and I think almost every student has that one sandwich that he's obsessed with – the sandwich that's "his" sandwich at the Cheese Shop. Well, I tested this theory out. I approached two people, one whom I've never met before, and asked them what their Cheese Shop sandwich was. One said, "Roast beef and cheddar on whole wheat" (or, in my Cheese Shop lingo: roaseechedareat) while the other, without hesitation, shot out, "Corned beef, provolone, and mayo on French bread!" (aka Coreevolonayoench). W&M students have a cheese shop sandwich as unique as their DNA.
And aside from the fact that the Cheese Shop has these delicious sandwiches, it's also an awesome place to go and relax. There is nothing more satisfying than sitting at a table with my friends and my beloved pavaraccia. We eat, talk, tourist-watch, eat some more, and realize how insane it is that we're going to school in the heart of Colonial Williamsburg. We've even had some tourists come up to us at the Cheese Shop and ask questions about the area and campus. If you're a student, the tourists here are as interested in you as they are in the 300 year old buildings they came to see.
William and Mary definitely has its perks. Yea, it has a bunch of academic qualifications, a super-cool student body, an awesome faculty, etc, but one of the biggest perks doesn't even have to do with the school. This school's in Williamsburg, Virginia – home to one of the nation's most renowned living museums, home to the College, and of course, home to my dearly loved pavaraccia.
March 3, 2009 by Kaveh Sadeghian
Here's a story about Steve. He is naive. He's an incoming freshman and doesn't really know what to bring with him. So, he brings everything. I mean, everything. This means his entire wardrobe, including multi-colored knit sweaters he got as gifts from his parents' culturally dissociated senior citizen friends. This also includes, but isn't limited to, a slough of silverware that will never be used, an industrial-sized box of printer paper, and his seven favorite childhood action figures. Yes, Steve the Naive packed everything.
Well, when Steve finally was about to move into his room, after a grueling 10 hour drive, he realized that his room wasn't as big as he had imagined. Well, he never expected it to be very big, but surely it could house every single one of his possessions, right?
WRONG. Steve's parents ended up taking back the winter jackets he packed in August alongside an abundance of other useless things that took up space in the car both to Williamsburg, and then from Williamsburg. But that still wasn't enough. If Steve's room was a cell, its membrane would have ruptured and the innards would have spilled all over the place. There was virtually no room to breathe. Steve realized that this was not a way to live, so he downsized. He sent some things back; he'd bring clothes he realized he really would never wear or miss, like lime green pants, back to his home in NJ during breaks. And slowly, but surely, things started getting organized and efficient.
Well, here's the twist. Steve is actually me, Kaveh. I would've just used my name from the start, but my name doesn't actually rhyme with "naive" and then I wouldn't have had a clever title for the blog entry. This is a word of advice for all students in college, and especially the ones just getting into college. Downsize. Life at school is simple. You might not have the luxuries of placing your shampoo and soap in a shower stall. They would go in your room. All of your clothes would go in your room. Your bed, your pictures, your desk, your books, your guitar, your tv, your fridge, it all goes in your room. Now, multiply that by two, or three, or four, depending on how many roommates you have. Don't get me wrong. I love dorm life. You live with your best friends; it's seriously like sleep-away camp with intermittent tests and homework. But, just don't be naive, like me. You won't be able to live the same way you did back home, but that's a good thing. Just ask Steve.