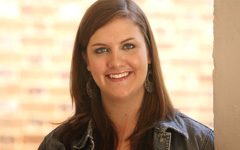 May 6, 2013 by Kylee Ponder
I have three magical days left of student teaching. Three days left to get in all of the hugs that I can. Three days left to gaze over the shoulders of second graders as they complete their morning handwriting practice. Three days left to see their eyes light up when they walk in the room and I greet them with a "Good Morning" and a smile. Three days left of excited whispers in the hallway when I walk by on my way to observe other teachers. Three days left to beg, borrow and steal all of the incredible ideas from other teachers at my school. And most importantly, three days left to watch my sweet 20 kiddos sit on the edge of their seats as I sit in my director's chair with a class microphone around my neck reading the last 50 pages of Charlotte's Web.
I didn't plan it this way – to be finishing Charlotte's Web on the last day of student teaching. I started the book and hoped we'd be finished with it already. But with standardized benchmark testing, PALS testing, Spring Break and an incredibly rigid Reading/Language Arts schedule, it's been hard to work it in. In fact, I'm almost dreading finishing it. I have a feeling my voice will be quivering and tears will be streaming down my face on Wednesday. In preparation, I was flipping through the book and immediately was drawn to turn to the back, remembering fondly the voice of my parents as they read this to me as a child. I stopped when I read this excerpt –
"Why did you do all this for me?" he asked. "I don't deserve it. I've never done anything for you." "You have been my friend," replied Charlotte. "That in itself is a tremendous thing."
Powerful words written by a powerful author. These words helped me realize how incredibly grateful I am for so many different interactions that I have had over my undergraduate and graduate career – the ways in which people continually go out of their ways to help me or to make my life better or easier. There's just something about William & Mary people. Something in the water we drink. Something in the green and gold blood we bleed. Something in the cobblestones that are under our feet. Something in our love of ampersands. Something powerful. Something that draws us together.
In this last week of my graduate school career, I happily am sitting back, embracing the incredible challenges and successes that this beautiful place has brought me, and remembering all of those people who have helped me along the way. Those people who brought me a coffee when I really needed one. Who took a drive with me on the Colonial Parkway when they knew I'd had a bad day. Who took initiative on a project because they knew I didn't have time then, but that I would soon. Who motivated me to run and finish my first 5k. Who gave me a hug every single morning when they walked into their second grade classroom. Who forwarded along kind words to help me get further in the job application process. Who have had me over for dinner and wine. Who have met me for coffee and breakfast and chit chat. Who have nurtured me and loved me for the past 5 years.
I am so grateful for those people. I am so grateful for William & Mary. I don't feel like I deserve it. I don't feel like I've done anything exceptional for it. But just like Wilbur, I realize that sometimes, friends are what gets you through things. They push you farther and make you believe in yourself and achieve your dreams, whether those dreams are not getting turned into bacon by the Zuckermans or finding a teaching job.
Hark upon the gale,
Kylee
January 1, 2013 by Kylee Ponder
At this point last year, I was relaxing in my hometown of Franklin, Virginia, sitting around a firepit with close friends, and reminiscing about the 3 1/2 years of college that were behind me – the undergraduate career that had just finished. I was not nervous about the future. I was not apprehensive of finding a job. Because I had another year and a half. A year and a half left of graduate school – a year and a half where I would be taught and learn to teach, a year and a half where I would learn so much about how to help children learn. And here it is. I'm sitting here again, in my hometown, and although I've relaxed a little bit and been able to sit by the firepit in the backyard, I am apprehensive this time. I am nervous about my future. And that's because this time I don't have that cushion of a year and a half. I only have five months.
Classes start back for us at the School of Education on January 16th, along with the rest of the William & Mary community (minus the Law School, who starts back a week prior). And then, Commencement is the 12th of May. That leaves those five months for me to accomplish so much – to complete the intensive first five-week course load that my program goes through, to complete 10 weeks of student teaching, to receive my Master's of Arts in Education, to receive my certification from the Virginia Department of Education to be a teacher, and so much more. That date of May 12th feels so far away, so infinite, but the reality is that I know it's coming. I just registered today for my last standardized test left – the Reading for Virginia Educators test. That means, come February 2nd, 2013 – I'll be done with test taking (for now). Thankfully, that will fall before I am thrown into the craziness of student teaching. Thrown into those 10 weeks of 8 a.m. to 4 p.m. working life where I am with my students every minute of the day (minus resource time and lunch!). It seems hard to believe that this is all so very real.
Earlier in the semester, when I was conducting my very first guided reading lesson, I was overwhelmed with nerves and thoughts of  how horrible it would be. In all actuality, it went incredibly well. I surprised myself, with thinking on my feet, with engaging my students, and with my classroom management skills and differentiation strategies. As I taught my final lesson on Friday the 14th in a third grade classroom at the elementary school at which I work, it was a different story. I was comfortable, didn't need to reference my lesson plan every two seconds, and so much more at ease. However, before the lesson started, the teacher I was working with pulled up the document camera for me (to which the news was connected). We glanced in horror at the news of the Sandy Hook shooting as the document camera booted up. I couldn't let the news phase me – I had a lesson to teach to 19 beautiful and energetic 8 and 9-year-olds. They were counting on me, much like many students across the nation count on their teachers every single day.
Although I didn't have time to let the news phase me then, I got in my car to return home to grab a coffee, and watched President Obama's speech. I listened to a report on NPR on my way back to a review session for my math exam the following Monday. Tears streamed down my face, thoughts ran through my head, and all I wanted to do was head back to school and hug my second graders a little tighter. Often times, when a horrific event happens in the world, it draws others back from entering the field associated with the event. This event has made my passion for teaching so much stronger, my love for my students so much more precious, and the respect that I have for other educators so much greater.
I have one semester left – one more semester, one more standardized test, and one more round of finals (thank GOODNESS). But I also only have one more semester left with my students, and that leaves me with such bittersweet feelings. Bittersweet feelings knowing that I have so much ahead of me – 10 weeks of student teaching, applying for my Virginia Teaching license, lots of last-time hangouts with my favorite friends who are graduating this year, more late-night lesson planning, and soaking up the joys that William & Mary has to offer.
In the next few weeks, I know that I'll be continuing to hug my students a little tighter, embracing my role as a student teacher a little more, and living each day and moment to the fullest, trying to remember and honor the memories of those teachers who gave their lives for their students in the Sandy Hook shooting.
Harking upon the gale and hoping that your holiday was as wonderful as mine,
Kylee
October 10, 2012 by Kylee Ponder
I'm taking a bit of a "30-minute-I-need-to-stop-working-on-lesson-planning break" to write something that I've been meaning to write for the past few weeks, but simply haven't had time to! On the 29th of September, 2012, I was the Maid of Honor in a beautiful wedding in Richmond, Virginia. BUT. It wasn't just any wedding. It was my beautiful sister's wedding to her beautiful now-husband, Alistar. After wedding planning for almost the past year and a half, dress shopping, crying at every remotely emotional moment (we all know my love of tears), and balancing graduate school and being in Hanover constantly, the weekend happened. They got married, y'all! It was a beyond perfect few days and even though I think I got a total of approximately 10 hours of sleep the entire weekend (Thursday through Sunday), it was lovely.
But this isn't my personal forum to write about my life and my sister's wedding. It's a forum for me to write about William & Mary. And I promise I have a connection. Because I always find some sort of William & Mary connection. Let's start with firsts. My date. I had to bring a date if I was the Maid of Honor, right? I ended up bringing one of my very best friends from the College, who just happens to be a blogger and pursuing his J.D. from the College – Brian Focarino. I was so excited to have my William & Mary and Franklin (my hometown) worlds collide. A few weeks before the wedding, I was talking to my beautiful freshman roommate, Caroline, and discovered that the wedding site – Tuckahoe Plantation – just happened to be where she boarded her horse, the place I had heard her talk about constantly freshman year, and the place that she now worked occasionally as a post-grad-trying-to-find-a-real-job. She ended up riding her horse during the wedding, and my sister and her then-new-husband saw her and Scooter as they were taking pictures after the ceremony. I met a friend's boyfriend at the reception – a William & Mary alum. Another William & Mary alum was a groomsman. William & Mary connections, am I right? Crazy. But there's one more. And this might be my favorite connection of all.
A few months ago when my sister had nearly-every giant aspect of her wedding tied down, we realized we were missing something. Something big. Something important. A photographer. After seeing a recent William & Mary grad's beautiful portraits for her burgeoning photography business, I stumbled upon Warthan Farms Photography and was incredibly impressed by the simplistic beauty of all of her photos. After showing her to my sister and some communication, it was on. Warthan Farms Photography was photographing my sister's wedding. My friend, Caitlin Finchum, whose portraits Jennifer Warthan had taken and who had just started her own photography business, Caitlin Elizabeth Photography, then posted a Facebook status.
But before we hit that Facebook status. Let me tell you about the insane amount of connections that Caitlin and I have. Besides being two of the biggest fans of the College of William & Mary that I know (I'm not biased, I swear), we also come from similar upbringings – upbringings that involved a lot of sweet tea, dirt roads, and small-town America. We went to rival district high schools. We played high school tennis, against each other (I won a match, she won a match – we've joked and said that that's the only reason we're still friends). Then, I got to William & Mary and she was already there! I saw her occasionally around campus and she was a sweet familiar face to bump into. Then, we randomly (yet literally) traveled the world together summer after my sophomore year for six weeks in Florence, Italy (and a bunch of other places on the weekends) with William & Mary and Dr. Michael DiPaola (and a bunch of other William & Mary students). Kind of crazy, right?
So back to that Facebook status. She posted a Facebook status that said something along the lines of, "So incredibly blessed to be second-shooting weddings with Warthan Farms Photography!" Then I realized. WAIT. That's who was shooting my sister's wedding. And I couldn't even predict the future but Caitlin and Jennifer ended up joining up for weddings and founding an awesome photography duo called FreshlyWed. That photography duo shot my sister's wedding. And I can tell you that it was phenomenal to see Caitlin walk into the hotel room as the bridesmaids and my sister were getting ready. To hear her familiar voice! And then strangely enough, to be reunited later in the evening as Alistar & Rebecca were leaving in a trail of sparklers as Brian and I were trying to make a W and M sparkler picture. I've included two of FreshlyWed's beautiful shots in this blogpost.
I'm still amazed at how William & Mary continues to shine its connectivity in my life. Every. Single. Day. I'm always meeting people that know people from my hometown. Or who graduated from William & Mary. Or who were in my sorority. Or who did this. Or that. That's the power of a William & Mary degree. And the power of a William & Mary wedding – even if neither the bride nor groom went to school here.
Hark upon the gale, y'all.
September 3, 2012 by Kylee Ponder
I drove home to Williamsburg yesterday afternoon from a whirlwind weekend. Friday, I headed up to Richmond, but not before stopping in Hanover to make a quick visit with my almost-brother-in-law (26 days and counting, ya'll) and play some bocce out on the farm. But, after that beautiful match of bocce, I headed into the city to start my weekend with one of my best friends from undergrad at William & Mary, one of the two girls who lived next door to me freshman year (unfortunately the other girl is now far away in Kentucky)—Danny Greene. She's in the Residential Richmond Teacher program getting her Master's in Education at VCU, and it's kind of crazy to think that the three girls who lived together sophomore year in our little house are all in education now—Danny teaching 7th grade history, Liz teaching high school English through Teach for America, and me starting my student teaching with 2nd grade. Regardless, it was fantastic to see her and start the weekend—and we headed out to see a friend of hers play in his bluegrass folk band at Hardywood Brewery in Richmond. We had a chance to see the brewery, to taste a delicious beer (the Hardywood Virginia Blackberry), listen to some bluegrass, and take in everything.
The next morning, it was time to head off to College Park, Maryland—where we were headed to see William & Mary play the Maryland Terrapins. Unfortunately, William & Mary lost (7-6 in the last 10 minutes), but I still got to reunite with friends in my graduating class, watch some great football, and Danny and I were able to impress the predominantly male Maryland fan base that yes, William & Mary girls can have football knowledge. We grabbed dinner with Liz's little brother and then headed to spend the night with another William & Mary friend, and then were on our way Sunday a.m. to head back to Richmond. Busy weekend, right?
As I was driving the ever-so-familiar path from Richmond to Williamsburg, I got a phone call from my dad, and I caught up with him for about 20 minutes. We talked about all of the exciting and overwhelming things that are happening this week—my first full week of classes, background checks & TB tests to get done for my teaching placement, and my first time meeting my cooperating teacher on Friday. I found out at the School of Education on Friday that I'll be student teaching and doing practica observations throughout the next year in 2nd grade at Magruder Elementary School in York County Public Schools. And although I can't wait, I am literally terrified. I expressed this fear to my dad, and his response was perfect. He said,
"Fear of the unknown is a good thing. It is often what pushes us to stay on our toes and do our best work."
Preach it, Papa Ponder. After talking with my daddy, I just had to remind myself—people have done this program before. People have balanced four methods courses with 80 practica hours. People have graduated with all of their required tests completed. People have done it. I can do it. It's just simply getting over that fear of the unknown—the fact that I'll be doing so many things on my own over the next year. I'll be teaching my first lesson. I'll be creating a science circus. I'll be networking and finding a job. I'll be interviewing for the first time for teaching positions. It's all becoming real. And it's terrifying. But the only way to get over that fear is to immerse myself in it until it becomes the norm.
This fear of the unknown is similar to what I know many freshman, transfer students, and other people at the College are feeling now after a crazy first half-week of classes, Convocation, and the true start of the semester. But just keep telling yourself that that anxious feeling in the pit of your stomach will soon subside, that you're about to have a fantastic semester, and that things will be okay. Because if my time at William & Mary is any indication of how this semester will be, it'll be the ride of your life. A ride that you just simply can't force yourself to get off of.
Kylee
June 12, 2012 by Kylee Ponder
For the past few months, I've been referring to my post-undergrad life as "being a real person," having a "real person" apartment, with "real people" furniture and "real people" artwork and "real people" coffee mugs (that I'm mildly obsessed with – see here). I've been avoiding the kitchen sections of stores like the plague because of a lack of new cabinet space and on a search for towels that match my shower curtain for over a week. For people that know me – that's almost the norm. I bake like it's my job (apple cake baked today!) and I love kitchen appliances. My graduation present was even a KitchenAid mixer that is maybe the most beautiful thing I've ever seen. But when my mom asked me, "Are you sure you can handle a white duvet cover? You won't eat pasta on it? Or spend all of your time watching episodes of Grey's Anatomy on it?," my answer was, "Of course not, Mama. This is my real people duvet cover." I realize how grammatically incorrect that statement is, but it's been my reasoning behind a lot of things lately.
And after using the phrase "real person/people" so much over the past few months, I've come to realize that William & Mary has shaped me into the type of person who will never necessarily be the quintessential "real person" that comes to my mind – who is the type of person who functions for the purpose of working at a mindless 8-5 job, who has matchy matchy things all over their apartment, and who lives for a post-work happy hour. William & Mary has made me so much more passionate than that person who doesn't care about their work – I'm about to begin my Master's in Elementary Education because I want to shape the future of children (whether it be only one child or 300). William & Mary has made me have so much more eclectic taste than before – whether that is able to be witnessed in my watercolor poppy paintings from my study abroad in Italy, the Haitian flag I'm trying to figure out where to put in my new apartment, or my tablecloth I bought in Zimbabwe a few years back.
When I look at the person who I've become at William & Mary and the person that I continue to grow into, I realize that yes, I will one day be a "real person" with a real, paying job, and a real family, and hopefully, a real husband. However, I will always be that silly and spunky Southern girl who showed up on August 22nd, 2008 and moved into her room in Barrett 304; the one who loves YouTube videos and wears pearl earrings all of the time; the one who learned to let go of her fears and meet new people and embrace everything that the William & Mary community had and still has to offer; and finally…the one who loves everything about William & Mary so much that she simply can't escape it and is here again and still achieving her dream.
So here's to being your own kind of "real person."
xoxo.
Kylee
May 4, 2012 by Kylee Ponder
There has been a clock ticking away in my head for the past four years – one that has included mental alarms to many sets of firsts and lasts, checklists and detours that have occurred along the way – all leading to the ultimate goal – not simply graduation, but commencement. And it seems as if that little clock in my head is ticking more loudly these days, with Commencement weekend right around the corner, about to rear its head on the graduating class of 2012.
Don't get me wrong – I'm beyond excited – excited to see old friends coming back to Williamsburg soon, excited to participate in all of these traditions that I've talked about for the past four years, and excited to have my experience at William & Mary as an undergraduate student end in such a positive way. But I can't help but say that I'm experiencing an extreme case of jealousy. Of envy. Having my own personal battle with the green-eyed monster that was the feature of a favorite children's book of mine growing up. It started slowly when the newest class of summer interviewers was selected. And was even intensified when I worked the day during Day For Admitted Students – seeing all of these wide-eyed and excited potential students on the very edge of the start of their journey at William & Mary. I am simply jealous. Jealous of the experiences that they will have over the next four years for those prospective students. Jealous of the summer that the newest class of interns is about to have – one filled with love, new experiences, kickball, new relationships, and the deepening of their relationship with William & Mary.
And as much as I am reluctant to admit it – even though I'm jealous, I'm beyond excited for these experiences that these people are on the verge of having. And maybe even a little sad that it's time for all of these traditions that I've spent the past three years of giving tours talking about – the Commencement Walk, Candlelight, brunch at Professor Reed's house for the Linguistics majors, Last Chance Dance – the list could continue.
Before I continue that list – I'll stop. Because I could write of my love for William & Mary forever. And I'm excited that I'll be continuing my blog into next year as a graduate student in the School of Education – just beginning to see how my connection to William & Mary will play out post-Commencement.
But, for now – hark upon the Gale.
xoxo.
Kylee
February 7, 2012 by Kylee Ponder
During my college experience, weekends have served as a time to embrace my surroundings, which could mean anything from heading to a dance party to walking down Duke of Gloucester street to perusing the goodies at the Farmer's Market to going to grab breakfast with good friends at Five Forks (which I went to for the first time this weekend—goodness gracious it was DELICIOUS). But there are only a select few weekends that finish & as hard as you try to figure out if anything bad happened, you cannot count a single momentous bad thing (other than stubbing your toe or forgetting your credit card at the grocery store—I got over both of those quickly).  This weekend was simply one of those weekends that made me realize (for the 932nd time) how much I love this place. It was filled with the beauty of tradition, uniqueness, & pure love for a common "place of universal study"—the College of William & Mary.
On Friday, I was honored to be able to participate in reading the Royal Charter during the annual Charter Day Ceremony, where William & Mary celebrated its 319th birthday. Along with eight other students and one faculty member, I read an excerpt from this historical document and became a part of a long-held tradition. Being able to read the Charter and to participate so actively in the Charter Day Ceremony was fantastic and so very special. Hearing Robert Gates speak about his time at William & Mary, watching a dear professor be recognized for her years of service to the university, and hearing Monroe Prize recipient Molly Bulman speak on civic engagement all blew me away. I left the ceremony and headed to dinner with friends, still thinking back on the four years that I've had here in Williamsburg at this great university.
The next night was just as special, as I was able to attend the annual Charter Day Dinner as a student table host. During the dinner, I sat at a table speckled with people like Provost Halleran and his wife, a fellow TriDelta sister and member of the Class of 1944, and Alumni Medallion recipient Ruth Tillar. Talking to people about their individual experiences at William & Mary and others at the dinner who were not alumni made me realize this strong connection that all of us have—the power of being a member of the Tribe. After the dinner was finished, I had the chance to introduce a video shot at the beginning of the fall that is showed at Alumni events around the country, and although I think it's the slightest bit cheesy, it was fantastic watching the faces of alumni all around the room lighting up as they became somehow once again a student here at our beloved college.
After making my infamous banana puddin' (see blogpost here) for some of my favorite friends and watching the SuperBowl over mugs & burgers at the Green Leafe last night, I realized that this weekend may have been perfect. Seeing the faces of alumni as they remembered what it was like to be at William & Mary, hearing Bob Gates joke around about his time here in the 1960′s, and jamming out to Third Eye Blind's encore as they performed "Semi Charmed Life" all made me thankful for the experiences that I've had here and even more thankful that I am blessed enough to call myself a member of the Tribe.
xoxo.
Kylee
January 18, 2012 by Kylee Ponder
Now that I'm back in Williamsburg (and consequently trying to find a job and not be bored), I've been online a lot—thumbing through pictures from my trip to Haiti two weeks ago, catching up with old friends, planning my sister's wedding, and checking out new additions to the William & Mary website. I follow W&M News on Facebook and couldn't have been happier to find an article announcing the Jefferson Winner for this year—Professor Ann Reed, the Director of William & Mary's Linguistics Department (read the article here!). Being a Linguistics major, I've had the insane pleasure of having Professor Reed for two semesters—one while I was struggling through Generative Syntax (not my forte) and the other this past semester, learning and growing as a student in her Descriptive Linguistics class. I was so happy to have the chance to take a class like that with Professor Reed—a class of 10 or so students, meeting two times a week with a speaker of Tagalog, trying to figure out what was going on with the language. Professor Reed guided us through that process—which for some (cough cough myself cough cough) was harder than others. At the end of the semester, we celebrated with dinner at her house where we showed up early and cooked traditional Filipino food together. It was fantastic.
Hearing about Professor Reed and the Jefferson Award made me not only proud to be one of her students, but also proud to be a student at William & Mary, where professors are different and have a perfect balance between intellect and compassion for their students. I am always blown away by the types of professors that we have. In the Fall 2011 edition of the W&M Alumni magazine, I found myself grinning while reading the "Elemental Teaching" article, because two of the professors featured were my two advisors here—Dr. Anne H. Charity Hudley, my undergraduate school advisor, and Dr. Denise Johnson, my graduate school advisor. Dr. Charity Hudley has been a fantastic part of my undergraduate career and I know will continue to serve as a reference for me as life goes on, and although I haven't had a significant opportunity (other than scheduling) to meet with Dr. Johnson yet, I am excited and hopeful about what is to come.
Whether they're grading papers, commenting on your facebook status, inviting you to co-present with them at conferences, or encouraging your academic development and confidence, William & Mary professors are a class all of their own. They don't only teach the subject of the class you're taking, they get involved with your personal life. They ask questions about how your family is doing, how your sister's organic vegetable farm is progressing, how your extra-curricular activities are going, and make sure you're properly managing your stress. They teach, they care, they inspire. How lucky I am to have been able to study under the great minds that exist here, but even luckier to have been able to become friends with them as well.
Go Tribe,
Kylee.
December 17, 2011 by Kylee Ponder
I've been home for approximately three days after turning in the last undergraduate assignment of my life. And although that time has been spent taking care of my mom who just had knee surgery, it's given me time to reflect on the time that I spent at William & Mary for the past three and a half years and what that time meant to me as both a student and a person.
Last weekend, the College held a "Winter Graduate Reception" to honor and recognize the students (both graduate and undergraduate) who were eligible to graduate in December rather than May. My parents, brother, sister, and near-brother-in-law came down to celebrate the event and I was excited. But somehow, it just didn't feel like graduation – I had three final papers looming in the distance that were due on Wednesday of the following week. That may have been a primary reason that I wasn't expecting much – but I was proven wrong. My family and I walked across the street from my off-campus house to the Sadler Center, dressed and ready to go. We walked into a room (after I checked in) that was filled with excited families, a spread of food and beverages, and a stage that held a table filled with rolled up sheets of paper. After hearing our class president, Stephanie Mcguire, speak and other people speak, our names were called by Ginger Ambler, we walked to the stage, and shook hands with President Reveley. And then it seemed as if that were it.
But it wasn't. After we received our "diplomas," we were instructed to find someone with special value to pin us for our induction into the Alumni Association. My roommate and one of my best friends at William & Mary, Liz, and I looked at one another and she said simply, "Want to pin each other?" As Liz said that, my mind and heart filled with beautiful memories of the four years we had spent together – the crazy dance parties freshman year, the excitement of moving into a house together sophomore year, the pangs of distance that we felt as she went abroad 2nd semester junior year, and the finality that we've felt all semester this year together. And, of course, I started to cry, which then made Liz start to cry. So there we were – the two of us – sobbing like small children, each only able to utter every three or four words of the Alumni pledge and pinning each other with trembling fingers.
That's when it really hit me – I'm graduating. Right now. Right here. There's no more waiting. The only waiting I have left to do is for my diploma to come in the mail. I'm remembering so very fondly all of the moments that have shaped my time here and there's a mountain of memories that's building. The time Caroline and I ran out in the middle of a rain storm and got soaking wet just dancing outside of Barrett freshman year. My very much forced first sip of coffee with Danny as we pulled a joint all-nighter during our sophomore year that included lots of donuts, caffeine, and going into hysterical and most likely delirious laughing fits. The first time I watched Moulin Rouge during freshman year in a room full of boys who all knew every single word to every single song. The overwhelming joy I felt when I found out I was headed to Haiti as co-leader of the Haiti Compact with Brian Focarino during junior year. The nervousness I felt on my first day of work in the Admissions Office this summer and the eventual comfort that I began to feel walking through the double doors every single day. My overwhelming humility when I found that I had been elected the Senior Class Homecoming Representative. And the bittersweet feeling of turning in my very last paper via BlackBoard on Wednesday.
There are some things that get old quickly – eating the same food over and over again when you're too lazy to go grocery shopping, reading an uninteresting book, etc. And then there are some things that for me, will never get old – amongst those are the combination of cake batter ice cream and gummy bears, driving down dirt roads with country music and a Diet SunDrop in hand, but more importantly – William & Mary. Although we brag about how old we are – William & Mary will never be figuratively old to me – I don't think that I could ever tire of walking the cobblestone streets, spending time with the people that I love more than anything in my life, and the feeling of being home. For that, I am so very grateful.
Hark upon the gale,
Kylee
October 26, 2011 by Kylee Ponder
Dear Kylee: 
I am pleased to officially inform you that you have been admitted to the Five Year Bachelor's to Master's Degree Track with the School of Education at the College of William and Mary.  The Office of Academic Programs offers its best wishes for your success in the field of education. 
…(insert technical deadline information here)…
We look forward to hearing from you.  If there's anything we can do to help you in this process, please let us know. 
Sincerely,
Thomas J. Ward, Jr., Ph.D.
Associate Dean for Academic Programs
When this email came through on my Blackberry on April 20, 2011, my face lit up, my mouth widened into a big grin, and my fingers furiously dialed the familiar seven numbers that read as "Mommah" on the screen of my phone. My voice cracking, I told my mom the news, and she was overjoyed, proud of me and excited that I would continue in her footsteps in being an elementary school teacher. I, on the other hand, suddenly realized – things just got real. And thinking in the future at that moment, I realized, on the day that I got that letter, that 2.5 years ahead in the future I would be (fingers crossed) in charge of approximately 25 small children – real children, with all of their idiosyncrasies and their overbearing parents, with all of their trips to the bathrooms and students like me in elementary school who didn't understand the concept of silence in a classroom.
Now, it's over four months later, and the date of the December Graduate ceremony (on the 10th of December) is creeping towards me much more quickly than I would like. There are four weeks left of classes. There was an email sent out by the Graduation Office about a "Graduation 101″ info session happening next week. I suddenly feel myself starting to refer to things as my "last time to do ___________". I've been getting a little bit of a taste of the real world this semester, however, and that's been because as a last semester student in William & Mary's School of Education, I have to take a class entitled – Education F65: Research Methods, a graduate-level class that serves as a pre-requisite for the 5th year portion of the School of Education.
I've heard horror stories from students at other colleges and universities about the monotony and repetitiveness of their Research Methods class and after one class with Dr. Kyung Hi Kim, I was a little terrified and thought that those horror stories might be the truth. But I came back the next week, and I have come to find that this class opens my eyes to so many things that I've never heard of before. It's given me the unique opportunity to interact with graduate students that range from people in the counseling program, to higher education, to people who are getting their Masters' Degrees after being teachers in school systems for a long time. Dr. Kim teaches the information in a way that is both funny and interactive, and the best part of all? Because the class meets from 4:30-7:00 p.m. on Tuesdays, a different person/group of people is responsible each week for dinner.
The last week in September, the only other undergraduate in the class, Allyson and I decided to bring in homemade chili, cornbread, macaroni salad, and the infamous banana puddin' that I mentioned in this blogpost earlier this summer. It was a hit and the entire class was extremely impressed that two 21-year old undergraduate students were capable of cooking one of the best meals of the semester. Other things I've enjoyed eating are shrimp & chicken gumbo, bbq, lasagna, tortilla soup, and sopapilla cheesecake. And for our last class during which we take our exam, Dr. Kim herself is cooking us a Korean feast. She claims that students need nutrition in order to function well for their finals. That's what I call a good final exam, right?
Here's to next Tuesday, because after tonight, I can't wait to see what meal is in store for me -
xoxo.
Kylee