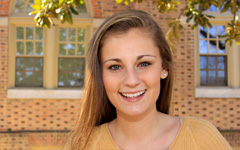 October 23, 2012 by Krissa Loretto
I think it is safe to say that if I were a car, my fuel would be coffee. I was a coffee drinker in high school, but my relationship with coffee has definitely taken off in the past few years. I prefer the word "relationship" as opposed to "addiction" because I can certainly live without coffee, but I feel as though I would be very sad without it. Not to mention, those around me might suffer if I were to break up with coffee entirely. That being said, I am going to give you the run down on all of the java that William & Mary has to offer. And yes, I do have my own coffee maker in my room, but more often than not, I find myself grabbing a cup to-go at many of the following locations on campus:
Greenberry's Coffee Co.
Pros: Location could not be more convenient. Takes flex points. Lots of drink varieties and the snacks/pastries are also decent.
Cons: Can be extremely packed in the morning.
The Daily Grind
Pros: Coffee is always fresh. Can get soymilk. Homemade baked goods are also delicious. Great place to socialize and/or do work.
Cons: The Daily Grind does not accept Flex.
Dunkin' Donuts coffee available at the Marketplace and Sadler Center
Pros: On the meal plan, can flex it at the Marketplace.
Cons: I was so happy to see Dunkin' Donuts coffee become available at the Sadler Center dining hall. Apparently so were a lot of other people. Coffee runs out quick during peak hours.
Einstein Bros Bagels
Pros: Can use flex. Coffee is always piping hot.
Cons: Limited variety. Closes at 2 P.M.
March 19, 2012 by Krissa Loretto
I like to eat. Actually, I love to eat. And throughout the past three years in Williamsburg, I can say that I have sampled some of this town's best eateries. From a culinary standpoint, Williamsburg has a lot to offer as it features a little bit of everything. Here are my picks for the best restaurants in town for the William & Mary student. In honor of March Madness, I will dub these eight restaurants my "elite 8" bracket. I am not going to seed them, as they are all wonderful for different reasons. Instead, I will highlight the best features of each.
Best Breakfast- Aroma's
This cozy coffee shop in the heart of CW offers a variety of gourmet bakery items and an eclectic breakfast menu. The brie-stuffed French toast is to-die-for and omelets are delicious. Compliment your breakfast with something from Aroma's long list of specialty lattes, gourmet coffees and frozen drinks. "Prince George's Green Mint Mocha" and the "Dog Street Chill" are sure to please any coffee-enthusiast in the Burg. Aroma's also offers a variety of reasonably priced entrees, wraps and sandwiches for lunch as well as dinner.
Best Pizza- The Crust
Hands down. As a Jersey girl, I think that I am well qualified to judge this category. I know good pizza. And it does not come from Dominoes! Good pizza has a thin crust and just the right cheese: sauce ratio. Within the last few months, the Crust has quickly become a student favorite and its proximity to campus makes it an ideal weekend hangout. The Crust also features a full bar with drink specials and a killer Brownie Sundae that was recently added to the menu.
Best BBQ- Peirce's Pitt BBQ
It's a little bit of a drive from campus, but for authentic barbeque, Peirce's takes the cake. This cafeteria-style restaurant is the real-deal for down-home Southern eats. I'm talking classic pork barbeque sandwiches with homemade coleslaw, hush puppies and cornbread. You can't get food like this where I'm from, and for that reason, Peirce's is extra special to me.
Best Birthday- Blue Talon Bistro
Why? Because if you go there on your birthday and bring your William & Mary ID, your meal is free! This charming country-French restaurant is a hotspot for locals and tourists alike and offers some amazing comfort food. It is a bit pricey for the college budget, but with promos like the birthday deal and Talon Tribe night on Thursdays ($10 entrees and half priced-desserts), BTB keeps students coming back for more. Don't leave without trying the macaroni and cheese—you'll thank me later.
Best Desserts- The Trellis
Similar to its sister restaurant, Blue Talon Bistro, The Trellis is a tad pricey for lunch or dinner, but desserts are worth the splurge.  Their famous "Death By Chocolate" is enough to share with several friends. Plate presentation is always beautiful. They also feature seasonal desserts, homemade ice creams and sorbets.
Best (Biggest) Portions- Paul's Delly
Paul's is a Williamsburg institution. It is one of the only places that caters to the late-night crowd and everything on the menu is consistently good. Pasta dishes and salads are ridiculously large which is great because you're guaranteed to leave with leftovers. Nachos, subs and pizza are also popular. Paul's is the perfect place to bring family to watch a game and if you pay with cash, you'll receive 10% off your bill!
Best Italian- Sal's By Victor
Don't let its strip-mall location fool you. Sal's by Victor is the place to go for authentic Italian in Williamsburg. The friendly atmosphere and large menu are just two reasons why Sal's consistently draws a crowd. Three more reasons: portions are big, the wine list is long and you get great bang for your buck. My parents always ask to go here when they are in town and I never decline. Food at Sal's is delicious and it is no secret.
Best Wildcard- Food For Thought
With an extremely unique menu, this is the best place in town to get something out-of-the-box. Restaurant offers diverse vegetarian, vegan and gluten-free options as well as fresh meat, poultry and seafood. Where else can you get a cup of homemade vegetable bisque, move onto a quinoa pasta entrée and finish with buttery bread pudding (made with brandy-marinated cherries and dark chocolate)? My point exactly.
Hope that you can visit some (if not all!) of these places and experience the culinary joys that Williamsburg can provide! Everyone needs to venture out of the dining hall at some point! Bon Appétit and here's hoping that Norfolk State makes the real Elite Eight! Sorry VCU!
March 19, 2012 by Krissa Loretto
Hello! It's been a while! Happy second semester to everyone here and congratulations on getting this far! We are over halfway through the semester and the weather as of late has been lovely! What a reward for our diligent midterm efforts! This semester is the most challenging one that I have faced yet, but I feel as though I am rising to the challenge and getting a lot out of my heavy course load. While the General Education Requirements at William and Mary make you a well-rounded student, they force you to take classes outside your comfort zone and thankfully I have just about finished all of mine. I am now delving deeper into the English major and loving my classes.
I hope that everyone had a rejuvenating spring break and is prepared to rock out the rest of the semester (academically speaking, obviously). I spent my break split between home and Boca Raton, Florida. I went home to New Jersey for the first 5 days of break, caught up on sleep, good food and cuddling with my dogs. Then I was fortunate enough to fly to Florida and watch my boyfriend's college baseball tournament (and study for a midterm poolside) for the second 5 days. My break was the perfect mix of home comforts and time spent in the sun. Speaking of sun, I also wrote an article about the benefits of Vitamin D for the VA Informer, William and Mary's independent newspaper, during spring break. I must admit that this blog has suffered from my joining the Informer staff, on account of stretching my time even thinner, but I promise to update more faithfully. I'll be taking at least one term of summer classes here in the Burg so I'm sure I'll have much to write about in the upcoming weeks and months! Good catching up with you!
November 8, 2011 by Krissa Loretto
Greetings, yet again, from my favorite spot in good old Swem. This entry is serving as a follow-up to my last post—the one where I was in the midst of my two weeks of hell, struggling to keep my sanity. I said I was looking forward to being a real person again but that plan got seriously interrupted by the sinus infection/bronchitis-type-thing that decided to inhabit my body starting last Monday. Needless to say, I attended approximately half my classes last week and spent countless hours watching House Hunters International. As someone who sleeps approximately 8-10 hours a night when I'm feeling perfectly well, I basically turn into a sleep machine when I'm sick.
I spent the latter part of last week preparing for a cross country race at the University of Virginia (check out Tribe Athletics if you want the full story!), where I ended up running one of my best times in a long while, so the extra rest must have paid off. Following Friday's competition, my weekend was low-key. I cleaned my tiny little room (which I had totally neglected during the crazy paper-writing week and the sick time that followed) and caught up on homework… sort of. I also booked my train home for Thanksgiving (!!!) and spent far too much time on Food Gawker, my newest black hole for procrastinating. Seeing as it is championship season for cross country and there are only two weeks of class left until Thanksgiving Break, I think my hopes and dreams of becoming a real, dare I say 'social', person again might have to hold off. For now, I'm going to continue to capitalize on sleep via my daily two-hour nap and cuddle up with the George Eliot novel that I should have started reading yesterday. I have turned into such a twamp.
Keep up the hard work, Tribe! 2 weeks 'til Turkey Day break =)
October 28, 2011 by Krissa Loretto
Greetings from the second floor of Swem! I'm in my favorite two comfy chairs (yes, I connected them front to front to create my own personal couch—don't judge) mentally preparing myself to write the last of three eight page papers all due this week. That being said, the last two weeks have definitely rocked my brain. The immediate jump from midterms to super-focused-paper-writing mode was really overwhelming, but I'm surviving. As we all can attest to, the workload at William & Mary can be scarily intense, but for the most part, it is manageable. I budgeted my time, giving each paper 3-4 days and this is the last of the madness! I have never written this many pages in such a short time span, but when this is all over, I will proudly be able to say that I came, I wrote, and I conquered. Definitely looking forward to being a real person again—resuming lunch dates, getting back into a normal sleep cycle and not binging on caffeine and candy. But for now, it's back to the grind for one (or two, hopefully not three) nights of research and churning out roughly 2,000 words (and then cooling off my brain with an episode or two of Extreme Couponing). What a wild life I live.
With persistence,
Kris
September 16, 2011 by Krissa Loretto
Hey guys!
After taking a brief spring semester hiatus from the Burg due to some personal reasons, I'm back at William & Mary (and I'm so happy that I did!). Today is September 16th and the feeling of fall is in the air. I stepped out of my dorm today and noticed an unfamiliar crisp breeze on my walk to class– which I couldn't be happier about. I'm hoping that we have seen the last of the 90-degree /90 % humidity days and that my hair finally gets some relief from the frizz that is August and September in Virginia. And although I can almost feel the cold air sucking the tan right out of my beach-girl skin (RIP summer), upcoming fall adventures in Williamsburg seem to outweigh the fact that I am turning back into Casper with every passing minute.
In addition to the seasonal variety of pumpkin products that are now widely available (pumpkin latte, pumpkin bagel, pumpkin muffin, anyone?), fall is a great time of year to be on campus for many reasons. It is this time of the school year that the gears in our brains start turning again and we get used to the grind of our schedules. Parents weekend, fall break, homecoming AND Halloween are all right around the corner. Plus, we don't sweat through our shirts walking from Morton to Blair anymore. The trees in CW are breathtaking when the leaves change colors and fall gives us a reason to order hot cider (like we really needed one!). Taking the Jamestown ferry and driving to Surry, VA to pick pumpkins is a yearly tradition amongst my friends here and I look forward to getting lost in the corn maze at College Run Farms just like last year. These are just a few things that I love about autumn in Williamsburg. Glad I'm back to enjoy them.
Tribe Love!
~ Krissa
December 8, 2010 by Krissa Loretto
Two weeks ago, I started writing a post called "the calm before the storm" about the lull in work before the finals period… but the take-home statistics quiz that I forgot to start over Thanksgiving break got in the way. That being said, Greetings from the 3rd floor of Swem (This is where I think I'm supposed to say "We're people, too!"). It is eerily quiet up here, but I am plugged into the new T-Swift CD and instead of trucking on and continuing to study for my next 3 final exams, I have decided to take a quick (?) break.
This morning I had the first of four finals, Intro to American Politics. After 55 multiple-choice questions and a written timeline spanning approximately 250 years, I am feeling kind of fried. Now that you know that, I have reason to say that this little blog break is well deserved. If you were studying before you happened upon this lovely little blog, I hope this can provide you with some comic relief. If it doesn't and one of the following occurs- 1.) Your vision is starting to blur. 2.) It is past 2 AM. 3.) You find yourself reading the same page of text over and over and absorb next to nothing. 4.) You forgot a pillow and a blanket- You might want to call it a night, pack up your belongings and leave wherever you are hiding for the trek home. Besides, staying up all night studying is counterproductive!
As I was zombie walking out of Swem the other night, I stumbled upon a table of people selling baked goods (a sub 30-degree bake sale?…) and thought about how much I cannot wait to go home and eat Christmas cookies, not frozen cookies from outside the library!) What I am looking forward to most when I go home for break is a tradition that started three years ago when my sister was in college and I was a junior in high school. I like to call it "The Annual Loretto Sister Rock-Star Christmas-Cookie-Baking / Picture-Taking Extravaganza".
It all started when I had a bit of a… err… weirdo moment… and decided that I would pretend that the mixer had gone out of control as we decided to bake cookies. Each year I have kept the same basic pose and have tried to make my rendition a little more crazy. Kira prefers to change her picture up a bit each year.
I am well aware that this tradition is kind of bizarre and weird, but as long as there are ingredients to bake with and someone has a camera, this will definitely live on. When we are together, Kira and I tend to be kind of ridiculous, but it is this ridiculousness that I am looking forward to most when I go home. I won't lie to you- right now I am stressing about my upcoming exams- but thinking about being with my best friend, letting loose, making cookies (and crazy poses) is one of many lights at the end of the tunnel that is Final Exams. Looking forward to uploading some wild new mixer pics during Winter Break!
Love, luck and chocolate chips!
-Kris
October 1, 2010 by Krissa Loretto
College dining halls can be pretty tricky places. I have yet to see any mystery meat at William & Mary, but there are certainly some things we all shy away from on the buffet line (that jambalaya looks like vomit and WHAT is a peanut butter pretzel puff?). The following is a list of my top five favorite foods from the Caf and Sadler dining centers. I don't get to the Marketplace often, but after a long practice, the all-you-can-eat option is pretty fabulous. Here are my picks, best of luck on midterms and Bon Appétit!
1. TBM Panini- Maybe it's the Italian in me, but the combination of pesto, mozzarella, tomato and crusty bread wins my vote for top spot, hands down. Other paninis I fancy include the Southwest Chicken Panini and Chicken Parmesan Panini, the latter of which I have yet to see this school year.
2. Stuffed French Toast- My new fav at Sadler, and no, I don't get up early enough to actually go there for breakfast. When I got a second plate of this sweet deliciousness, the server told me that it was stuffed with ricotta and cream cheeses and dusted powdered sugar. Perfection.
3. Pumpkin Soup? Yes please. A seasonal favorite, no further explanation needed.
4. Cookies- Although my favorite is the "strawberry shortcake" cookie, the chocolate chip, chocolate chocolate -chip, oatmeal, white chocolate macadamia and newly added peanut-butter chocolate chip varieties are all welcome on my plate as I caf-sit (stay at the Caf and procrastinate going home and starting my homework) between the hours of 7 and 7:30 PM.
5.  Fried Green Tomatoes- Available at the vegetarian station, these are dynamite. The marinara sauce that goes atop these fried little gems is also surprisingly good. Sprinkle on some cheese and enjoy.
Honorable mention: Macaroni and cheese, flatbread pizza (at Sadler), chili (regular and vegetarian versions), 3-bean salad, cream of tomato soup, chocolate molten lava cake (an old favorite), bread pudding, sour cream apple crisp, chicken Caesar salad and wrap, buffalo chicken wrap, pasta alfredo with chicken, bacon and peas, cinnamon sticks, Italian wedding soup, gluten-free Chex bars.
September 3, 2010 by Krissa Loretto
The familiar smell of new textbooks. The "new" 'first day of school' skirt that I bought in June at Urban Outfitters and promised myself I wouldn't wear all summer (but wore anyway because I couldn't let it get lonely in my closet). The herds of freshmen hallmates traveling in the masses around campus. This school year, the blending of things old and new has already gone far beyond new clothes and welcoming the freshmen into the Tribe. To be honest, when I came back to school on August 21st, I had a mild identity crisis.
When I left Williamsburg in the spring, I was a bit of a, er, hot mess.  Although mentally, physically and emotionally drained, I dreaded going "home" and being stranded without all of my best school friends for a full three months. I decided not to go home and instead, to throw myself into an internship with a non-profit in Philadelphia (see Love from the City of Brotherly Love post) and live with my lovely older sister.
Things in Philly weren't always hunky-dory (making dinner every single night gets old after about a week) but I enjoyed my time soaking up the city, meeting new people and obviously interning. As fate had it, my older sis landed a new job in DC mid-summer and moved there immediately, so I moved back to dirty Jerz earlier than I had originally expected to. However, I am thankful that I got to work with a handful of super passionate individuals that are making a difference in the lives of others across the Atlantic. Besides my work with Power Up Gambia, the most satisfying part of living in Philadelphia was all of the time I spent by myself. I know you are probably thinking that I am some kind of weird social misfit for admitting that, but I learned that time alone is truly time for self-discovery.
Between train rides, watching episodes of Glee on my computer and lots of nature-trail running, some major thinking took place. Trivial things I learned: I can live without a television, a microwave and without my own car. Always carry a book and an umbrella. Don't follow the 'crazies' across the street. Bagels take a really long time to toast in the oven. Important things I learned: Happiness often comes when you stop searching for it. A hug or pat on the back on a hard night can make waking up the next morning a bit easier. My parents are incredible (thanks again for putting up with me). I also took away the phrase "home is where you are". I went back to my home in New Jersey refreshed and spent the remainder of my summer with friends old and new, living the beach life. It was a fabulous summer.
So back to my identity crisis- about a week ago (the night before move-in), I laid in a hotel bed, thinking of all the stresses I let go of at the end of last semester and how calming the summer was. I suddenly felt like a stranger. I was last seen in Williamsburg fried and frazzled but I have come back collected. The first week of classes was smooth sailing and I have decided that my only option is to blend the best of the old with the best of the new. I am certainly not a stranger to this school.
I have the same circle of friends- people I have diligently kept in touch with and those I look forward to reconnecting with. I have the same amazing team (plus some new little freshies) to train with every day. I have a passion for learning and a drive to help others. In addition, I have a new cross country coach who I look forward to working with and two brand new pairs of Brooks sneakers. I have an apartment with brand new furniture and three of my best friends as my roommates. I have an entire school year of blank pages waiting to be painted with coffee dates, football games, track workouts, (occasional) late nights spent studying, cross country meets, ice baths, meetings, homework, dance parties, birthday-cake baking and who knows what else. Here's hoping everyone is getting situated and glad to be back in the swing of things. Welcome home to the Burg, everybody.
May 27, 2010 by Krissa Loretto
Its crazy how William & Mary puts so much time into the orientation process, to make freshmen feel acclimated- like true members of the Tribe. Mixers with different freshman halls, dinner with the RA and OAs, hall-bonding activities. We build friendships as soon as we get to The College… The one thing they forgot was to teach me how to leave (I know I'm being corny but just go along with it, okay?). This year was an adventure. Included were some serious ups and downs but I would do it all over again without question.
It is strange to no longer live in a residence hall with all my best friends, but one thing that I hope will make this transition a bit easier is that I will not be bumming at home for the next 3 months. This summer is unique in that I am living with my older sister in Haverford, PA, along the Main Line. I'm in Philly now, sitting in a hall on the campus on the University of Pennsylvania because in 34 minutes, I will officially be an intern for the nonprofit group Power Up Gambia. Power Up Gambia is an organization that provides hospitals in Gambia with clean water and electricity. It is based out of UPenn and today is my first day!
I decided to apply for an internship this summer, was selected and will be doing this part time. In addition, I will be training rigorously for the upcoming cross-country season, blogging (of course!), and babysitting to make some dolla-dolla bills, ya'll. I've also applied for a few part time jobs so we'll see if any of those work out. With Power Up Gambia, I will primarily be working on projects to promote the organization via social media. This means I will be working on *their* *blog *(but I promise not to forget about this one!), facebook page, website and organizing files and photos.
I decided to take the risk, step out of my element of being a beach bum for the summer and do something new for the next few months (living with my sister and her roommate has already been interesting seeing as we cook dinner every night). I am nervous about being on my own (I have already taken the train AND the subway alone this morning) but I know that my friends are just a phone call (or a facebook/g-chat) away. I am missing everybody already and hope that you are all enjoying some much-needed relaxation time. I, however, need to finish this frappucino and get ready for my first meeting!
With lots of love from Philadelphia,
Kris