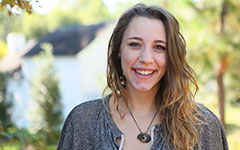 May 8, 2013 by Kaitlin Noe
I've already dedicated quite a few lines to complaining about the size of legal airplane luggage. I think it can be pretty universally agreed that it is not anywhere near sufficient for transporting a semester's worth of supplies to a European country. What I didn't consider, however, is how I would transport all the experiences and accumulated debris of a semester in Europe back stateside. As the countdown to departure reaches an anxiety-inducing 4 days, I face the final question: how to condense it all into one standardized checked luggage bag? All the days trudging through biting wind as rain seeps in through the growing holes in my black flats, my hood pulled low as I seek cover inside the nearest boulangerie… Or the nights when I turn the corner past the arab au point, between the curving marble buildings and spiraling black bannisters, find a spot to lean against the cold stone and watch the Eiffel Tower glitter as I wait for my friend to let me in…The Wednesday lunches when the Iéna marché is open and I walk through several blocks of friendly merchants calling out to me to not be shy, to come look at their fresh cheese, meats, crepes, clothing or African art, and I smile and walk to my favorite kebab stand to order a chicken kebab for 2,75. …The smell of the boulanger's full roast chicken in the morning on my walk to work, the warmth of a Nutella crepe in my hand as I hike up the curling paths of Montmartre to Sacre Coeur, the feeling of arriving at the metro platform to a blinking '00′ and a train pulling up just in time to meet me…These things don't fit into airline regulated suitcases. So, I present to you, the seven places in Paris I want to pack with me for the flight home.
1. The Grand Mosque of Paris.
I may have fallen in love. Despite the fact that the men who work here are sometimes even slower than Parisians (a feat), the exotic architecture is outstandingly beautiful. Parts of the mosque itself are available to tour, yet somehow I always seem to be drawn to the courtyard tea room and restaurant that are attached… Killer couscous served by the pot, mint tea (I've always said Middle Eastern restaurants have the best tea around), and for dessert, an entire platter of fantastic assorted pastries. Having not the slightest clue what each one is, we have developed a simple rule to select the perfect pastry: the less appetizing it looks, the better it tastes. Counter intuitive, and hasn't failed us yet.
2. The Lapin Agile
What felt like one of the most typical perfect French nights. A little pink building tucked into the side of the hill in Montmartre, Lapin Agile is one of the original Parisian cabarets. The kind of place that all the little artists would go during the heyday of Montmartre's artsy youth. It has an original Picasso hanging casually on one of its walls and a livre d'or chock full of artist sketchings and signatures confirming its importance to the creative elites. They still do shows – a quirky blend of musical and theatrical – put on by boisterous and animated actor/singers. Sitting there, listening to them sing out the old classic "Aux Champs Elysées", tucked into their dimly lit cave of a performance room and sipping on their house cherry wine, I was immediately under their spell. We stayed until the show closed down at 2 am and wandered our way to the metro singing "rockin' at the Lapin Agile". Perfect night. Life goal is to be best friends with all of the performers one day.
3. Butte Chaumont
This place is not French. It's not Parisian. To enter this park is to leave the neatly ordered rows of flowers and perfectly cut grass of french gardens and enter the jungle. A jungle filled with young children hopping around rocks lapping up ice cream cones, hundreds of "bobo" french lounging across the steep hills like a festival, and hidden caves dripping stalactites. And an odd monk-temple-looking thing. I dedicated (along with what seemed like all of the youth of Paris) the entire duration of the first warm day in Paris to claiming my patch of grass there and gorging on sun-warmed baguettes and Camembert with strawberries. Careful, though, or a twenty foot black hole crevasse will swallow one of your flats and you will have to do a 40 minute metro commute home with only one shoe…
Perhaps one of the best things about Butte Chaumont is that when you finally climb your way up to the Monk-temple-place, and clamber out onto the jagged rock-cliffs, you have a view of the city that looks like this:
4. Bar Dix
The only sign on the outside of this bar is the number ten written in what looks like white chalk on the black painted exterior. There is only one thing on the menu—pitchers of sangria, medium or large. They only take cash, exact change preferred, and when your sangria pitcher drips a sticky mess on the table, a plump little old man who insists on wearing tiny black round sunglasses even indoors comes around with a ratty sponge to wipe it down. The whole bar is decorated with a kind of art nouveau theme, dark and romantic and so hidden-feeling. It's actually fairly well-known but the bare front, the straightforward attitude, and the funky interior make you feel like you've found a secret gem.
5. The Seine at Night
Magical. Addicting. Breathtaking.
6. The mysterious Thai place near my classes, the boulangerie down the street, La Durée, and Omnibus Café
…I really like food. I also realize I am probably cheating by putting all four of these places under number 6. Oops.
7. The Lord of the Rings Tower
This tower, as my friend Christina recently informed me, is the most useless monument to transport anywhere. It also has absolutely no relation to either the Lord of the Rings books or movies. But my very first week abroad, lost and bumbling around the streets of Paris, I stumbled upon this tower and without thinking exclaimed, "That looks just like the tower from Lord of the Rings!" (I am very cool). I must have developed a strange attachment to the tower in that moment, because ever since it has been a landmark to find my way, a site to meet up with friends, and a strange anecdote to share with my friends visiting from other cities. So admittedly it is probably completely useless, but it makes my list.
Good ol' states, here I come! Trading baguettes and fromage for a good burger and some Mexican food…Hope Air France can handle this luggage.
February 28, 2013 by Kaitlin Noe
After having thoroughly immersed myself in the savory world of French cuisine for about a month, I decided it was time to make my first venture beyond the borders.  So for Valentine's weekend, I and my fellow W&M member CC, who is studying in Paris through a different program, packed our bags and headed off on our first hostel adventure: to Bruxelles (Brussels) and Bruges.  We arrived with very little knowledge and even less experience with the Belgian culture.  Luckily, we knew three things for certain: chocolate, frites, and beer.  We were not disappointed.  I present to you, a Valentine's weekend food tour of Belgium:
1. First, Chocolate
The first thing we did was head to the Grand Place, which was itself a marvel of architecture and culture… but first we stopped in every single chocolate shop along the way.  We were pleased to find that they all seemed very determined to offer us free samples of their truffles.  We, of course, politely obliged.  It's only good manners. Valentine's Day also proved the perfect excuse to treat ourselves, and the Belgians brought their A game.
2. The Second Course of Dessert…
Determined on our first day to do everything possible to avoid real food, we stumbled into a Turkish pastry shop.  It turned out to be a wonderland of fantastical sugary inventions in a bright array of colors.
3. Our First Taste of Frites
After stumbling (our trip was mostly filled with meandering and stumbling) upon one of the typical Brussels frites stands, we decided it was about time we tried the legendary Belgian frites.  We'd been in Brussels an hour already, hadn't we?! They were everything we could've dreamed of.. crispy, fresh, hot out of the fryer, and coated in an incredibly savory sauce with a vaguely exotic name (we opted out of the traditional mayo accent).  They single handedly destroyed every fast-food place ever for me.
4. A Brussels Brew
Our second official destination, after the Grand Place, was the Cantillon Brewery for our first sip of Belgian beer. Cantillon Brewery is one of the few places in Brussels that still practices spontaneous fermentation, which means that the beer made there can only be made in Brussels because it ferments by interacting with the bacteria in the air.  As unappetizing as that process sounds, it somehow results in the most incredible harmony of flavors I have ever tasted in a beverage. (Yes, harmony. This stuff was music to our taste buds.) Our tour included a glass of the basic Lambic, and the Kreik, which is a cherry-flavored beer.
5. Le Premier Gaufre
The second day of our trip, we hitched a train to Bruges, a small medieval town not far from Brussels.  It is everything Disneyland always dreamed of being.  Plus it has waffles, as we discovered when we ducked into a small café called Salé et Sucré.  Picking up a pair of coffees, we carefully selected the traditional Belgian waffled dusted with powdered sugar, and a more elaborate creation loaded down with fruit and whipped cream.  They each lasted about three minutes after being placed on our table before we devoured them.  Belgium had officially ruined Friendly's and IHOP for me. Also, I recommend dropping in on the specialty food store next door, for a plethora of incredible post-gaufre samples: everything from olive oil dipping sauces to salsas.  The perfect savory complement to the delicious sweetness of the gaufres.
6. More Belgian Beer?
This time we stopped in a small bar in Bruges to sample some of the flavored beers that Belgium is so well known for.  The Pecheresse, a Peach beer, is at the same time the most girly and delicious thing I have ever tasted.
7. Something's Fishy…
The morning of our third day we made our way to a stray parking garage off the main touristy streets of Brussels in pursuit of a city panorama.  After taking a rickety elevator up to the top floor of the garage and marveling at the skyline it revealed, we meandered around the streets looking for a place to get out of the cold.  Then we stumbled upon a place called Nordzee (so much meandering and stumbling…): a small corner-side joint, with no seating and no indoors.  It consisted of an outdoor counter and several tall tables where locals were standing about chatting and eating.  Curious, we wandered up to the counter and were greeted by a blond hair-blue eyed Belgian angel who served us shrimp croquettes from his heavenly fryers.  I think the photo might speak for itself on this one.
8. Thé à la menthe
Searching for anywhere to get out of the blustery cold that descended upon Brussels the last day of our trip, we entered the first café with WiFi (a precious rarity in many parts of Europe, next to nonexistent in Paris).  Looking around we noticed everyone seemed to be drinking the same leafy-looking beverage.  We requested two from our waiter and were delivered two fresh, hot glasses of mint tea, made with real crushed mint leaves.  It was the perfect sweet cure for our frozen tourist bones.
9. The Last Supper
For our last meal in Belgium, we decided to switch it up a bit.  We went to a Swiss Fondue restaurant, figuring it wasn't that far from Switzerland. Whether or not geography had anything to do with it, it was an incredibly satisfying meal.  We split a pot of cheese fondue with bread, a glass of wine each, and a chocolate cake for dessert. The dinner was made all the better by the fatherly, protective waiters and owner who kicked three Belgian men out of the restaurant for "bothering us", and the friendly American man who shared his exotic melting-cheese-scraping machine with us. (Apologies, that is the best I can do to explain the witchcraft he was using for his dinner.) The perfect cheesy end to a foody trek through Belgium.
Before I sign off, I couldn't resist throwing in a few pictures of fairyland Bruges, my new favorite place on earth.  They're almost as mouth-watering as the food pics.
Nothing beats a Valentine's weekend filled with chocolate by the pound, beer by the pint, and frites by the cone.  Worth every weird glance I got for whipping out my camera to capture them.
February 11, 2013 by Kaitlin Noe
I would not be doing my job as traveler, temporary Parisian, or human being if I did not dedicate at least 90 percent of my time to talking about French food.  I have probably far exceeded that–food is about all I have talked about since setting foot on this continent.  Luckily, being considerably food-obsessed themselves, the French don't seem to mind.
Before departing for this land of food finery, I was warned by many a friend or relative who had dipped their toes into the French culinary pool that French food was not edible.  Unfortunately, this was not true.  French food is so addicting that it has both emptied my wallet and threatened my waist line consistently over the past month.  Allow me to demonstrate.
1. Baguettes. Camembert. Comté.
Baguettes cost a single euro here.  If you wander into the local boulangerie around meal time (make sure to look out for the artisanal ones for the proper, baker-rises-at-3-in-the-morning experience. It makes a difference), there is almost always a line.  The boulangerie is also the only place in France with quick service because French people cannot live without bread at every meal.  I've become personally addicted to tradi, the baguette au traditional. I honestly don't know what exactly is different about it from a regular baguette, but I attribute it to a magical characteristic in the rising process, or the wheat, or the rolling?… My addition is exemplified by the fact that my dinner tonight was an entire tradi and two-thirds of a circle of camembert.  When I'm drinking wine (which people here often are) I generally go for the comté. Because I like to pretend I know fancy things like how to pair wines and cheeses.
2. French onion soup.
Only here it's just "onion soup" because the French is implied. Which I thought was hilarious when I first saw it on the menu.  Unfortunately this hot, flavorful soup topped with a crust of cheese and thick bread doesn't translate too fantastically to photos. But if I've had one bowl, I've had one at every single meal since I've been here.
3. Local food.
The French's trick to everything.  They only eat things grown fairly nearby, and you can tell. There's a whole new level of freshness when your food hasn't been flown half-way around the world before it reached your mouth.  Downside being that it's nearly impossible to get things out of season, or things that don't grow in nearby climates. Like peanut butter and maple syrup.  My I miss you, PB&J.  I found a little brunch place in Montmartre that takes this to an extreme and only serves locally-grown products in their ever-changing brunch menu that is open two days a week for one meal.  At long communal-style tables, I devoured the greatest bread, butter, and eggs Benedict I could ever imagine.  Too eager to eat it to take a picture of what it looked like before I started destroying it, my apologies…
4. Creme brulée.
One of my favorite desserts back home, in its home country. Goodness, this stuff is magic.  I could probably eat it with every meal of the day…
5. Fondant chocolate.
A flour-less chocolate cake, homemade by my house mother and left up to me to finish over the course of the weekend. Let's just say I ate very well that weekend.
6. French attempt at American food.
After a month of incredible Parisian food, I got a little homesick, so my friends and I sought out "Breakfast in America".  We were greeted by a very goofy caricature of an American diner, complete with decorative toasters next to every booth (I guess they kind of look like jukeboxes?), a huge "Friends" poster, and an "Obama" milkshake (peanut butter and chocolate).  I have to admit though, they make a mean burger.
7. The famous Angelina's coffee.
Almost no words. Thick and nearly pure chocolate, mixed in with fluffy white chantilly (french whipped cream). I drank about two pitchers. I would've waited twice as long as the 15-20 minute line out front for a taste of this magic.
8. Last, but not least: escargot. Yes, snails.
With some fellow W&M friends coming in from Florence and Barcelona, we wanted to treat them to all the french specialties, so we found a little bistro near the Louvre with escargots on the menu. We were all but squirming with anxiety when the waiter brought over the plate and showed us how to pry them out of their shells.  Surprise: THEY WERE AMAZING. We all fought over the last one and seriously debated ordering several more rounds.  We used our bread to soak up every last drop of flavor from that plate.  Who knew?
Apologies for the food obsession, but when everything tastes this good, it's a little tough to stay cool…À bientôt!
January 22, 2013 by Kaitlin Noe
I have found myself, as of late, often at a loss for words.  A large factor may be due to the harsh and forcible realization that only occurred to me about two weeks ago: I don't actually speak French. Sure, I could spout those grammar rules at you and conjugate those verbs like no one's business.  But when I am faced with a real, live, painfully glamorous and chic French person with a single raised eyebrow and pouted lips, no, I do not speak French.  So as I bumble and mumble my way through the currently-frozen streets of Paris, I offer you a brief photo tour.
1. Café au lait. Drink in small cups, sip silently and ideally over the course of a two-hour long conversation with friends.
2. The Eiffel Tower. Which despite the fact that it was a temporary fixture that the French were too lazy to take down – as I am told by my friends who are apparently getting bored of the thousand snapchats I've sent them titled "selfie with eiffel tower" – still knocks my socks off every time I see it.
3. Tuileries Ferris Wheel. The irony, we realized, of climbing the Eiffel Tower to look out over Paris is that the skyline you are seeing doesn't quite resemble Paris because there is a very key element missing from it: the Eiffel Tower.  For a picturesque and tower-inclusive view, we hiked it up the ferris wheel in the Tuileries.  Just as the sun set. While eating crepes and drinking espresso.
4. La Durée. I felt like I had found a tiny piece of heaven that happened to be edible. They call this magic "macaroons". The first time I had one, I had eight…
5. Windy cobblestone side streets. Ignore the fact that snowflakes keep flying in your eyes and you can't feel your hands, feet, or face.  Because what you can see beyond the white frozen ice that is covering this city is stunning.
6. The unnamed but imposing church that you stumble upon as you trudge through the three inches of ice and snow at three-thirty in the morning because, as anyone in Paris will tell you–loudly and proudly, as if savoring their ability to shatter your adorable american naiveté – you will not find a cab in Paris after midnight.  If you do find an open cab they will tell you to pay thirty dollars up front for a ten dollar cab ride and when you say "no, that's absurd" in your attempt at a snobby french accent, they will open the door and kick you out.  So that you will trudge through three inches of snow and ice for several hours looking for a way home and you will stumble upon this church.
December 30, 2012 by Kaitlin Noe
As the holidays cheer winds down, I find myself trying to wrap my head around the fact that in 11 days and 15 hours (hey, thanks, countdown on my desktop) I will be leaving Boston's International Airport for Paris.  PARIS.  The city of light, tall pointy towers, and baguettes. Preparation for this mind-boggling french adventure is no easy feat.  It mandates strict adherence to what I have dubbed the "Can't Believe It's Paris Checklist". Suitably corny, I know, thank you.
1. Post often on friends' Facebooks and ensure to send them cheery, loving holiday texts.  This is crucial.  What many may not realize until they board the plane is that you will be absent from school for four to five months.  Months. That means that you will be missing out on all of the group meals, late-night movie nights, big social events, and even the brain-busting bonding of all-night Swem sessions.  It is of the utmost importance, therefore, to take advantage of these last few weeks with American cell-phone service to remind your friends that you exist before you begin swirling into the black hole of study abroad adventures and photos wherein you are preoccupied with exciting and exotic explorations…
2. Have a room with ten times as many things as you can actually fit into an airplane-approved suitcase. Because, honestly, who wants to spend time over break catching up with friends and family? I would much rather dedicate that time to stressing my hair out over how many pairs of sweatpants and leggings I can stuff into the infinitesimally small volume of that Air France-approved luggage.  And I suppose I should try and fit in some business clothing for my internship and important things like laptops as well…? I never realized how much I depend upon for daily survival until I tried to pack it into airplane luggage. How to condense four months into one bag?!? These are the really important questions you must face.
3. Think really hard about going for a run. Gotta (pretend to) start the European semester off right, eh? And, as we all know, it's the thought that really counts.
4. Start dropping as many French words into daily conversation as possible. Not only will this remind people that you are extremely cultured and can speak an exotic, sexy language, but it also reminds them that you are about to depart on the adventure of a lifetime.  Ideally do this until your family starts starts speaking to you in haughty mocking voices and calling you pedantic (they were really attached to that one scene in Midnight in Paris…).  But don't fear, because you know that dropping an occasional "oui" or "bien sur" is, obviously, essential preparation if you want to achieve fluency in French by the time that you leave.  Bonus points if you can include references to Picasso, Hemingway, or the French Revolution. Liberté, fraternité, egalité for all!
5. Stalk the hell out of this city. If you have not watched every CNN Travel special, Food Network feature, and read every single article and blog concerning Paris before you depart, you are doing excitement wrong.  You should also have finagled a list of your fellow study abroad students and creeped all of them thoroughly on Facebook.  You are spending a semester in the most beautiful city in the world. The city of lights, the city of love! If you are not obsessed, you may as well box up that beret and french dictionary for good.
Bon voyage!
November 2, 2012 by Kaitlin Noe
In high school, homecoming consisted of a singular night of dressing up and dancing, perhaps accented with a pep rally and school spirit.  At W&M, it is an entire week of non-stop revelry that students begin planning for as soon as the school year kicks off.  With an overwhelming amount of activities- every single organization on campus feels the need to make their voice heard in the din of school spirit that is homecoming- it can be overwhelming.  So I've brought you the highlights of what is my personal experience with the homecoming hysteria.
1. Monday night: Paper due at 11 am Tuesday morning, yet I still offered up my house to host my sorority's float-building.  (During homecoming, sororities and fraternities will pair up for a week of parties and usually create a float together to enter into the Homecoming Parade.)  As I sit in my room at the desk I never use I try to block out the sounds of music and shouting and planning that is bursting through the paper-thin piece of wood that is my door.  Literally impossible.  Instead I spend twenty minutes destroying a German chocolate cupcake from Extraordinary cupcakes (lived up to its name) and watching an episode of The League. Two hours later, after giving up on work, paying a visit to the float building, trying to go to my best friend's house next door, blasting my headphones in hopes that it will block out the noise, and debating going to the library (Swem) for a minute before realizing I am far too lazy to ever walk that far, I give up any vain attempt on writing this essay and mournfully set my alarm for a sharp 7:30 am.
2. Wednesday night: If you ever thought that maybe you belonged in the 70's, you probably should have hit me up Wednesday night.  Thanks to the incredible overachiever-ness of one of my best friends and member of our partner fraternity, we hosted the Right On Band in the Sunken Gardens for Wednesday night of homecoming.  Complete with fro's, glitter, platform boots, and dancing go-go girls, the Right On band (who has played for the past four presidents and at Obama's Inaugural Ball) led a huge groovin' love train around the Sunken Gardens.  Far out.
3. Thursday night: As Vice President Event Planning (pretentious title drop) for my sorority, I do a lot of work that I wouldn't necessarily say I jump out of bed for: kicking rowdy people out of Formal, harassing local venues to get me their contracts in time, managing finances… This night, however, I had been planning for since June.  I'm sure by now you've caught on to the "raving" trend that has snowballed into quite the phenomenon (Taylor Swift dubstep? really?).  Well I've got to admit I've caught the bug.  Guilty as charged.  So I set to planning a rave for my sorority and fraternity's Thursday night of homecoming.  We did the whole nine yards and brought in a production company with laser lights, black lights, strobe lights, fog machine and, of course, a heavy bass.  The result was everything the little raver in me dreamed of and more.  Ninety girls and fifty guys (good odds, eh gentlemen?) piled into the room in neon, rave tutus (do they have an actual name?), fluffies, sequin shorts (guilty), face paint, and excesses of glitter.  The same ninety girls and fifty guys left two hours later in a disarray of glow sticks, sweat, and sore dancing muscles.  A successful night if ever I saw one.  I hope the drivers on Richmond Road enjoyed watching us parade past in full rave apparel.
4. Friday night: Time for a classier turn of events; tonight is the members-only opening for the Muscarelle Museum's 12th Faculty Show.  As an intern for their Advancement Department (kind of a mash-up of marketing, communications, and development), I like to pretend I have VIP life status by attending these events.  They generally consist of a classy array of wine, cheese, and elder residents in pearls and hats that would make any derby run proud.  As an Art History major, the museum satisfies my every innate nerdy desire to pretentiously gaze at and evaluate art.  Making it even more appropriate that I dedicate the beginning of my Friday evening to dressing up classy (happens about once a year) and sneaking gourmet cheeses from a back table while listening to my Professor (Distinguished Scholar in Residence Dr. Spike) lecture on everything from Close to Preti.  There's always time for dancing when the opening ends at 8.
5. Saturday night: One of the harder decisions of my homecoming career.  I work at the local bar Paul's Deli (the bars here are called Delis or Taverns), and homecoming Saturday is hands-down the busiest night of the year.  Non-stop packed from wall to wall from noon until close at 2 am.  I worked this shift last year with my roommate/best friend and saw several girls cry, one couple break up over a beer, an alumni pass out in the bathroom and took home an entire pizza because whoever ordered promptly forgot about it.  And not going to lie, the tips are out the wahoozers.  So in the end, it's worth sacrificing the one evening of revelry with friends because all of the tips enthusiastic alumni shove on the poor college bartender (that's me!) are going straight into my piggy bank for my spring semester in Paris.
In every corny and sentimental meaning of the word, I have had more singular bonding experiences and lasting memories with my friends during homecoming than any other week of the year.  Half-way through and already sad to see it go, welcome home Tribe!
Follow me on twitter! @wmkaitlin