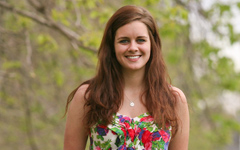 November 19, 2012 by Katie Fottrell
Now this is a time when I have 8092852 other things I should be doing instead of blogging (working on my research, studying for my exam in two days, getting more things together for my trip to Haiti in January, researching new content for my fitness class, sleeping?), but lately I have been learning a very important lesson that I'd like to share.
A lot of my life has been spent with my focus on my future – on where I wanted to go to college, the steps I needed to take to get there, and now on what I want to do with my life and the steps I need to take to get there – and a lot of those decisions have been guided by what I think I should be doing, what I think is expected of me, and what I think everyone else is doing and how I fit into that. And because of all this, of all the worry about being able to make enough money to live comfortably, of being able to make enough money to stop worrying about money(!), and of making my degree (and by association, all the choices I've made about my future thus far) worth the time/money/work, it has become very easy to get discouraged from following what I really want to do. Because it's not what I should do, it's not what is expected of me, and it's not what everyone else is doing.
What I want to do is take a chance and try my hand at adventure. I want to move to Colorado after graduation and make my way there – as a snowboard instructor? As a rafting guide? As a worker of a non-profit? As a writer?  Right now, I'm kind of thriving on the not-knowing part– and it's one of the scariest things to think about, but I know I will never forgive myself if I don't do it. I am ready to take my chances and do something I have always wanted to do and always stopped myself from thinking of because it wasn't what I thought my parents or my friends or my professors wanted of me. In the end, I realized the only thing holding me back, as cheesy as it sounds, was me and my fear of failure.
It's kind of weird, actually, because four years ago I wrote my college application essay on failure and how I loved it because you can always learn from failure – success is far less educational. And now, here I am on the brink of making some big choices and fearing failing. Funny how life works that way.
Basically what I'm saying is that now is the time for failure – you have the rest of your life to make up for it! That sounds bad, I know, like it's already decided you'll fail. You probably will. I probably will too. But trust me. Don't be afraid to make a change. Adventures don't come to your front porch and knock on your door. You make the adventure, and fearing failure will only ensure unhappiness and regret.
Take that chance. Move to Colorado. Pick the career you want, not the one you need. Go to Europe for a few weeks…or months. Step out your front door and make the decision to find your own adventure and do what you never thought you could (or should). You'll be happier for it.
August 10, 2012 by Katie Fottrell
Have you ever had one of those things that you've wanted to do your whole life but never felt like you could? So you tuck it away in the back of your mind on your mental bucket list that you don't look at too often because it makes you sad to think about. You've explored every possible option to achieve this dream and have come to the conclusion that the only way to afford it is to sell your kidney on the black market. So yes, you've given some thought to selling your kidney on the black market.
This was me and the dream I've had, since I was thirteen, to see Coldplay in concert. I could go on for days about the time I first heard a Coldplay song (it was "Shiver," in my dad's car, driving through Richmond on a sunny summer day), how I've listened to and loved every CD since that moment, how I've stalked their world tours just to find they only frequent places like Tokyo, Paris and NYC (hence the thought of selling my kidneys on the black market), and by the end of it, you would probably know way too much about me and maybe a little too much about Coldplay (is that possible??).
So I'll fast forward and talk about how my dream came true.
It's sappy! I know! But when I got those tickets to their Mylo Xyloto tour in DC, that's what it was: a dream. My dad, who's shared my affinity for Coldplay since the beginning, gave my sister and I the tickets as a Christmas present. The concert wasn't until July, but I was okay with waiting – talk about Christmas in July! As the months passed, the excitement built, and it began to feel more and more unreal. By the time we headed up to D.C., I wasn't nervous or jumping around like crazy because it honestly felt like it wasn't going to happen. I had waited for this for years – there's no way it could happen now, right? I was sure something would happen – a rogue satellite falling from space and plummeting to Earth to destroy the Verizon center, a hurricane blowing in and causing panic and mass traffic issues – my shocked mind was creating all sorts of scenarios to convince me the dream would never come true. But the day of July 8th came, hours passed, my sister and I began to freak, we rode the taxi to the Verizon center, we got to our seats, and we were there.
We made my dad go incredibly early so we had quite a long time to ponder why there was a black platform in the row in front of our seats. Immediate panic laced with excitement set in. What was this platform for? A spotlight? A camera? Was some dude or piece of machinery going to destroy my view and shatter my dream? Was it for Rihanna in their performance of Princess of China? Yes, we agreed, it had to be Rihanna – the stage was too small and too close to the crowd (it was IN the crowd) for the band to come out, that would just be crazy.
So after some amazing openers, the first song (Mylo Xyloto – a beautiful instrumental) comes on and I swear it was the most magical thing I have ever witnessed. So, of course, the moment they stepped on stage I cried. Yes, I cried! All my friends laugh because I NEVER cry. Ever! But I did and I am not ashamed. It was beautiful. The whole set was beautiful! The guys were such great performers and they played some of my favorite songs, and I was not embarrassed to sing along to every single one.  When the opening to Princess of China started, my sister and I freaked, "Rihanna's coming!" we said over and over. But the song came and went with no Rihanna. When the song finished, my sister and I looked at each other with eyes wide and mouths dropped. With no camera or spotlight and no Rihanna, there was only one option: Coldplay was going to perform three feet in front of us.
When Coldplay left the stage, we started screaming. I swear it took them three years to get to our mini stage, but they did, and I was so worried I was going to faint or start sobbing (all while on the jumbotron) but that moment when Chris Martin stepped up in front of me all I could do was stare in shock. My hands were shaking and I felt like I was on the surface of the sun – I don't think I have sweat more in my life. And the whole time (about three songs) I felt like I was literally dreaming. My mind went blank: I couldn't remember the words to the songs they played, and honestly even now I couldn't tell you what the songs were.
When the concert ended, I was in shock, exhausted and thoroughly depressed. Not only was the show over (I could have stayed for six more hours), but the whole thing was so incredible that I knew no concert could ever match it, much less surpass it.
After a few weeks recovery, I still get chills thinking about it and yes, I want to cry every time I hear Mylo Xyloto. In the end, that sense of disbelief always settles back in and I still have to remind myself that it actually happened. It truly was a dream come true that I will never ever forget.
July 5, 2012 by Katie Fottrell
It's on days like these, when the temperature is 100 degrees and humidity is pushing 50%, that I like to reminisce about the days of our founding fathers. It's true.
I walk around all day with my fellow interns, in shorts and a t-shirt, and each time I'm giving a tour I swear it will be me last. This heat could break even the toughest of wills. Truthfully, I never knew I could sweat this much. I really am learning new things at William & Mary.
But back to the founding fathers.
Even though I'm sweating so much that my eyes sting, and I'm red-faced and out of breath from talking and walking in the heat, I always start to think about Thomas Jefferson. TJ had it bad. Full pants, stockings, leather shoes, dress shirt, jacket, (maybe a wig?) – imagine the horror! And the ladies, think of the ladies! Full stockings, corsets, petticoats, full-length dresses made of some rough-spun non-breathable fabric, plus a bonnet, with a flimsy handheld fan as your only weapon against passing out. I'm starting to have a hot flash just thinking about it.
Just take a second to let all of that sink in. Imagine the sweat. Feel the burn.
I always think back to TJ and the hot days he must have suffered through – living with no A/C, and far too classy to don anything less than his best outfit – and then I think: not only did he survive this, but he also did some serious business for America. Our hot dogs and hamburgers would all taste so empty and our sparklers and fireworks would have no spark or glimmer without TJ. Because of him our burgers taste of freedom and those pyrotechnic displays of light and sound instill the feeling of independence in our hearts and minds. It's a beautiful thing.
So try to remember that even though you may feel weak, your brow may be drenched with sweat and you may look like a literal "hot mess," TJ did it all with class and swagger, and we should all try to follow his lead.
June 27, 2012 by Katie Fottrell
As you may have read, I am one of the 12 Senior Interviewer Interns this summer, and you may only be reading this to see what you can say in your interview to impress me. It's okay, I understand. And that's why I'm writing this: to help you out because the more comfortable you are, the more fun the interview will be for both of us!
I know the thought of going through an interview to supplement your application to the College sounds daunting, but it shouldn't. The interview is the easiest part. It's the part where you can shine and be you without having to worry about translating who you are into words and numbers. Take advantage of it. This is your chance to show me and to show William and Mary that you are the coolest thing since sliced bread. And you are. I know you are, you're reading my blog! The interview is the part where you can add that personal touch that's missing from so many college applications.
You're probably still worrying. And that's okay. If you're anything like I was preparing for my interview (Yes, I took one too!), you're wringing your hands thinking of what to wear and exactly what to say to impress the super-intimidating college senior. But you shouldn't.
But because I feel for you and that nervousness is still so close to me, I'll help you out.
So here's my pointer. Yes, there's only one, and no, I'm not kidding.
The key to impressing me on your interview: Be yourself. Yes, that's it.
Don't bring me your resume. I want to see you, and you are not a piece of paper – or at least I hope not. I don't need your stats (President of such and such club, three-time district chess champion – whatever it is, it may matter to someone but doesn't matter to me). Despite what you may think, your statuses in your various organizations are not who you are. If you're really passionate about the fundraiser you do for the French Club, feel free to talk about it! But really, all I need to know is what really makes you you. If the highlight of your day is talking to your dog about the homework you have, or if you couldn't live without a good box of Cheese-Its – tell me! I want the kooky you, the you that you are when you're home alone and dancing to "Call Me Maybe" even though you told all your friends you hated it. I cut my PB&Js in triangles, I would rather submit to torture than be forced to play a game of mini golf, and I know how to prepare for the zombie apocalypse. These things make me who I am. They also make me strange, weird, obtuse and most of all INTERESTING. Embrace the weird. There's a little bit in all of us, and the best way to impress me is to show me you are the only you I will ever meet.
June 26, 2012 by Katie Fottrell
So I'm writing this blog and thinking to myself, "What in the world am I going to say?" I mean, I'd like to say I have some strict guidelines to adhere to, some sort of chart to tell me what to say. But there isn't. And when I first found out, I couldn't believe it. When I was told I would be blogging, the natural follow-up question was: about what? And here's what went down:
"Write whatever you want."
(insert shocked expression here) "Seriously, whatever I want?"
(insert wary expression here, with underlying tones of hesitation at giving Katie a blog) "Well, considering it's a W&M blog, let's keep it loosely, tangentially related to the College."
But really. That's it. As far as parameters go, I'm about as confined as a lone tuna in the Pacific Ocean—I've got some freedom. Write whatever you want, but don't forget about the College. At first, to say the least, I was a little overwhelmed: what would I say? There's nothing in my daily life that I would consider meaningful as far as its importance in the lives of others. Who cares if I had a PB&J on my lunch break today to treat myself instead of the go-to turkey and cheese? Who cares if I cut it in triangles like my mom used to just because that's what makes it taste better? But when I sat back and took a second to really think about the expansive guidelines of my blogging, I realized that that's kind of how my life here at W&M has been.
Now stick with me for a second.
The College has given me so many opportunities to explore any and every subject I could be possibly interested in—whether it be sports, community service, literature or languages, someone has always been there to help me out. I feel like the attitude has always been "Do what you love, whatever that is, and we'll find a way to get you there." Seriously. There's always someone (who 9 times out of 10 is an expert in their field) who can tell you exactly how to work towards your goal or who knows the answers to questions that have nagged you for years. Faculty, staff, students—everyone is invested in helping each other out. And, I guess in the end, I have this mental picture of myself, going off into the great unknown with good old W&M sending me off (having given me the map and packed my bags with the tools I'll need) saying, "Don't forget about me," as I fade away in the distance. A very poetic notion, I'm aware, but that's how I see it. The College wants me to do whatever I want to do (even if it's deciding to cut my PB&Js into triangles like a fourth grader), never telling me I can't or I shouldn't, and I think that's pretty amazing. Don't you?