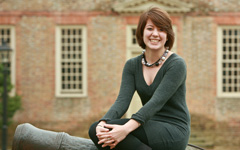 August 27, 2013 by Bailey Thomson
In two days, I am flying from Johannesburg, South Africa to Washington D.C. to celebrate my best friend Allison's wedding in northern Virginia.  This is the story of our "soul friendship" and the way that William & Mary inevitably introduces its students to the people they need the most.
Allison and I met in Morton Hall in our Comparative Politics class in spring 2008.  Truthfully, we never really met.  Allison approached me one afternoon, introduced herself, and revealed that she had orchestrated an interview for me to join her as a teaching fellow for a fall 2009 civic engagement seminar for Sharpe Scholars.  (If this isn't the definition of a nerdy beginning to a William & Mary friendship, I don't know what is!) A few weeks later, I met with Professor Schwartz, was accepted for the position, and the adventure began.  Allison and I were promptly joined at the hip inside and outside the classroom.
Allison has a penchant for intellectual conversation, surprises and relentless compassion.  During our time together at the College, Allison and I found ourselves on sand dunes in North Carolina, exploring Rome over spring break, surrounded by friends at surprise birthday parties, celebrating holidays together with our families and eating way too many cupcakes.  We talked without end about civic engagement, political theory, existentialism, feeling lonely and finding love.  We were nurtured by many of the same professors and challenged each other academically.  We were surrounded by friends who taught us to be better friends and family who taught us to love, to have patience and to persist.
After I graduated from the College and Allison finished her year as a Americorps Vista, we both moved to California.  I began Teach For America in San Jose as an elementary school teacher, and Allison began her PhD at Stanford.  For two years, we were pieces of home to each other though we lived 3,000 miles from our families and our beloved college.  I had the pleasure of watching Allison's relationship with her now-fiance Andy flourish.  Andy moved to California to join Allison and proposed last year.
When you meet a soul friend, you know it.  I moved to Johannesburg 13 months ago, and Allison is still one of a handful of people who know me best, with whom distance doesn't matter.  And while to William & Mary readers, this might seem normal, know that it's not.  William & Mary is a place where the relationships you cultivate last.  As Convocation for the Class of 2017 happens this week, my hope is that these same important and lasting relationships have already begun during Move-in and Orientation.  I am grateful that my alma mater is a place where great people meet and build a foundation for a lifetime of friendship.
Go Tribe (and congratulations, Allison!),
Bailey
April 11, 2013 by Bailey Thomson
Greetings from Johannesburg, South Africa, where fall has officially begun!  While the College is getting warmer and the Sunken Garden is filling up with sun-soaked students, I am turning on my space heater and bundling up in my cottage.  I often wish I could just move from place to place following summer on its annual journey across the globe.
Since I last posted, we opened a school!  On January 14, Spark Ferndale Primary School opened its doors, and three months later, we are going strong!  The school serves 161 students and their families and employs 9 incredible educators.  Our students hail from across Johannesburg; they are eager to learn, absolutely hilarious, and so kind.  Our teachers are hard working, mission driven, do-what-it-takes educators committed to their students.  I continue to be grateful to serve on the eAdvance team, a visionary crew with a no-excuses attitude.  The second school term (of four) began this week, and we are in the midst of celebrating our students' academic and personal progress from last term.  That's a very short way of saying much has happened since I posted in October, and I have much to be proud of and thankful for.
During school term holidays, I had the opportunity to return to the United States for about ten days.  I spent half the time in California, where I visited friends in San Francisco, Palo Alto, Oakland, and San Jose.  I also got to see and teach my former students at Rocketship Mateo Sheedy Elementary School during two afternoons.  Then, I flew to Richmond, Virginia for the last half of the trip.  There, in addition to spending time with family, I had the privilege of speaking at TedxCollegeofWilliamandMary, an independently organized TED event at the College.
Let me give you a peak inside my brain for a moment: I got to return to the place I love the most (the College) to speak at a conference licensed by my favorite "ideas organization" (TED) about the cause I am most passionate about (education reform) alongside the people I most respect (William & Mary students, alumni and professors).  I was absolutely thrilled—and also seriously nervous.
What I should have anticipated was that my talk was not even close to the highlight of my Tedx experience.  My talk was the last in a 4 hours series of thought-provoking talks on innovation in storytelling, data-driven international aid, myth in religion, community engagement, gender equity and more.  By the time my talk about education reform and habits of innovation came around, I felt like much of what I had to say had been expressed over the course of the afternoon by the other speakers.  It's a beautiful thing to feel like the essence of your ideas is also encompassed in the ideas of others.  This community conscience – one that simultaneously values tradition and newness, and in all things, seeks to serve others – may be the William & Mary-est thing about William & Mary.
Go Tribe,
Bailey
October 17, 2012 by Bailey Thomson
Even though I may not contribute consistently to the W&M blogosphere, I do actively follow news from the College and greater Williamsburg.  And this past week has been a massive one for Tribespeople and Williamsburgers alike!  From the Dalai Lama's visit to President Obama's debate camp, campus and the city have been full of exciting events and celebrity sightings.  As if that were not enough to make me jealous, friends in Williamsburg have started posting obligatory fall foliage pictures.  Is there any town more beautiful in the world during this time of year?
As I write this, I am more than 8,000 miles from the College and springtime is just beginning!  In August, I moved to Johannesburg, South Africa, where I am the Director of Development and Leadership for eAdvance, a South African education organization aimed at providing equitable education to all South Africans.  eAdvance oversees and provides support to Spark Schools, a network of low-fee private schools expanding quickly to ensure high quality, affordable education for primary grades students.  The first Spark school, Spark Ferndale Primary School, will open in January in the Ferndale suburb of Randburg, a district of Johannesburg.  Then, Spark Schools will grow to 64 schools in the next decade!  My role includes curricular development, professional development, and leadership training so that our Spark Schools faculty are equipped with the knowledge, skills, and resources they need to serve students and their families.
I frequently think about what it means to contribute so intimately (education, for me, is close to the heart) to a community so far from my home.  The distance is geographic, cultural, philosophical, racial, and linguistic.  The question of "diversity" is an interesting one: am I lending a diversifying hand or promoting more of the imperialism that damaged this country for so long?  What is the impact of being a white American, rather than a white South African of English descent or a white South African of Afrikaans (Dutch) descent?  How can I serve others here without imposing what I assume they need, rather than what they truly need?
Apartheid ended in South Africa less than two decades ago.  Race still divides people in terms of where they live, the traditions they practice, their access to services, their jobs and income, and more.  And yet, in many ways, it feels like the people of Johannesburg have progressed further generally than the people of Richmond, Virginia, my home.  Our student population in 2013, according to current enrollment, will be split almost equally ethnically between white, black, and Indian students.  Our teaching staff of twelve will have white, black, and Indian faculty.  The investors in eAdvance come from multiple ethnic groups, as do our start-up supporters.
I recall W&M as a diverse school where students nonetheless often self-segregated based on race.  (Race is certainly not the only form of diversity, but it's worth exploring since it cuts so deeply into history in nearly every country and certainly into history on our campus.)  There were very few of us white students who were active in the Multicultural Ambassador Council, NAACP, and other "diversity" organizations when I began in 2006.  But from my freshman year to my senior year, organizations gradually diversified—not just in terms of racial make-up, but also in terms of broadening purpose.  And we started having very honest conversations about what it meant to value every W&M student.  Now, Professor Anne Charity Hudley and others are turning those conversations academic by conducting a survey that will "increase the understanding of what curricular factors, pedagogies, and other structures within higher education foster comprehensive academic participation among underrepresented groups."  This type of progress – from the cafeteria and Terrace to the classrooms and offices – is worth celebrating.  It makes this alumna proud to witness the seriousness with which the Tribe takes the task of acting with dignity and respect toward all its members.
Our kindergarten, first, and second grade students next year will live by five core values: Service, Persistence, Achievement, Responsibility, and Kindness.  When I think carefully about it, I know that it was the College who taught me how to genuinely and authentically demonstrate those values in a new and diverse community.  The eAdvance and Spark Schools staff will strive to do the same for our students, W&M international students in the classes of 2027, 2028, and 2029.
Go Tribe,
Bailey
December 26, 2011 by Bailey Thomson
"Our hearts are with thee, dear William and Mary, however far we stray."
I returned to William and Mary this week after fourteen months away from the College.  I returned in the traditional Williamsburg drizzle to a damp, desolate campus that students had vacated a week prior.  And despite the precipitation and naked trees and sparse population, I was still totally struck by the beauty of the place.  Brian can attest that I spent much of our time wandering campus in silence.  Very few W&M alumni will ever be able to attest to living in a more beautiful place, in terms of looks and spirit, than our collegiate heaven in Williamsburg.
The feeling of familiarity on campus made me wonder how often I encounter W&M daily, even 3,000 miles away from "home."  And, it turns out, the Tribe is everywhere:
In my 3rd grade math classroom, where W&M regalia litters the walls and students ask constant questions about the griffin.  "Have you talked to the Lion-Eagle-Man this week, Ms. Thomson?"
In Napa, California, where a few Bay Area alumni visited another alumnus who manages the Girard Winery Tasting Room.  (By the way, Tribe networking goes a long way in wine country!  I'll raise my glass to that.)
 In Edinburgh, Scotland, where four alumni converged for Thanksgiving 2011.  Misha (W&M '11, Fulbright English Teaching Assistantship in Dimitrovgrad, Bulgaria) and I flew in from our respective new homes to spend time with Brian (W&M '11, Graduate Student at the University of Edinburgh) and Hayley (W&M '11, Graduate Student at the University of Glasgow).
In my e-mail inbox, where I still receive weekly updates from the Reves Center, the Russian Studies listserv, and the Office of Community Engagement and Scholarship.  And messages from W&M friends, via phone, e-mail, Twitter, and text, keep me afloat daily.
In my kitchen cabinets, which are cluttered with innumerable Green Leafe and cider mugs.  (We Tribespeople seem to have an obsession with collectable drinking vessels of all kinds.)
On my bedroom walls, where I'm not ashamed to say there are numerous renditions of the Wren building.  That's not to mention the William and Mary blanket, Tribe basketball towels, alumni magazines, and so forth strewn about my San Jose home.
These are just the most concrete examples, and the list is incomplete.  What is striking about the inescapable green-and-gold-ness of my life is that it has become so imbedded in who I am and how I act that I rarely notice it specifically.  But others do, and they comment on how unusual it is for a small, public school to be regarded so affectionately by its alumni.
Those of us who name the College as our alma mater know the tremendous impact it has had on our lives and our characters.  But, in order for W&M to expand its national and international presence, I think we need to begin recognizing and acknowledging Tribe moments.  The legacy of our beloved school is ours to nurture and grow.
Go Tribe,
Bailey
August 26, 2011 by Bailey Thomson
There was a time in my life when I believed that I would eventually become a strict adherent to the Gregorian calendar.  I was sure that, as an adult, my "new year" would begin on January 1 and that winter would serve as the beginning and conclusion to the year.  Despite my best efforts, however, my new year still begins as summer is turning into fall.  And it still revolves around, and is defined by, learning.
Shortly after I graduated on May 16, 2010, I drove cross-country from Richmond, Virginia to San Jose, California, where I began my tenure as a Teach For America corps member in the Bay Area.  Fifteen months later, I am camped out in my classroom at Rocketship Mateo Sheedy Elementary School, a public charter school in downtown San Jose, unpacking number lines and read alouds and setting my vision for another tremendous year with 89 beautiful, intelligent, challenging, hilarious, insightful third graders.
I teach at a high performing, low income school in the Rocketship Education charter network, an organization dedicated to "eliminating the achievement gap in our lifetimes."  And that's quite a commitment- with millions of elementary-aged students nationwide receiving a sub-par education from failing schools, we've got our work cut out for us.  I will be the first to admit that education was not my passion and that teaching was never my chosen profession, but my fortunate placement and my tremendous students have altered my world in a big way.  Now, I'm here to stay.  As I enter my second year, I am part of the network's leadership development program, in which I will train to become a principal and open my own Rocketship school.  (This is not where I thought my Government and Middle Eastern Studies majors would lead, but who's complaining?)
And still, I can't help but think that it was ultimately William and Mary that brought me this far.  As freshmen moved in for orientation last week, I found myself nostalgic on Twitter, reading tweets from new students, administrators, and alumni who all verbalized what I was feeling: There's no place like home.  There's no place like the College.  The palpable sense of community, the commitment to service, the encouragement in learning, the opportunities for leadership, the tradition of revolution are unmatched.  …and these are the principles I seek to instill in my students, William & Mary Class of 2025.
Go Tribe,
Bailey
May 4, 2010 by Bailey Thomson
The following are titles of particularly interesting papers I have written in the past eight semesters.  Of course, "interesting" is relative.  And, as you can see, I frequently follow the blah-colon-blah-blah model for essay titles.
1. GOVT 304 Political Philosophy (Fall 2006)- Bad Conscience and Guilt: Private and Public Peril
2. HISP 207 Cross-Cultural Perspectives (Fall 2006)- Lo Que Hemos Perdido
3. INTR 150W Supreme Court and the Constitution (Fall 2006)- Behind the Bars and the Bench
4. ARAB 310 Arabic Literature in Translation (Spring 2007)- Tradition Versus Modernity in the Arab World: Analyzing Scholarship Versus Literature
5. HISP 305 Spanish Grammar and Composition (Spring 2007)- Dinosaurios y cambiando el mundo
6. GOVT 391 Intelligence and Policy Process (Fall 2007)- Intelligence Estimate: Future of Gang Activity in Northern Virginia
7. HISP 281 Introduction to Hispanic Studies (Fall 2007)- La conexión entre el poder interpretativo y la comunidad imaginada para los moriscos, los zapatistas, y los latinos en los Estados Unidos
8. GOVT 301 Research Methods (Fall 2007)- "Mindless Vandalism Can Take a Bit of Thought": A Content Analysis of Politics in Banksy's Indoor and Outdoor Graffiti
9. GOVT 203 Introduction to Comparative Politics (Spring 2008)- Democratization of Belarus: a Monochrome Prospect
10. HIST 112 History of Europe (Spring 2008)- "Indoctrination of Hate": Rudolf Höss on the Oppressor and the Oppressed in Auschwitz
11. ARAB 302 Advanced Arabic II (Spring 2008)- مسجد الحسن الثاني
12. ANTH 350 Middle Eastern Anthropology (Fall 2008)- The Autocracy of Modernization: Varied Legacies of Leadership in Turkey and Iran
13. GOVT 339 Middle Eastern Political Systems (Fall 2008)- The Rhythm of Morocco: Monarchical Obstacles to Democratization
14. RUSN 201 Intermediate Russian I (Fall 2008)- Президент Республики Беларусь
15. Sharpe Independent Study (Fall 2008)- Islam and the Potential for Deliberative Democracy in the Middle East
16. GOVT 405 Memory, Democracy, and Theology (Spring 2009) – Seventy Times Seven: On the Pursuit of Unconditional Forgiveness
17. RUSN 202 Intermediate Russian II (Spring 2009)- Кем Я Хочу Стать
18. GOVT 491 Arab Foreign Policy in the Gulf Wars (Fall 2009)- A Comparison of Moroccan and Algerian Foreign Policy in the Western Sahara War
19. ANTH 319 Middle Eastern Archaeology (Spring 2010)- The Significance of the Land of Punt to New Kingdom Egypt
20. RELG 358 Jesus and the Gospels (Spring 2010)- Dichotomies of Salvation: Dynamic Reversals and Dualities in the Lucan Story of the Sinful Woman [Luke 7: 36-50]
21. MUSC 372 Music Cultures of the Middle East (Spring 2010)- The Dynamic Voice, Evolution, and Legacy of Umm Kulthum
22. Honors Thesis in Government (Fall 2009- Spring 2010)- The Crux of the Matter: the Intersection of Deliberative Traditions in the Wren Cross Controversy
Go Tribe,
Bailey
May 3, 2010 by Bailey Thomson
The following is an entry I submitted to "The Little Things at WM," a blog dedicated to celebrating the small moments that make campus life encouraging and beautiful.  Find more at: http://thelittlethingsatwm.blogspot.com/.
The Marketplace, by the way, is one of our dining halls on campus.  As opposed to the Sadler Center and Caf, the Marketplace is a la carte, not all-you-can-eat.  It operates much like a food court and works on our meal plans.  For the record, breakfast at the Marketplace is the absolute best meal at the College and absolutely worth waking up for.
Go Tribe,
Bailey
I have had dozens of moving, staggeringly beautiful experiences at William and Mary.  One of the most unexpected parts of my William and Mary experience, for example, has been the consistency with which Tribe members celebrate one another's joys and mourn one another's struggles.  Devoid of jealousy or apathy, people here truly care about one another.
But these are three stories that lack a real moment of any kind.  They are not achievements.  They are not losses.  This is simply the story of the Marketplace staff serving students, serving me, to the very best of their ability without understanding how much their support means.
On a particularly hard day sophomore year, I arrived at the Marketplace for lunch, homesick and very lonely.  I wanted to be with my Mama, and I wanted comfort food from my kitchen in Richmond.  The staff member at Grillworks made me a grilled cheese sandwich, despite the fact that it was not on the menu, simply because I needed it.  I nearly cried as she handed it to me over the counter.  Together with two pints of 2% milk, that meal became one of the most memorable of my college experience.  It sounds silly, but I knew I was home.
Just a few weeks ago, I was walking home from an event at the Kimball Theatre that ended around 8:40pm.  Thinking that the Marketplace was open until 9pm, I stopped in, walked through the unlocked doors, and started browsing the food in the refrigerated case.  A staff member stopped mopping and came out to tell me that the registers had already been closed out and that the Marketplace was closed.  I started to leave, already disappointed from a hard day and trying to figure out where I would find food before pulling an all nighter.  The staff member caught me as I was leaving, told me to go back to case to get what I wanted, and to leave without paying.  He said to me, "I could never send a college student home hungry."  That extremely humble attitude demonstrated something I have encountered with that staff multiple times- they do not just do their jobs; they care about feeding us even when they have to make personal sacrifices.
Last, and most importantly, I was at the Marketplace salad bar at 10:45am the day after a student passed away.  Since the Marketplace does not open for lunch officially until 11am, the staff was still meeting to organize for the day.  After giving logistical reminders, the manager pulled everyone into a tight huddle, presumably to tell them about the student's tragic death.  As I walked by to head to the register, I heard the manager tell her staff, "Be very compassionate today."  I was overwhelmed with emotion as I thought about how considerate the staff members were and how much they cared about campus circumstances.  (Do we, in return, invest as much in their lives?)  As I mourned, I felt encouraged by her simple mandate.
So, in the spirit of the Marketplace staff, consider others' circumstances carefully.  As Plato reminds us, "…everyone you meet is fighting a hard battle."  Be very compassionate.
Go Tribe,
Bailey
February 24, 2010 by Bailey Thomson
Because my Honors thesis advising meetings are on Wednesdays at 11am, I consistently find myself awake and working (read: procrastinating) late into Tuesday evening.  It's not that I don't work on my thesis throughout the week- I do, constantly.  But I can't (read: usually don't) give it my full attention on Mondays and Wednesdays (Tuesday and Thursday class assignments) or on Fridays and Saturdays (enjoying my weekend) or on Sundays (weekly organizational meetings).  So, I do the majority of my writing and editing on Tuesday nights.
For instance, I have twenty pages due to my advisor tomorrow.  Now, I have written sixteen of those pages over the course of the last two weeks, but I find myself squeezing out another four and editing the whole product tonight.  There is a hidden bright side to all of this, besides the obvious joy in thesis research: washing machines and dryers are rarely taken at 3am on a Tuesday night.
Every two weeks, I break up my Tuesday late-night writing by doing my laundry.  Laundry is a dreadful task in college- not because it is very difficult or because I dislike folding clothes, but because industrial washers and dryers seem to take three times as long as my washers and dryers at home.  So, doing laundry means building about two hours into my schedule, from putting clothes in to be washed to transferring them to the dryers to folding and putting them away.  Still, I've grown to appreciate this time- while my clothes are washed and dried, I vacuum my floor, change the sheets on my bed, replace my towels, dust my bookshelves, and reorganize my closet.
It sounds monotonous, and this entry is exponentially less exciting than the others I've written.  But let's be clear: college is not just classes, concerts, service trips, and weekend adventures.  It is also living away from home, maintaining a dorm room or apartment, sharing bathrooms and kitchens, staying healthy, making meals, and learning to survive independently.  Part of my sanity, in the midst of academic stress and extracurricular obligations, is based on my ability to keep my living space clean and organized.  College students don't just go to school; we live here.
And even though the laundry room is sometimes crowded into the wee hours of the night, I would not want to live anywhere else.
Go Tribe,
Bailey
January 23, 2010 by Bailey Thomson
I was fortunate to spend nearly three weeks in El Progreso, Honduras with Students Helping Honduras over winter break.  About two hundred volunteers from more than twenty universities, including 23 on the William and Mary team, participated in service trips, and I had the opportunity to facilitate their service experiences as a Student Leader on staff with the organization.
To observe the evolution of Students Helping Honduras and our worksite in El Progreso since my first trip in January 2008 has been an uplifting and encouraging experience.
Villa Soleada, the village in which we have constructed 44 homes, a water tower, and a sanitation system, was nothing more than a field of weeds when we first began two years ago.
Last week, we dug and filled the foundation for the Education Center, which will function as a community meeting place with a library, computer lab, and classroom.  This element of the project emphasizes the community's sustainability through empowerment by offering classes on business and agriculture for adults and an after-school academic outlet for children.
The importance of empowerment as a theme in Villa Soleada cannot be understated, but its many manifestations were revealed to me more strongly in this trip than any of my previous travels to Progreso.  A mural at Villa Soleada, painted by Honduran high school students, lists these five values: love (amor), peace (paz), unity (unidad), dignity (dignidad), and community (communidad).
I was struck by the idea that to own a safe home, to drink clean water, and to become educated are all components of a model of dignity and respect for self and others.  By working together with the families of Villa Soleada, Students Helping Honduras demonstrates that human worth has nothing to do with socioeconomic status- all have the right to security, health, literacy, and communal living.
It is also true that through empowerment, the families of Villa Soleada often teach and give me more than I impart upon them.  One afternoon, I sat in the bodega watching the community women cook lunch and playing with children.  Juli, about eight years old, noticed a nasty bruise on my left leg, which I had incurred by not-so-gracefully falling up the stairs in our
hotel.  I am sure that my pale skin made the purple, black, and yellow bruise look much worse than it felt, but Juli insisted that I rest in her home.
She took my hand and led me across the community soccer field to her house, where she showed me to her bedroom and motioned for me to lay down.  A moment later, her mother, Suyapa, appeared with a bowl of warm water and a washcloth. Suyapa gently washed my wound, hurried her children out of the bedroom, and left me to sleep.
I was overwhelmed with emotion- here I lay in a house whose foundation I had dug exactly one year before.  The family I had initially served sought to do the same for me by offering many of the same resources I had initially given- time, care, and love.  This, I think, is what volunteers and non-profit organizations strive for: the instance in which roles blur so that the giver and the receiver are manifested in both parties.  What an incredibly beautiful moment!
Go Tribe,
Bailey
December 6, 2009 by Bailey Thomson
The following is the speech I gave on December 5, 2009 as Respondent for the Fall 2009 class of the Alpha of Virginia chapter of the Phi Beta Kappa Society.  The Phi Beta Kappa Society was founded on December 5, 1776 at William and Mary as a secret society where members could speak freely as they debated about controversial topics of the day.  Two hundred thirty three years later, PBK is no longer secret but still values friendship, morality, and literature, the three original principles of the society.
Go Tribe,
Bailey
It occurs to me that, as Respondent, I should first attend to the business of responding. So, on my own behalf and that of my fellow initiates, I express immense gratitude for election and initiation into the Phi Beta Kappa Society. While it is not always true that the first in a series is the best, I feel certain that our Alpha of Virginia chapter is preeminent among the more than two hundred eighty chapters in the United States.
I offer my sincerest appreciation to the faculty present this evening. In seven semesters, they have simultaneously challenged and nurtured me to pursue a life of thinking and feeling. Love is often absent in the rhetoric of higher education, but it seems obvious to me that the William and Mary academic world is unparalleled among American universities in the mutual care and respect exhibited between professors and students. My father has said before that "thank you" is an unusually difficult phrase to utter, but in this case, it takes no effort at all. Many, many thanks.
Now, my brother Nathan and my mom took bets over Thanksgiving on how many quotes I would use in this speech. Nathan thinks it will be three in five minutes, and since I am counting on an incredible Christmas gift from him, I will aim to satisfy his prediction. It turns out, just as they suspected, that the wisdom of others is generally more eloquent than my own. Still, it was legendary rapper the Notorious B.I.G. who said, "even when I was wrong, I got my point across." With that assurance, let's move on. By the way, Nathan, that's one.
I believe in a unified life. I believe that alienation, isolation, and compartmentalization of self are the results of internal divisions and multiple identities. I believe that fulfillment is a unification of our passions, such that what we study, where we live, who we love, how we speak, what we produce, and why we struggle are one. That the theory I learn in the classroom complements the music to which I listen. That the research I undertake is not absent in conversation with friends. We are fortunate, then, to study the liberal arts, a curriculum that advocates the how of intellectual thought, rather than the what. It allows, as Uruguayan author Eduardo Galeano put it, "bodas de la razón y el corazón" or a "marriage of the heart and mind."
It is also true that we are privileged. We gather today in the nation's oldest academic building to celebrate the nation's oldest academic honor society on its 233rd birthday. We emphasize the triumphs of our minds, because we need not focus on our bodies. We are fed and clothed. We lack few, if any, necessities. This is, therefore, our mandate: to give of our own intellects in such a way that we enable others to pursue education and, through it, fulfillment of the spirit.
What we learn in lecture halls and seminar rooms is not useless, and we are a uniquely empowered group. Our responsibility is to others. As William and Mary students, we know this. More than three quarters of every class completes volunteer service during their time at the College. Nevertheless, the efforts will not be sustainable until students apply classroom knowledge to community service, especially after graduation. An impressive number of William and Mary graduates enter into non-profit and service-related careers, but improving the lives of others is not simply the job of the inner-city school teacher or the rural social worker. We must all concern ourselves with speaking for those who are silenced and magnifying the voices of the oppressed.
This initiation recognizes that each of us has done well. Now, I think, we are charged with fulfilling our joyful obligation to do good.
I end, as I began, with Biggie. "Stay far from timid. Only make moves when your heart's in it, and live the phrase: the sky's the limit."
Go Tribe and Hark Upon the Gale.