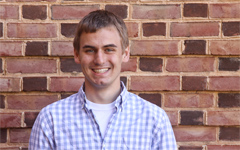 May 31, 2012 by Jared Miller
A two week sprint. That is probably the best way to describe the first part of the National Security Institute. From 9 am to 4 or 5 pm we learned about United States national security, debated the gray areas and heard from professionals who work in the field of national security. It was a multifaceted approach that challenged us every step of the way.
Having completed the course, I can honestly say it was one of the most challenging courses I have ever taken. It was also one of the most rewarding. Every day our understanding of United States national security was challenged in a new way. Whether it was by focusing on a topic we did not fully understand or by actually discussing how national security policy is implemented by the people doing it, our understanding was constantly expanding. Completing the course, we were asked to fill out a survey to evaluate it. One of the questions asked how much we learned. The options ranged from nothing to expert. When I first read "expert" on one end of the spectrum I actually laughed. One of the biggest things I have taken away from the class is that you can always learn more about national security. It's an ever-evolving field that you could study your entire life and still never know everything about it. That may be why it is so interesting.
At the start of this post I described the class like a two week sprint. That sounds awful, but like running a long race, it can be amazing. Along the way you get to see some great things and are motivated by those around you. Our professor was always pushing us to meet our potential, but the people we visited were also helping guide us. Before this program, I never realized how extensive or incredibly helpful our alumni network was. Every class discussion was supplemented with a site visit or a speaker on the same or a corresponding subject. These were almost all facilitated in some way by W&M alumni. That's amazing! They were all willing to give back to their alma mater because at some point in their career, they had someone help them and they want to do the same for us. I am incredibly grateful for the advice and insight they gave us.
Like in most races, the finish is the best part. We finished our class with a question: what's next? What's next in national security? How do we counter new threats? What will the new threats be? Questions that frame the field and answers that are constantly changing. These are the questions that were woven throughout our class discussions, but have no single answer. This was our springboard into the summer and our internships. How's that for a crash course in U.S. national security?
Somewhere in between classes, readings and writing assignments, I got a chance to start to explore D.C. For anyone who hasn't been to D.C. before, you should definitely go. The combination of monuments, free museums and great food makes for a great place to be in the summer. The pictures in this post are ones I took during the first few weeks. My favorite ones may be of the monuments at night.
May 16, 2012 by Jared Miller
Monday was the first official day of the institute. This began with a very large cup of coffee. I have a lot of respect for people who are naturally morning people, but for me, it's a bit of a battle to get up at 7 am. Slowly we got ready and started the trek towards the DC office. Tips we learned on the first day of commuting:
Single Day passes are not valid until 9:30 am—meaning you can't use them for your 8 am commute
No food or drink is allowed on the metro. Translation to those who clutch their coffee mug to be able to cope with the morning, the coffee is going to have to wait until the office.
The morning was filled with introductions and an overview of the schedule for the summer. Just a quick plug for the DC office, they can be immensely helpful, you just need to reach out to them. Do it! They're incredibly nice and have connections throughout DC.
Onto the class. My first impression—WOW! Professor Arsenault's passion for teaching is incredible. Her reputation precedes her as an incredibly challenging professor who is not afraid to call students out for anything. Going into the class I was quite intimidated. In addition, she has more experience working in different institutions in DC than many people three times her age. She is not only engaged in the policy community, but also in helping to teach the next generations, and she does that by pushing students harder than they thought possible. Her class is not for bystanders. Everyone is drawn into the discussion either willingly or forcefully. That might sound terrible, but it is done in the most easy-going way possible. Yeah students may be put on the spot, but it's about getting them talking and sharing what they think. Everyone has an opinion, they might just need a little encouragement to share it.
The day flew by like a blur. At the beginning, I was intimidated by not only Arsenault, but also the fellow students. Seeing the list of where some students were going to be interning was incredible and reason to be intimidated. I left the class however, still slightly intimidated by my classmates, but mostly inspired by the discussion we had. Everyone was willing to listen and add onto others points, and disagreement was completely acceptable. It seems rare that debates surrounding political decisions are able to stay so calm.
Day 1 Lesson – Don't be afraid to jump off the edge and into the debate. What you get out of it will be much more rewarding then the fear going into it.
May 14, 2012 by Jared Miller
Today I officially began my DC experience, and the first thing I experienced was the traffic. I know DC traffic is bad, but I wasn't expecting to hit it around 2 in the afternoon. Where is everyone going at 2 in the afternoon? Well, I followed my garmin off the tangled and twisted highways surrounding DC and ended up lost in suburbia. I "arrived at my destination," in front of a nice single family home. Nothing close to the massive apartment building I was looking for. Turns out I typed in the wrong number in the address, so I ended up at the complete opposite end of the street where I wanted to be. So far, so good right? I reprogrammed the garmin with the 'right' address and continued on. I finally found my apartment and proceeded to lug my stuff out of the car. If anyone ever should get an award for overpacking, I think I would be a strong contender. Every time I start packing to go anywhere, I can always justify filling every square inch of space I have. My car was no exception. I think at some point it became a challenge to see how much I could fit in it. Well, challenge accepted and conquered.
After unloading, attempting to unpack and realizing how futile that effort was, focusing on getting some vegetables from the store (you would be so proud mom!), I finally got to sit down to focus on what I was going to be doing this summer, studying national security. This meant doing the reading and journal articles for class the next morning. That's when I realized how excited I was for the program to start. My homework consisted of a two page article about the how the US goes to war and the current US National Security Strategy, which was roughly 60 pages. This might sound like something you would read to help you fall asleep, but I was siked to read it! Nervous about how my journal's would be critiqued, but excited nonetheless. Tomorrow classes start and it's a bit terrifying, surreal, and exciting. I know it will be one of my most challenging experiences, but it could also be one of my most rewarding. I'm also still a little in disbelief that tomorrow I will be studying U.S. national security in our nation's capital. There's just something about that that gives me goosebumps.
Day one complete, day two about to begin.