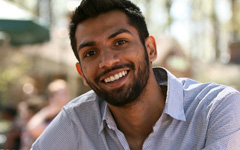 March 14, 2011 by JB Akbar
So William and Mary always finds a way to surprise me like no other. You would think that after almost 4 years of running all over the tricky bricks of this campus I would pretty much know what to expect—but nope, not here!
The reason I am sounding so wired right now is because I can't believe  that in less than 4 days my all time favorite band, the biggest rock band of the Eastern parts of the World (looking from Williamsburg) is coming HERE…to our campus!
Junoon is a Sufi Rock Band that rocked the world during the 90′s with their mixture of classical rock with the pure sounds of traditional Sufi music.  Their music is so perfectly woven together that it reminds the listener of Led Zeppelin and Baba Bulleh Shah all in one track.
Salman Ahmed, the founder of Junoon, and his lovely wife will be gracing Kimball Theatre with a concert and a book reading (from "Rock and Roll Jihad"). The next morning they will be holding a workshop about their service organization that works to improve literacy and such in rural communities in Pakistan.
For those of you out there who might think that W&M is slightly removed from the global community, you could not be more mistaken. Apart from the incredibly diverse community here, we have a large percentage of our fellow Tribesmen (and women) travel all corners of this world. And now…we are also making history by bringing the "Bono of South Asia" right here to our home!
So if you are in the area or you happen to call this area home…don't miss this amazing opportunity.
Come on over to Kimball Theatre in Merchants Square at 8pm for the concert this Friday, March 18th!
If you are looking for a little taste of this Friday…check this out!
peace, love and Junoon!
-jB
November 23, 2010 by JB Akbar
In my world, regrets DON'T exist!
There are only those things that I wish I would have done or tried, and the curiosity of an alternate outcome. Maybe I read too many of  those Goosebumps books when I was in elementary school and I got used to thinking in terms of different paths. Maybe I'm just human and everyone feels this…whoever cares at this point. This post is actually inspired by Glee and a series of a Capella YouTube videos that I have been watching today.
I love singing. Most people have no idea about this. In fact, I am obsessed with it. There is something about the power of the human voice and the plethora of emotions it can evoke that makes me go all tingly inside (and sometimes even outside). I don't think I have a bad voice, but I just never felt confident enough to pursue anything remotely musical (unless you count my little flirtation with the violin in class 5).
At college, singing was always something my friends did. They are probably much better at it than me too, but lately, I've been thinking….Why did I never even pursue it? Why did I never  try to enter the underground world of music here at W&M as an active participant instead of just as a silent observer (slash I am never silent).?
Well….so get this….when you come to college..or even if you are here…just GO FOR IT!… Don't hesitate…have faith in yourself!
Now if you will excuse me…I am going to go step out of swem and hide in the bushes while I sing the glee version of Teenage Dream!
wohooo!
Have an amazing Thanksgiving Break…and if you are in Michigan..you might just see me!
-jB
November 16, 2010 by JB Akbar
College can be overwhelming.
Actually, let's be for real…everything in life can be overwhelming. It's pretty simple to start feeling the weight of the world on your shoulders and before you know it you're drowning beneath a pile of problems you didn't even know existed. Most of us have been there or have at least  gotten a taste of how it would feel to be there.
In college, your whole world is turned upside down. Don't get me wrong, it's a beautiful thing and an experience that I wouldn't trade the world for. But still, your whole world is turned upside down! And through it all, you search for that one thing that is stable, that one thing that you know will always be the same. Here is where my 2 cents come in:
If you let it, this change, this collegiate re-birth can be the most fantastic gift that life will ever throw at you. The key is to stay true to yourself. I remember saying this to people applying to  the College this past summer and the more I said it, the more I realized that I was just reminding myself of the same fact. It doesn't matter that I have been here for 3 and some years, I'm still the same impressionable, vulnerable-to-change, JB that I was when I first entered here.
William and Mary has been such a fantastic, almost magical experience for me. That magic too, though, at times becomes overwhelming, much like anything in excess. So, my fellow Tribesmen and Tribeswomen (and those that I know I will be so proud to one day call tribesmen and tribeswomen) remember that our collegiate identity, our collegiate experience is the combination of each and every one of ours' individual identity. If we all let the College define us, then we would stop being true to the very thing that makes this place so special. Remember that when things get tough and when it seems like everything is changing, you still have yourself to count on, yourself to rely on. That is not to say one bit that you will not find the most inspirational and compassionate people during your time here. By being true to yourself I mean, let's go back to the basics—let's go back to who we are.
It is in this way, that we will learn to come to peace. Take one step at a time, one day at a time and one experience at a time. Nothing is too overwhelming if we remember to live life at our own pace.
This has been my experience, at least. And as I get into my regular oh-my-God-I-am-leaving moods, I just thought I would share.
…at the end of it all…even if you find my post pointless…let Rumi inspire you:
"You were born with wings. Why prefer to crawl through life?"
–hasta next time
justBreathe.justBelieve.&.Levitate
July 13, 2010 by JB Akbar
Ok, enough with the cheesy "i-am-trying-to-be-so-funny" taglines.
Last summer I braced myself for an even hotter summer than the one I am currently being subjugated to here in Williamsburg. I went to Pakistan! So for a second…leave behind the images of bombings and terrorism. Leave behind the preconceived notions of injustice, intolerance, and ignorance and let me introduce you to a side of Pakistan that lies beneath the popular media images.
It started with a conversation between Dr. Tamara Sonn, one of the most influential, inspiring and genuine people in my life and me. One day, after her Intro to Islam class I followed her as usual to her office, trying to come up with some smart question to ask her just so that I would have another chance to hear her speak. It was then that I brought up my newly found fascination with civil liberties in Islamic nations. I have grown up knowing that Islam is not a religion of intolerance and violence; that it teaches its followers to live a life guided by social justice. Dr. Sonn's class had only cemented this within me. I, therefore, found it extremely troublesome and confusing how so many Muslims lived under governments that suppressed their basic civil rights. In particular, I had been reading up on literature regarding sexual minorities in Pakistan. I brought this up with Dr. Sonn and she immediately became very excited about the idea and encouraged me to apply for a research grant from the William and Mary Charles Center to go and find out for myself.
So I wrote up my proposal, solidified some on-the-ground contacts and hopped on a plane to Lahore, Pakistan on May 25, 2009. I have been to Pakistan before on numerous occasions since my family migrated from Pakistan to the United States years back, but never had I visited Pakistan by myself or with a mission other than to just visit my extended family. As soon as I landed on the ground in Pakistan, I was hit by the realization that everything that I had read, everything that I had thought [prior to landing] no longer applied. What mattered now was my experience in these 3 months and the experiences I was dying to have.
My research was based on one-to-one interviews with politicians, religious leaders, scholars, activists, and most importantly homosexual Pakistanis themselves. I went in with the hopes of finding out a little bit more about the condition of homosexuals in Pakistan. What I got out of the experience, though, was a summer of unforgettable encounters and an understanding of Pakistan that I would not trade for the world.
June 23, 2010 by JB Akbar
Sooo ….. If there is one thing that I am obsessively passionate about … it's languages. Ever since I was a wee lil boy, I have been obsessed with them. I remember going out as a preteen to the mall and then freaking out if I heard someone speaking a different language and running back home and hopping onto the Internet trying to learn a phrase at least.
Of course this also made me have major identity issues and sometimes I would start pretending that all these languages were my native languages … my parents detested this. Mainly this was 'cuz I would have legitimate arguments with my parents in languages that they did not speak and I would expect them to understand: they still don't understand me
.  But thankfully, I had the opportunity to actually study a few languages in quite some detail and so now instead of making up fake words I can actually get my point across legitimately.
I remember becoming obsessed, for example, with Persian when I was 9 after I got introduced to the poet Rumi. My resources were pretty limited so I scrambled around on the internet trying to find a website that would teach me Persian (Farsi) for free. And praise that languages gods I found easypersian.com!!! I am pretty sure this period of my life was the most annoying for the people around me because I refused to have a complete conversation without inserting Persian phrases (broken phrases, mind you!) into every sentence.
Now I am 20 (going on 21 wohooo) and perhaps even weirder with regards to languages than before. The College has really fed my obsession and added fuel to the fire by providing me with 3 years of Arabic and refresher courses in French and Spanish … and I hear we are doing something with Swahili next year [watch out mom and dad ...
]
Bottom line … I don't know what do with myself. I've come to the point where I have made a weekly schedule of languages and each day has its own language! [Today is Arabic Day] So each day I promise myself to only think in a certain language [horrible idea ... I end up having to translate A LOT ... especially when I'm writing in English like NOW]
… maybe I'll start blogging in different languages now too .. haha .. that is for our polyglot audience out there!
'til then….
justBreathe.justBelieve.&.Levitate
[jB]
June 21, 2010 by JB Akbar
Mevlana Rumi once said, "You were born with wings. Why prefer to crawl through life?"
These past few days, [or perhaps it has been weeks, I don't really know] I have been thinking a lot more about the "grand scheme of things." Thinking about what I am REALLY doing with my life but mostly just been bringing myself down about wasting time. Don't get me wrong, I am doing something with my life … I have a summer internship at the College's Admissions Office and I am loving it thus far. But there is some innate craving within me, something that I've had for quite some time now, that something is missing!
So … this is what I'm thinking right now … I'm gonna start small. I'll hit the gym today and with some luck there will be no big muscular football player lifting right next to me [this way I'll actually use the machine rather than pretending that I forgot something and then run away]. Tomorrow, I might try it again and so on … seems easy enough.
And while the gym in itself will make me feel a little more whole and in turn satisfied … there is something else that I am pretty sure is responsible for about 99% of my unrest … Yeh Hosla.
Yeh Hosla is an Urdu phrase meaning "This Resilience." It's an idea that I've been toying around with for a couple months now and few things make me as excited and nervous at the same time as this. Last summer I witnessed first hand the education gap in Pakistan while I was there on a research grant and ever since then I have wanted to do something, anything that will make a difference.
So … here comes Yeh Hosla … its a way for me to marry my insane obsession with design/textiles and my desire to do something for education in Pakistan. I want to start a fashion conscious line [so to speak] completely non-profit … that will in turn help fund education reform in rural areas of Pakistan.
Basically … I've been slacking a little lately on really getting this off the ground and this is pretty much the reason for my annoyance with myself. But that's a mouthful about Yeh Hosla for now and I'll def be blogging about it with more details soon … so keep an eye out!
Till then … let's hope that I still end up going to the gym [and that there is not some big muscular football player anywhere near me!]
jB
"justBreathe-justBelieve-&-Levitate"