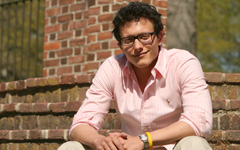 February 7, 2011 by Imad Matini
In my four years at W&M, I have never seen students care so much about Charter Day. It used to be a ceremony that took place on Saturday morning, with a speech from a famous Virginia politician – that was about it. I am a bit of a loser and I found this to be an enjoyable experience every year. However, most of the community did not embrace it.
This year, thanks to the hard work of students, alumni and administrators, a tradition has been completely revamped and now fosters a sense of community and Tribe pride. Whether it was seeing Eric Cantor speak, cheering at the Roots concert, or watching my freshman roommate win a prestigious award, it was a remarkable experience that I will never forget. And as a soon-to-be alumnus, I can't wait to come back for this wonderful weekend.
October 8, 2010 by Imad Matini
After a monsoon, an overdue stay from summer and abnormal levels of humidity, fall is finally here! It is during this season that W&M is at its aesthetic peak – people literally travel from across the nation to see our school during this time. Yeah, it's that beautiful. The temperature is starting to drop, making the days cool and crisp. I am so relieved – I literally have been wearing shorts and t-shirts to class everyday because it has been so freakishly warm out! I can't stop the urge to walk around campus and just take in the sights. Does that make me a loser? Probably, but I accepted that fact long long ago. My favorite time to be at W&M is finally here, and I can't wait to enjoy autumn after fall break.
June 23, 2010 by Imad Matini
As I am sitting here waiting for the second half of the US and Algeria game, I realized how much I have come to love soccer.
A year ago, I couldn't have cared less. But after watching the games during the year between different clubs from both in the US and abroad, I came to fall in love with it. I know personally I have no talent in the sport, but watching a soccer match is one of the most entertaining and fun experiences, whether its there in the stadium or at home. You can hear a pin drop when a shot is taken at the goal. And when a goal is made, the eruption of cheering and applause is deafening. And the best part is, I am definitely not alone in my love of this. All across the world, millions if not billions are viewing it and are all part of this wonderful experience. What makes this aspect even better is that so many people here at W&M are watching the same games. My colleagues and I are watching it together (as we speak) and enjoying every minute of it.
This is by far one of the greatest athletic events in the world.
June 21, 2010 by Imad Matini
So how did I end up choosing William and Mary? I get that question so often in tour groups and I love telling my story. It all starts back in 7th Grade. I went to a private school in Fredericksburg, VA, and we went to Williamsburg for an overnight trip.
During the trip we had some free time to roam around the area, so I took advantage of it. Back then, I was a fatty and had no friends. So I was walking around campus with my rolling backpack, taking in everything that I saw around me. Before this, I had bought a gray W&M hoodie from the book store and an ice cream cone from the Baskin Robbins on Prince George St. As I proceeded on campus, I found my way to the entrance of the Sunken Gardens. It was there that it hit me.
Standing there under the bright blue sky, something came over me. This may sound cheesy, but you know that feeling when you belong somewhere? Well I felt it instantly. It was from then on that I knew I wanted to come here. That's why I wanted to come here – because I knew I belonged here. I applied no where else and I only went on other tours just to say I was part of the "College Experience." It is the best decision I have ever made.