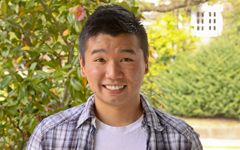 March 20, 2013 by Girolama Bui
When you look back on things, how many times have you come across coincidences? Often? Maybe even too often? Or not ever at all?
To be quiet honest, I am a true believer in karma and all things superstitious…well I mean all in the loosest sense. Sometimes I can't help but to give in to the urge to pick up that lonely penny with Abe Lincoln staring at you from the corner of his eye just emoting that you know you want him.
Whether you are a believer in luck, karma, or an inevitable fate, I hope you experience and appreciate all the chance happenings in your life. Some people write these incidences off as coincidences and leave them on the back burner, forever. I however, prefer to dive a little deeper. It was tonight that I arranged to do a strictly platonic massage session with amateur but might as well be professional—Dana McDonald (here I changed her name for confidentiality reasons). She is a dear friend who shares an optimistic outlook on life that I just can't get enough of. While massaging each other (an activity I would highly recommend to everyone on this campus, especially during midterms or finals), we both uncover each others appreciation and admiration of the great artist, Sam Cooke. I probably listen to a song of Sam's at least once a week because I truly feel that he sings to my soul. Coincidentally, Dana had listened to him earlier that week and while together, we ended up sharing life stories about how his music was such a minor but influential part of our lives. Before Dana, I have yet to meet someone else who was moved and infatuated with Sam as I have been since the first time I had heard one of his songs.
The point of me sharing all of this so far, is merely to ask you to dig a little deeper when coincidences happen to you. There is a huge part of me that would write off the coincidence of sharing admiration for an old time artist with Dana, but then the rest of me would like to believe that it was almost meant to be that we had met freshman year and were meant to be friends and share how our lives have been so intimately connected with Sam and his music. Chance happening or not, it is up to you to ignore it—or explore it.
February 11, 2013 by Girolama Bui
I feel like Carrie Bradshaw right now when she reflects upon her most recent actions and writes about it to tell the world. Except here, I write to you – my fellow tribe members and potential tribe members – about my experiences that the tribe has opened up to me. Tonight, however, I am writing to tell you about the friendships and bonds that this campus, full of uneven bricks, old and ancient buildings, is full of. Today, is the 320th anniversary of William & Mary's charter and cheers to another 320 more!
Taylor Nelson, a wonderful human being that I've gotten to know personally was given the prestigious James Monroe award for Civic Engagement and this is a small congratulations to her well deserving it! (Congrats!) Along with Taylor, other very deserving and impeccable individuals received honors at the ceremony and I would highly recommend celebrating our college's birthday every opportunity you can, especially if you haven't gone yet!
Being a part of this campus means more than simply going to classes or attending ceremonies, it means being an active member of the tribe and enjoying your tribe and my tribe's company. On these bricks we've tripped together and in these dorms we've lived amongst one another. We've walked into the Wren Building and at some point we will all walk out. The journey started the day we all started orientation, and we might forget that life at the College is still a journey right now. Whether you believe it or not, it doesn't even end when we graduate! Tribe means more than family, though I guess some of us could be – figuratively speaking – distant cousins or long lost relatives. Seeing someone else showing tribe pride outside of the campus bubble may (someday) excite you (…if it doesn't already). It sure does for me and it definitely does to the old couple I met when I traveled to Yorktown, VA. Last week, fellow tribe member Nicole Brown '13 and I went out to dinner off campus and ended up running into a sweet elderly couple who mentioned they both went to William & Mary ages ago when tuition was under $500 (hard to believe, right?) and we told them that we were current students and upon hearing this, the sweet and polite conversation became a lively and ecstatic one. The couple proceeded to explain in a very excited manner that they had sent all three of their children to the College as well. So I guess for some, tribe literally does mean family!
It's the bonds you build and the bonds you share that make you who you are. And if you look close enough, or travel to the right areas, you will see and understand that this campus is rich with bonds that last a lifetime, impacting lives for the better, and it is because of us … because of the smart, genuinely caring, giving, and engaged individuals that are so typically found at William & Mary … because of you. I understand that the 320th Charter Day anniversary of our school is representative of when we received our charter, but personally prefer to think of it as the anniversary of how long this school has built bonds for. Invisible bonds that have educated many, created lasting friendships, and bonds that have built the Tribe we know today rooted in a deep history.
January 22, 2013 by Girolama Bui
One of the best semesters yet. You've got to love the William & Mary experience and the picturesque campus, but being a W&M student in the city is definitely an experience. I highly recommend every student to check out the semester themes that the W&M in Washington program offers and to apply if anything seems to relate to their interests!
Here is the link for the upcoming semester themes. The theme for the fall was sustainability and it was an interesting opportunity to learn what opportunities and problems globalization and the excessive use of fossil fuels bring about in the world. In sum, we need to push for a greener society ASAP.
I could go on and on about the arguments and topics we had gone over throughout the semester, but to keep it short… coal & oil = BAD.  Along with amazing discussions, lectures, and guest speaker sessions that made the semester educationally invigorating, the opportunity to work with governmental or non-profit organizations, is and was so invaluable. Internships ranged from the Environmental Protection Agency to the Jane Goodall Institute. My personal experience working with Ashoka was spectacular. I was able to see how Ashoka implements change and was exposed to numerous learning opportunities that ranged anywhere from new innovations, to the rising need to focus on resilience of nutrition. Overall, it's been a great experience to live and experience the city and history that DC has to offer.
(Picture of the DC group with Professor Fowler outside the White House Executive Office before a tour and meeting with Heather Zichal the Deputy Assistant to the President for Energy and Climate Change)
September 17, 2012 by Girolama Bui
Hi Folks!
I hope this post finds you well and excited since the semester has finally begun! After having a rough adjustment week to the city living, I'm finally situated well enough to finally navigate my way around parking garages! The first few times I've tried to drive around the Buchanan's parking garage, I was driving in circles for at least 20 minutes every time including the time to find my car and following the confusing signs to try to get out! Though overwhelming, I understood that this was no Williamsburg and this confusion was a part of the package I signed up for; "the City Life." If it wasn't for the other 9 students in the DC program struggling alongside me, I would probably be far far away lost somewhere due to my lack of knowledge when it comes to the DC metro. But thankfully, "there's an App for that!" and DC Rider: thank you for existing.
So far, life has been pretty busy with classes at the W&M DC office as well as starting my internship with Ashoka! Classes are pretty exciting as most of them are discussion based, and my internship has been the most exciting job I've probably had in a while! I get to meet and be in an environment of always happy, excited, and motivated people trying to, and actually making change in the world! I'm constantly excited about my work because I actually have the opportunity to help make these changes happen!
Between classes, and reading the materials for classes, and interning, I still find myself having time to discover all of the wonderful and worthwhile things to see and experience in DC. On that experience note: for this post, we have a guest quote from David Secor '14 who adds:
"I've lived near DC for most of my life but I've never experienced the city like this. It's been really cool exploring places off the beaten trail. Every neighborhood's got its own character and I love finding out things to do and places to eat in parts of the city I've never been to before."
My favorite by far, has been my visit to the Fish Market. As you can probably guess from that, I love and enjoy seafood – VERY MUCH. In result of this outing, I ended up buying a dozen live crabs and brought them back to the apartment to christen the apartment's kitchen!
It's only about three weeks in to the program and I can only imagine the experiences that will come from simply exploring what DC has to offer…while still graduating on time and getting the valuable skills and experience from doing a full time internship!
August 20, 2012 by Girolama Bui
So, I've blogged a lot about my adventures and excursions in Costa Rica, but I haven't really gone in depth with the service and social entrepreneurship part that took up the rest of the summer when I wasn't partaking in an adventure of some sort! Starting on June 15, I arrived in Costa Rica, and made my way to Playa Tamarindo welcomed by an amazing, and fancy, candle lit sunset dinner ON. THE. BEACH. Here's a picture of the mentioned sunset with the group!
Then followed two weeks worth of a crash course in Social Entrepreneurship and Business. After that, I started the internship portion of my fellowship program with CEPIA. Myself, along with the group of 12 other Sullivan fellows, were split into different internship groups where there were two groups of developing micro-businesses, an eco-tourism venture focused group, and my group, the community center project! My project was interesting because even though there would be no immediate results, the impact of building this community center (to be used by over 10 nearby villages) would be overwhelmingly great. Here's a picture I took of the donated land and a pro-bono architect's mock up design for what the center is designed to look like!
CEPIA (pro-Culture, Education and Psychology for Infants and Adolescents) is a non-profit organization based in Huacas, Guanacaste, Costa Rica. CEPIA provides cultural development, educational and work opportunities, physical and mental health resources, and social cohesion and participation to youth and their families. All of the previous resources are provided free of charge to the children and families accepted into the CEPIA programs. Families would go through thorough inspections and interviews to be considered candidates for CEPIA's help. Due to the size of CEPIA, currently operating in a 3-bedroom home, CEPIA is only able to help a finite amount of families and individuals with certain programs. After addressing the need for expansion, the community center project was born and has had a large amount of community support. The Village of Huacas even donated a 1,000 m² plot of land for the project, one of two plots of land left that the village completely owned. My group took on the responsibility of structuring a detailed social business plan and giving CEPIA the tools they would need, such as interest packets and marketing media to attract corporate sponsors for the project. I even made a video to help promote this project. I used footage taken throughout the 2 week day-camp hosted by CEPIA for local children for which all of the fellows helped coordinate and volunteer! I'd really appreciate it if you took the time to check it out! Thanks!
CEPIA Community Center Project (vimeo)
August 17, 2012 by Girolama Bui
This past week has been ridiculous. Well, maybe not the whole week, but July 25th, 2012 will be a day I won't be forgetting anytime soon. The 25th just so happens to celebrate the annexation of the Guanacaste Province to Costa Rica!  Here's a map so you can see just how much of Costa Rica it is!
On this day, the Costa Rican President (first female Costa Rican President too!) Laura Chinchilla (yep, you can even google to verify that's her real last name!) flies via helicopter across the province to three cities to give speeches in recognition of the holiday! Even though I couldn't understand 98% of what she was saying, her presence and eloquent speech was enough to get the gist of things. My group was able to get surprisingly close and even got to shake hands with her! Here's a picture of me with President Chinchilla, and even though I wasn't one of the lucky ones to shake her hands, she made eye contact, winked and waved!
To top off the national holiday, the Costa Ricans gather round and make their way to small arenas and watch bull riders! Only after reaching the ring did I find out about a major part of the tradition, where people are encouraged to run inside WITH THE BULL. After the bull knocks off the rider, they let the bull "roam free" for a little less than ten minutes to chase people around! Never in my life have I experienced so much pure fear after locking eyes with one of these giant horned angry monsters. You either had to shove your way to the top of the fencing or squeeze yourself under the fence to avoid the bull when it would charge at you, and speaking as a veteran of both these techniques, it sounds easier done than said, and it'd be wise to not even be in the ring! Only then to realize that I was also wearing the color red (bulls are apparently color blind but I didn't know this fact until after my time in the arena!). One of my friends actually ended up getting tackled by the bull and turned at the last minute to avoid being skewered by it's horns! He ended up getting kicked and head-butted by the bull but thankfully he was for the most part alright! After being distracted by checking up on said friend, I learned that the bull that performed shortly after we exited the arena trampled and punctured a professional bull rider who was rushed to the nearest hospital due to severe injuries and was un-responsive. It's safe to say that I will not be re-entering a ring with a bull anytime soon, or ever (unless it's mechanical). Here are some pictures of what the ring looked like!
(I'm the one in the red shirt to the left of the left shoe!)
And here we have the friend as mentioned, moments before frightfully showing us what happens when the bull is faster than your ability to get away.
I know I mentioned a video last post, but it's currently still in the works so, rest assured, it will be shared … soon!
July 24, 2012 by Girolama Bui
And the hunt is over! I've finally accepted an offer for an internship this fall semester in DC.
I am more than happy to say that I will be interning with Ashoka: Innovators for the Public at their Global Headquarters located in Arlington, VA!
I can already tell that this will be an experience of a lifetime and am so excited to continue on this path to becoming an effective change-maker. It will be very interesting to incorporate the practices of sustainable change to the semester theme of sustainability!
Until then, I am still finishing up my program with the Algernon Sydney Sullivan Foundation in Costa Rica. Currently, I am working on a team to help raise money for construction of a community center to be used by the non-profit CEPIA. This larger center will be able to help provide space so that there can be a larger community outreach, whereas currently the organization struggles to operate in a small 3 bedroom home. If you want further information, you can learn more about what the organization does!
Aside from the work I have been doing so far, traveling and adventuring around Costa Rica has been great! Most recently, I've traveled to San Jose where I was able to experience the city life of Costa Rica. It's not as busy as D.C. but it definitely is lively!
More blogging to come later! Next post will even have a video
June 26, 2012 by Girolama Bui
Pure life. It's the saying that everyone here in Costa Rica knows and now I know why! Being here has been just amazing. The wild monkeys, beautiful extravagant birds, the sun, and the love for all of this that everyone shares. Even though I'm learning tons of useful information focusing on social entrepreneurship, the experiences of just being here has made the airplane sickness all worth it.
Thus far,  I've learned that I have a new appreciation for environmental activists. Staying at Hotel Luna Llena, the owner and one of the founders of Salve Monos—Simona, has worked 3 YEARS with the government to be able to create a reforestation project, where government owned lands are planted with trees that are part of the diet of local monkey species! This is done to attract them and create a safe trail to travel between the rainforest and the beach. Little did I know how meaningful this experience really was when I naively volunteered for a community reforestation opportunity!
So far, I've learned that I'm pretty good at scuba diving, surfing, and salsa dancing and can't wait to do even more after only being here for a week. One piece of advice I have for anyone wondering if they should take any opportunities abroad—TAKE IT. William and Mary has a lot to offer, but so do the numerous other countries you've never explored during these critical years of your life. Don't forget to balance all of the twampy studying with meaningful life experiences! Scuba diving is a must. If you ever get the chance to do it and you like marine life half as much as I do, then it will be amazing. Here I dove in the volcanic reefs 60 miles off the coast of the Guanacaste region and lucked out to see a white tip reef shark, a hawksbill turtle, numerous schools of fish, and to top it all off, a 15 ft. wide MANTA RAY. Apparently, it's a rare sight to see all of these things on one dive day, and I will never forget it. A giant unclear mouth heading straight towards me underwater, only after the panic to reveal a playful giant Manta Ray. Disregarding my initial heart attack, the experience already has made my entire summer.
Experiences are what people need to keep in mind for life in general. Study hard, but experience harder. Experiences are valuable, whether it's interning with non-profits, traveling, or doing things you've always wanted to do! Knowledge gives you power, but your experiences make you rich.
Pura Vida mi amigos! Till the next opportunity that I receive good enough internet to post!
June 1, 2012 by Girolama Bui
As the summer and beach season begins, so does my hunt for securing a fall internship! Though I have a good two months' time to make sure this happens, it's not something to put off for sure. One advice for future internship seekers, DO YOUR RESEARCH. Organizations always advertise the glamorous sides of what they are about and if you really want to make the most of your experience as an intern and learn and/or gain valuable experience, you have to do your research on what will be expected of you and what the expectations of your work will be. It really helps to find out what past interns say about the organization and their responsibilities to find out if the internship you're looking at will actually better any skills you are trying to work on. I'm really excited about spending the upcoming fall semester in DC—even though it's my senior year, I don't plan on falling short of any memorable adventures or experiences!
For the moment, I will be making up for my semester away from the college by spending some good ole quality time on campus doing some part-time research, with the most awesome Dr. Forsyth, until I start my summer Fellowship in Costa Rica! More posts to come for sure!