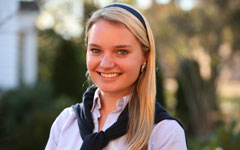 April 2, 2013 by Erin Spencer
The month of January and February were particularly tough for me. After first starting my Lionfish Project proposal in August, I had finally turned in my final submission to the National Geographic Young Explorer's program. Throughout January and February, all I could do was wait.
I first learned about the program while interning at National Geographic over the summer. I  became acquainted with some Young Explorer Grantees during the Explorer's Symposium in June and became absolutely fascinated with their work (read more about the Symposium). In the coming months, I was on the Young Explorer's site daily, pouring over the different research and exploration projects. There were experienced filmmakers, archeologists, climbers, anthropologists, ecologists, and photographers. I clicked from page to page in a state of awe, mostly thinking to myself, "I am so out of my league".
But I decided to pursue a grant anyway. I emailed the Young Explorer contact at Nat Geo with my idea to get some feedback, made countless appointments with professors to get advice, and read up on every Grantee I could find. For the next five months, my project shifted and grew constantly. I cold-called research stations and scientists in the Florida Keys and spent hours online trying to figure out the logistics of the project. The Nat Geo contact said that the top thing the review committee looks for is that you know what you're doing, and I was hellbent on proving to them that I had thought this through.
After a few late nights and a fair amount of stress eating, I submitted my proposal and began the waiting. That month or so was torturous, and I know I wasn't the easiest to deal with…my friends were counting down the days until I heard, just so I would relax. The email came at 1pm on a Wednesday, just before I had an appointment with a professor of mine. While waiting outside his office, I started yelling and crying and hyperventilating all at once as I read the words, leading my professor to bolt out of his office in a state of confused panic. I had never felt so relieved and excited in my life—mostly because I never remember wanting anything more than I wanted this grant.
Since I got the email, the real work has started. I went to DC to meet with my contact at Nat Geo, have spent hours working on designing business cards and my website, and have had to finalize the logistics of the project. Although it's a ton of work, especially on top of my schoolwork, I couldn't be happier. I'm pursuing something I love while being supported by an organization I've respected my entire life.
One year ago, as a starstruck intern at the Explorer's Symposium, I told myself I wanted to be a National Geographic Explorer. And now, thanks to the help of my parents, professors and friends, it's actually happened. I am unbelievably honored and grateful to embark on this journey with their support.
Want to learn more about the Young Explorer's Grant Program? Check out their website.
January 7, 2013 by Erin Spencer
I decided to do a research project next summer. At first, I didn't know what I wanted to do; I just knew I wanted to do something. I've always had this romanticized perception of scientific research—I love the idea that you're delving into a topic in a new and unexplored way. But mostly, to me, research means that you've found something that you care so passionately about that you can't help yourself from wanting to find out more.
So…what am I that passionate about? Good question.
I toyed around with a lot of ideas over the next couple of weeks. I have a solid background in marine science and conservation, so I decided to tackle a project related to the ocean. But that was about as far as I got. There were certain limitations I faced—my project would absolutely require travel, and I couldn't easily jet off to some far away ocean for a summer. I don't have an overwhelming amount of lab experience, so I wouldn't be comfortable pursuing a project solely based on lab work. I considered working in someone else's lab for the summer to get more experience, but I decided that defeated the purpose. I wanted this project to be mine, not someone else's.
The idea came to me at the end of summer vacation on the way home from the gym. As I cruised down the highway, a thought hit me.  Instead of stretching my skills to fit my research project, I need to design my project around my strengths. I have more experience with media than I do lab techniques—why not capitalize on that? I've blogged for W&M since my freshman year, and even blogged for the Admission Office when I interned there last semester. I've studied photography since I was 13 and learned basic film editing techniques last year. Lastly, I'm addicted to every form of social media (but who isn't?). I decided to combine my love of media with my passion for the ocean in an interdisciplinary interview-based project in the Florida Keys.
I picked the Florida Keys because I'm familiar with the area, which is important for my first solo research project. I then decided to focus on a topic that has important marine conservation applications, specifically the proliferation of an invasive species called lionfish. Native to the Indo-Pacific, lionfish have spread throughout the Caribbean, causing extensive damage to the local reef fish populations. My project will consist of dozens of interviews up and down the Keys focusing on how the locals have adapted to the invasion, and how they are taking lionfish control into their own hands. This includes chefs that are using them on their menus, dive masters that are teaching their students to hunt and kill them, and non-profits that have formed to spread awareness about the problem.
Now that I've come up with the idea, the real work starts. I've applied for two different grants to fund the project, one through the W&M Charles Center, and one through the National Geographic Young Explorers program. All in all, this means pages and pages of project descriptions, numerous calls to contacts in the Keys, number crunching to fit my budget, and hours of background research on the topic. And this is all before the project technically even starts. On top of my other schoolwork, the grant writing often feels like a full time job. But because I found a topic that I am truly passionate about, every late night spent reading about lionfish isn't a chore. Instead, I view it as one step closer to reaching my goal of producing a quality project.
I could keep going about the background of my project, my plan of attack, and my grant proposals, but I won't (although there will certainly be future posts about it). The most important thing is that I've found a project that truly excites me. By allowing myself to take a different approach to the traditional research project, I've found a project that is perfectly suited to my interests and abilities. As a result, I've never been more engaged in my academics, and am genuinely antsy to get to work. And at the end of the summer, when I've completed the project, I'll be able to look back and say, that was all me.
Now if you'll excuse me, it's time to get back to work!
December 3, 2012 by Erin Spencer
The photo speaks for itself! I love Williamsburg in the fall.
November 26, 2012 by Erin Spencer
I spent the first half of this semester complaining. I'm not saying I'm proud, I'm just saying it's a fact.
In my defense, my complaints weren't exactly unwarranted. I was coming off of a fantastic summer and was facing my most challenging semester academically. It was one of those semesters many students face their junior year – when you try and cram in all the major and minor requirements that you have to take but don't particularly want to take. To top it off, two of my closest friends and my boyfriend were all studying abroad, which definitely threw a wrench into my routine. I had been warned that junior year would be tricky, but I had kind of hoped I'd be pleasantly surprised and power through like any other semester.
It didn't quite work that way. At least, not at first.
I had my fair share of breakdowns in the first few weeks of school. For the first time in my college career, I was in a class that truly had me stumped. It seemed that no matter how much material I studied, or how many late nights I spent in Swem, it wasn't enough. I left my first exam in the class dazed and discouraged; convinced I was headed for failure. My other classes didn't exactly help either – I was enrolled in two courses at the Virginia Institute of Marine Science, and was intimidated by the graduate students who were constantly talking about their research and firing questions at the professor. I felt like I was always behind in my schoolwork and I constantly worried about the impact on my GPA. My study habits had always worked for me before, why not now?
But as the semester progressed, I slowly but surely found my footing. Bit by bit, I changed my routine, met with professors, and tested new study habits.  I stopped taking notes on my laptop and stuck to notebooks where I could sketch lecture concepts. I cut down on my commitments and did my best to get eight hours of sleep each night. But mostly, I forced myself to stop worrying about my GPA. I realized that the pressure I was putting on myself to keep up a silly number was negatively affecting my schoolwork and my mental health. Before I even realized it, I was using my time much more efficiently, staying off Facebook and allowing myself to get behind on my television shows. Instead, I spent my free time at the gym, pumping away stress on the elliptical while catching up on English readings. Although my workload didn't change, I found I was happier, healthier, and woke up in the mornings ready to take on my day. Even when I encountered weeks with laundry lists of tests and due dates, I didn't lose my momentum.
And now, with only three weeks left in the semester, I can honestly say I'm in the best state I've ever been.  My classes have pushed me to work harder than I have before, and I'm coming out the other side more driven than ever. Although I probably won't be making a 4.0 this semester, I'll be able to look back and say I earned everything I got with long hours and hard work. I've also found that this drive extends far past my school work – I've been much happier in my research lab, my leadership positions, and my personal life.
I didn't come to college to get off easy. If that was really what I wanted, I probably shouldn't have picked William & Mary. I came to college to push myself, to gain an education I couldn't have gotten elsewhere. So why, when confronted with a particularly hard semester, would I back down?  Although it took a few weeks to gain my footing, this semester has shown me I can handle a challenge. In fact, I thrive when I am forced to test my boundaries. This semester has taught me that sometimes you need to stumble a bit so you can rise even higher than before.
Besides, that's what college is really about, right?
October 16, 2012 by Erin Spencer
Every once in a while, something unexpected happens that inspires you. It comes out of nowhere, changes your perspective, and reminds you why you do what you do.
For me, that something came in the form of a blog comment.
I've been a blogger for W&M since my freshman year, and I love it. It's a way for me to reflect on my experiences here, to share life lessons, and essentially show everyone just how passionate I am about this school.  But, I'm going to be honest; I'm not always the best at keeping up with posts. I get in ruts where the rest of life gets in the way and the blog gets pushed aside.
This hasn't been the easiest semester—I'm a junior now, and that means getting serious about my major and looking towards the real world. I'm working in a lab, taking two graduate level classes (which seemed like a good idea at the time), and writing my first big research proposal. I spend my evenings curled up in my study room in Swem, downing large coffees and Wawa sandwiches and commiserating with other students about my workload. I figured that this would be one of those semesters I just had to put my head down, shuffle through, and hope that winter break comes quickly.
But then, last weekend, something changed. I got an email that someone had commented on my most recent blog post. It was a father from Chicago who's daughter was interested in William & Mary; they were making the college tour rounds through Virginia and he hoped I could show her around. Never one to miss out on talking to a perspective student, I gave her a call. Unfortunately, the timing didn't quite work out, and we weren't able to meet. But before we stopped chatting, she said one thing that caught me totally off-guard.
Loved your blog, it made me want to come there.
I was shocked. That was incredibly nice of her to say, and it's always exciting to know that someone actually reads the posts. Her comment inspired me to look back through my previous entries, and it was like reading a journal that documented my experiences at school. I revisited posts about my internship, my work at the Admission office, summer classes, and freshmen adventures. I read about taking advantage of warm days and exploring the campus. And I read about making mistakes, about learning the hard way and moving on. With each post, I realized how far I've come since I stepped foot on campus as an eager freshman, and how lucky I am to be a part of the William & Mary community.
That one comment helped put my whole semester in perspective. Sure, this is a challenging semester academically, and there will still be plenty of late nights in Swem to come. But despite that, I would be crazy to simply "shuffle through" the semester—I only have a few precious semesters left at W&M, and I need to take advantage of every single moment. I needed a reality check to recapture that enthusiasm I felt as an underclassman.
I became a William & Mary blogger to share my passion for the school with friends, alumni, and perspective students. But I never thought that my own words would serve as a reminder for me about the bigger picture: I may get bogged down with work, but that will never change my love for this school.  And I am grateful to one girl from Chicago, who reminded me that sometimes I need to take a step back and look at the bigger picture. For me, that means a little more reflecting, and a little more blogging.
August 31, 2012 by Erin Spencer
It's official: summer is over. W&M students have flooded back to campus and we're all swamped with start-of-the-year festivities. It's wonderful to be back, but coming to school after working in DC all summer is definitely an adjustment. As I'm transitioning back to W&M life, I thought I'd reflect a little bit on what I learned from the summer. Here are my top 5 take-aways from my internship!
Classroom learning needs to be supplement with real-world learning, and vice-versa. From being in an office, I've learned so much about real media applications and how to function in a work environment. But there were also many times I had to call upon skills I learned in school to be successful in a work assignment. You can't fully understand work without your schooling, but you can't fully appreciate your schooling without work. I'm so grateful I had this experience halfway through my time at college, because now I have the opportunity to build on what I learned in the working world during my last two years of undergrad.
It feels good to have a plan.Especially when it comes to the big things, like a life plan. That being said, part of having a plan is being flexible, because not everything is going to go your way. Stay alert, adapt, and don't lose sight of your goals.
Sometimes, the only thing standing in your way is you. There were multiple times throughout the summer I hesitated to approach someone because they were much older and higher up in the company. But every single time I got over my fear and approached them, they embraced me with open arms and offered guidance. Most even encouraged me to keep in touch after my time at National Geographic. One example is Keith Bellows, Editor-in-Chief of Traveler magazine, who I almost didn't talk to because I was too nervous. Once I got up the courage, we hit it off immediately, and he has told me to contact him if I ever am looking for a job. Apparently, I just needed to get out of my own way.
The life-changing events are often the ones you don't expect. The smallest event or the most innocent comment can change the way you view the world around you. Towards the end of my internship, I started thinking about applying for a research grant next summer. I had almost given up on the idea of applying, thinking that it was just way out of my league.  But while randomly talking to someone in the office about it, she asked me, "Why not?". That one comment inspired me to take a risk and change my path.
You can't go at it alone.  I thought I could be a jack-of-all-trades. And in some sense, I can. Having multiple skills helps set you apart from others in your field that may be more narrowly focused. However, sometimes you have to sacrifice doing it all to have someone work alongside you. Not only can you balance each other out (she probably is better than you at some things, and vice versa), it is incredibly important to have someone to bounce ideas off of. It's amazing how quickly things can get accomplished when you're thinking with two (or more) heads instead of just one.
Without doubt, this summer was a learning experience. But one of the most important things I realized? In two short years, William & Mary has given me the tools and confidence to make it in the real world. So now, I'm coming back a little bit older, a little bit wiser, and ready to make the most of my last two years at W&M.
July 24, 2012 by Erin Spencer
Last week, I had a very unusual Tuesday morning.
It started like any other morning. Promptly at 8:15, my alarm jolted me awake. Then, after 10 minutes of wrestling with the snooze button, I dragged myself from the warmth of my bed and shuffled to the bathroom. As I waited for the shower to warm up, I lazily browsed my emails and Twitter, checking to see if anything exciting happened over the night.
Suddenly, my stomach jumped. Right there, sitting alone in my inbox was a message from the Editor-in-Chief of National Geographic Traveler magazine. And not just any message; he was asking me, Erin Spencer, to help him with a few things while he's abroad.
I must have stood there in my towel, mouth gaping, for no less than five minutes. My thought process was something along the lines of this:
Why is Keith Bellows asking me for help? We've never even said two words to each other.
Maybe he noticed me at the last Traveler staff meeting. I did chime in with an idea for our Best Fall Trips feature. Granted, I was just agreeing with someone else's suggestion. Not that profound.
Crap. I don't know what he's talking about in this email. He asking me to send him the schedules for tomorrow? What schedules? I don't even know my own schedule. And he wants me to send him that book we talked about? We never talked about any book. And where am I supposed to send it?
Wait, this seems fishy.
After realizing that the shower had been running for about ten minutes and that I was going to be SO late for work, I hastily put the phone down and continued my morning routine. But I couldn't stop thinking about the email. I was thrilled, confused, and terrified all at the same time. What kind of intern gets to work with the Editor-in-Chief of Traveler magazine? This is the real deal… getting to know Keith Bellows could do wonders for my career. Of course that is assuming I didn't screw it up, which seemed like a real possibility considering I had no idea where to start with his email. But that seemed like a minor detail, and by the end of blow-drying my hair I had convinced myself that this was my big break at National Geographic.
Then it hit me. Keith Bellows has an assistant named Erin.
He was trying to email his assistant when auto correct inserted my email address instead. Which would explain the casual tone of the message, and why I didn't understand anything he was asking. And that meant this was definitely not my big break. I carefully crafted a reply letting him know his message was sent to the wrong person, then forwarded his original message to his assistant.  My brief emotional roller coaster had come to a screeching halt, and the rest of my day continued on uneventfully.
But at least I got a good story.
July 6, 2012 by Erin Spencer
I understand the topic of this blog might be a bit confusing. "Awesome" is not a word typically used to describe working full-time for no pay. Between moving to a new city, paying rent, and staying late on weekdays, it seems that I'm practically paying National Geographic to hire me (Disclaimer: I'd get in serious trouble if I tried to pretend I was fully supporting myself through this summer. Thanks Mom & Dad, you're the best). But if you look past the lack of a paycheck, there are some pretty serious advantages to being an intern. Try and remember these perks when you're eating Ramen noodles for the third meal in a row.
1.     Everything is new.
Every job has a honeymoon period- a certain chunk of time before your daily tasks seem mundane. Think of an internship as an extended honeymoon period. By the time the honeymoon is over, you're finished with the internship! For me, this means enjoying the small nuisances of my job that seem dull over time. For example, I write tweets for the National Geographic Traveler Twitter account. Every time I post a new one, I want to call all my friends and say, "I just tweeted to 400,000 followers! Everybody look! Guys, I mean it!" Now, a few months and a few hundred tweets later, I'd probably be a little less enthusiastic. More along the lines of, "God no, not more tweets please." But for now, every small task is thrilling and new. The excitement of simply having this job hasn't worn off, and I plan to take advantage of that for as long as I can.
2.     There are no stupid questions.
Let's be brutally honest here. People assume you don't know anything- you're an intern after all. Some interns are so worried about acknowledging they actually are clueless, so they never ask questions. They get their assignments and sit at their desks, praying that some intern fairy will magically appear and give them step-by-step instructions on how to do their job. This approach not only wastes time, it defeats the purpose of an internship…you're there to learn. Save yourself the time and ask questions from the start. Your coworkers won't think you're stupid, rather they will appreciate that you're trying to do your job thoroughly. Actually, you're expected to ask questions. You're only at the job for a few months at best, so enjoy the freedom of being able to ask as many questions as your heart desires. And if you're not asking questions, you're doing it wrong.
3.     You can get away with things.
You know how little kids can get away with things, just because young and cute? Being an intern is kind of the same thing, only slightly different. Let me be clear, I'm not advocating for anyone to do something totally inappropriate and use the excuse "Uh…sorry, I'm an intern." That just makes you look bad. I mean that you can meet people and see events you wouldn't get to see as a full time employee. For example, a few weeks ago we had the Explorers Symposium, where National Geographic Explorers from all over the world came to headquarters to present their work. For a straight week, there were meetings, presentations, and receptions, all to highlight these incredible people. A lot of the employees didn't get to see the presentations because they actually had work they needed to do during the day. But I'm an unpaid intern with a really understanding supervisor. She really didn't need me during the day as long as I caught up on my assignments at night. So I didn't miss a single Explorer presentation, and it was truly a once in a lifetime experience. Plus, I was able to sit in on meetings with Explorers in other departments just because I'm an intern. It's kind of like having a VIP pass, but without all the special attention and free swag.
4.     You can have commitment issues.
There's one thing that all internships have in common: they're temporary. Every internship in the world has a defined beginning, middle, and end. Which makes it the perfect scenario for the commitment-phobes out there, or just for people like me who don't know what they want to do with their lives yet. For the most part, supervisors don't assume an internship is going to lead into a job. If you do well, and you get offered a permanent position, that's great! You can officially enter the land of paid employees. But if you decide that job isn't for you, no one is going to be offended. It's like a trial period- no harm, no foul. Worse case scenario, you have a terrible time at the job, you decide it's not for you, and leave after two months. Best case scenario, you find your life calling and have a fantastic job waiting for you. Either way, you have something great to put on your resume.
So although an unpaid internship may be lacking in some areas (namely money), there are some definite benefits to be had. There are some parts of an internship you'll never have in a full-time job, so take advantage of it! So ask questions, introduce yourself, and learn as much as you can in what little time you have there. And remember, if you do screw up, it's okay— you're an intern.
June 27, 2012 by Erin Spencer
Last week changed my life.
When I look back over the events of the past five days, that's the only way I can summarize it. This week was possibly the most exciting, inspiring, and exhausting weeks I've ever experienced.
Monday, June 11th marked the beginning of Explorers Week at National Geographic. More than 70 Explorers from every corner of the earth traveled to Washington, DC for a week of meetings, presentations, and receptions. It's the only week of the year where all of these incredible minds are in one place, and I was fortunate enough to be in the right place at the right time to experience it all.
I spent the week in a constant state of wonder. I was awed by the magnitude and creativity of the projects being pursued by this group of exceptional people. Gerlinde Kaltenbrunner, a mountaineer from Austria, just became the first woman to summit all 8,000-meter peaks without the use of supplemental oxygen. Barrington Irving became the youngest person to fly around the world solo at age 23, and now is developing an education program where he can teach students from the air while flying around the world (again). Sarah Parcak has uncovered 17 new pyramids and 1,000 tombs in Egypt by using satellite technology. But seriously….who are these people? Who just wakes up in the morning and says, "I think I'll save an endangered species today"? It's overwhelming.
But mostly, it's inspiring. Not only to listen to the fantastic projects they're pursuing, but also to see the passion they feel for their work. In some of the panels, the speakers spoke so quickly that it was difficult to understand at times. At first I thought it was because they were nervous, but that wasn't it at all. These people were so excited about their work that they tried to cram as much information as they possibly can into their presentations. I could spend hours listening to the Explorers. And in actuality, I did—at least 6 hours of my day, everyday, was devoted to listening to these speakers. Although that meant a few late nights catching up on my actual work, it was worth it.
And when I say this week changed my life, I mean it. Tuesday night, I had an epiphany. I had been thinking for months about where I wanted to go with the rest of my life, and in an instant it was clear. I don't want to be writing about these people, I want to be one of those people. I want to do research and change how we view the world we live in. I want to work in the field and inspire people to care about the planet. I want to be passionate about my work. And most of all, I want to make a difference.
So that night, I made a decision. I'm officially declaring a minor in Marine Science, which will allow me to work side-by-side with professors at the Virginia Institute of Marine Science. Next summer, I plan to conduct a research project related to fisheries conservation. And when I graduate William & Mary, I want to attend a graduate institution that focuses on research in marine conservation.
I love my internship, but I'll never be satisfied hearing about other people conducting research in the field from behind my desk. I want to be in the action. I want to be an Explorer.
May 29, 2012 by Erin Spencer
This summer is undoubtably a learning experience. Whether that's learning how to navigate the metro, or how to fact-check an article for publication, or even … how to feed yourself. You would think that, by the age of 19, I would have developed some skills that would at least take me beyond Lean Cuisine and PB&J sandwiches. And you would be wrong. This is one area where I am completely lacking, but it's not for lack of effort on the part of my family. Before I left for DC, my mom loaded me up with simple and quick meal ideas while my dad emptied half the contents of our pantry into my suitcase. Since I would have neither my parents nor my meal plan, I think they were both seriously concerned that I would starve. And honestly … so was I.
Walking into Giant the first night I arrived was intimidating. I was essentially starting from scratch—there wouldn't be food in the fridge unless I put it there myself. But after a minute or two, I eased into it. I started with the basics, namely milk, cheese, bread and Oreos. I challenged myself to avoid the freezer isle, which was MUCH harder than I anticipated. It was so tempting to resort to Stouffers entrees, but I knew I couldn't sustain myself on frozen dinners. But I thought about my mom's advice and reminded myself that feeding myself wasn't really that hard. Soon enough, my cart was full of fresh fruits and veggies, pasta, chicken and rice. I left the grocery store with an armful of bags and new found confidence in my cooking abilities.
My next hurdle was realizing that just because I had the ingredients didn't mean I could cook. My first attempt was pasta, where it took me an entire half hour just to boil the water (I didn't have a lid and put in too much salt). To top it off, my inexperience with a gas stove had me convinced I was going to burn down the entire apartment building. I couldn't help but think that I was utterly incapable of functioning as an adult, and resorted to cereal and sandwiches for the rest of the week while I nursed my bruised ego.
But now, I've started to get the hang of it. I made scrambled eggs for breakfast yesterday instead of my usual toast. Tonight I grilled chicken with pesto and Parmesan cheese with a small salad on the side. For tomorrow, I have all the ingredients to tackle a stir-fry. Dish by dish, my confidence increases, and I've begun to branch out in my meal selections. There's something exciting about coming back to the apartment and cooking something totally new. What's even more exciting is realizing that your meal doesn't even taste that bad. Of course I have a long way to go (as far as I know, no one considers scrambled eggs a culinary masterpiece), but at least it's a start. I'm excited to see how my skills will improve as the summer progresses. But I'm even more excited to realize I won't have to rely on Easy Mac and Chef Boyardee.