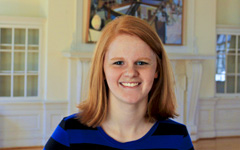 February 20, 2014 by Elizabeth Miller
On Friday, February 7th, 2014, William & Mary celebrated Charter Day, including honoring Laura Godwin '14 with the James Monroe Prize in Civic Leadership.  Laura serves on the executive board of Project Phoenix and is a fixture in the Office of Community Engagement, bringing her joy and commitment to our office and the tutor/mentor program. That's why no one was surprised when Laura sent out this incredibly sweet and genuine email to Project Phoenix.  It was too good not to share:
Hello!!
I just wanted to send out this email, and tell each of you how grateful I am for you. On Friday, I stood on stage in front of way too many people and received an award that was half the size of me (no joke)…but I sincerely wished that each of you could have been on that stage with me. While Project Phoenix is just one piece of my involvement in the community, it is the one that has allowed me to work closely with other W&M students whom I love dearly. You all embody the heart and soul of what it means to serve a community, and I am in awe of each of you. We all dedicate a significant amount of time to working with our middle schoolers, and I would bet that none of us do it for the recognition; I know I don't, and I never expected to be recognized for my work, but that would not have been possible without y'all.
I know that sometimes it seems like this program wears us out and stresses us out and drives us crazy. But at the end of the day we all stick with it because we care. I care about our middle schoolers, their well being, and their future. I care about each of you and making sure that y'all feel like you have a purpose and that we are all supporting each other inside and outside of this program. For those of you who were at the first info session we had, I went off on a little tangent about how much I enjoy working with my peers. I am not kidding when I say that I have met some of the best people while working with ProPho. Especially the executive board. I consider each of you a friend, and I am so blessed each time I get to be around y'all. Y'all inspire and encourage me and remind why we do what we do. So thank you. For absolutely everything. Y'all rock!
-Laura
May 13, 2013 by Elizabeth Miller
To the newest William & Mary alumni:
Close your eyes and picture this campus. The William & Mary you see is the one you've built over the last however many years it has taken you to get to this point. You've certainly had help along the way. This place is filled with people who worked to make your life better from day one: family, faculty, staff, classmates, the Griffin. You've had help along the way, but it's been your W&M you've built. All the people and experiences you've discovered here have made this place what it is for you. And that is the William & Mary you get to keep with you, even as life changes, as your geography, social circles, job, hairstyle changes. The W&M you've built abides. Even as one of the things that changes is this campus.
As a young alumna who never really left this place, I've seen it happen and been a part of it happening. This campus remains alive. New buildings, new people, new thoughts, ideas, failures and successes. This place changes because of you. Because each of the incoming students has a W&M to build as well. And that's one of the incredible parts of being an alum. You now have ownership over two William & Marys. The magical place you've experienced from freshman memories, GER struggles, final papers, people you've loved and people you're ready to take some space from. That W&M is carried by you. And you also have this place that has been around a long time, that you can always return to. You now get to be that alum who jumps on a campus tour to say, "When I was a student here…" But you also get to be a part of honoring the change this campus undergoes, supporting the William & Mary new students are trying to build.
The W&M you carry with you from this day forward and this one right here that you can return to, they are not the same. Your relationship to this college is different now. Life is different now. Thankfully, W&M has prepared you for that change. Maybe some of you feel less prepared than others. Perhaps there is stress and intimidation about leaving these brick pathways. I can't offer you a certainty of what comes next, but you can carry with you the certainty of these brick pathways. And of the helpers. There are so many alumni excited to support you in this part of the journey. And you're a helper now too, someone current students will reach out to with their own uncertainties.
This place will be here and this place will always change. I encourage you to honor that because the same is true for you. The things you built into who you are while you were here – the friendships, the knowledge, the values – you get to carry that with you, and you get to change. You get to experience the shifts that happen with time passing. That can be hard and that can be incredible. Just as this place remains, who you were here is captured within you and within the friends, faculty, and staff you knew here as well. As an alumna, though, I welcome you to change because those changes will be part of your W&M alumni story. I am so grateful that I can welcome you to this branch of the family, and I want to congratulate you on your time at W&M. I know you've done incredible things here because this campus remains incredible and vibrant. This college is the powerful, beautiful, life changing, sometimes overwhelmingly daunting, but also loving place that it is because all of us, including alumni, join in making it.
So congratulations on being part of creating the W&M of today. Congrats on coming into the great unknown. And congratulations on now joining a new phase of building the W&M of years to come. Through all that comes next, this place is always your home. You've earned that above all else. (Although the diploma's nice too.)
April 22, 2013 by Elizabeth Miller
My last post was from a speech I gave about service, but this time I'm doing one better. Below Emma Merrill '13 speaks to the audience at Celebration of Service on the need to give one's hands and heart to service. Emma's commitment to social justice, active citizenship and community is an inspiration to many on this campus and in our office.  Emma was also honored with the Alumni Humanitarian Award that evening.
April 4, 2013 by Elizabeth Miller
William and Mary's Circle K International is one of the many organizations on campus that exemplifies a commitment to community both on and off campus and serves as motivation for the work that I do in the Office of Community Engagement. I had the opportunity to speak at the CKI induction ceremony recently, and I thought I'd share with you some of what I said:  
Good evening everyone, and thank you for providing me with this opportunity to speak with you.  I'll admit that at moments like this I struggle because convention says I should be here to impart wisdom or dispense inspiration, and in my nervousness about that I reverted to the TWAMPY tendency of research.
I poured over the CKI website and sent emails to some of your exec board. What I kept returning to were your three tenets of "Service, Leadership, and Fellowship." This reminded me of one of my favorite calls to action, "Let us develop a kind of dangerous unselfishness." It seems to me that that is what CKI is asking its members to do, and it's a challenge, first articulated by Dr. King, that CKI constantly strives to achieve.
Having settled on dangerous unselfishness and service, leadership, fellowship, I started to think about the structure of this speech. I considered a five paragraph essay with snazzy introduction, a paragraph on each tenet, and then of course a motivating conclusion. But with Dr. King's words in my head, I was reminded that those three tenets are not separate paragraphs, they are parts of a whole. CKI is asking its members to see that service, leadership, and fellowship are tied together into one's identity as an active citizen who wants to make the world better.
CKI provides daily opportunities to take a stand and make the world better through dangerous unselfishness.  Coming together to complete 2,400 hours of service last year; having members research and share issues in our community; hosting the Children and Hunger event which thoughtfully and effectively put a focus on an important community issue.  Packing the meals, raising the funds, learning from organizations about hunger—that's dangerous unselfishness because it's combining the power of service, leadership and fellowship.  That's what you graduating members have done and new members are joining.
Your exec suggested I tell you about my most meaningful service story, but the story I want to tell is not mine, it's yours.  It's what you'll do after you walk out of this fancy old hall.  If that's as a new member, perhaps it will be signing up to work with people with disabilities at Dream Catchers, partnering with Charity Water to increase access to clean safe water in international communities, or perhaps being the kind open friend that allows someone else to share their mental health struggles with you.  Maybe it's seeing something on campus or in Williamsburg that's not good enough, gathering CKI, and making it better.
And I haven't forgotten about those of you who will leave this hall only to walk through this building in a few weeks to whatever is next.  Yours will be the story of dangerous unselfishness unleashed.  In your new realm, will you join Kiwanis, register to vote, call your United Way to find volunteer opportunities, organize your alumni chapter to host a food drive for a local food bank? Will you wear your CKI pin on the days when maybe a little reminder of the fellowship of this hall will give you the confidence you need to stand up?
Because for all of us there are still so many things to stand up for, still a need for that dangerous unselfishness that service, leadership, and fellowship unite to create. I want to congratulate you, members new and old, on being a part of two historic and powerful institutions, W&M and CKI. In fact I checked, CKI was founded in 1963, which is strikingly close if you scramble the numbers to 1693.  So it's fitting to host this event here in Wren's Great Hall.  Your time at William & Mary and your future as W&M alumni can be defined by a lot of things, but an important part of that definition is your membership in CKI and is your dedication to service, leadership, and fellowship.
Thank you for developing a kind of dangerous unselfishness. Thank you for recognizing that we need life-long responsible citizens and you can be them. Thank you for putting up with my non-five paragraph essay which lacked imparted wisdom and dispensed inspiration. So let me close with that:
The time is always right to do what's right, so hark upon the gale!
March 13, 2013 by Elizabeth Miller
It was one of my favorite stories to tell on an admission tour as we paused in the lobby of Blair Hall.  I recounted the day I walked into my history course, "The Global Color Line" with Professor Vinson, and he stared us all down.  "Today, you are going to teach class," he said, while we shifted uncomfortably in our seats.  Starting us off with a question, Vinson guided a few students to the front of the classroom where they started—quite awkwardly at first—to talk and then ask questions of others.  Slowly, we rotated who was standing at the front, writing on the board, bringing up new ideas, and then passing the chalk.  At the end of the class I found myself at the back of the room seated next to a smiling Prof. Vinson. "See," he said, probably to the whole class but in that moment it felt like it was just to me, "Strong students don't need strong professors."
At that point in the story I would exclaim to my tour, "Which is a total lie! We needed an incredible professor like Prof. Vinson to get us to that point." I still think that's true, but I recently realized something else about what he said.  It's a reworking of a quote by Ella Baker: "Strong people don't need strong leaders."
Ella Baker was an incredible civil rights and social justice activist, often left out of the history of the modern civil rights movement. Thankfully, I was introduced to her work and words by Prof. Vinson, and she has become a role model for me.  I love quotes, and Ella has one of my top three.  In talking about her unrecognized leadership in a lot of movements, she said, "I have always thought what is needed is the development of people who are interested not in being leaders as much as in developing leadership among other people." After reading those words my junior year, it became my guiding statement. I want to use my strengths to empower others. That's also what Professor Vinson did that day in our classroom.
I'm with Ella on the idea that if we develop the leadership of all we won't have to rely on the few who are catapulted into role of "The Leader," but I still call Prof. Vinson out on telling us strong students don't need strong professors. It is through the time I spent with strong professors that I became a strong student and realized that I needed to soak up knowledge to empower others. That's what my time in William & Mary classrooms (and across campus) did for me.  That's what that one day that a professor at William & Mary lied to me did: It reminded me that I come alive with the power to know and to share, which is to learn.
February 27, 2013 by Elizabeth Miller
"Justin!" I yelped, jumping out my seat and making my way across the room. While my love of Justin Bieber has already been recorded in this blog, this time I was actually pulling off a fan girl moment for the one and only Justin Reid.
Justin is one of the first upperclassmen I met at William & Mary because he served as a Teaching Fellow for my Sharpe Freshman Seminar.  From the beginning it was clear that Justin is just plain impressive.  Smart and thoughtful (which are not always synonymous), involved, motivated, witty, kind—Justin is the kind of role model every college freshman deserves and I was lucky enough to have.
In all honesty, Justin's path and mine weren't very intertwined at W&M. He was two years older and busy being awesome while I was just figuring out what this whole "college thing" was about.  With Justin though, it wasn't really about quantity but quality. Each time we interacted, whether it was the first year as my Fellow,  bumping into each other at an event, or just walking across campus, I always felt better and motivated to be even better by talking to Justin.  (That's one of the great things about William & Mary's campus, we're never tripping over each other but we are always running into each other.)
Justin is also the originator of one of my favorite phrases, "If you're not doing something, something's not getting done." Despite having a lot to get done on campus, Justin always took the time talk to me.  When I was struggling to figure out how to "succeed" at W&M as a sophomore, he stopped, thought about his answer, and then shared his own experiences with me without presuming to say that his path was the right one.  Ever ready with a smile even while dashing off to his next meeting, Justin was always a friendly face for me at William & Mary. I can only hope that as an upperclassman myself, I provided even a small amount of the inspiration and guidance to younger students that Justin did for me.
All of this is why, despite being at a formal lecture at Swem Library and despite no longer being an overwhelmed freshman but instead a grown-up staff person, I found myself bounding over to Justin and giving him a hug when I discovered that he was moderating the panel I was attending.  The panel, a fascinating dialogue about school lock-outs and massive resistance in Farmville, Virginia, was co-sponsored by the Moton Museum, where Justin now serves as Associate Director. As I said, he's impressive.  In fact, when I asked my colleague Austin Pryor '07 his thoughts on the event, his first response was, "It just reminded me how awesome Justin Reid is." And he is. Thanks to my undergraduate years at William & Mary, I can only hope that some of that awesomeness rubbed off on me.
January 9, 2013 by Elizabeth Miller
Remember the final battle of Harry Potter and the Deathly Hallows when Harry is fighting He Who Shall Not Be Named (Fine, for Dumbledore's sake, I'll say it—Voldemort)? All the professors of Hogwarts have been battling the whole time, and they gather to stand around Harry. Sometimes I picture myself in that moment, except instead of a battle of good and evil, I'm in some sort of academic show-down.  How or why I got there is beyond me. All I know is that I'm about to do battle based on the power of my education, and suddenly all of these professors are standing behind me.
While I doubt I will ever actually find myself in such a battle (perhaps that's what a dissertation defense is like), there is something magically wonderful about knowing that I've got some pretty powerful professors who have prepared me for it and who, in my mind, would stand  behind me.
And so of course, based on my love of lists and gratitude, here are a few of my academic army.
Prof. Tierney, who taught me to simplify the story to understand the power dynamics at play, one of the greatest tools I've ever developed in understanding the world.

Prof. Vinson, who showed me how multiple narratives could fit together to make an infinitely longer and more interesting story. Jumping up onto a desk to convey a point is also one of the best lecture strategies I've ever been present for.

Prof. Kennedy, who gave me the credibility to say that my love of television did indeed make sense to some very smart people, although she did ruin CSI and Law & Order for me.

Prof. Currans, who rocked my world with so many epiphanies, mostly about all the things I wasn't seeing or hearing. Looking for the silences now defines a lot of my sense of self and justice.

Prof. Gray, who once told me that my theory writing was dandy, which coming from her incredible intellect made me think maybe I really could understand that which is complicated (i.e. Judith Butler).

Prof. Fisher, who reminded me that what I love most are stories about people, places, identity, and change. Plus, he forgave me for only being a faux-Westerner.

Prof. Hanley, who  laid out in one semester the sociological tools I needed to make sense of how I saw the world and how I wanted to change it, and once told us only one of the essay options would be on the exam but day-of let us choose between two.

Prof. Sohoni, who wove together sociology and story in a way that made my brain kick into gear and begin synthesizing all the things I had been struggling to piece together. The juice and donuts he brought on movie days were also pretty great.

Prof. Putzi, who defended my right and ability to learn by giving me every opportunity I asked for and every so often let one page of my thesis draft get through with no edits on it.

Prof. Quark, who exemplified the cool and crazy smart I wanted to be when I grew up and then helped me develop some of the skills to get there by challenging my brain every day.

Prof. Korwin, who let me write about Justin Bieber, reminding me that academics could really shape how you see (and by that I mean critically analyze) any part of the world.

Prof. Pieper, who I probably drove crazy with my incessant hand-raising but who I still email with stories of how something he taught me is informing my life, and he even writes back.

Prof. McGovern, who has yet to actually teach me in a classroom, still meets with me long after his Freshman Advisor role has expired, and from day one of college has reassured me that learning, the thing I love most, really is good for you.
December 3, 2012 by Elizabeth Miller
November 12th through the 16th, The Office of Community Engagement staff as well as students and faculty at W&M participated in the Hunger Challenge. Based on Food Research Action Center's SNAP Challenge, participants were given a meal budget of $4.31 per day, equivalent to the Supplemental Nutrition Assistance Program (SNAP, the new version of Food Stamps) benefits they would receive as a single Virginian.  Besides spending no more than $21.55 for the work week, participants were also challenged to eat only food they purchased during that week (no free food offered by others) and keep track of their spending and reflections.
Why did we take the Challenge? I think FRAC explains it best:
"The SNAP Challenge gives participants a view of the struggle to obtain adequate food that is faced by millions of low-income Americans. By living on the average food stamp benefit, Challenge participants find themselves forced to make food shopping choices on a limited budget, and learn how difficult it is to avoid hunger, afford nutritious foods, and stay healthy without adequate resources."
This is my second year participating in a hunger awareness event, and I again learned so much from the experience. As my colleague Melody already blogged about, most of the lessons of the Hunger Challenge relate to privilege. The trickiness of projects like The Hunger Challenge, or any program that lifts up privilege, is that it lifts up privilege.  I would not have invited the W&M community to participate in living on a SNAP budget if I didn't assume that at least some members of our community do not live on SNAP benefits, including myself.  And as one blog I read last week put it so clearly, "hunger is not a writing prompt." But how do we step carefully between not using this to "play at" being food insecure and instead using the Hunger Challenge to push ourselves into recognizing some of privileges which, by the virtue of being privileged, we are likely to ignore?
What's written below is a collection of my thoughts from my week participating in the Hunger Challenge, which is not the same as a week of actually living on SNAP benefits, being food insecure, or living below the poverty threshold. Writing about my experience, however, is a way for me to remember what I learned during the Challenge and hopefully a spark for you to learn something more as well.  Admittedly my reflections are a bit scattered – focusing becomes much more challenging on a limited and nutritionally poor diet – but perhaps they will interest you in learning more about hunger in America, consider your own role in our food and hunger ecosystem, participate in a Hunger Challenge yourself, or become an anti-hunger advocate.
Hungry Mind
I was prepared to have a few headaches throughout the week thanks to a lower caloric intake and reduced nutrition but was dismayed to fall asleep Sunday evening (Hunger Challenge Eve) with quite a stress head-ache.  My head was throbbing because I'd spent the previous few hours fretting about the Hunger Challenge.  My mind just kept running through the week and lamenting all the food I wouldn't be able to eat. Had I made the right purchasing decisions? What else did I need to buy? How hungry was I really going to be? Could I do this? I was even fretting about fretting, telling myself, "Dude, seriously! It's one week. You are a privileged kid who is spending 5 days eating on SNAP benefits; this is a daily reality for 20% of your community."
While by Day 2, I'm starting to feel a bit more of the physical effects of this Challenge, it's been the mental component that's been most challenging.  I am thinking about food almost all of the time. When it's not meal time, I'm thinking about when my next meal is (and being frustrated that on a reduced meal budget meal times are actually a hard and fast thing—I can't just eat when I want or even when I feel hunger). Before my meals I find myself wondering if the food I'm going to eat will be filling and how long it will be until I am hungry again.  During meals I find myself both eager to eat and despondent over eating.  Eating is a lot less fun when you are, a) Eating food that you wouldn't choose to eat without the budget constraints b) Eating repeats of food regularly because buying single serving items is out of the question and c) Knowing that in eating this food you'll have less to eat later.  When I have the luxury of not thinking about my food, I have the luxury of enjoying my food. Living on a SNAP budget means that a lot of my mental energy is spent thinking about my food choices both when buying and eating.  And spending that mental energy in this manner is stressful.  Because I'm only taking this Hunger Challenge for the week, it's likely the largest side-effect from this stress will be another headache or two, but as the Food Research Action Center highlights, the stress experienced by low-income and food insecure people, can lead to other effects.
Money is Time
I went on my last "major" shopping trip for the week today (Day 2). I say "major" because I bought all of 7 items, costing a total of $7.66.  Despite the low item count, I spent over 30 minutes in the store and it felt even longer.  Why? First, I was hungry! My last meal of a cup of spaghettios had been a few hours before and those calories had long since been used up.  This meant each item of food I picked up instantly became the idea of the meal it could be cooked into which made me focus on my hunger rather than my grocery shopping.  Second, every item counts.  While I'm already a shopper who operates on a budget, and I consider the unit price of most items I buy, participating in the Hunger Challenge takes that to a whole new level.  For each item of food I considered, I had to spend extensive time evaluating precisely how much it cost, how many meals it would produce, how many times I would really like to be eating that food, how many other items I would have to purchase to turn it into an edible meal, what kind of nutritional value it would yield, was there anything in it that was particularly unhealthy/awful to consume, and if this food would make me less hungry because I was hungry!
I'm sure that over time I would get faster at shopping on SNAP benefits but all those evaluations would still have to be made. It seems obvious that if you're living on SNAP benefits convenience store shopping can be less accessible due to higher costs, but even the normative level of convenience associated with a grocery store is impeded by the added pressures of food insecurity.
Free Food
The rule of the Challenge I've heard the most about is the restriction on eating free or offered food during the week. "Wouldn't someone on food stamps take any free food they could?" most people ask.  Not having been on SNAP benefits myself, I can't say for certain, but yes likely they would accept the free food offered. But the free food rule brings up some interesting complications.  First, what kind of food is most often free? There were a couple of events I attended during the Challenge that offered free food: pizza, cookies, soda.  Not exactly the healthiest or even most filling.  Second, it's likely that someone on SNAP benefits doesn't work a job where free food is readily available.  Because of this I chose to not take any free food during the week, and was reminded that even working a job where I might have access to food perks isn't true for everyone.
Let Me Eat Cake!
When I heard that my monthly potluck with a group of friends was going to include cake I wasn't too upset; I'd told them ahead of time that I would be bringing my own food for the day, but they should still bring their own delicious items to share with everyone else. Getting through lunch and even watching them eat what I'm sure was a delicious chocolate raspberry cake wasn't too bad (This was Day 1 mind you, by Day 3 I think it would've been much harder). Post-lunch, however, we had a long conversation about the challenges in our lives, and after sharing my thoughts and emotions, one thing was clear to me: I had earned a piece of cake! I was surprised how adamant my brain was that food was a just reward for my emotional work (And later, I found myself believing that I deserved a treat for a long day at the office). I remember learning about this in my Social Psychology class all the way back in Sophomore year, about stress eating and reward eating (W&M moment: I just pulled out my old Psych notes to review that section), but this was the first time I was experiencing the reward eating response without being able to satisfy it or at least talk myself out of it based on internal reasoning. Instead, this (albeit self-imposed) external constraint of the Hunger Challenge kept me from that piece of cake.
The impulse to eat cake made me realize another of the many privileges of my personal food security—I can reward myself with food.  I used to celebrate the end of an exam with a cookie and a CW stroll.  It seemed so wise of me to find rewards in items that were simple, cheap, and delicious. But now I recognize that even that simple reward is inaccessible to those who are food insecure. Whether it's giving yourself a cookie for a job well done, "eating your feelings" after a not so great day, or even just indulging in that impulse buy of a candy bar that makes you feel a little bit rebellious, it becomes much harder to use food for comfort when living on SNAP benefits.
The Last Meal(s)
My first shopping trip for the Challenge was Sunday night, but that night actually consisted of two trips. First, I spent $9.99 on much of the food I would be eating that week (rice, canned veggies, spaghettios.) After loading that bag into my car, I returned to the grocery store to purchase my 'last meal' before beginning the Challenge. I spent another approximately $6 on cranberry juice, Stouffer's mac'n'cheese, and Twix bars.  I share this not so you know what my comfort foods are, but because I want to emphasize that I know this is made up. Taking the Hunger Challenge is not experiencing what it's like to live on SNAP benefits, to be food insecure, or live below the poverty threshold. As the Food Research and Action Center explains, "While living on a food stamp budget for just a week cannot come close to the struggles encountered by low income families week after week and month after month, it does provide those who take the Challenge with a new perspective and greater understanding."  Unlike those living on SNAP benefits, I could easily purchase a $6 comfort food meal for Sunday night, and the only thing stopping me from eating that for the next five days was my own decision to stick to the Challenge.
And the privilege of the Challenge's self-imposed nature hit me again on Friday night when I was on the other side and about to prepare my last Challenge meal. I suddenly found myself thinking, "Why am I eating another bowl of rice with chickpeas? I really don't want to eat more of this, and what does it matter? What's the difference between eating "real food" now and in the morning when the Challenge will be officially over?" I had spent the last four and a half days committed to this challenge, making sure to not 'cheat,' reading up about SNAP and food insecurity, talking to others about my experience and theirs, reflecting on the privilege the week was making clear for me, and yet in prepping that least meal, with my 'real life' so close to returning, a very real part of me wanted to just throw my hands up and eat anything but SNAP food. I hope that moment stays with me because that's the moment that I walk around with each day:  the privilege to say, "This doesn't matter" because I have good food in the fridge and I'm tired of rice and chick peas."  I ate my rice and chickpeas that evening, but today I had a Twix bar.  I know that taking the Challenge comes with the privileges of last meals I get to eat and last meals I consider skipping. It's up to me to recognize that and stay committed to addressing food insecurity anyway.
If you want to learn more about food insecurity in your community and across the country and what you can do to take action, check out FeedingAmerica.org (especially their Map the Meal Gap project).
September 7, 2012 by Elizabeth Miller
You know that feeling of opening a book you've been dying to read.  Or even better, the feeling of opening a book you've read at least ten times before, but you're just as eager for the 11th.  That moment of knowing that what you're about to immerse yourself in will be at the same time comforting–returning to a world full of characters you already know and love–and exhilarating because once again you will be plunged into a world that is not your own, and no matter how many times you have read those words before there are still moments that catch you and hurry you away to this whole other place and time.
If you can draw that feeling up within yourself, that delightful mix of assurance (This is going to be good!) and excitement (How is this going to be good this time?), you know how I feel about the classes I took at William and Mary.
Fall classes started a week and a half ago.  On that day I parked a little farther away so I had to walk a bit of campus to get to my office. As I walked what days before had been a relatively quiet and empty campus, but was now full of streaming lines of students heading in and out of the Sadler Center, some marching to the beat of their iPods into Old Campus and others chatting with friends on their way to New Campus, I felt the most wonderful version of jealousy.
It was the jealousy of knowing that I am not meant for those classrooms anymore, but those students are.  They get to walk in and sit down and learn.  For freshmen, it is their first, perhaps slightly scary, read through of the William and Mary classroom experience. But like that favorite book, after your first semester at William and Mary, the concept of a college class–a W&M class–is no longer an unknown. Each course, however, is a new adventure. With earlier registration as an upperclassmen and years of experience, you can begin to have more choice—selecting courses in your major, repeatedly putting yourself in the classrooms of your favorite professors, and planning schedules that allow you to sit in class with friends.  On that first day of class the story itself has yet to unfold, but you are there and able to dive in to that delightful mix.
Which is what, on that morning a week and a half ago, left me jealous: the great unknown of what I could soak up if I were in that classroom and the trust that I would have professors and classmates, texts and lectures that would teach me.  Sitting in a William and Mary classroom is that favorite book I love to return to, that assuredly exhilarating thrill of the learning provided by my beloved alma mater.
August 28, 2012 by Elizabeth Miller
It's W&M Orientation time which means a campus and staff focused on the incoming students—freshmen mostly—for the next few days.  Freshman year, and particularly the early transition to college, deserves a lot of attention and is quite an incredible experience. A year of firsts, new friends and adventures, and lots to figure out.
But this post is for the sophomores of William and Mary, who for the first time are coming to campus without a staff of brightly dressed students teaching them the alma mater and dorm cheers.
As I remember it, sophomore year was my all-around best in college:
I had friends to return to.
I picked where I lived (with said friends).
Some of my friends moved to the Ludwell Apartments which made us feel grown up, even though we mostly just hung out eating cake and playing board games.
I knew all the campus  short-cuts (or at least I thought I did).
I figured out how to work Banner (as much as one can) and add/drop period and RateMyProfessor so I was taking classes that were interesting to me and well suited for my academic strengths.
I found a major and the accompanying group of students that became peers and friends.
I was old enough to transition better from home to college (unlike the first Sunday of freshman year where I found myself homesick, sobbing in the parking garage).
But not so old that I began to have the panic of "WHAT ARE YOU DOING AFTER YOU GRADUATE! HAVE YOU HEARD ABOUT THIS ECONOMY?" (Sorry, Seniors—I know what that feels like too.)
I had a basic grasp of the Swem floor plan, including my favorite places to nap and study.
I finally figured out where the Dodge Room is hidden and ate an increasing number of meals in the Marketplace.
I survived reading Michele Foucalt which built character and a strong bond with some of my fellow sufferers/classmates.
I found another home on campus in OCES, which remains my home today.