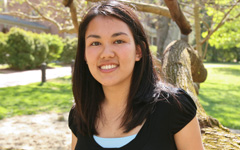 May 12, 2011 by Evette Becker
Breath in, breath out. Okay…one more breath. Now smile, extend hand, look them in the eye and say "Hello, my name is…"
These were amongst the thousands of thoughts running through my head while waiting for my interview. Fewer than five years ago, I ventured for the second time to the College of William and Mary with the mission of surviving my first college interview. What I have come to realize is that simply breathing in and smiling can make a world of difference. A big part of an interview is not necessarily what you say, but how you say it: the energy, confidence, and poise behind each response. The following are a few tidbits of advice to keep in mind that I find helpful when participating in William and Mary interviews.
Put a smile on. You won't believe how much a smile effects the first impression. Not only does it show the interviewer that you are excited to be there, but also creates a pleasant atmosphere before the interview even begins. Eye contact is also essential. It demonstrates that you are engaged in the conversation, not just talking into thin air. Your interviewer will try and put those nerves at easy, but it's also good to remind yourself when those nerves do creep up that this will not make or break your application. This interview is truly optional, and it's simply another opportunity for you to showcase a side of yourself when applying for the class of 2016.
Say what you know, not what you think we want to hear. There are no answers that will determine the course your interview. Just be your unique self, not the person who you think we want you to be. Showcase your strengths while remaining honest. Some of my favorite interviews from last summer consisted of those students who were unashamed to demonstrate who they were. For example, when I asked what their favorite academic class was last year, the students who stood out in my mind were those who said "I like _______, and I love it because…" The added explanation without being prompted received a star my book.
Expect the unexpected and just roll with it. The tag phrase that the office likes to associate with these interviews is "this is a conversation more than an interview." They are truly designed to be that way. The aim of these interviews is to gauge your personality. We not only want to hear that you do something, but WHY you do it as well. And it does not matter if you are the president of five hundred clubs or a champion yo-yo master: what matters is that you demonstrate your personal passion for whatever extracurricular activities you have chosen to highlight. Also, be prepared to hear some questions that may not be covered in your typical "top ten interview questions" guide that you looked up on Google the night before. Again, we are looking for personality, putting a face to an application, rather than right or wrong answers.
So, for those who are on the fence about signing up for our summer interviews, know that they are not meant to be intimidating. The people who will be conducting the interviews are rising seniors at the College, who are friendly, fun loving, and who want you to succeed. They not only love the College, but they also serve as a resource to you as much as they do for the office. If you decide to take a slot, just take a deep breath, smile, and I bet you will do swimmingly.
July 29, 2010 by Evette Becker
Throughout all the interviews I have done, I've noticed one commonality among them: "junior year was HARD!" And honestly, junior year of high school was hard for almost everyone I knew. It was the year APs begin to creep up, the year that one begins to search for college, and the year the responsibilities, such as driving a car or getting a job, begin to hit you like a ton of bricks. However, as I continue to reflect on years past, I begin to realize that high school years, freshman through senior, where not that different from that of my college years.
Freshman Year: The Year of Innocence
When I was in high school, my freshman year consisted of a lot of Babe-caught-in-the-headlights moments. I didn't really know much about how to study for my classes let alone how to navigate the five flights of stairs at my school. At first, freshman year of college was kind of the same. I had to figure out how to register for classes, find which path from the Botetourt dorms was the fastest to Washington Hall for a 9am class, and discover ways to make sure I didn't spend all my Flex Points on Quiznos my firs t week here. However, from the minute I stepped on campus, I didn't have to actually find all these answers alone. I had everyone from my Orientation Aids and RA to upperclassmen friends I made throughout the year, guiding me through all of these obstacles and more.
Sophomore Year: The Year of Drama
Tenth grade in high school seemed to be the year of hormones and hissy fits. This was the year when tension ran high and friendships were tested. In college, the term "sophomore slump" could be heard: the idea of because you're no longer the baby, you were set free on your own without the attention anymore. I guess that was a bit true, to an extent, but then the challenge was to then try and make it on your own. I would say that sophomore year at W&M for me was more the Year of Discovery. Yes, I no longer had the upperclassmen constantly there to give me advice, but I also no longer needed it. It was my time to make mistakes and figure out for myself what I wanted to major in and pursue.
Junior Year: The Year of Hard Work
Like I stated earlier, high school and college junior years have been years of hard work. Last year, I wrote more papers and did more research than I have ever had to do until that point. I was definitely tested, and I believe that I survived. Most W&M students come here because they want that academic challenge, and junior year more then delivered. However, I don't think I would have wanted it any other way because I think it better prepared me for the years to come.
Senior Year: The Year of Leadership
My senior year of high school was by far my favorite. It was not only my "last hurrah" with my friends, but also my opportunity to stand out and shine. That year I became pretty close with some freshmen, and guided them like I had been guided. I hope that this coming year I will be able to do the same.
I guess my word of advice to those who are still in high school: take these descriptions with a grain of salt. High school and college experiences are different for everyone, but I hope that most will try and use their last year as the chance to give back and help the ones who will be taking your place. That is what I hope to accomplish this summer at the admissions office, and what I hope to continue to do this coming school year.
July 13, 2010 by Evette Becker
As a student interviewer for the Office of Undergraduate Admissions, I have heard several different questions from curious prospective students. A few weeks ago, I received an e-mail with the following question:  How/Why is the academic rigor at W&M so difficult? I thought to myself, WOW, what a great question!! So, the following is my response to this student's question:
In my honest opinion, the emphasis on academics is all relative. People say that we are a difficult school, but if you talk to most W&M students, they will say that it's a welcomed challenge. The idea of an institution of higher education was established as an outlet for further education in a highly intellectual manner. Here at the College, students are asked to read, write, debate, research, question, and discuss issues. Yes, it might be "hard," but I think you will find that most students wouldn't want it any other way.
How have we taken on the reputation that we are a rigorous school? In my opinion, I think a big part of it is because 99% of our classes are taught by professors. All of the professors I have had at the College set the bar high, but at the same time they make it so that their demands foster growth, not hinder it. For example, I remember that during my freshman year, I took a freshman seminar that had me reading eight government based books, two of which were very statistically heavy. I had to write several response papers, participate in class discussion twice a week (which meant that I HAD to keep up with the reading), write a final research paper, and also, because it was a Sharpe seminar, participate in volunteer work approximately three to five hours a week. I will not lie: It was HARD!! However, in just one semester, my writing and reading skills improved ten-fold! I began to consider issues from other perspectives than just my own, and I never felt more accomplished than I did after I turned in my several page essay-final exam.
The other main factor I think is important to mention, and one in which I kind of touched on in my anecdote, is the small class size. Because classes are small, there is really no place to hide when you haven't completed your work. In high school, there were definitely times when I didn't do the reading or the assignment the night before. In most of those situations, I was either able to hide behind another student and not get called on, or I would just stumble/ramble my way to an acceptable answer. However, in a classroom for about 20 people, all of whom most likely did the reading, and with an expert in the topic standing at the front of the room, calling you out by name, one has to be on top of their game. This might seem intimidating, but I think it's this type of setting that helps to encourage one to actually get their work done, and therefore be a better, more knowledgeable student in the end.
The "why" is something I ask myself every day. But then again, "why" is just an open-ended term that I think one can never find a satisfactory answer. I think what is more important is if YOU feel that this could be the place for you. It is just a fact that W&M is a tough school. What you, and all prospective students for that matter, need to try and discover over the next year is if you feel that the College would be the perfect fit for you. If you are looking for a small to medium sized school where you will be challenged both academically, emotionally, and physically (YAY for walking everywhere), I think that W&M could potentially be your second home: the place where you will make mistakes, learn new things, and create memories with people who will be with you for the rest of your life.
July 5, 2010 by Evette Becker
This summer I've taken it upon myself to be ridiculous by working two jobs, making it so that I am working seven days a week. However, because of 4th of July, I ended up miraculously not having to work on the 5th. So…what does a workaholic such as myself do with a day off in good ole Williamsburg, VA? Find a random coffee shop to catch up on work of course!!
Earlier this summer my roommate Sarah came back to the room raving about this AWESOME coffee shop her summer research adviser had taken her and her other lab mates to after a celebratory lunch at Nawab, a must-have Indian lunch buffet located right by campus.  "Even after such a giant lunch, he was in the mood for coffee, so he said that he would take us to his favorite little coffee shop that he had discovered in New Town." She relayed to me how shocked she was to hear about another shop besides the Daily Grind and Aromas, which are already standard places W&M students to go to get their daily jolt of caffeine.
The place that came so highly recommended is a new coffee establishment call Harbour Coffee. Located in the back of the New Town shopping center, it is a hidden treasure that will reward any W&M student seeking refuge when the exams get going. As I currently sit here drinking my mug full of steaming "Papa New Guinea" coffee while being caressed by the two in-house dogs Glory and Grace (who are SOOO cute!!), I wonder how this coffee shop came to be: untouched, clean, and fantastic.
"It's a community coffee shop," says the owner. Mainly relying on wholesale outsourcing of their products to other Williamsburg establishments such as in the Prime Outlets and even the Trellis restaurant, the actual physical shop is meant as more of a get-a-away for New Town business-goers and for locals, including W&M professors and students alike. The owner went on to say that the aim of the shop is to make premium coffee available in Williamsburg, which at times can be difficult in this, at times, tourist-centered town.
But in all honestly, one of my favorite parts of living in Williamsburg is that there is a combination between the tourist community and the local community. When necessary, I can go off campus in one of two directions. One direction will lead me into the fun, vibrant area of CW, taking in the history of centuries past. In the other direction, I can find escape in these random coffee shops and little "ma and pa" establishments that keeps Williamsburg quaint and personable.
June 30, 2010 by Evette Becker
Have you ever experienced that feeling of empty thought: the sensation of having something to say and then not being able to express it in words? The clichéd term for this annoying state is called "writer's block." Ancient Romans and Greeks believed that writer's block could be fixed by the will of the gods, which meant being granted inspiration from one of the nine Muses.
Sadly, the gifts of the Muses do not seem to grace us poor college students, especially during the times when we need it the most. Mid-terms, finals, and even one's honors thesis are not done without the writer having to struggle at least once with overcoming this common affliction. Even when attempting to write my latest blog post, I am ridden with this all consuming sense of nothing. "What about my amazing experience at W&M hasn't been said before, and even more important, how would I even begin retelling said events to the world."
Therefore, like in the Cohen brother's cult film Burton Fink, a movie all about a guy who has writer's block, I shall emulate their plot by exploring "what is writer's block." However, instead of boring you with dull descriptions of my personal confusion, maybe I can enlighten instead. The following list has a couple tips for overcoming writer's block that have helped me and others in the past:
1. Brain storming really does help: If you are writing a paper for a class, for example, and don't know how to begin, take some time to just write everything about your topic down in some fashion or another. Even creating a rough outline can give you enough of a spark to at least show you the path you need to take when writing.
2. Talk with others: The best ideas are not created alone. Talking with classmates, friends, even your professors can give you a sense of direction, or at least some other ideas to ponder, some of which you might not have thought of before.
3. Sometimes it's just better to come back to it later: As William and Mary students, we hate to give up, but taking a study break is actually healthy and more helpful than just attempting to push through. Take time to clear your mind, maybe even have some fun and relax so that you can be ready for when the ideas do begin to flow. The traditional study break for a TWAMP: the all-important midnight Wawa run!!!
Hopefully these tips might distress you if you ever do feel the symptoms of writer's block creeping on. As for me, my "writer 'blo'g" (haha get it :::ba dum chah:::) is officially cured!
June 28, 2010 by Evette Becker
I'm walking down a set of stairs into a dimly lit tunnel, slightly confused, with a ticket in my hand. I finally make it bottom of the staircase, when I feel someone grab my hand and pull me through shutting doors of a train right before they close for good.
Don't worry folks, this is not the start of a suspense novel, but a slightly dramatized telling of my first experience riding the D.C. Metro, which happened to have been two Saturdays ago. Why would a suburban girl such as myself brave the "big city" with a few of her college friends for a day? It just so happens that one of W&M's own got a 15 minute time slot at the famous 9:30 Club.
Located in the heart of our nation's capital, Nightclub 9:30, which is also more commonly referred to as the 9:30 Club, has been a host for several A-list bands and artists, ranging from The Police to the Smashing Pumpkins and even John Mayer. Through a voting contest hosted on the 9:30 Club website, Vedet, a techno group composed of two rising sophomores, one of which being my friend Walex from the College, earned the third highest amount of fan votes. Therefore they were granted a coveted 12:35am timeslot at the legendary club.
Fighting the traffic on I95 North, riding the Metro, and even having a bit of time to gallivant around the city with my two accompanying friends was totally worth the sight of seeing Walex jam out on his electric guitar and then bust out some awesome glow-stick handling skills, all while being backed up by some sick techno beats provided by his band mate Michael. The stage was like home for the two of them, and even as there set came to a close, the standing-room crowd was chanting "Vedet, Vedet!"
It was just incredible to see two students about my age being given the opportunity of a lifetime, and just running with it.  While in the audience, I even heard the person next to me say, "Who are those kids? They are just so young!" Before I could even chime in, the person's friend said, "Oh, I think the kid with the glow sticks [Walex] goes to William and Mary." At those words, I looked at my friends beside me, and all our hearts soared with Tribe Pride.
June 25, 2010 by Evette Becker
This summer, for the first time in a year, I have the privilege of living with two roommates. Growing up as an only child, I will admit that I was spoiled when it came to having my own room, and that my first two years here at the College were a bit of a challenge because I was no longer the only person living with my day-to-day quarks. In light of my housing assignment for the summer, I decided to look back upon my freshman and sophomore year experience with roommates, and therefore now share this "knowledge," with all of you:
5. Roughly know their schedules: Sometimes you might want to have friends over or watch a Glee marathon, and your roommate might have a paper due the next day. Make sure you plan and check events like these with your roommate ahead of time to avoid a conflict, or worse, a disappointed roommate because they themselves cannot participate.
4. Include your roommate in activities: It is easy to get caught up in your own activities, but try to include your roommate when applicable. If they know that they are welcome, they will feel more accepted and appreciate the gesture.
3. Know your roommate's boundaries: Some people are not open to sharing clothes, while others will let you borrow whatever you want. Make sure that you understand the room rules as set when you sign the roommate agreement. Not only are all people different, but all people are different types of roommates. Its best, if unsure what to do in a situation, to discuss the issue with  your roommate first before acting or becoming passive. Always check back with the roommate or the roommate agreement if unsure.
2. Talk to your roommate about the needs of the room: Your roommate might already have a microwave, a fridge, and a T.V., while you might have a fantastic sound system along with every single recorded by Justin Bieber on your iPod. Knowing what the other roommate already has before you move in can save you loads of time, money, and otherwise wasted energy.
1. Respect your roommate: Respect for space, respect for time, and respect for that person: these are all important things to keep in mind when living with someone. It's not just your room, so always think about how you might want to be treated.
Hopefully, these tips might help me, and others, cultivate beautiful relationships with one's roommate(s).