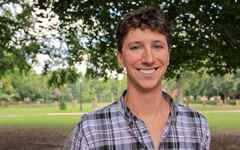 February 11, 2013 by Christian Dutilh
I'm sitting here writing a blog post and realized that in the several months that I've been working at my first (real) job, I have never written a post about it. Alas, since this is the purpose of having an alumni blog, here goes nothing.
I work as an analyst at Jones Lang LaSalle, a real estate services company. Never heard of it? Join the club. Real estate, although it plays an enormous role in the business sphere, is a world within itself.
Jones Lang LaSalle, and other large real estate companies like it, cover everything commercial and beyond. We don't sell residential homes, though. We help companies and corporations large and small find and lease space and help landlords by finding tenants to fill their vacancies. This sector, called brokerage, is by and large the biggest cash cow for the commercial real estate world. To be a broker, one must be well-spoken, extremely driven, and able to hob-knob with CEO's. As many joke, one must also be an excellent golfer (or at least a member of a great club). It's commission-based mega-sales at its finest and it's unquestionably the most competitive sector of real estate. However, I'm not a broker.
Jones Lang LaSalle also provides international real estate advisory services. Imagine you've gotten together some investors and you'd like to buy an office building in Shanghai. We have offices all around the world to provide local expertise. Imagine you're in charge of a large hotel conglomerate and you need someone to facilitate the construction process of your new location in Rio. We can help. Imagine you're a branch of the military and you need a company to manage all of your privatized military housing across the country. Check. Anything you can conceive of that takes up space, we can be of service and locate the best team across the globe to help with whatever challenges arise.
My little niche in the real estate world right now is on the EUL/Federal/Non-DoD Team (a mouthful, huh?) and we help federal clients with their real estate needs, which are vast indeed. Just think—who owns the most real estate in America? Wal-Mart? McDonald's? Target? The federal government is definitely included in that list.
Real estate, the biggest cost for any company or agency, involves much strategy. Where should we construct a new building in this emerging market? Will the market support it once it's been constructed? Could this aging building in Kansas City be somehow re-purposed? How could we save taxpayer dollars by consolidating our agency-wide real estate portfolio? How do we plan for the future of our assets in a sustainable way? Our team works to answer these crucial, far-reaching questions for our federal clients. And it's pretty cool.
My next blog post is going to be about how to get into the commercial real estate industry. It's fraught with challenges, so I believe it will make for an informative post. Stay tuned and thanks for reading!
Happy belated birthday, W&M and keep harkin'.
–C
August 28, 2012 by Christian Dutilh
I remember it clearly. Like it was just yesterday. My first morning and William & Mary. The freedom! The opportunity! The nausea! Oh wait, that was the second morning.
Anyway, the feeling was electric. To be on your own, making your own decisions, and doing things your own way. However, as with anything else cool in life, the buzz fades after a while. You get accustomed to a new lifestyle and what once seemed novel now seems normal. By senior year, everyone kind of seemed jaded by the whole thing.
But, as always, life has its funny little ways of reinvigorating you. All it takes is a little change.
For me, this change has been my new apartment in DC. It's probably the coolest thing in my whole wide world. Every day when I'm sitting at the office, I can't hardly wait to walk two blocks, hop on the bus for a few minutes, and stroll up Meridian Hill to my new abode.
Having an apartment represents so much. More so than I did in college, I now truly feel independent. Having an apartment means being able to support yourself. It means you're contributing to the economy. To me, it means you've made it.
I hope the thrill of city apartment living never dwindles. I love the hum of the traffic and the screech of the sirens. I love my diverse neighborhood with more cool restaurants than you could shake a stick at. I love the graffiti on the signposts and the kids playing ball in the street. I love watching the rain from the window in my living room.
So, to my seniors who are coming back to school for their fourth years in Williamsburg, let me just tell you one thing. Life gets more exciting from here. I promise.
Cheers,
Christian
November 21, 2011 by Christian Dutilh
After a few arduous weeks of traveling, I just arrived in Leon, a friendly city in the heart of Nicaragua. Tomorrow we're thinking about going to Cerro Negro, a volcano close by that you're allowed to "volcano board" down. I am confident I'll end up in stitches afterwards, but it sounds like too cool of an opportunity to pass up.
Since I posted last, we've traveled hundreds of miles on several different buses down from Guatemala, through Honduras, and to our current home of Leon. I spent a few days visiting the Students Helping Honduras headquarters in El Progreso, Honduras, to check up on my friend Shin, the founder, and to see my old pals from the village. We were greeted with a really warm welcome. We also got to see the progress on several new buildings in the community—a new children's home which opens near Thanksgiving, and a volunteer hotel, allowing guests to stay in the village during their service trip. Very exciting progress in Progreso.
In a few days we'll be heading to Costa Rica to meet my girlfriend, who is flying down to meet us up in San Jose for a little Thanksgiving vacation. We've heard it's a bit more expensive than the rest of the country, but hey – I only spent $2.50 on my lunch today, so I think I deserve to treat myself.
And, as promised, here is a picture. I had to rock the William & Mary tee. This is from Semuc Champey, a subject in my previous post. Enjoy!
Peace. Hasta la proxima.
–christian
October 31, 2011 by Christian Dutilh
I'm sitting in a hostel in Flores, Guatemala. Basically in the middle of the Central American jungle, Flores is a small island in the middle of a lake, full of chirping colorful birds and narrow cobblestone alleyways. Tomorrow we make our way two hours north to Tikal, the center of the ancient Mayan empire. A true historical gem.
The past few days have all been about facing my fears and challenging myself. At every turn I'm experiencing new novelties. Yesterday, we traveled to Semuc Champey, which is hands down the most beautiful natural wonder I've ever seen. With its cascading crystal green-blue ponds flowing downwards to giant waterfalls, Semuc lives up to its expectation as a truly unique phenomenon.
Here's an abridged list of fears that I am on my way to conquering as a result of my four days in Guatemala:
- heights (I jumped off a giant boulder half a kilometer deep inside a cave in Semuc Champey.)
- bats (We visited the Lanquin Caves, where literally millions of bats make their regular exodus every evening.)
-  the dark (Immature, I know. After swimming through a cave with a candle in my mouth, you get used to it being dark pretty quickly.)
- caves (This goes without saying after the previous points.)
I can hardly even process anything going on right now. We're constantly surrounded by new, like-minded, and totally awesome people who are trying to have a good time, so we have little time to reflect on the goings on of the day before we move on to the next tour, shuttle ride, or activity. In a few days, we go to San Pedro de la Laguna on the famous Lago de Atitlan for some much needed R&R. My legs are sore from hiking, so I'm ready to chill for a bit.
I really wish I had enough words to describe how much I love this place or the attention to detail to explain how many cool things I've done in the past few days, but just trust me. There are enough to fill a book already. Let's hope for the best and see what happens next. Because honestly, I have no idea.
So, thanks for reading this and I hope you continue to do so. This is Christian- signing off.
…. By the way, I shaved my head. At least no one has to see me for two more months, right? I'll post a picture when I don't look so ridiculous anymore.
August 26, 2011 by Christian Dutilh
Hello W&M World!
I shudder when the thought comes to mind, but I am now considered a graduate of the College of William & Mary, something that brings me great pride and great fear at the same time. Now we're on to the next proverbial chapter of my life, and I think it's going to be pretty exciting.
I can only see so far into the future, but I'm sure that the next sub-chapter revolves around vagabonding. For those unfamiliar with this term, it is the art of long-term travel, illustrated wonderfully in the book of the same name by Rolf Potts. After reading the book, I was hooked on the concept. It outlines how a few months of work can pay for several months of budget travel, depending on how much you're willing to "rough" it, so I've been waiting tables all summer for the chance to turn those dollars into an unforgettable experience.
So in October (after attending William & Mary Homecoming 2011, of course) I leave for Central America, traveling from Guatemala through Honduras, Nicaragua, and Costa Rica to finally reach Panama. I'll hike volcanoes, ride on crowded buses filled with locals, eat exotic foods, scuba dive in the Caribbean, meet up with friends and family, and generally immerse myself in the newness of every passing minute. Needless to say, I'm pumped, prepared, and positive.
This summer has made me look forward to the rest of life– the life after William & Mary– which I honestly didn't even believe existed until very recently. And even though waiting tables is pretty miserable, I know that it's going to be the foundation for some stellar memories.
-Christian
PS.  A very belated congratulations to the Class of 2011 and my warmest of welcomes goes out to the incoming class of 2015!! Hark upon the gale!
April 5, 2011 by Christian Dutilh
I wanted to do a quick post about my absolute favorite class this semester– a music course entitled Black Expressive Culture, taught by Gayle Murchison (nicknamed Murki Waters… get it?)
This four credit music workshop class meets twice a week- on Tuesday we discuss significant black music from blues to funk, delving into its origins, its inspirations, its direction, and its major contributors. We look at the forms of the music, the power behind the lyrics, the reflection of the people who made it. We've watched Aretha Franklin performances, looked at Ray Charles' controversial career, and picked apart Grover Washington Jr's "Mister Magic" for an entire class period. Professor Murchison is as knowledgeable and passionate as she is lively and eccentric, and she makes the class.
The Wednesday section is where people tend to get really envious of me. It's a jam session on the music we learn about in the Tuesday section. Our small class consists of a drummer, bassist, saxophonist, trumpet player, guitarist, female lead vocalist, and myself, doubling on piano/keyboard and lead vocal. We played the blues, moved into 50′s R&B ala LaVern Baker and The Flamingoes, played some typical rock n' roll tunes by Chuck Berry and others, and now we're deep into our soul unit (probably my favorite area of black music.) Next on the agenda? Funk. James Brown, here we come.
Black music has always been a fascination of mine for my entire life. I always felt left out in conversations about the Red Hot Chili Peppers or Incubus or Dave Matthews. Now I'm in my element. This class is me.
So whatever your tastes, whatever your hobbies, whatever your obsession is, chances are William & Mary has a class for you– some place where you feel like you belong.
February 3, 2011 by Christian Dutilh
I know I just posted, but I wanted to express how excited I am for this upcoming Charter Day weekend.
Did you know that one of my favorite bands THE ROOTS are coming to campus this Saturday with GIVERS opening up for them? These two groups have played William & Mary before– the Roots five years ago and Givers last year at a Fridays @ 5 and both know how to put on a truly killer show. I'm on the AMP music committee, the student group that brings these artists to campus, and I can't be more proud of my committee as well as the AMP executives and staff members for pulling off this incredible stunt. Saturday's show will be something for the record books.
If you have a minute, you should check out some of their performances on YouTube. So incredible. See you at the show! Get your tickets at the PBK box office or online.
February 3, 2011 by Christian Dutilh
I've been living in my same house off campus for over two and a half years right now and it's never been better. Over the years, I've crafted my room to be exactly how I want it. I finally put a hook on the back of my door to hold my jacket. Last semester I brought my keyboard from home. My sister Anne just gave me some vinyl record picture frames so I could hang up some favorite LP's. It's basically all coming together. My room, finally, feels like my room. My house is awesome.
But not all bits of off-campus living are so sweet. Take today for example. I woke up this morning freezing. Why do you ask? I got my heat turned off because I forgot to pay the natural gas bill. Renting a house takes a lot of responsibility, so if you're not ready to take on such a challenge, make sure your housemates are.
The benefits of living off-campus in my opinion surely cancel out the negatives, but be sure you know what you're getting into before you sign that lease. Trust me.
It could be worse though. I have no heat, but it's randomly a 70 degree day in February. Life ain't so bad, anyway.
December 13, 2010 by Christian Dutilh
Wow. I haven't blogged on here since October and, currently in the midst of finals, I cannot possibly find a nicer way to procrastinate studying for them. Let me fill you in on some of the things I've been up to.
Remember my last post? About the Peace Corps? Well, I got nominated! At the end of the interview, my recruiter said he would nominate me for a program (23 months) leaving in August 2011 for Latin America doing business and community development. He told me that with my background at William & Mary and history of involvement with NGO's, that I would get the unique opportunity to work with an established non-profit in country. Needless to say, I was and am thrilled. This is the culmination of my career as a student volunteer. Who knows if, once my medical and dental forms are complete, that I will actually accept my offer. 23 months is a long, long time and I don't know if I'm ready for that kind of drastic change… yet.
So why would I consider deferring or turning down my Peace Corps nomination? Because life is too interesting right now. I have too many life plans– maybe one or two different ones per week. This week, I either want to move to Amsterdam (I have a Dutch passport and Dutch citizenship) to live there for a year or two or I would want to be a touring background singer. Pretty distinct dreams, huh?
Most recently my passion has been a business that I'm going to start with my friend who graduated from W&M in 2009. We are planning to make record players. Yes. I said that. Record players. We think that in the world of instantly-accesible music, that some people will want to revert to the days of having a tangible music "collection," one that you can hold in your hands and appreciate all the artist did to put together the album. Records and record players are a cool conversation piece and would provide value in the lives of our potential consumers, too. Currently, Crosley controls almost all of the market, and we want to compete. We'll provide an entry-level record player with a sleek design, one that will establish the record player as a modern household fixture, rather than the vintage, antiquated product that Crosley currently sells. Be on the lookout for Sunshine Spinners, coming to a store near you (…we hope.)
Anyway, I'm stuck in Swem and just ate an entire medium flatbread bacon & onion pizza from Dominoes while writing this blog. Either I'm going to pass out from a food coma or keep studying for my exam tomorrow. The former looks like the better option right now.
Happy holidays! More blogging to come soon.
-christian
October 20, 2010 by Christian Dutilh
Tomorrow's the day. I'm leaving Williamsburg at 9 am (ehh… maybe 9:30) to go to my first job interview with the Peace Corps. I've never done a job interview before. Needless to say, I'm kind of nervous. The next time the clock strikes 2 pm, I'll be sitting in Rosslyn and getting called into the interview room for one and a half to two hours– depending on how many questions I have. Did I just say that I'm kind of nervous? I'm totally freaking out actually.
I've just been perusing the Peace Corps website for some last-minute research and it's making me more and more excited by the minute. With the Peace Corps, I'll have the chance to learn a new language and spend 27 months in a foreign country, living with a village, incorporating myself into the community, and hopefully doing something beneficial. There's a lot of people out there who need help, and I think I'm ready to just get out there and do it.
On Wednesday, October 20 2010, I will cross (and hopefully not crash into) one of life's big hurdles. Wish me luck.