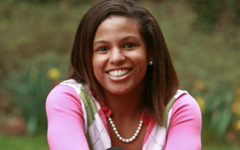 August 20, 2009 by Christina Henry
As the summer comes to a close, I am very eager to enter my senior year. Tomorrow this time, our campus will be filled with our incoming freshmen class. It's hard to believe it's been three years since my freshmen move-in day.  What I do remember is the range of emotion that I exhibited during the transition. As an only child, I remembered being home sick but yet I was so excited to meet new people. Freshmen year is filled with a lot of cool and unique experiences. W&M is exceptional in that we bring all of our freshmen in at the same time for orientation right before school starts.  Our OAs and RAs do a phenomenal job at helping students to transition during orientation.  I remember one of my favorite experiences was the derided freshmen hall mixers. At first it feels like they are forcing you to meet people then when you happen to have class with some of those individuals you have instant friends.
I am looking forward to my LAST opening convocation as a W&M student. It still boggles my mind how fast college has gone by. In less than a week, I will be entering my LAST fall semester here at the college. I am extremely excited for my fall semester classes and hope my spring semester will be even more exciting.  One of my goals for senior year is to venture out into Colonial Williamsburg a little more and have more fun. As a science major, most of my time is spent in the walls of Swem but I am determined to add a little more spice this year.
I would like to officially welcome the class of 2013 to W&M and I hope they enjoy freshmen year and more specifically freshmen orientation. See ya at opening convocation! GO TRIBE!!!
July 28, 2009 by Christina Henry
As I enter my senior year at the College of William and Mary, I thought it would be a great idea to list my top five reasons why I love William and Mary soooo much. There are multiple things and people on campus that have changed the way I view the world and specifically the US. As a Pre-Med student, I've spent countless hours in Swem but when I do manage to escape, I find that there is always something to do for fun.
Top Five REASONS WHY I LOVE W&M
5.  Beautiful Campus
I remember coming in as a freshman and thinking this campus is so stunning. Everything from the Wren to Morton is well kept. UMM then again, maybe not Morton (Inside W&M joke). We take pride in the appearance of our campus and you will always find someone out planting flowers or blowing leaves. I remember thinking as a freshman why do they spend money on leaf blowers in the fall when they know the next morning they will awake to more leaves on the ground! There is so much time and effort that goes into campus beautification. OVERALL, OUR CAMPUS IS THE BEST!
4. Swem Library
Swem recently was rated the 7th best library on a college campus. Most students will spend multiple hours in swem in a given semester. If you go on a tour, you will normally hear the dynamics of the different floors. My favorite floor is the 2nd in a nice corner near a window.  The resources available in swem are phenomenal. I think the media center in the basement is probably the best kept secret in the library. I remember going down there for my freshmen seminar making my own piece of music. The equipment and resources are also great for film studies and music majors. OVERALL, OUR LIBRARY IS THE BEST!
3.  Campus Organizations
W&M offers over 400 different clubs and organizations. Contrary to popular belief W&M students know how to have a good time. Some of my favorite clubs/organizations are those that dedicate their time to community service and youth outreach. Harry Potter club is another popular one on campus! If there isn't a club that you are interested in within that 400, then you can start your own! I love how W&M gives students the freedom and resources to expand their ideas. Most W&M students are involved with at least 3-4 different clubs or organizations outside of academics. I know one of the things I will miss most upon graduation will be the many clubs that I am involved in. OVERALL, CAMPUS CLUBS AND ORGANIZATIONS ARE THE BEST!
2. Students
I don't think I've ever meet anyone like a W&M student. We take our academics seriously, but we know how to have a great time. W&M students make campus lively, vibrant, and expressive. I admire how W&M students have such a deep appreciation for community service. W&M students are also very diverse in their thoughts and open minded to listening to others. Some of my most enjoyable classes have been those with heavy discussion because you get the opportunity to hear different opinions and experiences. OVERALL, W&M STUDENTS ARE THE BEST!!!!
1. Professors
W&M Professors are so approachable. They really take an interest in students and I think some of my favorite classes have been those where the professor has really gotten to know me.  The student faculty ratio is 11:1, which is amazing! I've had classes from 150 to 40 to 20 to 12. I think the classroom experience is most enjoyable when you are in a smaller classroom setting. Smaller classes make the classroom intimate and the professors get the opportunity to really get to know their students. OVERALL W&M PROFESSORS ARE THE BEST!!!!
So when you combine all of these things, you will also conclude that W&M IS THE BEST!!!
July 11, 2009 by Christina Henry
Giving tours in the summer is quite an interesting experience. All of the students are gone, so you won't find students playing soccer or frisbee in the Sunken Gardens. Barrett Hall is probably hotter than Arizona. As soon as you walk in the heat hits you instantly. Usually people are super excited to see a dorm room, but I think they are more excited to go back outside where it's cooler. Who would have known that Barrett Hall is hotter than the peak of summer in Williamsburg? Everyone knows that Williamsburg in the summer is close to unbearable. Luckily this summer we have had some pretty nice days with weather in the mid to upper 80s.
The library is deadly during the summer. You will be lucky to find two students in the library during the summer. I saw one of my friends yesterday and I almost jumped for joy. Usually when you walk in the library the first floor noise level is moderate to soft with people doing projects or socializing. During the summer I feel like I am screaming due to silence of the first floor. All of the computers are free, which never happens during the school year.  The group study rooms are dark and you can tell they haven't been used in months. People normally try and get a group study room early because of the high demand, so seeing them unused is quite a sight.
The UC (Sadler Center) is also another place on campus where I am wondering WHERE THE PEOPLE ARE. I have seen about 20 different soccer camps roaming around campus. Middle and High school kids dominate this campus during the summer. Usually when you go through lodge one you have to fight to get through the crowd of people.  And don't mention the Quiznos line! Oh, and did you know there are turtles in the Crim Dell? For some reason, they are the hottest attraction on tour now. Groups are fascinated by the turtles and want to stay there forever and observe the marine life that lives in the Crim Dell.
Although things are different during the summer, it has still been an enjoyable experience guiding people around.  W&M is definitely an interesting place to be hanging over the summer, heat and all!
June 30, 2009 by Christina Henry
As I study for the MCAT, I can feel the test anxiety coming on. I feel like I am well prepared as a William and Mary student.  Pre Med students at William and Mary have a rigorous course load, but I feel like all the hard work will pay off soon. I am currently reviewing the chemistry section AGAIN. Trying to remember all those organic reactions like the alkenes, alkynes for example is taking some time.  For some reason, the biology is sticking and the chemistry is a little more complicated. Some of the science courses I took freshmen year like intro biology and general chemistry have become extremely important in my MCAT prep. Although I am not taking any prep class, I am using Barron's and Kaplan's review. Both study guides do an extensive review of chem, bio, and physics.
Currently, I have narrowed down my section of Medical Schools and Graduate school programs. Earlier this summer I went to visit Grad and Medical Programs in VA, DC, and NC.  I hope to have all my applications ready to go by the end of the summer, so my senior year can be as stress free and painless as possible.  It just hit me about a week ago that I am going to be a senior in the fall!!! I AM SOOOOO EXCITED!!!!!!
The countdown begins!!!! Aug 21st is the magic date!!!!!
June 26, 2009 by Christina Henry
I was extremely sad to hear about Michael Jackson's death last night. As I reflect over my childhood, I can remember listening and singing along to his music. As a dancer, I respected his style and creativity the most! At my first dance recital at age 5, I can remember tap dancing to smooth criminal. For homecoming my senior year in high school, my dance team did Thriller and it was AMAZING!!! Studying Michael's dance steps is not an easy task, but performing them are soooo much fun! MJ in my opinion is one of the greatest icons music will ever have. His music is universal!
I remember visiting Europe about five years ago and hearing MJ all over the radio. People all over the world loved MJ because he defined ingenuity when it came to music.  There hasn't been another music artist in my lifetime that's reached the heights as Michael. From his early days with the Jackson Five to his solo career, Michael Jackson's music flooded ALL music charts.
The king of pop will live on for generations to come!