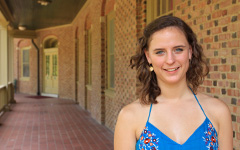 November 17, 2010 by Brynn Koeppen
Today was a weekend of firsts. It was my first time traveling outside of Beijing. It was my first time missing class this semester. It was my first time sleeping on an overnight train. It was my first time staying in the hostel. IT WAS MY FIRST TIME IN SHANGHAI.
Studying abroad in Beijing is great, I'm speaking lots of Chinese, I love my friends, and living in a city of 15 million people means there is always something to do. Every now and then I am frustrated by the lack of food variety in Beijing, the crazy traffic problems, and the occasional ominous pollution above the city skyline. Beijing is no Shanghai, something I had heard, but wanted to see for myself.
Planning our trip to Shanghai was easy enough, we bought train tickets from the Peking University travel office, booked our $8 a-night hostel, and made a rough itinerary.
Walking down lit up Nanjing Road to the Bund with the Putong Skyline across the river cannot compare to anywhere else I've been. The colorful boats along the Hunanpu River with the neon lights of the Putong office buildings in the foreground on our warm November night was completely worth our 13-hour train ride.
Visiting a little river town an hour away from Shanghai by bus was one of my favorite parts, $8 wooden boat rides around the harbor made me forget that I was in one of the largest economic centers in China. I had a great weekend in Shanghai.
However, every time we walked into a restaurant in Shanghai I was handed an English menu. When I asked strangers for directions in Chinese, they would respond in English. I frequently heard people talking about me in Chinese, assuming I did not understand. When I tried to speak Mandarin, I was treated as if I was not from this planet.
Shanghai is a great city, it is clean, well managed and has stunning architecture. It really can also be described as a place 'where the east meets the west'. There were certain points during the weekend that felt like I was not in China.
Until seeing Shanghai, I did not realize just how lucky I am to study abroad at Peking University. I always speak Mandarin while out in Beijing,
I have conversations with taxi drivers, and also have the opportunity to spend time not only at historical sites in Beijing, but also in the residential areas of Beijing.
My favorite part about Shanghai was discovering just how wonderful Beijing is. I live in the capital city of the largest country in the world, I get up everyday learning and living a culture I have always admired.
Shanghai is no Beijing. My semester in Beijing would have been completely different if it were not for my weekend in Shanghai, Shanghai gave me the prospective that I needed.
October 25, 2010 by Brynn Koeppen
I am not thrilled about public speaking. Standing in front of people who are taking time out of their day to listen and hopefully learn something from you, to me at least, is a lot of pressure. I don't want to bore people.
With that said, this week my study abroad program hosted a Chinese speaking competition for 'best story'. The criteria was very open-ended, just tell a story in Mandarin for 5-10 minutes.
What better way to lessen my fear of public speaking than by competing in a foreign language? Even though the competition was voluntary I felt compelled to enter; we all have to start somewhere.
For my story (故事)I decided to enlighten my peers about my life as a vegetarian in China. People from home told me I would either come back to America 30 pounds heavier because the only food I could eat would be rice, or I would starve because nonmeat dishes would be impossible to find.
I am happy to say that food in China is just fine; I love how I can literally walk anywhere in Beijing and buy dinner or a snack right off the street. Jianbing's (pancakes with cilantro and scallions), sweet potatoes, baozi, fruit, nuts, noodles, vegetables, you name it, someone is selling it.
However, my experiences in Beijing restaurants have been interesting. Every time my friends and I go out to eat, I have to have an extensive conversation with the waitress about what I can order from the menu. It always starts out the same, I tell our waitress (服务员) that I don't eat meat, fish or eggs. This usually catches the waitress off guard and leads to some funny Chinese dialogue.
I mostly eat eggplant (茄子) in Chinese restaurants. Chinese people love their eggplant. I eat fried eggplant, steamed eggplant, boiled eggplant, tofu with eggplant, rice with eggplant and noodles with eggplant, just to name a few. Eggplant is a great vegetable, but because I have it so often, I am on eggplant overload. That was basically my competition topic, what funny things happen to you if you are a vegetarian in Beijing.
I was really worried about my performance being judged because as a 410 Chinese immersion student I was competing in the advanced level and my competitors were either from the 500 level or independent study.  But after my speech, and a good amount of laughs, it was over. I was surprised that I wasn't that nervous, I was more excited and touched that my friends who weren't even competing came back to campus to watch me.
I won the award for best story!
Halfway around the world, I think that I am representing the Tribe well.
Here are some pictures of Peking University campus:
October 18, 2010 by Brynn Koeppen
This morning I did the unimaginable; I woke up before noon on a Sunday. My friend and I decided over hot chocolate late Saturday night that we were going to finally make the trek to the middle of Beijing; Tiananmen Square (天安门). Every morning at sunrise the world's largest public plaza greets the day with the raising of the Chinese national flag. Chinese PLA soldiers march in synchronized squads to the tune of the Chinese national anthem as a 6am crowd of about 600 Chinese citizens looks on. All nearby roads are shut down for these few minutes.
The ceremony itself was more modest and the crowd much larger than I expected, considering how massive Tiananmen Square is and how early the ritual truly was. After the ritual, everyone dispersed and spread out all around the square.
That's when I finally realized: there were no other foreigners in Tiananmen (my friend is American, but her parents are Chinese so most in China assume she is fluent in Mandarin).  People were not so discreetly taking pictures of me while my friend helped me snap a pic in front of the famed gate. In Beijing I am occasionally asked to be photographed, but this morning the experience was massively amplified. After I said it was ok for a couple to take a picture with me, the chaos began.
Chinese visitors were asking me to take a picture with their daughters, grandmothers, and husbands. When they asked me in English, I would respond in Chinese. Their pure shock and surprise with my ability to speak Chinese was priceless.  It was a great morning.
What would you do if you found yourself in the center of Beijing at 7am in the morning? Go see the pickled body of Chairman Mao ZeDong of course! After the CCP flag raising ceremony, we waited in the daunting line to see the preserved corpse of the Great Helmsman. Viewing hours are very limited; the Mao Memorial is only open in the morning a few days a week for a couple hours. It was serendipitous that we found ourselves in the middle of Beijing just before the viewing.
Security is unbelievable at Tiananmen; cameras, police (in uniforms and daywear) are everywhere you look. I had to walk across the street to lock my backpack in a cubby before I was allowed to even approach the Mao Monument. Nothing but a form of I.D. is allowed into the Mao Memorial, sorry for no pictures. The first thing we saw when entering the building of what I can only describe as a miniature replica of the Lincoln memorial, only instead of President Lincoln, it was Mao Zedong. For 5 Kuai (人民币) you can rent flowers to place next to the memorial, a lot of visitors participated.
The actual viewing of Mao Zedong was extremely rushed, we waited in line for an hour to see a 30 second viewing of the former Chinese leader. The security guards and police officers created a very fast, one on one, viewing of the Great Helmsmen; to pack the most people into the limited viewing time. Despite the rush, I appreciated being able to participate in an aspect of Chinese history.
All in all, it was one of the oddest, most fun days I have had in Beijing. It really is much more fun to explore aspects of a foreign country outside of what is in your guidebook.
I am a College of William and Mary student, but for one day, I felt like a true Beijinger.
Hopping back into bed by noon was great too.
October 11, 2010 by Brynn Koeppen
Number of Weeks In China: 5
Number of Temples Visited: 5
I have not yet reached visiting Buddhist Temples quota (寺庙); I am not 'templed out.'  Seeing a temple once a week I think is a pretty good ratio, I am covering a lot of ground, yet have not begun to mesh all the places of worship together in my head. My study abroad roommate, who spent the beginning of her childhood in Hong Kong and speaks fluent Cantonese, is beyond 'templed out.' But she is always gracious enough to accompany me on my excursions. It also helps that there are significant discounts for Peking University students at most historical sights in Beijing
My introduction to temples started with the Lama Temple and was very much a treat because it is still in use. I was able to hear Buddhist monks hold service and learn how Buddhist's participate in prayer. I felt really lucky to witness such a simple act of Buddhist religion; it is all still new to me.
That same day we walked across the streets of Beijing to enter the Confucius Temple. This temple was particularly interesting because it use to be the home of the Emperor's Imperial College.
This past weekend was t
he China's National Holiday so I went with my classmates to the city of Chengde for a few days, just a couple of hours outside of Beijing. It rained most of the weekend, so I don't have pictures from two temples we went to. However, I can tell you the architecture of both temples were very different from the ones we saw in Beijing. This is because the temples were on the Mongolian side of the Great Wall, and were built to resemble the famed Lhasa temple in Tibet.
My latest temple excursion is by far my favorite. The Puning Temple (aka The Big Buddha Temple) is home to the largest wooden Buddha in the world. We went during the Chinese national holiday and so it was extra active with worshipers.
'The Big Buddha Temple' is also special to me because of its prayer rituals. Anyone visiting can purchase a prayer lock with your name or family name engraved and place it for good fortune around the temple. The thousands of the golden prayer locks all up and down the temple were heartening.
Every Buddhist temple is different, and I know that visiting every shrine in Beijing would be crazy (疯了). Nevertheless, I can't wait to pick out a new temple for next weekend!
October 5, 2010 by Brynn Koeppen
I took Chinese for two years at William and Mary before studying abroad this fall at Peking University. With that said, I would like to share with you some of the most obscure phrases and characters I have learned while studying Mandarin.
Electron: 电子 (dianzi)
Fat Auntie Stationary Shop: 胖啊姨 文具店 (panganyi wenjudian)
My Heart Goes Pit-A-Pat (from our onomatopoeia unit): 我的心扑通扑通 (wode xin putong-putong)
Paper-Cut For Window Decoration: 窗花 (chuanghua)
Swindler: 骗子 (pianzi)
Textile: 纺织 (fangzhi)
To Put On Airs: 摆架子 (baijiazi)
Treasure-House: 宝库 (baoku)
When In Rome, Do As The Roman's Do: 入乡随俗 (ruxiangsuisu)
Wheelbarrow: 小车 (xiaoche)
My favorite Chinese phrase by far is 'my heart goes pit-a-pat.' I have taught most of my William and Mary friends this very simple, vital, phase. I sincerely hope I will be able to use it in conversations while  in China.
September 23, 2010 by Brynn Koeppen
Part of my four-day Peking University orientation was becoming acquainted with the subway system and city of Beijing. So on Saturday our teachers took us to the Beijing National Olympic Stadium, better know as the "Birds Nest" and "Water Cube". The gigantic stadium built specifically for the 2008 Summer Olympics has really neat architecture and its own metro line.
After the 2008 Summer Olympics the "Bird's Nest" was turned into an inside amusement park; the "Water Cube" (where Michael Phelps won his 8 gold medals) is now open to the public.
I was glad to finally see the "Bird's Nest" because it was the first recognizable building I saw driving from the Beijing airport to my apartment. If you ever end up in Beijing, the little parks around the National Stadium, with the Qing Dynasty Bell Tower as well as the gardens with wishing pools are all really picturesque.
Here are some pictures from my day!
September 20, 2010 by Brynn Koeppen
I arrived safe and sound in Beijing, China and have completed my first two weeks of class at Peking University! As a Chinese Immersion student through the Chinese Studies Institute (www.china-studies.net) I live in an off campus apartment with a Chinese foreign language teacher from Peking as well as one of my classmates.
As an immersion Chinese student I am only studying Chinese language this semester, whereas non-immersion kids are enrolled in Chinese culture and economic classes. Monday through Thursday I have two 3-hour Chinese language classes, from 9 am-3:30 pm and then a required 1-on-1 tutoring session. On Fridays I have a weekly exam and then break from studying Chinese by ending class at noon.
I also signed a language pledge with my classmates; I only speak Chinese in and outside of class during the week. This cuts into a significant amount of my social time, but I make up for it on the weekends. Not being able to speak English during the week has greatly helped my verbal skills and has also made me more confident in talking to Beijing residents and Peking University students.
See more information about my China study abroad program through William and Mary.