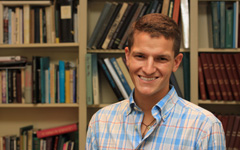 February 4, 2013 by Brian Focarino
A Guide to the W&M Experience.
December 11, 2012 by Brian Focarino
Twas the night before finals, and all through the College,
The students were praying for last minute knowledge.
Most were quite sleepy, but none touched their beds,
While visions of essays danced in their heads . . .

October 29, 2012 by Brian Focarino
William & Mary folks are a strange (but awesome) family in a strange (but awesome) place – and Homecoming brings the annual memory jog that this has always been W&M's M.O.
This weekend's been a strange (but awesome) weekend. As the rest of the East Coast braces for Hurricane Sandy's approach – 'playfully' dubbed the "Frankenstorm" – by evacuating coastal areas and taking to grocery stores, members of the W&M family from all areas and all decades have reverse evacuated to the old College, living proof that in the logic of all W&M alumni, homecomings > hurricanes.
As the clouds gather and the winds begin to kick up, College Delly has never been more crowded, and never have more people been seen falling down the Green Leafe's still-disastrous front steps. Confusion Corner hasn't seen such dishevelment since last October. Just walking down Richmond Rd exposes you to the constant threat of un-prompted, rib-crushing hugs from our oldest friends with the most familiar faces.
But while the W&M family gathers to share a reunion, a beer, a booth, a back-slap, a re-kindling, a laugh, a memory, a tailgate, and the many, many moments of our most-formative years in this place, we also gather to bask, in some way, in a larger fact.
Profound in its simplicity is the fact that the W&M experiment has always stood apart from anywhere else. Our alumni stand apart. Our campus stands apart. Our friendships, our accomplishments, and our pride stand apart. Yesterday I watched members of the Class of 2016 speak richly, laugh, and trade stories with new friends from the Class of 1955. I watched as students hosted their parents – and their parents classmates – in Lodges where different members of the same family have lived, and learned, across generations. I watched as parents from classes in the 90s and 00s, decked in green and gold, walked along with their children, clad in green and gold—future members of the Class of 2032.
W&M stands apart because in a world that is profoundly divided, this college is profoundly shared. As I walk past generations of the W&M family walking these old familiar brick walks this weekend, I'm vibrantly aware of the continuity of W&M.
It is said at W&M, and it is true, "We have all drunk from wells we did not dig, and been warmed by fires we did not build."
It's fallen on me and my friends now to stoke the fires of W&M, and that's a responsibility and a privilege I bear gladly.
To all returning to this grand old place I'd say:
We've kept the lights on. Welcome home.
September 13, 2012 by Brian Focarino
I'm sorry.
It has been truly, unforgivably long since my last post. And, while I'll hazard excuses, I said it here first.
It's been full throttle since last spring. I moved back to the country from Edinburgh, Scotland in May, and spent the summer finishing up my Master's thesis, which ended up focusing exclusively on the rhetoric of W&M's Chancellor and alumnus Robert Gates. During the summer I also enjoyed life in D.C., working as a summer legal clerk for Verizon, working principally with Verizon's outstanding corporate intellectual property practice group. I'm not sure there's ever been a summer where I've learned so much or gotten more excited about an actual career path I may end up pursuing.
Since finishing up both of those commitments earlier last month, I've been back in Williamsburg enjoying the initial stages of being a law student. In four words: I am loving it. My peers and professors inspire and intimidate in turn with how sharp and accomplished they are, and I honestly feel as if I've learned more substantive, pragmatically necessary things in the past 3 weeks than I've learned from any other classes before this point in my life. I won't lie – the academic work is the toughest I've ever done, and all the things I've read in my life up until this point, combined, seem like child's play compared to the amount that I've been reading for school during the past month, but I'm seeing the point of it all. The Socratic method of learning employed by the law school (and feared by most law students) is truly teaching me how important it is to know your stuff and be able to defend your opinions, your thoughts and your contentions on your feet in front of other peers prepared to do the same.
If I had to distill my experience into a single moment so far, it would be this: last night, I had the privilege of attending a phenomenal dinner at the Alumni House with Supreme Court Justice Antonin Scalia as he was awarded the law school's prestigious Marshall-Wythe Medallion, which is given by our faculty. Few other law students in the country can probably say that with only two weeks under their law school belt they were already having dinner with a Supreme Court Justice, as well as a host of some of Virginia and the nation's most respected legal minds and practitioners.
As I was walking the short distance between the Alumni House and my own house last night after the dinner, it got me thinking about a letter that I'd seen earlier this summer in a book about the College that matched my sentiments exactly. The letter was written by Benjamin Crowninshield of Massachusetts, a student at the College, to Dr. B. Lynde Oliver, a friend, on May 30, 1804. In it, Ben said,
"The pleasing manner of this place would be sufficient to keep me here, but the advantages of the College, I should think would keep me here forever."
While it's true nothing lasts forever, the College – and Williamsburg more generally – are probably one of the closest things this country has to a place that honors its roots while living very squarely in the present. Writing over two hundred years later from the same place, in much the same position as fellow alum Ben, I could claim mostly the same sentiment.
That kindred instinct – amongst students even hundreds of years apart – defines what it means to be William & Mary.
In honor of that, I've taken at least one initial step to make sure that wherever I go, a bit of that feeling – and this old College – comes with me. My new plates arrived yesterday.
Go Tribe,
Brian '11, '15L
April 16, 2012 by Brian Focarino
Here's what I've thought lately. What if I made the claim:
William and Mary isn't a place. It's an idea.
Sure, there's our arresting physical grounds, which popular national consensus agrees are amongst the nations' most striking. There's sunset over Gloucester Point from the Virginia Institute of Marine Science. There's the Crim Dell reflecting, always, kaleidoscopic, the world around it. There's Wren – the oldest building of its kind – but without it, there would still be William and Mary.
The idea of William and Mary can't be reduced to bricks and mortar. An ocean away from Wren, William and Mary was all around me during my spring semester. That's because William and Mary is about connection – a robust, lifelong connection – and when William and Mary people gather, the College is wherever they are. This week, the College celebrated I Am W&M week.
In just the past two months, here are a few of the ways I've been William and Mary:
In February, fraternity brother Jake Schneider '14 trained up from Oxford University to spend the weekend in Edinburgh. We hiked William and Mary to the very top of Arthur's Seat overlooking the city.
The following week, I traveled for 4 days with Glasgow University graduate student Hayley Rushing '11 – we were William and Mary all around the Isle of Skye. I noticed we inadvertently wore William and Mary to dinner. Me via tie and her via a cipher pendant.
Just a few days after returning from Skye, I found myself walking William and Mary around the seaside outside of St Andrews with University of St Andrews graduate student Brittany Fallon '11.
Five days after that, I flew out to Switzerland to visit study abroad student Madelyn Smith '13, where we took William and Mary skiing in the Swiss Alps.
In Mid-March, over St Patrick's Day week, I celebrated the green in William and Mary with friends Skyler Halbritter '11 and Ryan Eickel '10 as we took the College all over the Emerald Isle. Here's William and Mary at the Cliffs of Moher.
The following week, I met up with Welsh Assembly intern Allyson Zacharoff '13 and we took William and Mary through the Scottish Parliament. Upon exiting, we were walking up the Royal Mile and found yet more William and Mary walking towards us, on spring break, in the form of Taylor Lain '15.
That week I also found William and Mary in the form of English Professor Kim Wheatley as I was walking into Waverley train station and she was walking out of it on her way to go see W&M students in our St Andrews Joint Degree Program.
The following week (we're now in late March) I grabbed an excellent lunch on a beautiful day in Edinburgh with Brian Wall J.D. '11, a current University of Edinburgh Ph.D. candidate.
Then, just this past week, I hung out with William and Mary in Berlin and Potsdam, via an encore encounter with Madelyn Smith '13 and Bulgarian Fulbrighter Michael Tsidulko '11. Here's William and Mary exploring the grounds of Sanssouci Palace.
Next week, I'm hosting French expat Allison Averbuch '11 for four days of Scottish fun, and the week after that (after making a detour [pilgrimage?] via Warner Brother's Harry Potter Studio outside of London w/ Hayley Rushing '11) I'll be heading back to the United States!
There's a line from the College's Hymn that remarks: Our hearts are with Thee, dear William and Mary, however far we stray.
And I think that's just right, isn't it? This connection is a powerful thing. It spans class years and continents.
From February through April – or anytime and anywhere – we are all William and Mary.
Go Tribe.
March 7, 2012 by Brian Focarino
Last week I made a big choice.
I declined offers and withdrew outstanding applications from each law school across the country that I'd applied to last Fall.
Last week, I pressed the "Submit" button on my Statement of Intention for law school.
Last week, on the forms for other schools, under the heading "If Declining, What Are Your Plans for Next Year?" I scrawled two words: Go Tribe.
Last week, I officially accepted my place as a member of William & Mary Law's Class of 2015.
The decision was the fruit of countless phone conversations, email threads, Skype chats, trusted counsel and long dinners. Advice was sought from peers young and old, alumni dead and alive, Baby Boomers, Gen X'ers, and Millennials. Lawyers and non-lawyers. Advice was sought from the distilling of tea leaves, the reading of stars, the presence or absence of black cats crossing roads, and the lyrics of Lupe Fiasco, John Mayer, and, though I'm loathe to admit it – Old Crow Medicine Show.
It should surprise no one that when it comes to law school, everybody, even dead people, have their opinions.
When the dust settles, though, and Skype makes it's cheerful little blooping sound indicating your video call is at its end, it's just you. And the more I thought about it, the more I learned to do something simpler than reading star charts: to go with my instincts on this one.
So after an application process that seems like a lifetime, here's where I stand:
During his Opening Convocation remarks on a hot August day in 1998, then-President Tim Sullivan asked a crowd of very green (and gold?) freshmen: "Why are we here?"
I'm sure as that question hung thick in the August air between the brick embrace and long late afternoon shadows of the country's oldest college building, not a small number of freshmen must have swallowed hard, looked around, and thought to themselves, "Jesus, what am I doing here?"
How do I know this? Because on August 31st 2007, that freshman was me. The venue was the same, but the remarks were delivered by a different man, the College's then-26th President, Gene Nichol.
On that day, many of us were thankful that the summer heat and business casual attire were sufficient to explain away the sweating, both real and imagined, that accompanied that ceremony. After honoring College alumni of remarkable achievement and prominence, alumni who gave of their lives in service of a greater good, there wasn't anyone amongst us not a little bit alarmed as Nichol opened his arms wide, that metal badge of the President's Office bigger than a Kanye West necklace swinging across his chest, and asked, no, demanded of us in that voice of so much passion: "What will you do for others?"
This past week, I've found myself anticipating my second Convocation – one that, perhaps five years ago, I'd never have expected. But this Convocation will be different in crucial ways from my first. While many questions remain unanswered about what the coming years will hold for me at William & Mary, I arrive armed with an answer I was not, could never, have been in possession of as a freshman. One surety Sullivan didn't anticipate fourteen Augusts ago.
I spent my undergraduate years striving, at every opportunity, to answer Nichol's question for myself. To make sure that as I moved through William & Mary, I never lost sight of that one crucial thing that was asked of us years prior. And although I will spend much, if not more, of my time trying to continue answering that question in law school, I realize in hindsight that in my efforts to answer Nichol's question, I inadvertently answered Sullivan's as well.
To Nichol's question, I left bits of answers in Nicaragua, Honduras, Romania, Haiti, Petersburg, Williamsburg and North Carolina. There's a stone on the Senior Walk of Old Campus with a big fat percentage next to "Class of 2011," but even that, I suppose, is only a piece of an answer. I can always do more. That was Nichol's goal: he understood humanity's need for service to be unquenchable. There are always injustices left to fight, causes left to champion, voices unheard and long silenced left to speak on behalf of and liberate from censure. I know now, because of my own desire to do more, that Nichol imagined a William & Mary that graduated students of unmatched eagerness into a world of unrelenting need. Students who walked tall, pressed their aspirations and staked their claim. Students trained to speak, as the adage goes, even when their voices shake. The perfect compliment of any university to the world outside its gates. That inability to accept that the world can't be a better or more just place was to be the most common denominator of our shared humanity with those living outside the brick walls and creeping ivy of William & Mary. By having experienced firsthand a workable campus model of democracy, fairness, literacy, service, and diversity of class, race, perspective, orientation and religion for all, students would seek to expand and make viable that model for larger communities. The nation's first law school, with its history as the legal training ground of citizen lawyers, will empower me to operationalize my understanding of this fact in the powerful, and legal, service of others. William & Mary is singular because when it was established in 1779 at the urging of Thomas Jefferson, it became the first of its kind to recognize this need and devote the resources towards addressing it. William & Mary's is the model upon which legal education was built.
Nichol's question informed how my first chapter at William & Mary unfolded, it's complexities a catalyst for my second.
Sullivan's question, however, gets at the why of William & Mary for me.
That's an answer I came to earlier last week, and it requires remarkably less exposition:
I am returning because William & Mary is my home. Because it understood all of these things nine years before the Constitution and ten years before the Bill of Rights. Because it's where I learned to be my best self, alongside peers and faculty who were encouraged to be the same.
Because it has the Cheese Shop.
Because it preaches citizenship in a world of selfishness, and because for my legal education, I cannot imagine being anywhere else.
This August, I'll have unfinished business.
Go Tribe,
Brian '11, J.D. '15
February 2, 2012 by Brian Focarino
Yesterday a very strange thing happened to me.
I was asked to attend a meeting in the University of Edinburgh's International Office. Edinburgh's North American outreach officers wanted to meet with me to discuss the university's strategic policy for recruiting American students. Like all such meetings, we started with small chat. Introductions. When prompted, I let slip that I graduated from William & Mary this past year. One of the international officers remarked "excellent school," while his colleague let slip something I almost wouldn't have caught if I wasn't paying attention. He said "you know William & Mary's founder graduated from Edinburgh."
Say what?
This whole week has been more than a little strange for me as I've read messages, seen pictures, and been bombarded by excited tweets (#wmcharterday) as friends across an ocean from me exchange their excitement and plans for Charter Day weekend. If I were still at William & Mary, this week would have been the busiest of my entire year. Over here, though, it's a week like any other.
This simple fact underscores the precise reason why the comment out of the blue that I heard in my meeting yesterday made me feel like I had cotton in my ears. How had I not known that the founder of my own alma mater had attended my graduate school? And how had this come up just two days before Charter Day? In all honesty, I'd never thought to ask. The groundwork for the making of William & Mary before 1693 was never stressed at Charter Day. Everything beyond 319 years ago is fuzzy, right?
Well, as history would have it, the Reverend James Blair – just James then – attended the University of Edinburgh from 1669-1773. It's where he received his formal education. After graduation, Blair, a Scot, remained in Edinburgh studying theology. In fact, he studied right where I now live on the Mound. When he was placed in the colonies, Blair took his appreciation for education gained at Edinburgh – the world's first true civic, public university – with him to Virginia, where his ascent within colonial society was meteoric. Less than twenty years after Blair graduated from Edinburgh, he stood – as influential Reverend – before King William and Queen Mary at Kensington Palace asking for a royal charter that would allow him to establish "a certain place of universal study."
Well, we all know Blair got that charter, and 319 years later, Blair's vision – this College – is stronger than ever.
It's safe to say that without William & Mary – the alma mater of a nation – our country would probably look a lot different than it does today. Yesterday I learned that without Edinburgh, and my future fellow alumni James Blair's education here, there might never have been a William & Mary.
There's no doubt: the world works in strange ways. Perhaps you believe in fate, or signs, or both – and perhaps you don't. Regardless, there's no denying that my connection with William & Mary has grown and matured this year through the strangest of serendipities. I'm writing this blog post from my dorm, which adjoins the University's divinity school, where my alma mater's founder studied and grew intellectually over 340 years ago. Just as I am now.
Perhaps it's here, amongst the stones and passageways that I walk every day, in the ancient lecture halls, and in the reflections of centuries old stained glass in the theology library that I spent my morning in, that the very first foundations of William & Mary were truly laid in a young man's head.
I cannot be in Williamsburg to celebrate the College's 319th birthday this weekend like I'd like – but the past 24 hours have taught me that William & Mary has an incredible way of never leaving your side. Despite distance, my connection with the Tribe this weekend – and the man responsible for it – feels stronger than ever.
Friday afternoon, the entire William & Mary family will gather in W&M Hall to celebrate an institution that is truly unlike any other university in the United States.
At that same time I'll be here – exactly where a young James Blair of my same age was four centuries ago – amidst the books and lecture halls where William & Mary's founding was really given possibility.
There's something really special for me in that.
Go Tribe and Hark Upon the Gale,
Brian '11
January 17, 2012 by Brian Focarino
Here's a fact that I was reminded of yesterday: If you wear W&M gear, your world becomes smaller.
Earlier this year I reported how I was with a friend studying for the LSAT in Reston, VA. We took a break to grab a coffee and were heralded by the businessman behind us, whose daughter graduated from W&M some years past. I was wearing a W&M baseball cap. We got to talking, and he discussed how much he loved W&M through his daughter's time there. In the end, we both got coffees and business cards. "If you ever need anything, you don't ever hesitate to let me know."
W&M'ers love airports. That's a fact. With the highest study abroad rate for any public doctoral-granting university in the US, you can bet that if you're going to encounter W&M people anywhere, it's while traveling.
Two years ago, I was traveling with Findlay Parke '11 to go and spend some of the summer on a dude ranch out in Wyoming with his family. I was wearing my W&M hat and we heard a random "Go Tribe" shouted at us from behind us in the boarding line. Another W&M fan, and another conversation.
Two days later, we were seated at a table at a ranch in the middle of Saddlestring, Wyoming. I had the hat on and it turned out the man sitting across from us at the table with his family was an alumni. That made the conversation way more exciting.
This past fall, I was traveling to London with my parents and spied across the boarding gate a W&M student wearing his freshman class t-shirt that all students are given during orientation. So, I went up and introduced myself. It turns out that particular student was heading to Beijing for the semester – we talked about W&M and got to know one another. His shirt, which said Raise the Green and Gold, did just that in the airport that day.
Last week in London's Heathrow International Airport, Hayley Rushing '11, a fellow W&M alumni and Scotland graduate student ran into a member of the Class of 2014 who was headed off to study abroad at W&M's Oxford University program. They chatted and shared their love for W&M.
I found this out on Twitter. News of little W&M moments spreads quickly. People get excited.
Yesterday I was flying from DC, through London, back to Scotland for the spring term at Edinburgh. I hadn't been wearing it at all previously but for some reason I took my W&M hat out of my backpack and threw it on my head. Bad post-flight-have-not-showered-hair-situation or something. I have a thing I do now: whenever I'm walking through an airport, I put on my W&M hat. I throw it in my backpack before I leave the house. Call it previous experience.
Keep this in mind: my layover was only 40 minutes long.
I was walking through Terminal 5 headed to my gate when all of the sudden I hear my name, turn around, and have Moey Fox '13 run into my arms. Moey was headed off to Florence, Italy, to study abroad for the semester. Now I have a standing invitation to Florence I may have to take up. We chatted a bit and I thought to myself, what a small world this is.
Well—it got even smaller.
When I arrived at my gate I was sitting on the ground charging my UK phone when I heard my name called again. I looked up and found old friend Kira Allman '10 standing above me. I jumped up and collected my second hug and smile from my time in Heathrow—who is that lucky during layovers and jetlags? Kira was traveling with her boyfriend, both of them graduate students at Oxford University, on their way to Geneva where he was presenting at a conference. Her gate was right next to mine. We made plans for me to visit Oxford in the Spring. Plans I intend to keep.
4 minutes. 3 people I knew. 2 W&M moments. 1 over-whelming sense of wow.
Moral: Don't just love W&M, or remember it—wear your affection on your sleeve. Or your head. Or anywhere. Green and gold are a handsome combination. Even if it's just a hat you keep in your backpack, throw it on from time to time.

This place is incredible. It binds people with a sense of community that stretches beyond Williamsburg and reaches its fingers across the globe. Spread the word. The smallest of gestures – like wearing a hat – can introduce you to new faces, earn you coffees, connections and conversations, or reunite you with some very old friends in some very odd places.
Do yourself a favor: http://wm.bncollege.com/webapp/wcs/stores/servlet/SubcategoryView?catalogId=10001&storeId=17554&categoryId=40038&parentCatId=40006&topCatId=40000&langId=-1
Go Tribe,
Brian '11
November 28, 2011 by Brian Focarino
After graduation, William and Mary people go on to do a lot of different things in a lot of different places. Here's a slice:
Me: Well you all know I'm pursuing a masters degree at the University of Edinburgh in Scotland in socio-political linguistics and critical discourse analysis in American political campaigning.

Hayley Rushing '11: Is pursuing her MLitt in Playwriting and Dramaturgy at the University of Glasgow in Scotland; she's the one with the W&M scarf on.
Bailey Thomson '10: Is fulfilling her commitment to Teach for America as a member of the San Francisco Bay Area Corps, teaching 3rd grade math to underprivileged youth for Rocketship Education.
Michael Tsidulko '11: Is fulfilling a Fulbright Scholarship in south-central Bulgaria as an English Teaching Assistant in the town of Dimitrovgrad (or Димитровград if you prefer).
We're all a long way from the College, and from one another. But that's never really stopped William & Mary people.
This Thanksgiving was going to be the first time in my life that I've been out of the United States, without family, for one of my favorite holidays. So Bailey and Michael came up with a novel idea – they'd bring a bit of my Tribe family to Scotland so I didn't have to be alone.
Bailey flew from San Francisco and Michael from Sofia so I wouldn't be without family for Thanksgiving.
As a result, I had one of the most incredible Thanksgivings I will probably ever experience.
From different continents, career paths, fields of study and graduation years – William & Mary binds you.
I'm aware now, more than ever, that my Tribe is a family 90,000 strong.
That's tens of thousands of reasons to be thankful.
October 10, 2011 by Brian Focarino
I thought that by moving to Scotland I'd be a bit further away from William and Mary than I've been used to for the past four years, but while the physical distance between me and the colonial capital may have increased, William and Mary is as present as ever in my life. In ways both noticeable and less so, the College left me with friends, grounding, confidence, a community and the ability to thrive and make the most of novel opportunity. William and Mary taught me the meaning of persistence.
Here are a few of the ways W&M has manifested itself in very noticeable ways during the fall so far in Scotland:
I've spent time in St Andrews and Edinburgh with alumni Brit Fallon '11 who is pursuing her PhD at St Andrews studying chimpanzee communication.
I've caught up with a cohort of the W&M students studying abroad at Scottish universities this semester.
Last week I stayed up until 2 a.m. GMT/BST so that I could take part via Skype with the Young Guarde Council and Alumni Chapter Representatives fine-tuning last minute details for what promises to be an amazing homecoming weekend.
This past weekend, I traveled down to London to take the LSAT and was hosted and hung out with the family of a fraternity brother from W&M. I took the LSAT just a stone's throw away from St Paul's Cathedral in the city, where Sir Christopher Wren, who designed both the famous Cathedral and the arguably more agreeable Wren Building at W&M, is buried.
This Saturday, I'm headed west to Glasgow to spend the day with a fellow W&M alumni, Hayley Rushing '11, who is pursuing her MLitt in Master's and Playwriting at the theatrical powerhouse.
A week from today, I'll head up to St Andrews where William and Mary has a joint degree partnership. There, I'll be catching up and breaking bread with Jodi Fisler M.Ed '05, Ph.D '10, the Assistant to the Vice President for Student Affairs who will be in St Andrews working on the degree program.
In 19 days, I'm flying to Porto in western Portugal where I'll meet up with a W&M alumni taking a year off between undergraduate and law school to live and au pair in Paris. We'll spend four days relaxing on the Portuguese coast and likely reminiscing about W&M.
For a week in November over Thanksgiving fellow blogger Bailey Thomson '10 will be visiting me in Edinburgh. The packed schedule includes a potential trip down to London for Thanksgiving day for an expatriate meal in the city with other fellow W&M alumni.
Later in the year I have plans to visit several other alumni who are attending graduate school, pursuing Fulbright scholarships, and doing democracy monitoring in Florence, Bulgaria and Bosnia respectively.
There have been less noticeable contributions from W&M, too:
This past Saturday I was interviewed for a law school by one of its alumnus. The interview, which was probably supposed to be a quick assessment of my fitness for law school, lasted almost an hour and a half as the successful alumni and I discussed and laughed about everything possible regarding school, undergraduate education, current events and life in the UK. My education at W&M taught me that those who have a human touch will always accomplish more than those who lack it. As a result of my time and opportunities at W&M, I thrive in interview settings.
I am interning and doing research for an MSP at the Scottish Parliament. My time at William and Mary that I spent interning in the Virginia General Assembly and coordinating the College's Richmond Interns program taught me everything I would need to know to work in any political environment – even if that environment is in a different country. My time at W&M furnished me with the experiences necessary to interview my way into an internship position otherwise not open to students and the ability to work with the majority nationalist party despite being a foreign national at a truly formative time in Scottish history. My research experience from W&M allows me to turn out politically, linguistically and legally important research and has given me the opportunity to potentially transform my masters dissertation research into a motion that will be of political benefit to my MSP and wind up becoming a motion before the sitting Parliament.
This week I am standing for multiple student government positions in the student body elections for the Edinburgh University Students' Association. W&M taught me that if there are things you want to change – stick your neck out. The transforming nature of student/administration interaction at W&M is where real progress is accomplished; that's a model I plan to continue to implement at Edinburgh if elected. Whereas some students graduate from university asking "Why should it be me?" William and Mary students graduate asking: "What more can I do for others?" and "Why not me?"
Next week I am meeting with the Directors of Development and Alumni Engagement at Edinburgh to discuss developing an internship wherein I'll be able to put into practice a number of the things I learned at William and Mary in Development and the Alumni Association. On a whim I sent an email to the directors of the respective initiatives. I got an email response saying they'd never had a student reach out with such interest and had recently been talking about how nice it would be to take on a selected student who would have the opportunity to work with the trust and development boards as well as the alumni association to achieve new levels of student/administration collaboration. William and Mary taught me that if there's something you want to do that doesn't exist – create an opportunity for yourself.
Perhaps the reason W&M has been on my mind these past few days is the most obvious of all: in 11 days I am boarding a flight headed back to Williamsburg for 4 days to enjoy homecoming. The missed class, layovers and jet lag don't deter me at all. My journey will involve trains, taxis, buses, cars and airplanes. But nothing bothers you when you've been away and you finally find yourself returning to the place and people that created, well, you.
That's an odd sensation, isn't it? Returning to the place where the 'you' that you're familiar with started; to the people you were with when it happened. I owe a great deal of myself to the circumstances of William and Mary.
My gmail has been blowing up with messages to and from fellow alums exchanging our plans and excitement for the weekend. Elaborate schemes are hatching. Even my parents are coming down for events and meals.
Out of all the exciting places and new opportunities presenting themselves in October, it's safe to say none are more exciting than the prospect of returning. On October 20-23rd there's nowhere else in the world I'd rather be than William and Mary.
I've been thinking to myself: In 11 days, I'll be home.
I really, really like the sound of that.
Brian '11