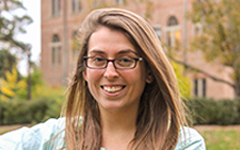 January 13, 2014 by Allie Rosenbluth
I don't know how it was possible, but the last two days of the William & Mary Winter Washington Program were even busier than the first five.
Wednesday was our "Capitol Hill Day," and like anyone who has a job on the Hill we did not stop all day. We started at the Senate Foreign Relations Committee Room where we met Virginia Senator Tim Kaine. We talked to him about everything from foreign policy to how his Catholic faith affects his decision making. The freshman Senator was incredibly personable and even spent an extra 15 minutes answering our questions.
Right after our meeting with Senator Kaine we ran to the House side to meet my congressman, Frank Wolf. We could immediately tell that Congressman Wolf's persona was different than Senator Kaine's when he proceeded to lecture us on why he thinks that the Obama administration has failed to protect human rights around the world. It was interesting to see the stark differences in the two fairly moderate elected officials. Frank Wolf, who has held that seat in congress since before my birth, just recently announced his retirement which may explain why he was far more aggressive about expressing his views than the recently elected Senator.
The next session was a Capitol Hill staffer panel with William & Mary alumni Logan Ferree '07, Sarah Elkins '06, Rob Bradley '10 and Kelly Hastings '03. They proceeded to be very honest about the difficult paths they took to get their jobs on the Hill. After the panel we were given a tour of the Capitol Building where we were lucky enough to randomly meet an alumnus of the class of 1972 who gives tours of the Capitol. When he found out we were William & Mary students he challenged our foreign language skills by proceeding to speak in French, Turkish, Portuguese, Mandarin and many others. He told us he spoke 59 languages and that he was "the ultimate TWAMP." We also got the opportunity to sit in the House Gallery which was especially exciting because they were voting on extending unemployment benefits that day.
Later that night we went to the 7th Annual William & Mary Alumni Capitol Hill banquet which turned out to be a pretty high profile event. Not only did President Taylor Reveley grace us with his always delightful presence, but also Senator Mark Warner, Senator Tim Kaine, law school alumna Representative Michelle Bachmann, Representative Steve Chabot '75, Representative Dina Titus '70, and the William & Mary Rector Todd Stottlemyer '85. The event was a great way to meet all types of William & Mary alumni and catch up with old friends who recently graduated.
The next day started with a visit to the British Embassy. Originally I didn't make the connection of what the British Embassy had to do with our class because I thought their primary role was working on British immigration and visas. At the embassy I found out this is very far from the truth. We talked to Jane Ansell and Matt Mazonkey who do policy and economic work for the embassy. I even found out that the British embassy has a group that works on climate change that especially sparked my interest since the UK is proudly one of the few developed nations to be on track to reach its 2015 emissions goals.
After going to the embassy, we had lunch with William & Mary's Rector, Todd Stottlemyer. During lunch we were lucky enough to talk to him about issues on campus that really mattered to us such as tuition and financial aid, while he got the opportunity to explain some of the details of the William & Mary Promise the board just passed.
When lunch was over we were visited by three government contractors who filled us in on what they do. While I am not especially interested in contracting at the moment, I know it was a fantastic session for some of the seniors in my class who are looking to find work in that field. Next, we had a discussion with Thomas Whitehead '06 who works for the USTR. He defends the United States in trade disagreements at the World Trade Organization. This was a great capstone for our class because it was a perfect illustration of how domestic and foreign policy influence each other.
I honestly cannot believe how much I have done in the last week during the William & Mary Washington Winter Seminar. It's hard to imagine that in one week I've gained so much insight into the many different jobs in DC and I've only scratched the surface. This program has been a real wake up call for me, specifically that the plans I thought I had for the next three years may not be as concrete as I anticipated. I may actually have to let hard work and serendipity take me to where I belong, just like former ambassador Sanderson told us Monday night.
If you are considering doing the William & Mary Washington Winter Program I would strongly suggest it. Not only is it a great class, but it opens your mind to so many opportunities in DC. The William & Mary DC Office is absolutely fantastic. They are so supportive of all of their students, and I really do feel like I am part of the William & Mary DC family. I think that this program is best suited for seniors and juniors who are closer to entering the job market, but it is still a great opportunity for serious freshmen and sophomores. Honestly, I really wish I had more time at the William & Mary DC office, but because I have so many obligations on campus and in the summer I cannot extend my time with the office. If you have the opportunity to take a semester or a summer term with the DC office I would strongly recommend it. The William & Mary Washington Winter Seminar was a fantastic program, even for this DC girl.
January 8, 2014 by Allie Rosenbluth
Monday was a fantastic day for the William & Mary Washington Winter Program. Not only did I go home with ten frozen fingers and a bag full of EPA booklets, but also with a new confidence in my journey discovering my own career path.
We started our day by visiting the USAID office where we met alumni and USAID bureaucrats Sarah Glass '01, Sarah Lane '01, and Ana Luisa Pinto '01 who sat down with our class to talk about their careers and the international development field in general. All three worked with private sector involvement in USAID but had different roles including economist, portfolio manager, and senior alliance advisor. I have to say, these were three vibrant ladies. You could tell that each woman had an incredible amount of passion for what they were doing for USAID which was inspiring to see.
After USAID and a long lunch, we went next door to the EPA where we met John Frece '69 and Matt Dalbey '87 who work in the EPA's Smart Growth office. This office helps communities grow in ways that focus on the economic, public health, and environmental factors that are often overlooked during development. Sustainable land use has been an interest of mine since taking a seminar on the topic last school year, and this meeting was a great opportunity to see examples of the public sector's involvement in the area. I think the Smart Growth program is something that every American city could benefit from if the program was given more resources to pursue more projects. Although this meeting was interesting, I think there was a general consensus in our group that a meeting with regulatory parts of the EPA would have been more relevant to the topic of this class.
Next, we went to the US State Department where we took a tour of the lavish diplomatic relations rooms and met with a panel of Foreign Service William & Mary alumni. During the tour we saw numerous antiques, some that were even owned by former presidents. Although the tour was interesting, I felt like I was back in Colonial Williamsburg. The alumni at the State Department panel really seemed to enjoy their jobs. They gave us advice about pursuing jobs in the Foreign Service which many of my peers found especially helpful. But, Ambassador Janet Sanderson '77 gave us a more candid look into the pros and cons of working in the State Department at an intimate dinner she joined us for. The ambassador's stories were remarkable and completely un-sugar-coated, which was refreshing after our previous trip to the State Department.
I believe that Monday was extremely beneficial for every student in the William & Mary Winter Washington Program because we were given career advice that could be applied to any interest. I would say that the most important lesson I learned Monday was that I will never be in complete control of my career path so I must accept that serendipity will take me to the job I am meant to be in if I continue to work hard.
Today was a much different experience. Evans started the day by priming our class with a presentation on financial disparity and the US deficit. Then the Tea Party arrived. I don't want to get too political on this blog so I will try my best. Sitting on the Tea Party panel was alumnus Jason Torchinsky '98, a lawyer, and his Tea Party counterparts Phil Kerpen and Ned Ryun. Kerpen is a free-market policy analyst and a frequent guest on Fox News. He was especially interesting to talk to. Although I do not agree with most of his politics, I do respect that he had passionate answers to all of our questions, but my classmates who continued to ask hard questions after witnessing his fire. It was definitely interesting to get an inside look at the Tea Party because it has become such a huge force in today's politics. After listening to the Tea Party panel, we spoke with two more traditional republicans from the Bipartisan Policy Center. Bill Hoagland gave us an especially informative look into the history of the federal budget and the current state of the American deficit. In his presentation we saw more evidence that most federal spending is in healthcare and welfare for senior citizens, programs that are not losing funds at the expense of programs that invest in our country's future.
Finally, a Politico defense reporter Austin Wright '09 came to talk about his job as a journalist. Austin led a conversation about defense spending and the current problems congress has making cuts in military spending. We also discussed the Murray-Ryan deal that will probably be overturned in Congress soon. It seems to me that because of our large military-industrial complex and the large degree of localism in American politics, it is hard for congressmen to cut programs that bring jobs to their districts even if they are economically unsustainable.
I don't think that these two days could have been more different. Both days were beneficial to my government education but I almost felt a little helpless after today's focus on what's so wrong with Washington, which is a stark difference from how I felt after visiting USAID, the EPA and the State Department on Monday. It is clear that this is a really bad time in Washington, but it is also clear that the situation is far from hopeless. Tomorrow we hit Capitol Hill to see where all of the mayhem takes place.
January 6, 2014 by Allie Rosenbluth
To my surprise, the government and Metro were not closed due to the snow and ice which meant that Friday could go as planned. We met at the National Archives where a William & Mary alumnus gave us a private tour. Aside from the Constitution and Declaration of Independence, he showed us many unique documents that included the last page of George Washington's inaugural address, documents from anti-suffrage women's groups, and the Magna Carta. This was definitely the best trip to the National Archives I've ever taken.
After the National Archives we went back to the William & Mary DC Office in DuPont Circle to have a long lunch break and prepare for our panel on immigration reform. Alumna Emily Benavides ('07) from the National Hispanic Leadership Network and Laura Vasquez from the NCLR came to the DC Office speak about immigration reform. Emily works to get Republican members of the House of Representatives behind immigration reform, which sounds like an especially grueling job in today's political climate. Both Emily and Laura agree that the current immigration system is broken but do not completely agree on how to go about fixing it. Laura argued that the visa system in general needs to be reformed, specifically by increasing the number of family and work visas distributed, which is barely considered in the current Senate package. Emily supports programs like E-Verify and the Senate bill's current path to citizenship program that Laura claims takes too long and is too expensive to completely fix our problems. Remarkably, the class agreed that if the two sat down and wrote a new immigration bill it would probably pass in both the House and Senate.
The discussion on immigration reform between the two and our class was extremely informative and riveting. When they left Professor Evans led the class in a brief discussion about the effectiveness of their organizations and whether any immigration legislature will be passed in the current political situation. He argued that we probably will not see much progress on the matter any time soon, but I cannot help but to be optimistic after hearing these remarkable ladies speak.
At 4:30 our required day was over, but the DC Office had more planned for our group. They took us to dinner and a Capitol Steps show. The Capitol Steps are a sketch comedy group made up of people who used to work on the hill that now work making fun of all that happens in DC. Unfortunately, I had already seen most of the show since AMP Comedy brought them to William & Mary earlier last semester, but it was still hilarious. At the end of the day I rode the Metro home with the other exhausted students commuting from northern Virginia, this was our first taste of the long days to come during the program!
January 3, 2014 by Allie Rosenbluth
Today was the first day of the William & Mary Washington Winter Program, which to me meant it was the first day in two weeks I actually had to wake up when my alarm rang. Winter Break, for the most part, is now over for us in the program.
My commute into DC was familiar but I was definitely rusty navigating myself around the metro system. I arrived to the DuPont Circle metro station, just a five minute walk from William & Mary's DC office, a full hour early. To my luck, while walking to the nearest Starbucks I ran into two friends also in the program. They were meeting up with a mutual friend of ours, an alumna Maddy Smith ('13) who now works for the nearby Brookings Institute, so I decided to kill some time by joining them for a cup of tea.
The William & Mary DC office is in the Carnegie Endowment for International Peace Building on Massachusetts Avenue. After arriving to the office we were given lunch, some William & Mary DC office swag, and our schedule for the next week. The schedule includes both mandatory and optional events. As far as the mandatory events go, I am especially excited for the meetings we have planned with Senator Kaine, Congressman Wolf, EPA officials, and although I am a little apprehensive for the Tea Party panel I would be lying if I told you I was not excited for that too. Some optional events include going to see a Capitol Steps show, dinners with DC professionals, a bus tour, and the 7th Annual Capitol Hill Networking Reception. I am especially excited for the latter because it will be a great opportunity to network with William & Mary alumni and maybe even get the chance to hang out with our college's president, Taylor Reveley.
After explaining the plans for the next seven days, William & Mary's DC Office Coordinator Adam Anthony proceeded to give us networking advice. He gave us tips on how to exchange business cards in order to follow up with the people we meet throughout the program. He gave us ideas for topics of conversation with alumni that included asking what dorm they lived in during their freshman year. I thought that his advice about disengaging in conversations especially helpful since I am prone to the awkward fade out when I don't know how to end an important conversation.
Adam's discussion on networking was a great transition into Professor Evan's lecture on the purpose of this course. He explained that the purpose here was not to study theories and facts about American policy, which is something that you can do in any Government class on campus. However, the purpose is to learn about how things really work in DC or in Evan's own terms "demystifying the process". This will be a chance for us to begin to understand how the mysterious world of DC works before being thrown into it after leaving the comforting halls of William & Mary.
Our first venture into the DC world was a tour of the Supreme Court building where we met our first William & Mary alumnus, Chief Justice John Marshall. Well, obviously, we were a little too late to meet the class of 1780 Law School alumnus and only saw his statue and various portraits. However, we did meet alumna Erin Huckle ('08) who works in the Curator's Office at the Supreme Court. Erin gave us a fantastic tour of the Supreme Court where she showed us the court room and also the Supreme Court library which were both beautiful rooms.
Overall, it was a great first day and I cannot wait for what else they have planned for us in the upcoming week. Tomorrow morning, if the snow doesn't shut down the metro or the government, we will meet for a private tour of the National Archives.
December 23, 2013 by Allie Rosenbluth
I have lived in the DC suburbs, Vienna specifically, my entire life. So when my friends and family asked me what I was doing over winter break and I told them the William & Mary DC program, they wondered what I could get out of DC in a week that I haven't already. I'm not the typical "NOVA Kid" who fears the metro and only goes into the city on school field trips and for concerts. My friends are always shocked by my eagerness to jump on the metro and go wander the national mall at any time of the day and I am always shocked when my friends don't know about the Einstein Monument, which is by far my favorite statue in DC. And even at 16 I would brace rush hour on the metro to get to my internship at the National Zoo. So apart from actually living in DC, I am a "DC girl".
Nevertheless, I am so excited for the DC program. Not because I haven't seen the monuments and museums, but because I am excited to look at DC in a whole new perspective: the perspective of William & Mary. Professor Evans will be leading a group of the Tribe around DC to learn about American Domestic and International policy and the endless opportunities that DC has to offer. We will be representing the Tribe to some of the most important people in the American Government.  Having this opportunity is an incredible honor and I cannot wait to experience everything Professor Evans and the William & Mary DC program have planned for us.
From the Winter Seminar I hope to gain experience networking and a new perspective on the opportunities at my fingertips in DC. I also hope to get an introduction into the community of William & Mary alumni who I will be able to utilize when looking for internships and when I graduate. During the week-long seminar, I will be writing daily blog posts about the program. My hope for this blog is for it to become a place to express my thoughts and help students understand what the DC Winter Seminar is all about. Being a Government and Environmental Science and Policy double major (wow that's always a mouthful), I think that the subject of the seminar is right up my alley. But that is also a warning not to be surprised if I ever go on tangents about the structural inefficiencies of the EPA or the benefits of renewable energy in this blog. I can't wait to tell you all about the amazing week that will soon unfold!