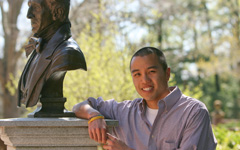 July 20, 2010 by Adam Harris
This past Sunday I just got back from the ABCs, or Alternative Break Citizenship School in the Grand Canyon National Park, AZ.  This week-long conference is organized by BreakAway, a national nonprofit organization dedicated to coordinating and providing resources for colleges and universities that send out alternative break service trips.  They have three ABC sessions each summer, and I was fortunate enough to take part in the program that was hosted by Grand Canyon National Park.  For a week we were housed, had workshops, and did service projects in the national park, learning about the various conservation and sustainability movements in the park to protect one of our world's natural wonders and some of the rarest animal and plant species in the world.
I left Norfolk International Airport at 5:30 AM to fly out to Phoenix, AZ where I would meet Wesley Ng (my codirector for Branch-Out International Service trips), Katherine Eklund, Samanthe Tiver (the two directors for Branch-Out National service trips), and Melody Porter, W&M's lovely Assistant Director in the Office of Community Engagement and Scholarship (OCES), and subsequently the director of the entire Branch-Out program.
Just to preface, Branch-Out is our alternative break and trip program, it is divided up into thee sections:  Branch-Out Regional is our arm of the organization that does day and weekend service projects and trips to regional locations near Williamsburg, Branch-Out National (BON) is our domestic alternative Spring Break program.  BON sends out ten trips every Spring Break to various locations within one driving day of Williamsburg to work with a certain issue area in that host site location.  They are led by two student leaders and consist of about 10 students.  Branch-Out International (BOI) coordinates the eleven or so international alternative breaks that take place over Winter, Spring and Summer breaks.  My job is to help train the trip leaders, coordinate fundraising attempts and basically get everyone pumped about doing international service.
So… back to the topic at hand, BreakAway was an amazing experience.  The whole point of the ABCs is for representatives from colleges and universities, with both old and new alternative break programs, to come out and share and learn new ideas of how to best spread the alternative break movement.  So as not to confuse everyone, the alternative break "movement" is a growing trend in colleges and universities to send groups of students out into the community, both locally, nationally and internationally, to do volunteer work/ community service but to really get the students thinking about issues like social justice and environmental stewardship within their own community.  The breaks are "alternative" to the "typical" breaks that college kids our age usually take – you know, the ones to Cancun to go on booze cruises and spend the week full of partying and generally being destructive and unproductive citizens.
Sorry… got sidetracked again, but basically the idea behind alternative breaks is not only to send students on a substance-free trip to some other part of the country or exotic locale, but to bring the experiences back to our local community and tackle social issues here.  The trips have eight basic components integrated into them:  Strong direct service, orientation, education, training, reflection, reorientation, diversity and being alcohol and drug free.  During the week, all sixty of us from over 33 different universities went through these eight components and discussed/ learned how to best integrate these into our programs and make them as strong as possible.
1.)  Strong direct service is obviously important in a service trip.  Our goal is to find host sites that allow us to do pertinent service projects that relates to the issue that we're trying to tackle and that's appropriate for the size of the group.  For example, in the Grand Canyon our primary service project was to pick up trash along the trails – while this may sound tedious, it was extremely important, as it not only relieves the duties of the full time rangers that would usually be performing such tasks, but the consumption of litter and other trash is a primary cause of the endangerment of one of the rarest birds in the world, the giant California Condor.
2.) Education, Orientation and Training are extremely important facets to any strong break program.  Education about the specific issue within its context (say… sustainable low-income housing) helps give the student a perspective on the service they're doing and access to general knowledge on the issue both at home and abroad.  Orientation introduces the participant to the specific host site organization and how operations in our specific host site go as opposed to a more broad-based view of the issue that you cover in Education.  Orientation allows the participant to have a good grasp of the organization and the location-specific task on hand.  Lastly, training in hard skills (such as how to properly swing a hammer or mix concrete) and soft skills (like local vocabulary or contextual phrases) are hugely important to the group so that you can get to the site and start work almost immediately.
3.) Reflection  is probably one of the most important and yet most over-looked aspect of any alternative break.  It allows participants to think back on what occurred during the day and connect it to the education that they had beforehand and to connect it back to their communities back home.  Strong reflections allow a continual learning process and kind of an 'eye-opening' experience for many participants, getting them to see the bigger picture and how their actions fit into their roles as active citizens.
4.) Reorientation is also hugely important.  In my experience a group will have an amazing time during the trip, reflect well and be prepared to come back to campus jazzed up and ready to 'change the world.' However, without proper reorientation, all this energy is for naught, where participants will come back and fall back into their routines.  Reorientation allows the student to further the connections between the issues they worked with during their trip and their local communities, and also to provide an outlet for what I call the "post-alternative break funk." It can help raise awareness for certain issues and engage the student once they get back.
5.) Diversity is also a crucial aspect to any trip – not only racial and ethnic diversity, but also diversity of political thought, religious affiliation, background, etc.  The more diverse a trip is, the wider the span of perspectives that are brought to the group. This allows for greater facilitation of constructive discussion and reflection during and after the trip, and in the long run will give everyone who participates a much greater perspective on the issue and a greater appreciation for the work they did.
6.) Lastly – having the trips be drug and alcohol free truly makes the trip "alternative."  Being substance free does away with issues of liability and safety while at a host site, dissuades worries about respecting the local community, and also increases group cohesion and bonding when issues about alcohol and drug use (which are pretty divisive issues) are tossed out the window.
So sorry to ramble on for so long, but throughout my week at the Grand Canyon, I met amazingly intelligent and thoughtful people who are a huge part of this movement at their respective schools.  There was so much positive energy flowing around our conversations, and we also got to see some amazing sights as well. I thought about what I learned and what I/ we could bring back to W&M to make our alternative break programs that much stronger and joining such a great national movement towards active citizenship and community engagement.
Thanks for reading, and if you want more information on BreakAway and their philosophy, visit their website at: http://alternativebreaks.org
Adam
June 28, 2010 by Adam Harris
It has recently been brought to my attention that I eat a lot of sandwiches… and now that I think about it, it's true!  I've never really thought about it before, but I am quite a connoisseur of the local sandwich and sub shops in the greater Williamsburg area.  As for this summer alone I've got Quiznos, Firehouse Subs (my new favorite), Subway, New York Deli and Subs, the Cheese Shop, and my old standby, Wawa.  All provide excellent sandwiches in the $5-$8 price range… not a bad substitute when one is considering eating pasta and green beans for the fifth time in a week.
So now you're going to have to put up with my rambling and stream of thought as I run through these places that all serve a variant of the popular gourmet dish involving two slices of bread.  Let's begin:
1.)    Wawa – an awesome place not just for sandwiches but for other treats as well – specifically blueberry muffins and huge bottles of peach iced tea (and it is open 24 hrs a day – so it's available at 3AM too!). Sandwiches are amazing, if sometimes haphazardly made and tonsssss of customization options (tomatoes, oregano, bell peppers, sprouts AND pepperoni? – Why yes please I'll take all of it).
2.)    Quiznos – the classic – toasted sandwiches if just a bit pricey for how much food you get.  BUT the kicker is that it takes flex points and so if my bank account doesn't want a constant stream of transactions for 8 bucks a pop… it's definitely the place to go. The hours are student friendly too… it's not open before 11AM and closes at 2AM J
3.)    Firehouse Subs – a recent discovery but soooo good.  They steam their meat and the wheat bread actually tastes like it hasn't been sitting around for two days.  It's expensive ($8+ if you're getting a large), but to me it's worth it.  To quote the mechanic at the bike shop I work at, "Firehouse will change your life."
4.)    Subway – Five dollar foot-long = enough said.  Deal. Of. The. Century.
5.)    New York Deli and Subs – reasonably priced with a decent sandwich.  Tons of options and they even have a "William & Mary sandwich."  It's also a hike to get there (and by "hike" I mean drive, but as a hometown favorite/ non-chain store, definitely worth checking out.)
6.)    The Cheese Shop – quite possibly the most popular sandwich shop in town.  It has quite a selection of everything from roast beef on rye to one of the best veggie sandwiches I've ever had.  There's nothing like calling in a sandwich order and heading down to Colonial W'burg twenty minutes later to pick up your food.  It's conveniently located right next to the Wythe Candy Shop too (something my fellow interns and I have just rediscovered – much to the dismay of our wallets).  Lastly – the house dressing is phenomenal.  I don't know what they put in it, but it's ridiculously addicting and goes well with ANYTHING.
Well – that's it for now.  Yes I've veered (hard) off the usual bike riding and admissions talk, but don't worry that'll come again soon enough.  I'm also considering doing a review of all the pizza joints in town (FYI Buonamici Pizzaria has a 30″ pizza challenge – definitely something worth checking out).
June 24, 2010 by Adam Harris
The feeling of absolute freedom – that's what cycling gives me.  Now I apologize profusely to everyone who's reading this – I'm obsessed with bicycles and most likely my subsequent posts will contain some reference to these two-wheels machines in some way, shape, or form.  My passion for cycling actually began here at William & Mary, and I feel that it not only has given me a wonderful recreational and competitive outlet for me here at the college, but also has structured my social life and helped me focus on my academics as well.
In my spare time before and after working at the Office of Undergraduate Admissions, I'll primarily be riding my bike(s).  Williamsburg is fortunate to have a number of great trail systems that I can tear around on as well as endless backcountry roads that I can wander on my road bike for hours on end.  There's an inexplicable joy that I get from roaring around the woods, hearing leaves crunch beneath my knobby tires, the "whoosh" as I pass trees at breakneck speeds, and the burble and splash of streams that I pass through.  Being outside without the sound of cars and the only audible noise being the breeze winding its way through the trees is a rarity in the usually suburban setting that is Williamsburg, but it's a nice respite from the heat, colonial garb and streams of tourists picking their way through the local tourist traps.
This summer is an odd time for me as I have no academic responsibilities for the time being and thus I am able to spend my free time geared up in my W&M cycling kit.  The cycling team holds a very dear place in my experience here.  Some of my closest friends are on the team and I've spent an amazing last three years traveling around the East coast racing at other colleges and universities.  Training year-round with such a great group of peers for mountain, cyclocross and road season adds a wonderful competitive outlet for me.  It adds discipline to my schedule and keeps me healthy especially when I have to contrast it with late nights of caffeine-induced studying.  This is just one of literally hundreds of activities (46 of which are sports clubs) that provide a welcome tangent to the academic rigors of student life.  I can't imagine a campus without such opportunities to students, and I love W&M for giving access to not only top-notch academics, but also a vibrant social life as well.