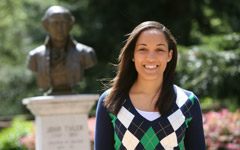 January 24, 2012 by Anuarite Mubangu
It's been over two years since I left the 'burg for another piece of land, equally steeped in trees and tradition … the Quantico highlands. I commissioned on August 13 of 2011 with the Marine Corps and have been stationed at Quantico ever since. I couldn't be happier.
There was always a sense of camaraderie and brotherhood amongst William & Mary Tribe members. When it came to consider my life after William & Mary, which I desperately did NOT want to do, I knew that I'd have to do something I truly believed in. Something that would mean something. W&M has a funny way of brain-washing you into wanting to make a difference. I think that's wonderful, and I hope The College goes on inspiring it's young men and women into doing unique and meaningful things with their lives.
I had a stint with Teach for America after I graduated. It was immensely rewarding, but just wasn't fulfilling enough. I didn't want to teach my whole life, and despite my support of education reform in this country, I knew I'd need to do something different in order to feel as though I was where I needed to be.
I found that in the Marine Corps.
I feel just as comfortable walking across a landing zone as I did on the lawns of the Sunken Gardens. I'm carrying an M16 these days and an assault pack filled with MREs, as opposed to a Nalgene bottle and a back pack filled with philosophy texts. It's not necessarily a common line of work for William & Mary grads, but it's what worked for me. Funnily enough, so much of what I learned and experienced at William & Mary carried right into my career as a Marine Officer … honor, integrity, commitment. I can't imagine having spent my college years anywhere else, and I can't imagine doing anything else.
Oorah, Tribe … Oorah.
May 11, 2011 by Anuarite Mubangu
Hellooooooooooo prospective students!
Forgive my enthusiasm, but I'm very excited to be back at this whole W&M Blog thing.
A lot has happened in the two years since I graduated, and I can't wait to share some of it with you.
Check back often for advice on how to succeed at the College, where my William & Mary degree has gotten me, and how I plan to incorporate the core values I learned while an undergraduate in my every day life.
Still Harking Upon The Gale,
Anuarite
November 25, 2008 by Anuarite Mubangu
1. You may just end up dating someone from your freshmen hall. Keep that in mind when walking from your room to the bathroom in your bunny slippers…
2. You're not the smartest person in the world. Lots of people here will make you feel like a 5th grader.
3. You're not the dumbest person in the world either. There's always someone who helps the curve out by getting a 37%.
4. No matter how ugly he is, dance with him at the party. He may be really good in Biology.
5. Football is not the only contact sport. Ultimate Frisbee is dangerous.
6. Make sure you pack a bucket. They come in handy.
7. If you didn't procrastinate in high school, don't start now. It's an art. If you haven't perfected it by the time you pass through the Wren Building, leave it to the pros.
8. During your time here at The College, you can choose from two of the following three options: Get good grades, get enough sleep, or have a social life.
9. Your printer will only run out of ink when you have 5 minutes before your 15 page thesis is due.
10. Save money over the summer. That way, at the very least, you won't go broke before Thanksgiving.
November 21, 2008 by Anuarite Mubangu
Speakin' of ballers…I pity anyone who wasn't able to see our Women's Basketball team take on Norfolk State last night. What a game! The Tribe not only tied three school records last night (one of them being the largest-ever margin of victory, 60 points), but forced Norfolk State into a record 37 turnovers!
I'm sooo proud of my girls! Tiffany had seven blocks, which tied her own school record.  Tay had six steals and 16 points.  And  Janine (aka "G"), Kelly (aka "SB3″), and Katlyn (aka "Bling") all contributed to the overall score with 12 points each.
Fantastic playing aside, though…allow me to take a second to talk about the fans. I showed up with a handful of my freshmen residents, and a few friends, and met up with a few more at the game. We spent the entire game coming up with cheers to taunt the opposing team with, cheers for our girls, and then just random ones for one another, like the above "We Stay Fly, No Lie, We Know This…"  Each of the four quarters were filled with a mix of us chanting from our seats, cheering on our feet, falling over the bleachers to grab the shirts that are always thrown into the crowds of fans, and doing our part to help the Tribe blow by Norfolk…
As a senior, I am lucky to have had the time to make hundreds of memories during my time here at The College.  My most memorable moments usually involve a group of friends, loads of laughs, and some good natured fun…last night was a mix of all three and definitely makes my top 10!
Go Tribe…Hark Upon the Hoop!
November 1, 2008 by Anuarite Mubangu
I drove on over to Charlottesville Wednesday night for my all-day Teach for American interview on Thursday. I spent all  night going over my lesson plans and readying myself for what I thought was going to be an intensely stressful day. Much to my surprise, it was anything but. Sure, there were some nerves on my part, but that's to be expected, right? The interviewers, Maura and Steph, were nothing short of fantastic. They made us all feel at ease from the moment we walked in the door at 9am, right up until I walked out of my one-on-one interview at 5:15pm.
Have you considered joining the Peace Corps? Or maybe even the armed forces? If either of these seemed appealing at any time in your past, you should consider Teach for America. It's a wonderful organization, with amazing core values and ideals.  Maybe you've never heard of it, and aren't really sure what you'd like to do after college…
Still take some to check it out!
September 2, 2008 by Anuarite Mubangu
The pile of roommate agreements on my desk, the endless flow of e-mails in my inbox, and the stack of books on my bedroom floor are all just pleasant little reminders that school is back in session. I don't know why I thought my senior year would be easier, less hectic, slow paced, or uneventful. Sooooo much has happened in such a very short period of time. C'est la vie, right? This is William & Mary!
From late nights with old friends, to "Sundae Sundays" with the girls on my hall, I've been having a blast. I haven't found much time for school work, but I'm fitting it in there somewhere. I'm actually reading an article for my Intro to Islam course as we speak. Ok, that's not entirely accurate. I'm actually blogging. Well, if I were to be completely honest, I'm procrastinating. But that's ok. It will get done. The class is going to be amazing. I met Professor Sonn for the first time last Thursday and was just blown away. She's intelligent, poised, witty, and charismatic. Everything an amazing professor should be. I'm gearing up for the semester ahead! Stay tuned…
August 23, 2008 by Anuarite Mubangu
It's my first year as an RA, and since I've got a Freshmen Hall (Woot-Woot Yates 1st Center!!), preparing for their arrival has been nothing short of hectic. Training lasted a week and usually went from 8am well into the evening. Still, getting to know my fellow RAs was a lot of fun. Randolph-Yates is by far the flyest group of RAs on campus. Not only do we dominate on the kickball field, but we've gotten really close over these past few days. I can't imagine a better group of people to work with.
Training week has come and gone though, the kickball victories are behind us, and our residents have moved in. Not only did move-in go smoothly, but all of my residents are amazing. We had our first hall meeting, and while I won't disclose exactly what happened, let's just say that the "dance-off" couldn't have been a greater success…haha! I can't say for sure, but my gut instinct tells me that these girls are going to be a handful…and tons of fun. I can't wait!
August 3, 2008 by Anuarite Mubangu
Every year, the Admissions Office summer interns challenge the Deans to a kickball tournament, and in the past four years, the interns have yet to actually beat the Deans! This year was going to be different. We knew we were a different breed of interns…
We had all been talking trash since we were hired at the end of last semester. We made shirts, we had team chants, we presented them with a fierce challenge video, and instead of cordial smiles or perky "good mornings," most of the Deans had gotten used to us glaring at them with our arms crossed as we passed them in the halls of the Admissions Office…
Wednesday came. We arrived at the field looking quite intimidating, complete with matching shirts and a boom box playing "Walk It Out" as we all approached the Deans in a single file line. Then the game started. We came out strong with a homerun by yours truly…and then things took a turn for the worst. We watched in disgust as the Deans scored run after run, our attempts to get them out fell flat, and Dean Broaddus caught everything we kicked his way.
Final Score-
Deans: 6
Interns: 1
My ego may never recover…
July 14, 2008 by Anuarite Mubangu
Nothing like an early morning run to remind you how painfully out of shape you are. Ten minutes down Monticello Road I wondered how I had gone from a peaceful slumber to this sweating, aching, panting mess. I blame my new "get fit" mentality, to tell you the truth. Summer always tends to do that for me, ya know? Gets me thinking of ways in which I could improve my life. Inevitably, I always think ahead to the upcoming semester, and this summer has proven no different in that respect.
For one, I'm taking a class in the Wren building, which I couldn't be more excited about. It's an introductory class on Islam and is taught by one of the most popular professors here at The College. I've heard such amazing things about her!
On the professional side, if you will, I'll be knee-deep in mock interviews, etiquette dinners, networking events, and job searches. I have yet to set foot in our school's Career Center but I'll probably be spending most of my time there. If my Freshmen residents can't find me, they should probably check there first.
On the social side, I can only hope to spend as much time as possible with all of my friends. Afterall, it's my last year at William & Mary, and once I'm out of here, it's going to be hard to see everyone as often. Summer vacation has given me a little taste of what the real world is going to be like. Not only have I been traveling, but it seems as though all of my friends are all over the place as well. Julianne is in Senegal, Kristal AND Lauren are in California, Katy is in Pennsylvania, Kelly is in Connecticut, and while she's back now, Vanessa was all over Europe for six weeks. Sometimes I feel as though life is just speeding by me and I wish I could pull everything to a screeching halt. These are supposedly the best years of my life, and I have seen first hand why they refer to them as such…I'm just not sure I'm ready for these years to be over.
As rising seniors, in both high school and college, I think it's important for us all to be thinking about the year ahead. Whether we're considering how to approach our classes, the amount of time we'll put into studying, which clubs and organizations to devote more time to or even drop, and what color dress to get for Prom (or "King and Queens" in my case), remember to keep things in perspective. This is an important time in our lives. Work hard, but take some time to slow down once in awhile too. In the words of Trace Adkins…
"You're gonna' miss this, you're going to want this back. You're going to wish these days hadn't gone by so fast. These are some good times, so take a good look around. You may not know it now, but you're gonna' miss this."
July 7, 2008 by Anuarite Mubangu
I'm back in the 'burg, but I thought I'd share a few details about my recent trip to San Diego.
One morning in particular, I thought I'd be really healthy and have some Kashi cereal. Ya' know? That brand that tastes like dirt and leaves but gives you all of the fiber and protein you'll ever need in one disgusting little spoonful?!…you know you've tried it. ANYWHO! I went to the fridge and realized there was no milk. But you know what there was plenty of? Cookies 'n' cream icecream. That's right. And since icecream is practically frozen milk, I proceeded to plop four large scoops onto the top of the Kashi dirt mound that was staring at me from my cereal bowl. Looked delicious. Tasted like heaven. The aftermath? Not so promising. I forgot the little tidbit about me being lactose intolerant. Oops. That would explain a lot. My tummy didn't take too kindly to being filled with grains and cookies before 10am, but life goes on. And ohhhh it did.
There I was at the beach, admiring the way the waves crashed against the sandy shore (and all the perfectly tanned surfer bodies…ok, I was mostly admiring the surfer Gods) when I noticed a family of beach squirrels staring at me. I ran back to the car, grabbed a bag of peanuts, and thought it wise to feed these little guys. Before I knew it I had squirrels everywhere. One was so bold as to jump on my thigh, and when I didn't feed him fast enough for his liking, the little bugger bit me. Yep. Square on the index finger. To say that I "freaked out" would be the understatement of the year. I lost it. California squirrels are NOT like Williamsburg squirrels. Williamsburg squirrels have a rational fear of being hit by cars and a healthy weariness of people, both on foot and on bicycle. Williamsburg squirrels will NOT get close enough to you to bite you, but please don't feed them. Feeding them makes them like humans. It makes them think it's ok to approach tour groups or small children. It's not. Please remember that, for my sake, at least.