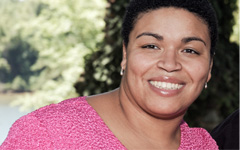 May 13, 2013 by Anne Charity Hudley
Dear Class of 2013 and those who love and support you,
I am so honored to have been asked to speak to you tonight on behalf of my faculty colleagues. This weekend is filled with such joy and celebration of your accomplishments—all that you have achieved leading up to and during your years here. I speak on behalf of the entire faculty when I say to you, "you are fabulous!"
You will get asked a lot of questions this weekend and in the weeks to come. Questions about your degree, your future plans, probably even your final GPA; did you graduate summa cum, laude, magna cum laude or thank you laude.
Rightly so—most of the weekend focuses on what you have accomplished: undergraduate and graduate degrees, achievements in departments and programs and your activities, which are too numerous to mention. And I am all for celebrating your achievements. You've attended a tough yet wonderful college during a tough yet wonderful time in history and came out ahead! So since for most of the weekend, we're going to celebrate your achievements, I'm a take five minutes here and celebrate from a slightly different angle—I'm a celebrate you! Just you—who you are—and who you will become. For the next few minutes, you are you and not your major, your degree, you are not your class year, you not even your future plans.
If you want to know what I've done, (Why she up there?) Google it up. Instead, I'll tell you a little bit about who I am.
Who am I—I am on Route 5 through open fields trying not to get a ticket—I'm the gal whose breath is taken away every time she sees her husband walk out in a suit and tie on to Ukrop Drive through those fancy Mason School of Business doors! I'm trying to think of everything that I and the College of William & Mary didn't get to do to support you during your time here that I can get right with the class of 2017—help me with that. I'm on a journey to make sure everyone is included here — in this place, so that I can walk around the Wren building just smiling.
So who are you, class of 2013? To me, that's the most awesome part.
In many senses you will always be the you who you were when you first were here — several years younger, running through the Sunken Garden, I hope with your clothes on.
You are fun nights at the Delis before some of you moved over to the Crust. You are forever the one who played hooky and rode the Verbolten or the one who spent 20 hours straight in Swem.
You are rugby rough and community research strong, you are cheering football teams on and sad people up, you are driving classmates you didn't know before home through Hurricane Irene just because someone emailed and asked you to.
You are on all sides of political activism with passion and intellect.
You are Virginia's promise, New Jersey's dream, China's spirit, part of the TJ posse, and that one kid to make it here from your hometown—ever!
You are somebody's sibling—either by blood or oath or hope.
You are about to give your mother her best mother's day ever—even if she can't be here with you or if you've never even met her—even if she is a he.
Some of you are fashion plates and some of you have had on the same sweat pants for 4 years or 8.
But OH MY GOODNESS—I can't wait to see WHO you will become!
I spend my spare time with my students and have no shame about it. Why? Because each of you is an individual masterpiece. And that's what makes what I do intertwine with who I am (someone who will be here years from now happy to see you on your return, no matter if you knew me before just now or not.)
A couple of things to think about as you are becoming, you—post-graduation style:
You could become someone who cleans up your social media. Cuz you know some of that confession stuff ain't gone look so cute in a year or two. Because who you are is likely to be slightly different and context can be everything. And if it isn't, share on—do you, boo boo!
You could become someone who still always takes time to write a few thank you notes. It is amazing to be someone who takes that minute and they mean so much.
You can become someone who continues to make friends in your class even after tomorrow- you're gonna meet new people because of where you're standing or what names are on the chairs in W&M Hall and in your department ceremonies! Say hi all eager like you did in Orientation 2009! It's not too late! That person may be headed to your new town, or interested in the same type of music, or job as you.
You can be someone – who even if you don't care for W&M as a monolith who love the people affiliated with W&M individually – the students who come after you are desperately looking to you for advice and glimpses of what their dreams may look like realized. You can become someone who walks out of here tomorrow never to return or you can become someone who doesn't miss a reunion or homecoming and either way I hope you'll connect with the students – come guest lecture, speak at events in your old organizations, Skype with someone from around your way who has a dream of making it to William & Mary— make it a time and a priority commitment.
I'm becoming someone right now because of who my grandmother was that wasn't even legally possible at the time of her dream. And in turn, the spirit of my grandmother has become the grandmother of a granddaughter who is giving this talk and the grandmother of a grandson who is graduating from here tomorrow. I can think of no better example of the fact that who you will become may actually take generations.
So honestly, there are no words for who we are in moments such as these. For those times when the who and the what are indistinguishable—our ancestors live again and the future is written. And that's the true definition of swagga.
We're doing our best tonight to honor that privilege and experience tonight through your triumph, some silence, and flames.
February 5, 2013 by Anne Charity Hudley
I have many summer research positions and internships available. More information.
Students interested in majoring in science and/or math, should see the internships listed here as well.
If you are interested in other aspects of language and educational inequality, contact me directly at acharityhudley@wm.edu.
Interested students should sign up to attend Thursday night's WMSURE session:
Preparing for Summer Grants, Fellowships, Internships, and Programs Workshop
Swem Writing Center
Thursday, February 7
5:00 p.m. – 7:00 p.m. This workshop will help you apply for internal and external summer grants and fellowships by providing the necessary tools for your applications. We will talk about how to find funding opportunities for your research and how to find advisors to support your work. Lisa Grimes will describe the role of the Charles Center in funding student research. She will provide information about a number of different internal student awards, will describe the process of applying for the grants, and will answer your questions about summer funding, research, honors, and the Monroe program. Students who have been successful in securing grants in the past will also give advice about grant writing, with a focus on writing an internal grant. Finally, we will provide tips on writing and preparing your applications. Dinner will be provided. Please RSVP at http://www.surveymonkey.com/s/FCSQR68
August 27, 2012 by Anne Charity Hudley
I was honored to speak today to the first year and transfer students in the William and Mary Class of 2016 about our academic expectations. You can download my talk (pdf).
Faculty Panel: Orientation for the Class of 2016
Anne H. Charity Hudley
College of William and Mary
August 25th, 2016
1. Introduction
Welcome, Class of 2016 and transfer students, to the College of William and Mary! I hope you got some rest last night and I hope that you had some fun! My name is Professor Anne Harper Charity Hudley and I am Associate Professor of English and Education. I work primarily within the Linguistics, Africana Studies, and Community Studies programs and I serve as the William and Mary Professor of Community Studies. My research and publications address the relationship between linguistic and cultural variation and pre K-16 educational practices and policies. Specifically, I study how the language students use impacts the way teachers interact with students and are able to best instruct students. I also work to help educators understand that language is culture so that we must work to teach students what they need to be successful in schools without eradicating or devaluing their home language and culture.
William and Mary is a small college and like many of you, I like to do many things at once, so I am also the Director of the William & Mary Scholars Program and the William and Mary Scholars Undergraduate Research Experience, also known as WMSURE. I am from Henrico County, Virginia and attended St. Catherine's School in Richmond, VA. The first week of college can be amazing and it can be a little scary as well. We planned a lot for today, it's a little scary for us as well and that's OK!
2. What does it mean to be a Scholar?
I've been asked to talk to you a bit today about classroom and academic expectations. In short, we faculty at William and Mary expect you to be scholars. Thinking broadly, what does it mean to be a scholar? It means you get to ask yourselves and then more importantly answer the following questions:
How many more lives you can touch as a college educated person? Including your own? You are now living your dream- either full on or, I hope, at least a part of it. As I walked around during move-in yesterday, I spoke with students who were third generation W&M students and I spoke with students who were the first in their families to go to college. What an amazing range of legacy and new spirits you can combine into learning with in the liberal arts framework for a public good.
How much more good you can do for the world and what can you contribute both to your local community and the world at large? It is important to remember that good can be defined in a myriad of ways. Good is intellectual, financial, social, and spiritual to name just a few. We wait anxiously for the combination that you will create! I'll ask you now and I'll ask you over the next four years: What do you want to be when you grow up? It was an important question in kindergarten and it's an important question now as that range of what you can possibly be expands.
What ideas can you create, models can you build, and solutions can you discover that have never been though of before? Learning the content is just the beginning; synthesizing it and building upon it is the name of the game. We are here to be masters of knowledge and also challengers of the status quo and full time thinkers and dreamers!
3. Differences Between High School & William and Mary
To make this type of scholarship possible it is important to think about some of the possible differences between your high school and other educational experiences and the experiences that you will have at William and Mary. Those of you who have taken AP, IB, have been dually enrolled, and those who have transferred will find that these distinctions will apply to you as well as to students who have not had those experiences, so everyone, listen up!
The William and Mary and greater academic culture is constantly shifting and changing and that is the nature of being at a university. In high school, school or state standards determined much of what you had to know. Here at William and Mary, in many ways, YOU ultimately decide what you need to know. Within that, individual professors within general college, and state, and accreditation guidelines determine much of what you need to know for our classes. It is important, then, to understand the expectations of individual professors and the only way to know is to ask. That means asking about things big and small and small things that may end up big. That means asking what the professor wishes to be called both in person and on email. Some prefer "Professor", some prefer "Doctor" if they hold a doctorate (ask if they do), some prefer "Ms." to "Mrs." or "Miss", others prefer to be called by their first name (again, ask!). It is important to ask each professor about their policies and philosophies on the use of laptops, cell phones, and smart phones. Professors have different rules and it's important to understand their rationale about why you should or shouldn't be online during lecture and/or discussion. I take notes on my iPhone but to other profs it might appear as if you are not engaged and are texting, you need to know if that is the case. If plagiarism has been explained to you but you are still unsure of all that it entails, ask! If it hasn't been explained to you yet, ask!
In high school, you most often studied according to a pre-determined program and schedule. Here at William and Mary, you can study and research whatever you are interested in. We are here to make it happen together! For those reasons, it's important to maximize your contact with professors both inside and outside of the classroom so that you can best understand what is expected of you. Many of us both teach classes and direct research groups or labs. Our strongest students are present in both contexts. With such opportunity also comes the responsibility for making sure your requirements are met within the class, major, and graduation guidelines but I'll put a plug in here for self-designed majors and the Community Studies minor that really do let you combine your interests in innovative ways! It is up to you to ensure that your readings and practice problems and exercises are completed before class, you have to make sure that you understand the syllabus and the information provided, it is up to you to make sure you have all that you need for you to be successful and that we as faculty understand explicitly what your individual definition of success is and that you understand our individual definitions as well. So ask!
Another crucial aspect of being a scholar is understanding how to cope with both success and challenges. In high school, you were near the top of the class as defined by your school. That's part of how admissions works here at William and Mary. Now that you're here, everyone was near the top of the class; now the definitions of top will differ dynamically. There is a deep pool of diverse ability among you! People can do what you do and some can do it better. Some of you can do it better than anybody! Some of you can do stuff that we didn't even think of yet!
For many of you, this change will mean a change in your interpretation of success. This change will also mean a difference in your interpretation of study skills: For those of you who didn't have to take notes, create study guides, do the reading in high school, you will probably have to now to remain at the top of the class; that I can be pretty sure of. Learning how to synthesize large amounts of information and how to create unique and well-synthesized arguments are critical to the scholarly process. Professors are more than willing to talk with you about the best ways to prepare and study for their classes and to refer you to students who have taken their classes for peer advice. Xavier University in New Orleans, Louisiana has a great way of thinking about the diversity of academic experiences that you may have had prior to coming to William and Mary: "What doesn't work is saying, 'You need remedial work.' What does work is saying, 'You may be somewhat behind at this time but you're a talented person. We're going to help you advance at an accelerated rate." We too know that you are talented, so if you find that you need to advance at accelerated rate, please let us know. The Dean of Students Office, the Writing Resource Center, the Tribe Tutor Zone, the counseling center, the center for student diversity, programs including PLUS and WMSURE are all here to support that transition and process. You should be using them ALL as resources regularly, not just when challenges arise! You don't want your first visit to your professor's office hours to be after you have had challenges with an assignment or exam. Get to know them now so that the sky remains the limit. Schedule the office hours just as you schedule the class. It's going to be up to you to make the extra appointment, to get the extra hour of sleep so that you get to class on time and then stay awake (we notice, even in big lecture halls), and to make sure you eat properly so that your brain is operating at maximal function.
4. What Does It Mean to Be a Scholar at William and Mary?
So now we've worked a bit to define what it means to be a student vs. a scholar. What does it mean to be a scholar among scholars at the College of William and Mary? It truly means that you belong here and that I am honored that you are here. We as professors aim to be among your greatest inspiration, greatest challengers, and your greatest resources. During your advising appointments on Monday, that road to being a scholar starts. You will learn about your advisor's interests and triumphs as scholars and you can also learn about their challenges. Ask your professors, what's the lowest grade they've ever gotten; when where their paths were windy. What were their greatest accomplishments? What co-curricular activities did they do in college? You might be surprised. Ask your fellow students as well. Those stories of success and navigation will pave the way for the next year of scholars and those generations thereafter.
5. Segue into research and conclusion: In conclusion, what is expected in College? Responsibility and perseverance!
Among the faculty seek out those great number of us who truly believe that in order for William and Mary to be successful, we desperately need you to be successful. The best aspect of William and Mary is that you directly engage with faculty and we directly engage with you. Take advantage of it. You all are my co-researchers, co-authors, co-designers of community studies and WMSURE. WMSURE is all about making sure that students who have historically been underrepresented at William and Mary are maximally successful and take advantage of every academic resource the College has to offer.
For many of my students, the shift that was the most pronounced was that of the dynamics of intellectual authority in the classroom. In high school, students are often recipients of knowledge, whereas at William and Mary, knowledge is often a collaborative creation of both students and professors. That's a wonderful gift in so many ways; it means that you're invited to treat your professors more as peers than you did your teachers (and here's where, of course, the research component comes in). But it also means that you need to step up; you're not doing it right if you don't do your assignments and readings and come to class fully prepared to engage.
It is a big responsibility for you when I say quite literally that your success is my success. The success of the person sitting next to you is your success. The success of your BFF/brother from another mother that you haven't met yet is your success!  And my father, whose mother dreamed of him coming to William and Mary in a time when Jim Crow laws made that impossible wants me to tell you that if I'm the one who's giving you THIS talk at William and Mary, then you can definitely be president or anything else you might want to be! So get to it!
Anne H. Charity Hudley, Ph.D.
Associate Professor of Education, English, Linguistics, and Africana Studies
Associate Editor, Language
William and Mary Professor of Community Studies
Director, William & Mary Scholars Program
Co-Director, William & Mary Scholars Undergraduate Research Experience (WMSURE)
The College of William and Mary
Williamsburg, Virginia
acharityhudley@wm.edu
Resources:
Transition from High School to College:
SMU: How is College Different From High School
MSTC:Youth Options: High School vs. College (pdf)
Counseling Support Groups:
Counseling Center: Available Counseling Groups

Study Skills:
Dean of Students Office: Study Skills
Dartmouth Academic Skills Center: Where to Study/How to Study
Strategies for Improving Concentration and Memory – Virginia Tech
I Just Can't Seem to Concentrate! – University of Pennsylvania
Increasing Motivation – University of Victoria
Improving Your Memory – Texas A&M University
Study Tips:
Basic Study Techniques – Texas A&M University
Study Hacks – Blog created by Cal Newport
Ten Traps of Studying – University of North Carolina
Top 11 Study Skills – Stanford University
Study Environment Analysis – Virginia Tech
Study Skills Checklist – Virginia Tech
Putting Your Extracurricular Skills to Use in Your Studies – Princeton University
How to form a successful study group – Duke University
---
I did not write this alone. Thanks to all of my family, teachers/mentors, friends/colleagues, classmates, current and former students for their input. I'd like to give a special thanks to my father, Dr. Renard A. Charity Sr. who helped me with every major idea. All contributors are listed below.
My family:
Dr. Renard A Charity Sr. (my father)
Dr. Cynthia M. Charity (my mother)
Mrs. Renee Charity Price, St. Catherine's School (my sister)
Mr. J. Christopher Hudley, The College of William and Mary MBA '14 (my husband)
My teachers/mentors:
Mr. Steve Cambisios, St. Catherine's School
Dr. Brian Joseph, The Ohio State University
My colleagues:
Ms. Kirsten, Bradley, Booker T. Washington High School, Norfolk VA Public Schools
Dr. Christy Burns, The College of William and Mary
Ms. Angelique Clarke, Chesterfield County VA Public Schools
Ms. Nancy Everson, The College of William and Mary
Dr. John Griffin, The College of William and Mary
Dr. Jill Hallett, Illinois Institute of Technology
Dr. Lisa Landino, The College of William and Mary
Dr. Rowan Lockwood, The College of William and Mary
Dr. Christine Mallinson, UMBC
Dr. Susan Tamasi, Emory University
Dr. Carol Tieso, The College of William and Mary
Ms. Ashleigh Greene Wade, St. Catherine's School
Dr. Brett Wilson, The College of William and Mary
My classmates and classmates of my sister:
Dr. Rachel Easterly Gagen, F.Read Hopkins Pediatrics (from St. Catherine's School)
Mrs. Kara Bleecher, Hanover High School (from St. Catherine's School)
Dr. Damien Hall (from the University of Pennsylvania)
Carsten Reichel (from Harvard University)
Ms. Georgina Sommerville (from Cambridge University, UK)
Ms. Terelle Wilson (classmate of my sister from Northfield Mount Hermon)
My students:
Kira Allmann, The College of William and Mary '10, PBK, Rhodes Scholar, Oxford University, UK
Brittney Calloway, The College of William and Mary, '10, George Mason, MEd '13
Kate Chelak, The College of William and Mary '11, MEd, '13
Elizabeth Coppock, Stanford University, PhD '09
Katherine DeFazio, The College of William and Mary '14
Juliana Glasco, The College of William and Mary '08
Renee Seibel King, The College of William and Mary '05, PBK, BA Utah State University
April Lawrence, The College of William and Mary, EdD, '14
Brittany McLaughlin, The University of Virginia '07; University of Pennsylvania, PhD '14
William B. Morris, The College of William and Mary '11, University of Pennsylvania, MA. '13
Luke Pickett, The College of William and Mary '14
Daniel Villarreal, The College of William and Mary Class of 1940 Scholar '10, PBK, University of California Davis ' 15
January 4, 2012 by Anne Charity Hudley
I'm seeking interns/independent study (1-4 credits) students for the spring for three specific yet interrelated projects. Please contact me directly at acharityhudley@wm.edu or the graduate students on each project if you are interested. I will have office hours on Wednesdays from 3-5 starting January 25 if you are interested in finding out more!
Details about each project follow.
Prof. Anne H. Charity Hudley
Associate Professor of Education, English, and Linguistics
William and Mary Professor of Community Studies
Co-Director, William & Mary Scholars Undergraduate Research Experience (WMSURE)
Opportunity #1
Book Research Assistants
When author Toni Morrison gave a Nobel Lecture after accepting a Nobel Prize for Literature in 1993, she chose to focus on how language is essential to humanity. "We die. That may be the meaning of life," Morrison said. "But we do language. That may be the measure of our lives" ("Nobel lecture," para 21).
Building on Morrison's themes, our book, "We Do Language": English Language Variation in the Secondary English Classroom, presents specific strategies and models for the greater integration and application of language variation-related concepts, skills, and strategies in the secondary English classroom. The book draws on and extends the generalized concepts of Prof. Charity Hudley and Prof. Christine Mallinson's first book, Understanding English Language Variation in U.S. Schools, by presenting even further contextualization for the need to integrate linguistically-informed pedagogy into secondary English classrooms. The true strength of the book are the vignettes and materials that in-service secondary English educators have developed and shared with us through interviews, focus groups, and other correspondence; these vignettes and materials will directly attest to the value of infusing language variation into secondary English classrooms.
Interns will help gather and organize material from English Educators and participate in workshops with educators in conjunction with the Capstone English Academy: http://education.wm.edu/centers/sli/surn/Capstone/index.php
Graduate Students: April Lawrence (adlawrence@wm.edu) and Kerri Mahoney (krmahoney@email.wm.edu), doctoral students in curriculum and instruction (Secondary English) at the W&M School of Education
Opportunity #2
NSF Collaborative Research: Assessing the Results of Sociolinguistic Engagement with K-12 STEM Education in Maryland and Virginia Public and Independent Schools
Prof. Anne Charity Hudley (W&M) and Prof. Christine Mallinson (UMBC), have been awarded a grant from the National Science Foundation (NSF) to study how cultural and social language patterns affect learning and student assessment in STEM (Science, Technology, Engineering and Mathematics) classrooms.
Charity Hudley and Mallinson will receive $171,928 over a three-year period to work with 60 K-12 educators in Baltimore, Hampton Roads and Richmond. We will assess educators' knowledge of and their responses to language variation, particularly among African-American students. The two researchers will also work with participants to create linguistically informed materials for classroom use.
NSF award notice: http://www.nsf.gov/awardsearch/showAward.do?AwardNumber=1050938
Interns will help gather and organize material from STEM Educators and participate in workshops with educators. We will also work with STEM students this summer in conjunction with The Center for Gifted Education.
Graduate Students: Darlene Dockery (dddockery@email.wm.edu), doctoral student in Gifted Education at the W&M School of Education, and Inte'a DeShields (idesh1@umbc.edu), doctoral student in Literacy, Language, and Culture at UMBC.
Read more here: http://www.wm.edu/news/stories/2011/professor-receives-nsf-grant-to-study-language-patterns-in-stem-classrooms-123.php
Opportunity #3
NSF Neighborhood Moves and Sociolinguistic Mobility
Professor Anne H. Charity Hudley is a consultant to an NSF, NBER, and NORC funded project that is analyzing how relocating to low-poverty housing affects speech patterns of low-income families who previously lived in high poverty areas. The data is from a Department of Housing and Urban Development program and is a unique opportunity for linguists, sociologists, economists, and public policy makers who don't often have the opportunity to study such a large-scale, randomized, geographically diverse sample population. This project has important social justice implications concerning the impacts of discriminatory housing practices and educational opportunities. Come be a part of this important work! Interns will be analyzing speech samples from project participants and conducting sociolinguistic analysis on the speech materials.
NSF award notice: http://www.nsf.gov/awardsearch/showAward.do?AwardNumber=1125795&WT.z_pims_id=5369
Graduate Students:
Brittany McLaughlin (britm@babel.ling.upenn.edu), doctoral student in Linguistics at the University of Pennsylvania, and Kerry Casey (klcase@email.wm.edu), Masters Student in Public policy at W&M.
November 29, 2010 by Anne Charity Hudley
The Department of English, The School of Education, and the Programs in Africana, Community, and Women's Studies at the College of William and Mary would like to cordially invite you to a book launch for Anne Charity Hudley's new book Understanding English Language Variation in U.S. Schools on Thursday, December 9th from 4-7 pm at the College of William and Mary in Blow Hall Room 201, 262 Richmond Road Williamsburg, VA 23187. The contact phone number is (757) 221-3930. Directions to campus may be found at: http://www.wm.edu/about/visiting/directions/index.php.
All are welcome and an invitational flyer may be downloaded here. Please share with others who might be interested, especially K-12 teachers and parents.
April 25, 2010 by Anne Charity Hudley
I am so honored to be given this award today.
Well y'all know when you give a preacher an award they're gonna preach (ain't that right Rev. Dr. Hurte?), so when you give a professor an award, she gone profess a bit.
My handout is coming around, and I want to talk a little bit this evening about images.
So in honor of this image award, I want to share with you some images of images.
Anybody who has had class with me knows that definitions of words only start with the trite definitions found dictionary, so for our case of images, I've been thinking of dictionary definitions and then what goes beyond.
What'd I find in the Oxford English Dictionary?
Images
2. b. A visible appearance; a manifestation of a figure; an apparition.
3. a. A visual representation or counterpart of an object or scene, formed through the interaction of rays of light with a mirror, lens, etc., usually by reflection or refraction.
In Merriam-Webster?
Images
5 a (1): a mental picture or impression of something (2): amental conception held in common by members of a group and symbolic of a basic attitude and orientation
Lets go with a mix of these definitions a while so we can expand on them.
Here is an image of my grandfather Leslie Dallas McClennon, Sr. He passed away before I was born, so all I have of him are images of images. In this particular image, he's accepting an NAACP lifetime membership plaque for Mt. Zion Church, where he served as the treasurer. What an image of a man who was an orphan, raised by the local preacher and then went on to Shaw and Howard Universities and became an early African-American director of a Boys Club and then one of the first integrated YMCAs all the while studying education and serving youth.
The next image is that of an article than ran in the Richmond, Washington, and Baltimore Afro-American in January of 1973 about my other grandfather who believed that civic engagement was the key to African-American success. He raised seven sons while doing the work listed in the article.
These are images of strong men with strong families. Remember those images and negotiate other images of everyday African-American men with them. Now here are some living images for you. My immediate family has joined me today. My brother and his wife and my three nieces regret they couldn't be here today-they were here all last week and flew back to Boston just on Friday.
My husband's here, my mom, my dad here, my sister, my brother-in-law, and my nephew Carter.
Why are we all here? Because we're all in this together.
My dad grew up 35 miles up route 5 from here. As a young boy he used to ride right past this college. The beautiful brick walls didn't just frame the school, they served to keep people out. The Virginia government used to pay bright African-Americans to leave the state. They sent him to Meharry Medical School in Nashville, most likely hoping he would stay out. He didn't. He came on back.
My mother is really wicked smart. She was selected from students around the south at age 16 to go do the very important job of integrating Vanderbilt University.
They met up out there in Tennessee, went up to Columbia in New York came back this way and started a medical practice and helped to revolutionize access to health care for minorities in this area. My favorite image of them is in the Richmond Magazine Top Docs issue as a medical mega couple and my mother's jacket has butterflies all over it. Every time I think the next big thing is too daunting, I just keep those images of triumph in my head.
I only had a few days notice here and organization of paper is not my strong point, so when I find it, I'll put the image on my website.
My favorite images of myself follow-with my husband Chris Hudley in the New York Times-my darling husband- the All-State football star and Army recruit turned child psychologist. Consummate class cupcake baker and the ultimate example of love triumphing over place, race, class, and time. When you're sad and some silly girl or boy has done you wrong take a look at that image, and keep your eyes on the prize.
The next image is of my sister and me hard at work on a panel on African-American women's language where we presented on the language of African-American girls-I have hundreds of favorite photos of my little sister, but this one is my favorite in particular because we are doing our thing. Renee is the chair of history department at St. Catherine's School in Richmond where we attended. She understands the value of planting accurate historical images in girls' minds at a time when their worldview is being formed.
So what about our own worldviews? The definition of images I like best relates to worldviews and is from the  root of the word- it comes through Middle English, from Anglo-French imaginer, from Latin imaginari, from imagine-, imago image-to imagine
So as my last set of images, I'd like to share with you what I imagine based on my first full year here teaching at William
and Mary:
I'll keep the image simple so that you can see yourself and your friends and family coming up behind you in it:
Couple it with the amazing images of students that you've seen tonight here:
Images of all kinds of girls and boys growing up in places like Denbigh, Charles City, and New Kent, who don't think twice about coming to William and Mary for College just like the conversations that the St. Catherine's girls I went to school with used to have…
It'll be so routine: Where are you going to College? William and Mary? Oh, that's awesome, me too!
That student shouldn't have to think twice about then coming here majoring in anything-English, Geology, Biology, Government, doing well, writing a thesis and graduating with honors then heading off to a graduate school to get them to the next level.
For my last image, I turn to the words of Nikki Giovanni -because as an English and Linguistics professor, words run through my mind- constant images in my head and because Prof. Giovanni is my hero-because Prof. Giovanni returned near her home to teach, she was there to help our fellow Virginia University heal from its darkest hour – and in that hour they turned not only to the physicians, engineers, and politicians but also to a poet- which is something I think about every day – that the pen is truly more mighty than the sword, or the gun, or the shattered dream -and also because tonight I am truly proud.
A HIGHER LEVEL OF POETRY
There is really only one thing to say to young writers:
Know who you are writing for and to.
I know I write for my Grandmother and the women of The Garden Club and the women of The Book Club and the women of The Missionary Society and the women who are the Usher Board and the women who cook for the Special Sundays and the women who cleaned the pastor's house when his wife was in the hospital and all the women who picketed Rich's Department Store and all the women who sacrificed to send money to Montgomery and especially all the women who cried when Emmett's body was raised from the river and all the women who decried THIS could not and should not happen again.
Because knowing who you want to be proud of you can make all the difference in the world.
Not at all that I don't want others to read my poems or essays. I really would like everyone to read or to hear me but I cannot really know what that will mean so I'll just stick to what I do know.
I want my Grandmother and her friends to look back at my work and be pleased. I want the women who endured slavery and the black laws and all the dreams down the drain because their husbands were riddled with bullets and their sons were lynched and they knew that had to stand because if they didn't stand then all that death was in vain. So I know only one thing:
It is important to know who you want to be proud of you.
And then you can know that you have done all you can do. And you can be proud of your work.
-Nikki Giovanni
Thank you.
April 16, 2010 by Anne Charity Hudley
The first year of the Community Studies minor is coming to a wonderful close.
I hope that y'all can come to our big end of the year community engagement events so that you can see all that is in store for next year!
The Engaged Scholarship Academic Symposium will be held Wednesday, April 21st from 2:00-5:00 p.m. in Blow Hall 201. During this event, students will present their posters outlining their community engagement and scholarship work from the past year.
The annual Celebration of Service will follow the symposium. It will be held at the Kimball Theater at 7:00 p.m. The celebration is a lively event with entertainment, slide shows, and student awards.
January 7, 2010 by Anne Charity Hudley
Happy New Year!
I'm writing from the Hilton Baltimore, where today I'm co-leading an American Dialect Society's panel entitled "Cultivating Socially Minded Linguists: Service Learning and Engaged Scholarship in Linguistics and Education."
I'm also honored to serve as an Undergraduate Program Representative to the Linguistic Society of America's Committee on Linguistics in Higher Education. I will attend the committee's annual meeting tomorrow morning.
Prof. Jack Martin will be presenting at an invited symposium entitled "Invited Symposium: Documentary Linguistics: Retrospective and Prospective" tomorrow with his co-researchers from the Coushatta Native American Tribe.
Kira Allman, '13, was selected to give a paper entitled "Undergraduate Linguistics from the Undergraduate Perspective: One Approach to Interdisciplinarity" on a panel on Interdisciplinarity and Current Trends in Undergraduate Linguistics Education that is sponsored by the Undergraduate Programs Advisory Committee/Linguistics in Higher Education Committee.
Robert Staubs '08 will be presenting a paper entitled "Learning hidden structure with a log-linear model of grammar" with his research group at the University of Massachusetts-Amherst.
Wish us luck!