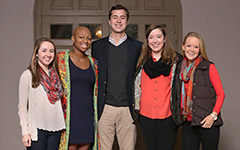 March 31, 2014 by Admission Ambassador
Green has been a pretty popular color as of late. Some people "go green" to help the environment and spread awareness of how harmful our actions can be to our gentle planet. Others celebrate their Irish heritage by dyeing their town river green and wearing shamrock hats on St. Patrick's Day. Some people just want to make a little more green for their wallet, what with the current economic climate being almost as unstable as the planet's climate. However, my favorite way to "go green" is when it comes with gold too.
Did you know that in 1896 William & Mary's school colors were orange and white? The colors weren't changed to green and gold until 1924 in order to match the College's coat of arms. Personally, I say a small thank you to whoever made that decision every day. I'd much rather sport a green and gold hoodie than a bright orange one.
But in all seriousness, I think that green and gold goes far beyond just being our school colors. It represents something much deeper and fundamentally 'William & Mary'. Green can be seen all over our beautiful campus. One of the many benefits of being located in the tidewater Virginia area is the exceptionally lively, natural feel of our campus. Whether you're walking through the wooded trails to the Caf, passing the Crim Dell on a sunny day, or lounging on the Sunken Garden, you're pretty much constantly being made aware of how green and picturesque our campus is.
Gold, to me, represents our students. Every single member of the Tribe brings something amazing and positive to our community. They are literally golden. I don't know anywhere else in the world that I can find such diverse, inspiring people to meet and learn with every day. To the Class of 2018, I know the admission committee worked hard making sure that each one of you is a shining gold star [can I seriously get any cornier? Sorry..] that will add so much to our community. I can't wait to meet you all and encourage you to go green and gold!
- Audrey Savage
March 31, 2014 by Admission Ambassador
The first song I learned is called the Unicorn Song. For anyone that's heard it, you know what I'm talking about…the one with the green alligators and long-necked geese. Until I was about 14, I thought it was just a fun children's song about unicorns…then I listened to the words. And now I know why I've never seen a unicorn to this very day.
Every year growing up, the town threw a GREAT St. Patrick's Day party in the Hospitality House – yes that's a dorm now and I'm really sad about no more parties. But all of our families would spend the day at the party singing old Irish songs and entering raffles, and playing shuffleboard. I remember these days as times with friends that I've had since we were born. As families that grew into bigger families as we got older and family meant more than brothers and sisters.
I've been so fortunate to grow up in a place where you don't have to be related to be family, where everything works out in the wash, and you always wave to your neighbor. Now that I'm leaving it, I'm realizing how lucky I was to have it. How grateful I am to have learned how to be a good citizen and caring neighbor from this place. How much community really means to me. How playing 6 degrees from Kevin Bacon is easy as pie.
In the Irish Rover rendition of the Unicorn Song, they add a part to the end of the song that gives the unicorns wings to catch up to Noah's Arc. All of the animals came in pairs, so maybe it's time I start thinking of Williamsburg as my unicorn. And now it's time to leave and find another.
- Kelley Quinzio
March 31, 2014 by Admission Ambassador
My second favorite holiday of the year is St. Patrick's Day. Maybe it's the Irish heritage, or growing up in the Boston area, but there is nothing better than decking yourself out in as much green as possible. St. Patrick's Day takes on a very different tone at William & Mary. While everyone is Irish for that one day of the year, St. Patrick's Day looks like an explosion of school spirit at the College. Having the colors green and gold makes it very easy to wear a little green, but it's never just a little green here.
One of my absolute favorite things about the College is the school spirit. Whether it's at football games or seeing the College's name pop up on a list of awesome schools, we are fiercely proud to be members of the Tribe. When you come to William & Mary it is nearly impossible to be just a face in the crowd. Even the one or two people I know that are not as involved in extracurricular activities on campus, seem to somehow be connected to my friends from other circles of my W&M life.
I love that we are a family at William & Mary, and I love that we show our Tribe Pride loud and proud!
- Kate Fitzgerald
March 28, 2014 by Admission Ambassador
William & Mary is wonderful. It's a gorgeous campus, the weather is typically significantly warmer than home, and the people are fantastic. But this winter has been cold and wet. The best part about Spring Break is the minimal work that typically needs to be done. It's half-way through the semester (I refuse to countdown the days 'til graduation, so don't ask), and all of my midterms are done! When I go home, I become the ultimate hermit. I wake up late, hang out on the couch, and brush my constantly shedding dog.
This break definitely had a lot of hibernation, but I also got a chance to go to a Bruins game with my family. It was tons of fun and an excellent game including a hat trick for David Krejci. The only other reason I left my house was Dunkin' Donuts. A major reason I can survive at William & Mary is the Dunkin' Donuts down the street, but there is nothing like Boston when it comes to Dunkies. There are two in my hometown on the same street! As it's the beginning of March, everyone is on their mint kicks, and Dunkies is definitely included in that game. Mint Hot Chocolate is my weakness. Greenberry's, the coffee shop in Swem Library, had some at the end of the fall semester, but I got a large one every day when I was home for break.
While I've missed my friends and am looking forward to the end here at W&M, I'm definitely going to miss the 2 minute drive to limitless Mint Hot Chocolate. Until next March, Dunkies, I guess I'll settle with a regular.
- Kate Fitzgerald
March 28, 2014 by Admission Ambassador
There is something about a road trip that excites me. I don't know if it's the endless opportunities, the sense of adventure, or the forced bonding time, but I absolutely love road trips. This year's Spring Break not only came with an arctic air, but a deep-seated nostalgia for home. I spent Spring Break this year with 5 friends on a road trip through New England. We stayed in Narragansett, Rhode Island, and made day trips throughout the region.
Before making my move to Maine in August, I wanted to get a better sense of the region that will become my home next year. For 21 years, I've known the Colonial Parkway, The Cheese Shop, and Pierce's Pitt Bar-B-Que to be where I can find someone I know. But now, that's all going to change. The highways will have signs for New Hampshire and Bangor and Boston. Interstate and State Route numbers will be different. Katherine is the only person I will know in a place that is as foreign to me as the place where we met – on a high school study abroad to Italy. But I think maybe that's where the fun will lie. I went to college in my hometown, and I'm so glad that I did. This is my home, these are the buildings that have defined me, even before my time as a student. Yet, now, I get the chance to learn who I am on my own.
Spring Break this year, while a week full of adventures and travel, was also a wake up call. For the first time in my life, I will be responsible for making somewhere else "home." Yikes.
- Kelley Quinzio
March 28, 2014 by Admission Ambassador
I decided to take it easy this Spring Break. Most of it was filled with hanging out with my dogs and filling out applications for summer internships. However, for the first few days of break I went to visit my sister at Lynchburg College. It was a great time. She took me to her favorite restaurants and I was able to meet her friends and hang out. What I didn't anticipate was the insight I would gain into the meaning of college life and what the end of the undergraduate journey looks like. My sister is a second semester senior at LC which means that this was my last trip to visit her before I attend her graduation ceremony. I can't believe how the time has flown by. I still remember helping her move into her dorm for freshman year like it was yesterday. I have been able to watch her grow as a person and make lifelong friends, that inevitably have become acquaintances of mine.
For me, as a sophomore at William & Mary, I have forged many great friendships and a deep connection to my school. It's incredible to think that come May, my time at W&M will be halfway over. So, even when you are pulling that all nighter before an exam or hanging out on the Sunken Garden on a lazy April afternoon and time seems to be crawling along, when you look back, it will feel like a blur. Take it all in, cherish each moment, and learn from what you will remember as some of the best years of your life.
- Mark Bland
March 20, 2014 by Admission Ambassador
I remember the first time I learned the word "misnomer." I was reading The Reptile Room by Lemony Snicket, which found the unfortunate Baudelaire orphans living with their uncle, a herpetologist who had recently discovered a snake called "The Incredibly Deadly Viper." The snake's name, the book went on to explain, was a misnomer, as the snake was completely harmless!
I've since discovered other misnomers. Like the funny bone. (It's a nerve, not a bone.) Or the strawberry. (It's an aggregate accessory fruit, not an actual berry. Just in case you were wondering.) My most recent discovery? "Spring Break."
This might not make sense to those of you still in high school, for whom Spring Break arrives as a warm, sunshine-y, homework-free week in the middle of April. But for us, the term is a little more confusing. I'd argue that in college, it's not so much a "spring break" as it as a "mid-winter pause!" This year, the first official day of break was March 1, which meant that it was still technically February as most students packed their bags and headed home. Although I escaped the cold weather for a few days when visiting my sister in California, I came back to find my Northern Virginia hometown coated with several more inches of snow.
While it might feel strange to celebrate "spring" with hot chocolate and snow boots, there's something to be said for this early break. We may joke about its early arrival, but by the time break rolls around, everyone agrees that it's a welcome respite from the stress of the first six weeks of the semester. The timing of a typical college semester may mean that "spring" comes a little earlier for us, but it also means that when high school students are buckling in for AP Exams in the beginning of May, we're already getting ready to head home for the summer! And a summer vacation that starts in May? That's a misnomer that I'm okay with.
- Elisabeth Bloxam
February 28, 2014 by Admission Ambassador
Let's break it down.
3 – People in my family that attended William & Mary before I did. Their tradition and legacy precede me. Walking across the patio at the Alumni House, you can see their names in a singular brick. How metaphoric. A collection of bricks with names that make a whole patio. Kind of like a collection of people who make up the traditions that make W&M home.
2 – People who have worn my class ring. My mama graduated in 1984. I will graduate in 2014. 30 years, 2 children, a dog, 3 cats and a lot of time transporting to and from sports camps have elapsed in the time that my mama wore this ring. And now it's mine. In another 30 years, what will we say about this ring?
1 – home. I have had exactly one address my whole life. And that means home to me. Home truly is where the heart is. And mine is here. At William & Mary.
321 – Happy 321st birthday to you, William & Mary. Your charter and legacy have lasted 321 years. You've been witness to this country's history. Front row seats even. You've been home to 4 presidents. You've converted to hospitals for the Confederate Army. You've produced leaders like Robert Gates, Glenn Close, Jon Stewart, Mike Tomlin and David Brown. You've produced people I know and look up to. So here's to you William & Mary. Here's to another 321 years. You are loved of old.
- Kelley Quinzio
February 28, 2014 by Admission Ambassador
Robert Gates '65 signing his bestselling book Duty, a Wiz Khalifa concert, a speech by Virginia Governor Terry McAuliffe, and an alumni medallion awarded to current FBI director James Comey '82. What is the occasion for all of these events you may ask?
The answer is: Charter Day.
Charter Day is when we celebrate King William and Queen Mary signing the royal charter to establish the College of William & Mary in Virginia. February 8, 2014 marked the College's 321st year of existence and allows the W&M community to come together and celebrate over three centuries of academic excellence and prestige. Charter Day makes us all think about what it really means to be a member of the tribe and the legacy of innovation and achievement that each of us, as students of the College, are obliged to uphold. The coming together of students, faculty and alumni over Charter Day weekend epitomizes why I love this institution that continues to cultivate the greatest minds in the world.
Historically significant, yet paving the way for the future, William & Mary truly is the alma mater of a nation. Happy Birthday William & Mary, you've never looked better.
Check out this video for a taste of what Charter Day is all about:
- Mark Bland
February 27, 2014 by Admission Ambassador
Dear William & Mary,
If you could talk, I imagine that you might say that Charter Day 2014 was the best birthday weekend yet. But William & Mary, you've seen a lot in your 321 years. When you were born – or, rather, chartered – England was still fighting the French in the Nine Years' War, a religious schism had just led to the creation of the Amish church in Switzerland, and the Salem Witch Trials were just wrapping up in Massachusetts. You share your birth year with a lot of other distinguished people – including a Russian empress, a British Prime Minister, and a French composer – but it's safe to say that after over 300 years, you've outlived them all.
And I've got to say … you look good for 321. As Colonial Williamsburg's next-door neighbor, you might be physically stuck in the past, but I'm proud to say that you've transitioned nicely from the 17th century to the 21st. Not many schools can boast both a royal charter AND campus wide wireless. And it takes a special mix of prestige and popularity to get wished a happy birthday by Robert Gates, Terry McAuliffe, AND Wiz Khalifa.
Happy birthday, William & Mary. Here's to 321 more!
- Elisabeth Bloxam