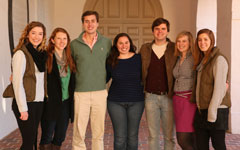 April 22, 2013 by Admission Ambassador
I bet you are super stoked, nervous, excited and ready to finally start your freshman year at William & Mary! If you are anything like me, I bet you've already picked out a few student groups and organizations that you would like to get involved with on campus. That's great! But if you have no idea at all what you want to get involved in at William & Mary, that is completely fine as well. Commitment is great, and if you plan on continuing a hobby or activity that you did in high school then go for it! At the same time, my biggest recommendation for all of you is to try something new too!
Take this opportunity of starting over in a new place with new people to expand your limits and to let loose. Try something that makes you a little nervous, uncertain, and uncomfortable. Do something that will totally surprise your parents when you  call home to talk to them. My surprising involvement was my participation in the Vagina Monologues this year. I had never done any sort of theatre production in my life and the idea of the Vagina Monologues made me a tiny bit unsettled. However, I strongly connected with the mission of the Vagina Monologues and decided to audition to perform, in spite of all of the voices inside of me telling me not to. Being a part of the Vagina Monologues was way outside of my comfort zone, but at the same time, I really liked seeing the reactions on people's faces when I told them what I was doing. My family and friends were beyond shocked that I was in it, but they were also so proud of me. I loved challenging myself and knowing that I tried something so out of the ordinary.
My hope is that all of you will have the same sort of out-of-body experience, where you realize that you can and should join groups and organizations that may not have been something you would have done in high school. Take advantage of this opportunity to be daring and creative. It will definitely be worth the risk. Welcome to William & Mary! I can't wait to hear about all of the new opportunities you  will take advantage of during your time here.
-Grace
April 22, 2013 by Admission Ambassador
WELCOME CLASS OF 2017!
We are so excited to have you here. For those of you I didn't meet on Day for Admitted Students (DFAS) I look forward to getting to know you a little better in the fall.
Before making this post, I was going to attempt to write a long list of different pieces of advice for all freshmen over their 4 years here. While that may be possible, I think it is better to be simple and say: just be you.
I was certainly nervous coming to college. How do I meet new people? What if everyone on my freshman hall is weird? Worst of all … what if I was the weird one? These questions and others streamed in and out of my mind as move-in day occurred. Then it hit me…
All of this won't matter. If you just act like yourself, get involved with activities you love, and be a little open-minded, you will have the time of your life at W&M—I guarantee it. Have you ever wanted to play water polo but never had the opportunity? We have that here. Have you always wanted to audition for a play but was too scared? Do it. Have you ever wanted to research a certain subject, but didn't know how to start? Our professors can help.
College is a new beginning, a fresh start—embrace that!
See you in the fall, ya'll!
-John A.
April 22, 2013 by Admission Ambassador
CONGRATULATIONS!
As a senior at William & Mary my time is oh so very quickly dwindling. Currently, we have one full week of classes left until the whirlwind of final exams and graduation. I honestly can't believe it has flown by this fast and I am so jealous of you all, the class of 2017, because you are just starting out on your adventures with W&M, while my chapter is coming to a close.
I know you have heard this at least 100 times by now, but congratulations class of 2017, you did it! The excruciating application process is done, there are no more Saturday mornings of standardized testing, no more forms to fill out or essays to write—it is truly time the to celebrate! So welcome, welcome to a place that I have come to truly call home in the last four years. Welcome to a place that will challenge you to become a better student, a better friend, a better person. Welcome to a place I love, a place I hope you will learn to love as well.
Of course I feel like it is my right, or duty to pass on at least one piece of wisdom to you. Here it goes … EMBRACE William & Mary and William & Mary will EMBRACE you. Take advantage of the multitude of opportunities offered by this wonderful institution: do research, study abroad, join clubs and organizations, play sports, go to shows and musicals, GET INVOLVED!! Let this process begin in your freshman dorm, don't be afraid to wander around the halls wrecking havoc and introducing yourself to others, you never know who will become your best friends and make all the difference to your college experience (shout out: YATESMATES love!).
-Rebecca Avison
April 12, 2013 by Admission Ambassador
A blog series from your Admission Ambassadors…
Now that the weather is FINALLY starting to get a little warmer (come on, Virginia!) here is a list of my favorite things to do in Williamsburg during the springtime.
Colonial Williamsburg. This answer may sound a bit cliche, but Colonial Williamsburg is absolutely gorgeous in the spring. When it starts to get cooler, one of my favorite things to do is wake up early—not too early of course, and jog down Duke of Gloucester (DoG) Street. Last year, a few of my friends in my a cappella group would head over to the lawn on the Governor's Palace most Fridays and eat a Cheese Shop Picnic.
The Farmer's Market. Although I have only been once or twice, the Farmer's Market takes place most Saturdays on DoG Street. Check it out for some great vendors—crafts, foods and more!
Busch Gardens. If you haven't ever been (a surprising number of W&M students haven't gone!) GO! Busch Gardens is a fun, clean (as far as amusement parks go) way to spend your Saturday when the temperatures get a bit warmer. Most of the time, the Student Assembly on campus holds a W&M Day at Busch Gardens where students get half price off tickets!
Fridays at 5. These are one of my favorite events in the Spring. Alma Mater Productions (AMP for short) puts on concerts each Friday at 5 on the Sadler Terrace. It is a great way to de-stress from work and welcome the fun of the upcoming weekend.
Screen on the Green. Another AMP event! Screen on the Green is a large event held on the Sunken Garden from W&M students. AMP provides snacks (popcorn, cotton candy, drinks) and always shows two popular movies. Some of my best times at W&M have come from hanging out with my friends at Screen on the Green!
-John
April 11, 2013 by Admission Ambassador
A blog series from your Admission Ambassadors…
MUST EATS:
Paul's Deli – a local bar and restaurant that I have memories from since my days in baby W&M cheerleading uniforms and Green & Gold club t-shirts. Located on Scotland St. right across from campus, Paul's Deli is a local favorite to watch big sports games or to see old college friends. Their Italian Sub and Hot Holly are to die for.
The Cheese Shop – just a must eat. I think saying "Cheese Shop" to any student or local will initiate Pavlovian responses unlike anything you've ever seen. Get the Virginia Ham. You won't regret it.
Sno-To-Go – not just shaved ice. It's a snow cone but BETTER. It will solve any worries you may have from April to October. And if you really want to make your dreams come true, ask for it stuffed and then thank me later.
Five Forks Café – definition of off the beaten path. Make the trip down Route 5 for this heavenly Southern food. This is that Sunday-after-church food that makes your soul feel good, but you get to eat it whenever you want! If you don't want to venture out to try it, try Honey Butter's off Monticello. (owned by the same people. The menus are only a little different.)
Pierces Pit Bar-B-Q. I don't even have anything else to add. I think that says enough.
MUST DOS:
Visit the Parkway Beaches. When people say go to your happy place. I actually go here. College Creek is a good one and so is Yorktown, at the end of the Parkway. Yorktown has some great shops and diners to grab food too. Ben & Jerry & Kelley- yes please.
Take a trip to the Prime Outlets. I know saying this makes me sound like a stereotypical girl, but I'm okay with that if it gets me 20% off. Also, most stores give you a 15% additional student discount. You get to go to William & Mary and J.Crew rewards you for it? Um, I can live with that.
CW Mug. This may be the best advice I ever give to incoming students. In Colonial Williamsburg, at the Taverns and canteens, you can buy a mug for ten dollars and get unlimited refills for an entire calendar year. Not only are you getting free drinks, but also soft serve ice cream for a whole year. ROOT BEER FLOATS ARE THE KEY TO MY HEART.
Ride the Ferry. Our Ferry leaves from Jamestown Island and deposits you on the other side of the James River in Surry. Surry has some of the best diners and will make your heart happy. You can also find strawberry farms that let you pick your own strawberries. YUM.
Go Ape. But seriously. Go Ape! A high ropes course designed to let your inner primate out. Take the family to the park off of Centerville Road and test your limits.
-Kelley
April 11, 2013 by Admission Ambassador
A blog series from your Admission Ambassadors…
Duke of Gloucester Street, or DoG Street as we locals refer to it, is a must-see in Williamsburg. There are dozens of historical shops, exhibits, and restaurants along the street that are open for the entire community. I always love stopping at the Capital at the end of the DoG Street, as well as at the printing shop, where I get to watch a colonial man use an old printing press machine. All of these different sites definitely give tourists an understanding of life in the colonial era. However, hands down, my favorite place in Williamsburg is the maze behind the Governor's Palace. I used to come to Williamsburg every summer with my family, and my sister and I would spend hours running around the maze. Even my parents enjoyed going through the maze with us! It is definitely a fun and enjoyable part of the Colonial Williamsburg experience that all visitors should take advantage of.
After spending a long day at Williamsburg, you will need to find a good place to eat! Williamsburg has a plethora of wonderful places to dine right across the street from Colonial Williamsburg. One of my favorite places to grab a warm hot chocolate or a tasty tuna sandwich is Aroma's. Aroma's is a cute, relaxing, and cozy place to grab something light and enjoy the soothing ambiance. If you are looking for a little more of an upscale experience then I recommend the Blue Talon. This restaurant is right across the street from Aroma's and has a fantastic assortment of entrees! You can't go wrong with the French onion soup or macaroni and cheese at the Blue Talon! And if you simply want a quick snack to munch on then you need to go to the Peanut Shop! There are dozens of free samples throughout the store and I guarantee you will fall in love with something you try. Eventually, you'll probably end up buying some amazing Virginia peanuts to take home with you. These are just a few of my favorite places in Williamsburg. Although it's small, the city has plenty of variety for people to explore!
-Grace
April 11, 2013 by Admission Ambassador
A blog series from your Admission Ambassadors…
1. A stroll down Duke of Gloucester (DoG) Street:  I love being able to step off campus and take a walk through Colonial Williamsburg (CW).  It is a great break from work and extracurricular activities, plus an opportunity for some fresh air is always a good idea.  When my best friend from high school, Ella, comes to visit each year from Washington D.C., we always make it a priority to spend some time soaking up CW.  Our favorite place is the colonial coffee house; the twenty-minute tour includes information about what the coffee house was used for in the late-18th Century and a tasting of tea, coffee, or hot chocolate.  I always go for the hot chocolate; it's delicious!
2. Tasting the samples at The Peanut Shop:  The Peanut Shop offers countless types of nuts, particular all kinds of flavored peanuts.  Everything is open for sampling, which makes for a really fun shopping trip.  I always pick up a can of Virginia Honey Roasted Peanuts for my little sister; she can't get enough of them.  There are almost always students inside enjoying some free samples, plus students get a 10% discount with their ID.  A stop at The Peanut Shop is a must when family or friends are in town!
3. Enjoying a Stuffed Snoball from Sno-to-Go:  Sno-to-Go is a local dessert stand that offers tons of flavors of shaved ice ranging from Blue Raspberry to Frog in a Blender.  Their specialty is layering the shaved ice with vanilla soft-serve, called a Stuffed Snoball.  My family loves Sno-to-Go; we always make a stop when they're in town.  I even got my sister one of their signature t-shirts that reads, "Where it's okay to eat yellow snow!"  We will definitely make at least one stop during graduation weekend for old time's sake and to beat the heat!
-Jordan
April 10, 2013 by Admission Ambassador
So I may be a child of the '90s, but my heart will always belong to the '80s.  Michael Jackson made the leather jacket popular again, Kevin Bacon stole the hearts of women across the country, and Admiral Zumwalt created the Be The Match Foundation, all in a decade. This decade would not only define my teenybopper years, but also my years in college.  With the leather jacket making a comeback in every color you can possibly find, these night-out staples are becoming more appealing to everyone.  Leather jackets are not just for tough girls – and thank you Michael for paving the way for us, but keep the gloves.
My Saturday night included my best friend's birthday party, where my leather jacket proved both versatile and downright adorable. Footloose is still a song you absolutely cannot sit still to, nor listen to at a reasonable volume. It's a song that always reminds you of a great memory. Kevin Bacon is stealing the show again in "The Following," which is currently the scariest show I've ever watched because of its realistic psychological pretenses. Joe Carroll's (portrayed by James Purefoy) ability to manipulate and capitalize on people's weaknesses sparks fear in every viewer. I highly recommend it to everyone.
Lastly, my weekend was spent putting the final touches on our Spring Bone Marrow Drive Day. The Alan Bukzin Memorial Bone Marrow Drives works with support from Be The Match Foundation to enter students into the national bone marrow registry. With two students who have donated in the past three years and over one thousands students entered since then, William & Mary continues to be the largest collegiate drive in the country. Without the '80s my weekend would have been much duller. Aside from the heinous trench coats Bender wore and the overuse of "Danger Zone" in Top Gun, the '80s was magic.  If I'm being honest, I loved Bender (coat and all) and what better song to ride down a runway to than Danger Zone? (Thank you, yet again Kenny Loggins, you never fail me.)
-Kelley
April 9, 2013 by Admission Ambassador
Drum Roll PLEASE … it's almost here, it's almost here, it's almost here!! AHHHH … I am more excited than a six year old at 6:00 am on Christmas morning. We have been checking the days off our calendars, and counting down hours, minutes and seconds till Day For Admitted Students, known lovingly by the admission office and interns as DFAS.
We are excited beyond belief to have you all visit our home, and have events up and down the wazoo prepared! I wanted to highlight some of the "don't miss" events of the day!
The Activities Fair: So this might be slightly biased (considering John & I have been organizing it for the last two months), BUT the number one event to not miss is the Activities Fair happening from 12-2 in the Sunken Garden!! Currently there are over 125 student clubs and organizations signed up. We want to show the multitude of ways to get involved on campus and get you excited about your future at William & Mary.
The Performance Showcase:  Have you ever wanted to see ballroom dancing or listen to amazing a capella!? If the answer is yes, you will have things to check off your bucket list after watching the Performance Showcase on Saturday during lunch. We have two hours of entertainment and a few surprises!
Screen on the Green: If you are planning to stay in Williamsburg for the evening, I would definitely make this event a priority. On Saturday night, our student-programming group Alma Mater Productions (AMP) will be screening two movies back to back on the Sunken Garden. My inside sources have informed me that the movies will be Wreck it Ralph and Silver Linings Playbook. The first movie will begin at eight o'clock with the second following after. Remember to bring a blanket to sit on and munchies to enjoy!
There are so many other fun and exciting things to learn and see this weekend in Williamsburg. Feel free to check out the schedule of events online for more information! We can't wait to show you everything William & Mary has to offer. So bring on the masses—we REALLY can't wait to meet you.
-Rebecca
April 8, 2013 by Admission Ambassador
Benjamin Franklin once said, "nothing is certain but death and taxes." At W&M, we can add one more thing to this list. Rain.  As may be expected from our swamp locale, it rains a lot here.  It rains when you least expect it. It rains when your iPhone predicts sun for three days straight.  It rains when you're wearing flats and your umbrella is carefully lodged somewhere in the back of your closet. Our rain knows no bounds.  Before I scare you off entirely, there is an upside to this gloomy weather.
First, as that other famous adage goes, April showers really do bring May flowers.  Our campus in the springtime is absolutely stunning.  Around mid-April, everything seems to suddenly burst into life. School becomes a lush, green, paradise filled with flowers of every shape and color.  If you visited campus during late spring, you know what I'm talking about.
Although the rain may get dreary and frustrating, it gives us one of the most beautiful, verdant campuses in the nation.  As I write this post, I am sitting outside on a bench facing the Sunken Garden.  I have an Einstein's bagel in my hand.  The sun is shining, there are flowers everywhere, and I'm thinking to myself-all that rain was worth it.
-Joanna