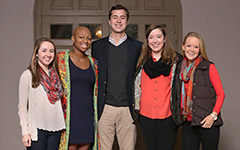 February 28, 2014 by Admission Ambassador
Let's break it down.
3 – People in my family that attended William & Mary before I did. Their tradition and legacy precede me. Walking across the patio at the Alumni House, you can see their names in a singular brick. How metaphoric. A collection of bricks with names that make a whole patio. Kind of like a collection of people who make up the traditions that make W&M home.
2 – People who have worn my class ring. My mama graduated in 1984. I will graduate in 2014. 30 years, 2 children, a dog, 3 cats and a lot of time transporting to and from sports camps have elapsed in the time that my mama wore this ring. And now it's mine. In another 30 years, what will we say about this ring?
1 – home. I have had exactly one address my whole life. And that means home to me. Home truly is where the heart is. And mine is here. At William & Mary.
321 – Happy 321st birthday to you, William & Mary. Your charter and legacy have lasted 321 years. You've been witness to this country's history. Front row seats even. You've been home to 4 presidents. You've converted to hospitals for the Confederate Army. You've produced leaders like Robert Gates, Glenn Close, Jon Stewart, Mike Tomlin and David Brown. You've produced people I know and look up to. So here's to you William & Mary. Here's to another 321 years. You are loved of old.
- Kelley Quinzio
February 28, 2014 by Admission Ambassador
Robert Gates '65 signing his bestselling book Duty, a Wiz Khalifa concert, a speech by Virginia Governor Terry McAuliffe, and an alumni medallion awarded to current FBI director James Comey '82. What is the occasion for all of these events you may ask?
The answer is: Charter Day.
Charter Day is when we celebrate King William and Queen Mary signing the royal charter to establish the College of William & Mary in Virginia. February 8, 2014 marked the College's 321st year of existence and allows the W&M community to come together and celebrate over three centuries of academic excellence and prestige. Charter Day makes us all think about what it really means to be a member of the tribe and the legacy of innovation and achievement that each of us, as students of the College, are obliged to uphold. The coming together of students, faculty and alumni over Charter Day weekend epitomizes why I love this institution that continues to cultivate the greatest minds in the world.
Historically significant, yet paving the way for the future, William & Mary truly is the alma mater of a nation. Happy Birthday William & Mary, you've never looked better.
Check out this video for a taste of what Charter Day is all about:
- Mark Bland
February 27, 2014 by Admission Ambassador
Dear William & Mary,
If you could talk, I imagine that you might say that Charter Day 2014 was the best birthday weekend yet. But William & Mary, you've seen a lot in your 321 years. When you were born – or, rather, chartered – England was still fighting the French in the Nine Years' War, a religious schism had just led to the creation of the Amish church in Switzerland, and the Salem Witch Trials were just wrapping up in Massachusetts. You share your birth year with a lot of other distinguished people – including a Russian empress, a British Prime Minister, and a French composer – but it's safe to say that after over 300 years, you've outlived them all.
And I've got to say … you look good for 321. As Colonial Williamsburg's next-door neighbor, you might be physically stuck in the past, but I'm proud to say that you've transitioned nicely from the 17th century to the 21st. Not many schools can boast both a royal charter AND campus wide wireless. And it takes a special mix of prestige and popularity to get wished a happy birthday by Robert Gates, Terry McAuliffe, AND Wiz Khalifa.
Happy birthday, William & Mary. Here's to 321 more!
- Elisabeth Bloxam
February 27, 2014 by Admission Ambassador
February 8th, otherwise known as Charter Day, is a day that has a very significant meaning for every student here at William & Mary. However, Charter Day tends to be extra special for me because not only is it the birthday of my favorite place on Earth, but it is also my own birthday!
While W&M was turning 321 last week, I was just reaching 20. In high school, I took this little coincidence as a sign from the higher education gods that William & Mary was the place for me. However, now I tend to look at it as more of an honor. To be able to share the same birthday as the second oldest college in the USA is, frankly, mildly intimidating. We're talking about the school that educated three [arguably four] US Presidents, founded the first Honor Code, created the first Law School, and was the birthplace of Greek Life.
That's a big birthday shadow to live in.
The one thing that makes me confident every day is knowing that by having the chance to study at William & Mary, I've given myself the best kick start anyone can have, as far as I'm concerned. The sheer excellence of every single one of my professors reminds me that I'm not just sitting in my classes getting "talked at" here. I am learning and growing so much every day in a way that will actually help me succeed both academically and personally for the rest of my life.
The people I have met on this campus have been some of the most amazing and inspiring people I have ever had the pleasure of getting to know. No wonder William & Mary has been around for 321 years of doing what it does best, nurturing young minds to continue its legacy by being all that they can be and more. I am humbled to be able to say, even if for just a short while, that I was a part of W&M's illustrious history, and that these brick pathways were my first true home away from home.
- Audrey Savage
February 25, 2014 by Admission Ambassador
2013, my first complete year at William & Mary. Time really does fly by when you are having fun.
2013 was a busy one making many new friends, and countless memories. One of the best choices I have made here at W&M was pledging a social fraternity. I was able to participate in the Student Leadership Foundation and took some of my favorite classes of all time (make sure to snag a seat in American Politics, Emerging Diseases, or African American History since 1710).
The spring in Williamsburg is the epitome of ideal temperatures so it didn't get better than giving a tour or playing croquet with the W&M Croquet Club. I also interned at the admission office last spring semester as well, which was an amazing experience. Going to the Day For Admitted Students was one of my favorite memories as an admitted student before actually coming to William & Mary, so it was awesome to be able to help plan the day for the Class of 2017.
Over Spring Break, I tagged along on my dad's business trip to Portland. It was my first time traveling to the west coast. Seeing the Pacific Ocean for the first time made this one of my most memorable trips. I also went skiing for the first time in my entire life. While my dad and his colleagues went skiing down black diamond slopes all day, I impressed two five year olds who were learning to ski with me on the bunny slope. After coming back to W&M, my sister swung by Williamsburg for Easter weekend and I was able to show her around, introduce her to my friends, and take her to the church I attend here in Williamsburg.
After the spring semester ended, I headed home to Northern Virginia for the summer. I interned with the American Wood Council, which is the national trade association for the wood products industry. It was a great experience and I learned a lot. You will find out that although college summers are long and fun, by the end you will be excited to return to William & Mary to see all of your friends and get back in the swing of things. Highlights from fall of 2013 include welcoming the Class of 2017 during Convocation and Homecoming week. It was great to see alums return to their alma mater and cheer on the Tribe. Nothing puts you in the spirit of the Tribe better than pulling out a win for the Homecoming game.
I finished the semester off with the Yule Log ceremony. Throwing that sprig of holly on the fire and seeing President Reveley dressed up like Santa is a memorable experience! As the year came to a close, with finals behind me and the start of fresh new semester not too far in the near future, I realized that maybe '13 was a luckier number than I had originally thought.
- Mark Bland
February 25, 2014 by Admission Ambassador
It's safe to say that 2013 has been one of the most exciting years of my life so far. I rang in the New Year on the Caribbean island of St. Maarten, the culmination of a once-in-a-lifetime trip with one of my best friends. And although I spent New Year's Eve 2013 in the decidedly-less exotic Northern Virginia suburbs, the 364 days in between took me to no fewer than three US states, four European countries, and eight airports. If you're thinking that I sound like a super cool adventurous jet setter, please keep in mind that it hasn't ALL been that exciting. (Case in point: I spent last night eating granola and watching PBS in my jammies.)
The truth is that I have had a pretty great year! Among the crazy cool highlights? Getting an A in a crazy-hard government class. Crying real tears at my first-ever Taylor Swift concert. Watching my little sister graduate from high school. Spending a perfect summer day on a road trip to Sonic with my best friend. Swimming under a two-thousand-year-old Roman aqueduct during orientation of my semester abroad. Taking over 600 photos in the less than three days that I spent in Paris. Visiting Strasbourg's world-famous Christmas markets. Coming home to my family just in time for Christmas. It's all been amazing.
But despite a great spring semester and an absolutely incredible four months in Montpellier, France, it wasn't all fun and games. In slightly bittersweet news, 2013 marked the halfway point of my career at W&M. I began the year a carefree sophomore and ended it a junior with an inbox full of emails asking me to file for graduation. It's weird to think that I'll be finishing up my major this spring or, horrifyingly, that more than half of the students on campus are now younger than me. Talk about a midlife crisis!
However, the best part of 2013 is that despite how exciting and rewarding it's been, it's given me even more to look forward to in the year to come. From the opportunity to return to France to do research this summer, to the chance to work in the Admission Office as an intern, to the amazingly exciting fact that I'm going to be an aunt in a few short weeks, I can already tell that, as great as 2013 may have been, 2014 is going to be even better!
- Elisabeth Bloxam
February 24, 2014 by Admission Ambassador
I get it, it's February. New Year's decorations have been cleared, sparkling cider bottles recycled, and resolutions left to the wayside. But William & Mary made 2013 possibly the best year yet. Despite being a transfer student, I spent the spring semester of 2013 studying abroad in Grenoble, France. In high school, I had always known that I was going abroad. For a week, a semester, a year, I was going to study outside of the US. When I ended up transferring, I was afraid I wouldn't be able to study abroad.
Oh how wrong I was.
I walked into the Reves Center afraid that my scarlet T was shining extra bright that day. When I sat down and spoke with someone in the office, I explained I was a transfer and I wanted to go abroad, but I wasn't sure I could still go for a whole semester. The wonderful intern flashed me a ridiculously confused smile, "Of course you can go abroad for a whole semester. Where do you want to go?" It was that simple. Instead of being worried that being a transfer would create a barrier, I was reminded, yet again, that it doesn't matter how you got to William & Mary; you're here and the volumes that could be filled with the opportunities available to you wouldn't even fit in Swem.
After studying abroad, 2013 continued to prove a fantastic year. I spent the summer in Williamsburg as a Senior Interviewer meeting some of the best people at W&M. I then started my penultimate semester taking classes I had been looking forward to since I registered for them, participating in the clubs and organizations I had missed going abroad, and getting to participate in some of my favorite William & Mary traditions including Homecoming and Yule Log. With only a few months left at W&M, I cannot wait to see what 2014 has in store for me.
- Kate Fitzgerald
February 24, 2014 by Admission Ambassador
I'm sad to say that the 2012-2013 school year was definitely my hardest at W&M. It wasn't because of my rigorous course load, my TWAMPy habit of overcommitting, or any of the problems life threw at me. It was because when May rolled around I had to say goodbye to some of the best people I have ever had the pleasure to call friends. Graduation this year was terrible. It didn't help that spring 2013 was the best of all of my W&M spring semesters. The school activities in the spring are among the best, including Holi, a Hindu festival where you throw paint powder at each other, and Campus Golf, a philanthropy even thrown by a social sorority, for which I may have wandered campus in a blow-up blueberry suit (it was very Violet Beuregarde). Spring in Williamsburg is beautiful, which meant frequent trips to College Creek, a local beach loved by students, and Jamestown Pie (I'm telling you it's amazing!!).
It all made graduation so much harder. The very people who had made William & Mary my home for the past three years were leaving me for bigger things and I desperately wanted to be among them. It was a wake-up call. As I heard more and more people focussing on the future—grad schools, interviews, jobs, Fulbrights, Teach for America—and going out on their own in the real world, I realized that it was almost time for me to do the same. The future is scary, and as students began returning to campus that fall I realized that another year at home was a good thing.
In my opinion, Convocation is one of the College's finest traditions. For those of you who are unaware, let me enlighten you: Convocation occurs at the end of the first day of classes, when the new students are officially welcomed into the Tribe. The incoming freshmen and transfers get all dressed up with their hall-mates and Orientation Aids to listen to the President's welcoming address, and an angelic rendition by the choir of our Alma Mater. Once it's all over they are ushered through the Wren Building and beyond, where they are greeted by the rest of the Tribe. I will warn you—it's overwhelming. The upperclassmen are waiting on the opposite side of the Wren, chanting "freshmen!" and raining down high fives as the newest members of the Tribe arrive. I remember walking through that crowd almost four years ago with an unmistakable sense of belonging. Random strangers, soon to be my new family, fought for a chance to be part of my own beginning. It's amazing being welcomed into the community with your new friends at your side, excited to see what lies ahead—in this case, a never ending line of hands and a picnic on the Sunken Garden.
As it was our last Convocation together, my freshman hall-mates met up and reminisced about the weird times in Gooch Hall, and what was to come. It reminded me that I have to take full advantage of this final year. To me, the worst part of graduating is not being able to walk across campus to see your best friends, but instead having to fly across the county, if not the world. So this fall I spent time reconnecting with old friends, making tons of new ones, and going on all of my favorite Williamsburg adventures.
Now it's time for the end: senior spring.
My Goal for 2014: figure out what to do with the rest of my life! It's a lofty one I know, but I have to do it sometime—ideally before I'm forced to move back in with my parents…
- Devyn Harris
February 21, 2014 by Admission Ambassador
As cheesy as it sounds, 2013 for me was The Year of William & Mary. No, really. My Facebook album from the summer is actually called "That Summer I Spent Waiting to Get to William & Mary". This time last year, I was starting the second semester of my freshman year at a four-year college in South Carolina. More importantly, I was in the middle of the transfer application process [as I'm sure many of you currently are as well, you go transfers!]
For me, the first half of 2013 was a waiting game. Wait for midterm grades for the Common App Mid Term Report, wait for the March 1st deadline, and most of all, the wait for admission decisions. When I finally got the news of my acceptance in late April [Stay tuned for the full story in a later blog. It contains lots of crying and Harry Potter.] the waiting game changed. Now, it was no longer a hoping kind of wait, but a solidified desperate longing type of wait that was stretching out over the longest summer of my life. But working at a summer camp with 7-10 year olds didn't give me much time to stay idle, and before I knew it, it was Move-in Day.My parents could barely keep me from bouncing out of the car on the early morning drive to my future home, Jamestown North dormitory. Orientation was a whirlwind of meeting new friends and rediscovering the place that I'd fallen in love with over and over with every visit.
By the time 2013 ended, I was no longer waiting and wishing for W&M, I was here. It was my home. And the Tribe was my new family that had welcomed me with open arms. I hope to get to welcome all of you out there in the fall of 2014 with the same openhearted embrace that I received. I know playing the waiting game is no fun, but trust me, it'll all be worth it in the end.
- Audrey Savage
February 20, 2014 by Admission Ambassador
I woke up on 1 January 2013 in a hotel room in the Kensington neighborhood of London, England after ringing in the New Year with my best friend. We spent a week abroad in celebration and enjoying one final vacation together before the real world took over our school breaks. Little did I know that I would spend so much of my year in Europe, and how much my life would be better for it.
I was fortunate enough to spend my spring break in Germany with my dad. I had been a few times before with him, so this time we got to explore the nooks and crannies of the country. It's those towns, like Trier or Dielheim, that give the country so much character, where you find real culture.
I then spent 5 weeks of my summer in Cambridge, England as part of our Study Abroad programs. The friends that I made and bonds I strengthened while there are unbreakable. When you travel with someone, especially in a foreign country where high-pressure situations are guaranteed, you really create a relationship that's incomparable to others. We took the time to go to the National Stud and see the horses and horse races. We got to go in Buckingham Palace and Windsor Castle. We took the ferry to Calais, France so that we could see the White Cliffs of Dover as we sailed away from the British coast. We met up with another friend in Paris who was studying in Montpelier, France for the summer. We enjoyed the Fringe Music Festival in Edinburgh. We met other Americans who were studying abroad. We met a Bulgarian also traveling home from France. We met a Scot on a train.
They say "traveling is the only thing you buy that makes you richer." My past year proves it. Spending so much time in Europe I got to see the world. I got to meet everyday people and students just like me. I got to hear what other people think of the United States. Studying abroad is my biggest piece of advice for prospective students, whether it's a summer, semester, year, or Branch Out. No matter what: go. When I look back on 2013, travel is what defined it. And now, traveling is what defines me.
- Kelley Quinzio