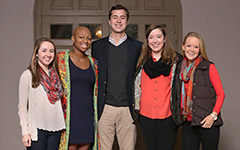 March 31, 2014 by Admission Ambassador
The first song I learned is called the Unicorn Song. For anyone that's heard it, you know what I'm talking about…the one with the green alligators and long-necked geese. Until I was about 14, I thought it was just a fun children's song about unicorns…then I listened to the words. And now I know why I've never seen a unicorn to this very day.
Every year growing up, the town threw a GREAT St. Patrick's Day party in the Hospitality House – yes that's a dorm now and I'm really sad about no more parties. But all of our families would spend the day at the party singing old Irish songs and entering raffles, and playing shuffleboard. I remember these days as times with friends that I've had since we were born. As families that grew into bigger families as we got older and family meant more than brothers and sisters.
I've been so fortunate to grow up in a place where you don't have to be related to be family, where everything works out in the wash, and you always wave to your neighbor. Now that I'm leaving it, I'm realizing how lucky I was to have it. How grateful I am to have learned how to be a good citizen and caring neighbor from this place. How much community really means to me. How playing 6 degrees from Kevin Bacon is easy as pie.
In the Irish Rover rendition of the Unicorn Song, they add a part to the end of the song that gives the unicorns wings to catch up to Noah's Arc. All of the animals came in pairs, so maybe it's time I start thinking of Williamsburg as my unicorn. And now it's time to leave and find another.
- Kelley Quinzio
March 28, 2014 by Admission Ambassador
There is something about a road trip that excites me. I don't know if it's the endless opportunities, the sense of adventure, or the forced bonding time, but I absolutely love road trips. This year's Spring Break not only came with an arctic air, but a deep-seated nostalgia for home. I spent Spring Break this year with 5 friends on a road trip through New England. We stayed in Narragansett, Rhode Island, and made day trips throughout the region.
Before making my move to Maine in August, I wanted to get a better sense of the region that will become my home next year. For 21 years, I've known the Colonial Parkway, The Cheese Shop, and Pierce's Pitt Bar-B-Que to be where I can find someone I know. But now, that's all going to change. The highways will have signs for New Hampshire and Bangor and Boston. Interstate and State Route numbers will be different. Katherine is the only person I will know in a place that is as foreign to me as the place where we met – on a high school study abroad to Italy. But I think maybe that's where the fun will lie. I went to college in my hometown, and I'm so glad that I did. This is my home, these are the buildings that have defined me, even before my time as a student. Yet, now, I get the chance to learn who I am on my own.
Spring Break this year, while a week full of adventures and travel, was also a wake up call. For the first time in my life, I will be responsible for making somewhere else "home." Yikes.
- Kelley Quinzio
March 28, 2014 by Admission Ambassador
I decided to take it easy this Spring Break. Most of it was filled with hanging out with my dogs and filling out applications for summer internships. However, for the first few days of break I went to visit my sister at Lynchburg College. It was a great time. She took me to her favorite restaurants and I was able to meet her friends and hang out. What I didn't anticipate was the insight I would gain into the meaning of college life and what the end of the undergraduate journey looks like. My sister is a second semester senior at LC which means that this was my last trip to visit her before I attend her graduation ceremony. I can't believe how the time has flown by. I still remember helping her move into her dorm for freshman year like it was yesterday. I have been able to watch her grow as a person and make lifelong friends, that inevitably have become acquaintances of mine.
For me, as a sophomore at William & Mary, I have forged many great friendships and a deep connection to my school. It's incredible to think that come May, my time at W&M will be halfway over. So, even when you are pulling that all nighter before an exam or hanging out on the Sunken Garden on a lazy April afternoon and time seems to be crawling along, when you look back, it will feel like a blur. Take it all in, cherish each moment, and learn from what you will remember as some of the best years of your life.
- Mark Bland
March 20, 2014 by Admission Ambassador
I remember the first time I learned the word "misnomer." I was reading The Reptile Room by Lemony Snicket, which found the unfortunate Baudelaire orphans living with their uncle, a herpetologist who had recently discovered a snake called "The Incredibly Deadly Viper." The snake's name, the book went on to explain, was a misnomer, as the snake was completely harmless!
I've since discovered other misnomers. Like the funny bone. (It's a nerve, not a bone.) Or the strawberry. (It's an aggregate accessory fruit, not an actual berry. Just in case you were wondering.) My most recent discovery? "Spring Break."
This might not make sense to those of you still in high school, for whom Spring Break arrives as a warm, sunshine-y, homework-free week in the middle of April. But for us, the term is a little more confusing. I'd argue that in college, it's not so much a "spring break" as it as a "mid-winter pause!" This year, the first official day of break was March 1, which meant that it was still technically February as most students packed their bags and headed home. Although I escaped the cold weather for a few days when visiting my sister in California, I came back to find my Northern Virginia hometown coated with several more inches of snow.
While it might feel strange to celebrate "spring" with hot chocolate and snow boots, there's something to be said for this early break. We may joke about its early arrival, but by the time break rolls around, everyone agrees that it's a welcome respite from the stress of the first six weeks of the semester. The timing of a typical college semester may mean that "spring" comes a little earlier for us, but it also means that when high school students are buckling in for AP Exams in the beginning of May, we're already getting ready to head home for the summer! And a summer vacation that starts in May? That's a misnomer that I'm okay with.
- Elisabeth Bloxam
February 28, 2014 by Admission Ambassador
Let's break it down.
3 – People in my family that attended William & Mary before I did. Their tradition and legacy precede me. Walking across the patio at the Alumni House, you can see their names in a singular brick. How metaphoric. A collection of bricks with names that make a whole patio. Kind of like a collection of people who make up the traditions that make W&M home.
2 – People who have worn my class ring. My mama graduated in 1984. I will graduate in 2014. 30 years, 2 children, a dog, 3 cats and a lot of time transporting to and from sports camps have elapsed in the time that my mama wore this ring. And now it's mine. In another 30 years, what will we say about this ring?
1 – home. I have had exactly one address my whole life. And that means home to me. Home truly is where the heart is. And mine is here. At William & Mary.
321 – Happy 321st birthday to you, William & Mary. Your charter and legacy have lasted 321 years. You've been witness to this country's history. Front row seats even. You've been home to 4 presidents. You've converted to hospitals for the Confederate Army. You've produced leaders like Robert Gates, Glenn Close, Jon Stewart, Mike Tomlin and David Brown. You've produced people I know and look up to. So here's to you William & Mary. Here's to another 321 years. You are loved of old.
- Kelley Quinzio
February 28, 2014 by Admission Ambassador
Robert Gates '65 signing his bestselling book Duty, a Wiz Khalifa concert, a speech by Virginia Governor Terry McAuliffe, and an alumni medallion awarded to current FBI director James Comey '82. What is the occasion for all of these events you may ask?
The answer is: Charter Day.
Charter Day is when we celebrate King William and Queen Mary signing the royal charter to establish the College of William & Mary in Virginia. February 8, 2014 marked the College's 321st year of existence and allows the W&M community to come together and celebrate over three centuries of academic excellence and prestige. Charter Day makes us all think about what it really means to be a member of the tribe and the legacy of innovation and achievement that each of us, as students of the College, are obliged to uphold. The coming together of students, faculty and alumni over Charter Day weekend epitomizes why I love this institution that continues to cultivate the greatest minds in the world.
Historically significant, yet paving the way for the future, William & Mary truly is the alma mater of a nation. Happy Birthday William & Mary, you've never looked better.
Check out this video for a taste of what Charter Day is all about:
- Mark Bland
February 27, 2014 by Admission Ambassador
Dear William & Mary,
If you could talk, I imagine that you might say that Charter Day 2014 was the best birthday weekend yet. But William & Mary, you've seen a lot in your 321 years. When you were born – or, rather, chartered – England was still fighting the French in the Nine Years' War, a religious schism had just led to the creation of the Amish church in Switzerland, and the Salem Witch Trials were just wrapping up in Massachusetts. You share your birth year with a lot of other distinguished people – including a Russian empress, a British Prime Minister, and a French composer – but it's safe to say that after over 300 years, you've outlived them all.
And I've got to say … you look good for 321. As Colonial Williamsburg's next-door neighbor, you might be physically stuck in the past, but I'm proud to say that you've transitioned nicely from the 17th century to the 21st. Not many schools can boast both a royal charter AND campus wide wireless. And it takes a special mix of prestige and popularity to get wished a happy birthday by Robert Gates, Terry McAuliffe, AND Wiz Khalifa.
Happy birthday, William & Mary. Here's to 321 more!
- Elisabeth Bloxam
February 25, 2014 by Admission Ambassador
2013, my first complete year at William & Mary. Time really does fly by when you are having fun.
2013 was a busy one making many new friends, and countless memories. One of the best choices I have made here at W&M was pledging a social fraternity. I was able to participate in the Student Leadership Foundation and took some of my favorite classes of all time (make sure to snag a seat in American Politics, Emerging Diseases, or African American History since 1710).
The spring in Williamsburg is the epitome of ideal temperatures so it didn't get better than giving a tour or playing croquet with the W&M Croquet Club. I also interned at the admission office last spring semester as well, which was an amazing experience. Going to the Day For Admitted Students was one of my favorite memories as an admitted student before actually coming to William & Mary, so it was awesome to be able to help plan the day for the Class of 2017.
Over Spring Break, I tagged along on my dad's business trip to Portland. It was my first time traveling to the west coast. Seeing the Pacific Ocean for the first time made this one of my most memorable trips. I also went skiing for the first time in my entire life. While my dad and his colleagues went skiing down black diamond slopes all day, I impressed two five year olds who were learning to ski with me on the bunny slope. After coming back to W&M, my sister swung by Williamsburg for Easter weekend and I was able to show her around, introduce her to my friends, and take her to the church I attend here in Williamsburg.
After the spring semester ended, I headed home to Northern Virginia for the summer. I interned with the American Wood Council, which is the national trade association for the wood products industry. It was a great experience and I learned a lot. You will find out that although college summers are long and fun, by the end you will be excited to return to William & Mary to see all of your friends and get back in the swing of things. Highlights from fall of 2013 include welcoming the Class of 2017 during Convocation and Homecoming week. It was great to see alums return to their alma mater and cheer on the Tribe. Nothing puts you in the spirit of the Tribe better than pulling out a win for the Homecoming game.
I finished the semester off with the Yule Log ceremony. Throwing that sprig of holly on the fire and seeing President Reveley dressed up like Santa is a memorable experience! As the year came to a close, with finals behind me and the start of fresh new semester not too far in the near future, I realized that maybe '13 was a luckier number than I had originally thought.
- Mark Bland
February 25, 2014 by Admission Ambassador
It's safe to say that 2013 has been one of the most exciting years of my life so far. I rang in the New Year on the Caribbean island of St. Maarten, the culmination of a once-in-a-lifetime trip with one of my best friends. And although I spent New Year's Eve 2013 in the decidedly-less exotic Northern Virginia suburbs, the 364 days in between took me to no fewer than three US states, four European countries, and eight airports. If you're thinking that I sound like a super cool adventurous jet setter, please keep in mind that it hasn't ALL been that exciting. (Case in point: I spent last night eating granola and watching PBS in my jammies.)
The truth is that I have had a pretty great year! Among the crazy cool highlights? Getting an A in a crazy-hard government class. Crying real tears at my first-ever Taylor Swift concert. Watching my little sister graduate from high school. Spending a perfect summer day on a road trip to Sonic with my best friend. Swimming under a two-thousand-year-old Roman aqueduct during orientation of my semester abroad. Taking over 600 photos in the less than three days that I spent in Paris. Visiting Strasbourg's world-famous Christmas markets. Coming home to my family just in time for Christmas. It's all been amazing.
But despite a great spring semester and an absolutely incredible four months in Montpellier, France, it wasn't all fun and games. In slightly bittersweet news, 2013 marked the halfway point of my career at W&M. I began the year a carefree sophomore and ended it a junior with an inbox full of emails asking me to file for graduation. It's weird to think that I'll be finishing up my major this spring or, horrifyingly, that more than half of the students on campus are now younger than me. Talk about a midlife crisis!
However, the best part of 2013 is that despite how exciting and rewarding it's been, it's given me even more to look forward to in the year to come. From the opportunity to return to France to do research this summer, to the chance to work in the Admission Office as an intern, to the amazingly exciting fact that I'm going to be an aunt in a few short weeks, I can already tell that, as great as 2013 may have been, 2014 is going to be even better!
- Elisabeth Bloxam
February 24, 2014 by Admission Ambassador
I'm sad to say that the 2012-2013 school year was definitely my hardest at W&M. It wasn't because of my rigorous course load, my TWAMPy habit of overcommitting, or any of the problems life threw at me. It was because when May rolled around I had to say goodbye to some of the best people I have ever had the pleasure to call friends. Graduation this year was terrible. It didn't help that spring 2013 was the best of all of my W&M spring semesters. The school activities in the spring are among the best, including Holi, a Hindu festival where you throw paint powder at each other, and Campus Golf, a philanthropy even thrown by a social sorority, for which I may have wandered campus in a blow-up blueberry suit (it was very Violet Beuregarde). Spring in Williamsburg is beautiful, which meant frequent trips to College Creek, a local beach loved by students, and Jamestown Pie (I'm telling you it's amazing!!).
It all made graduation so much harder. The very people who had made William & Mary my home for the past three years were leaving me for bigger things and I desperately wanted to be among them. It was a wake-up call. As I heard more and more people focussing on the future—grad schools, interviews, jobs, Fulbrights, Teach for America—and going out on their own in the real world, I realized that it was almost time for me to do the same. The future is scary, and as students began returning to campus that fall I realized that another year at home was a good thing.
In my opinion, Convocation is one of the College's finest traditions. For those of you who are unaware, let me enlighten you: Convocation occurs at the end of the first day of classes, when the new students are officially welcomed into the Tribe. The incoming freshmen and transfers get all dressed up with their hall-mates and Orientation Aids to listen to the President's welcoming address, and an angelic rendition by the choir of our Alma Mater. Once it's all over they are ushered through the Wren Building and beyond, where they are greeted by the rest of the Tribe. I will warn you—it's overwhelming. The upperclassmen are waiting on the opposite side of the Wren, chanting "freshmen!" and raining down high fives as the newest members of the Tribe arrive. I remember walking through that crowd almost four years ago with an unmistakable sense of belonging. Random strangers, soon to be my new family, fought for a chance to be part of my own beginning. It's amazing being welcomed into the community with your new friends at your side, excited to see what lies ahead—in this case, a never ending line of hands and a picnic on the Sunken Garden.
As it was our last Convocation together, my freshman hall-mates met up and reminisced about the weird times in Gooch Hall, and what was to come. It reminded me that I have to take full advantage of this final year. To me, the worst part of graduating is not being able to walk across campus to see your best friends, but instead having to fly across the county, if not the world. So this fall I spent time reconnecting with old friends, making tons of new ones, and going on all of my favorite Williamsburg adventures.
Now it's time for the end: senior spring.
My Goal for 2014: figure out what to do with the rest of my life! It's a lofty one I know, but I have to do it sometime—ideally before I'm forced to move back in with my parents…
- Devyn Harris