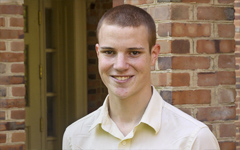 July 18, 2013 by Andrew Schwieder
The second weekend after arriving in Kingston, I joined three other interns who work in the office and their roommate on a hike to the highest point in Jamaica, Blue Mountain. The trip up was treacherous, the lack of sleep was strenuous, and the hike itself was arduous, but it was the experience of a lifetime and one that only a few people, apparently not even a lot of Jamaicans, get to enjoy.
Our trip started on Saturday morning, leaving from the north side of Kingston we had to catch a route taxi to Papine, a mini-bus to Mavis-Bank and then from there a rocky, steep climb in a Land Rover to the camp where we were staying. This camp was run by a family of Bobo Rastafarians who have a certain laid-back life style that made time at the camp run at a slower pace. The man who ran the camp was called Jah B and despite the slow lifestyle he lived he was as shrewd and sharp as any business man that I have ever met.
He and his family had constructed a cabin way up in these mountains for groups like ours to use as a base for hikes to see the sun rise from the peak, starting at 2:00 am. This was our plan, to get some sleep that afternoon/evening and then get up well before dawn so that we could be the first people in Jamaica to see the new day.
I caught a decent nap in the afternoon so that evening I joined some other tourists, two Czechs and a Colombian for a drink at probably the most remote bar I will ever go to. The bar seemed to be more of a hangout for the locals because of the TV, showing Fast and the Furious, rather than the drink so we moved our conversation outside where we had a great view of the clear night sky. At around 11 or so I returned to the room I shared with the others on the trip until about midnight or so when we found a rat climbing around our room, I figured sleep wasn't going to happen at that point.
We started hiking at around 2 am, giving us just over three hours to make it to the top in order to see the sunrise. The trip up was fairly treacherous and exhausting, plus we only had our flashlights to rely on for light. Despite all of that, and by pushing ourselves to the point of collapse we were able to reach the peak just five minutes before the sunrise was scheduled. This we unfortunately still did not see because the peak was actually encompassed by a cloud, limiting our visibility to roughly zero.
But still despite our disappointment of missing the sunrise and having all our effort wasted, we were still able to get a great view after coming down off the mountain a little bit.
All in all, Blue Mountain was a completely different experience for me, but it was also the ideal way for me to get acquainted with local Jamaica by talking with our guides and going to a place that was very far off the beaten track. The trip also showed me a part of Jamaica that I have realized is unfortunately a rarity on the island, an environment that is nearly unmarred by human interaction, and demonstrated to me that the work conducted by the Caribbean Environmental Programme is vital to ensure that others can have similar experiences in the future.
July 10, 2013 by Andrew Schwieder
Alright I got behind on my posting again (about two months) so I am going to be rushing to get some stories out while they are still fresh in my head.
One of the benefits of studying at St Andrews is that I have covered many more topics of study between William & Mary and St Andrews. One of the things that few students will cover at William & Mary is the topic of the environment, but it is one of the key concepts at StAs such as environmental collaboration between states within conferences or institutions like the UN. This has turned out to be really beneficial to me as I have accepted an internship with the United Nations Environmental Programme, the best part is that it allows me to live in Kingston, Jamaica for three months.
I work within the Specially Protected Areas and Wildlife (SPAW) Sub-Programme within the over-arching Caribbean Environmental Programme's Regional Coordinating Unit. Other sub-sections within the same office are the Communications, Education, Training and Awareness Programme, and the Assessment (CETA) and Management of Environmental Pollution (AMEP) Sub-Programme. The office is located in downtown Kingston and something that I am oddly excited about is that the headquarters of the United Nations Convention on the Law of the Sea (UNCLOS) is located on the floor right below us, something that we studied in a fair amount of detail at StAs.
So far my responsibilities within the office have been reviewing reports and updating the resources that SPAW distributes to raise awareness on its actions and projects. This includes updating the SPAW website, a daunting task, but at least I am learning a lot about SPAW as well as a little bit of programming and image editing.
Finally! Now that that post is out of the way I can get to writing about some of the more interesting topics like my experiences in Jamaica since arriving here at the end of May.
June 26, 2013 by Andrew Schwieder
After a lot of consideration, I have decided to transfer out of the William & Mary St Andrews Joint Degree Programme after four semesters and, as a result, will be returning to William & Mary this fall as a regular student. I would not consider myself a cautionary tale for people who are considering to study in the Programme, but I would like to outline the reasons for my decision as well as how this has affected and will affect my study.
First, I feel like I should say that I love the town of St Andrews, everything from the design of the town to the students that I met. On the other hand the main drawback for me was that St Andrews is expensive. If you want to go out on the weekends then you should expect to be paying a fair amount of money depending on what you want to do. There are the balls and events that you have to spend money on to gain entry, that plus the price of food and drink can add up to a lot for just one night. Plus the Tesco in town (a food market chain pretty much equivalent in size to a mini mart like Piggly Wiggly) is rumored to have the 2nd most expensive prices in the UK. That's not to say that you can't find a meal for less than 3 pounds if you want, but if you are buying alcohol it's hard to avoid spending a fair amount of money. Plus what a lot of Americans forget is that you have to consider the conversion rate (about 1.54 at the time of writing) in addition to the cost it takes to transfer your money into a Scottish bank or out of an ATM with an American account (about $30 for every $1000 you transfer money from a US bank to a Scottish bank).
Since students in the Programme pay the same tuition regardless of whether they are out-of-state or in-state, those who are out-of-state pay comparatively less while those who are in-state, like me, pay more, even for the years spent at William & Mary. My decision basically came down to whether I could justify the extra costs of the Programme, and in the end I could not.
However, I did have a lot of fun with the people I met and the activities that I got to do there and I do not regret my decision to play the odds and try out the Programme. I did however recognize that I needed to move on from the Programme and pursue more conventional (and cheaper) route of education. However I will continue to write about how my trip to St Andrews has affected me in the long run.
June 4, 2013 by Andrew Schwieder
Now that I have finished up my 2nd year at StAs I feel like I now know enough about the British system to comment on it. The first thing that students at StAs will come to know is that your reading is fundamental and the primary source of learning. Now this does not mean that lectures are unimportant or lacking in substance, but they are supplemental to your reading, as opposed to the other way around. The degree of this depends on the type of class, but it still seems to be the case in most social science courses.
Now, an important consideration to keep in mind at StAs is the relative importance of the grades of students in the Programme. Within the British system students are only expected to pass their first two years of stud, a 7 on the 20 point scale (or a D- at W&M) for classes in which a student does not seek honours, and an 11 on the 20 point scale (or a C-) in their 2nd year in classes in which a student seeks honours classes. The only determinants of whether a student at StAs receives a 1st class (>16.5), a 2nd class (10.5-16.4), a 3rd class (7-10.4), or a fail (<6.9) are the final two years of study. This basically means that a student can have a 0.7 GPA average by W&M standards for the first two years, but still get a 1st class (the closest comparison to W&M standards would be a 4.0) if they get good grades in their last two years.
NOW, THIS IS NOT THE CASE FOR STUDENTS OF THE PROGRAMME. No matter which institution students of the Programme start, our grades in our first two years do matter for our GPAs. Practically, this means that students within the Programme have to hold themselves to higher standards and if they want to get the higher marks, they must do it consistently over four years and not just in two.
Also, a warning on languages, they are treated differently in Europe and if you take an entry level class you should expect to commit to becoming at least functionally fluent by the end of your first year (I have heard that if you take an intensive course then you should expect to reach the vocabulary of a 14 year old native speaker by the end of your first year). This study is also largely on your own, you will be expected to learn vocabulary on your own with class time devoted to going over grammar. Also, a warning to students going into 2nd or 3rd years of study, students who spent the first year at William & Mary and the second at StAs found that the courses' vocabulary/usage/expectations did not have as much desired overlap between their first year at W&M and their 2nd at StAs, you will now likely be warned by your advisors, but I'm including this warning just in case. If you are committed to doing a language (or required as in the History major) either try to discuss the differences in the programs with your advisor, go a level down from what you believe to be your ability, or simply do not do it.
Exams at StAs as you can imagine are very important. They count for 40-60% of your grade in just about any class with the notable exceptions being languages. With such a high emphasis placed on the exams, the lead up to exams is treated as very important with 'reading weeks' (either one or two weeks between the end of classes and the start of exams) in order to give students a chance to study. My experience with exams is that they are mostly consistent across subjects depending on the area of study. In my international relations and philosophy class I was given two hours to complete three essays (other subjects that I believe this to be the case are English, History, etc.). However, it is a general rule that exams last two hours no matter the subject. The grading of these exams places just as much emphasis on how well you conducted your essay as on your knowledge of the subject. This means that American students are at a disadvantage because students within the British system have been conducting practice essays of these tests for several years, even before university so it is imperative for these students to learn as much as possible about the system in which they are being graded and the rubric on which they are graded.
Note: the expectations of students within the Programme are changing all of the time, part of the nature of being a new program. So some of the information above could change in the next few years, for instance the conversion rates of grades from the 20-point scale to W&M grade has already been changed in this past semester.
April 29, 2013 by Andrew Schwieder
At William & Mary you have choices in how you want to use your meal swipes (Sadler, the Cafe, or Market Place?) and your Dining Dollars (OK, so pretty much just Domino's). At St Andrews the system is a little bit different, the dining halls are within residence halls (at least you get to know your hall mates!) and your portions are, ahem, moderate if you rely upon just the hot dish. During lunch and dinner, you have a choice between three hot main dishes, two meats and one vegetarian, and these portions are fixed. However, there are also four hot vegetable/grain sides available and if you love potatoes then you are in luck because you get them at every single meal. In addition, there is a salad/pasta bar, vegetable soup, fruit, juice, and, most importantly, a coffee machine. Just like anywhere else, at StAs there are the good days (korma chicken, Irish stew, or beef stroganoff) and the bad days  (lamb tangine, pork belly, or 'hamburgers'). Also, a small aside about haggis, it's often served with something like chicken and I wasn't a believer until I tried it for the first time last week, but now I would highly recommend it.
Of course it's also possible to go into town to get food and if you know where and when you can do it affordably. For instance, on Sundays there are often specials for students because businesses know that dining halls don't serve Saturday or Sunday dinner (e.g. Bella Italia half price entrees on Sunday). And then there are the supermarkets, Tesco and Sainsbury's, both carry basically your bare essentials and how much you spend is directly proportional to what you are willing to put your body through. 12p Ramen? 60p shepherd's pie? £1 20 pc. 'Chicken nuggets'? All are available for us broke uni students, that is if you can deal with the pitiful look that you will get from the store clerk when they are ringing you up. And then again, if you're in a rush, there's the meal deal, £3 for a sandwich, crisps and a drink, ideal for a lunch between classes or if you'll be at sports practice all day.
Another important aspect of StAs' cuisine is the late night eateries or more commonly known as "drunk food." Every student who has ever gone out here has a preference, and there will be frequent discussions on why so-and-so goes to Empire, Dervish, Courtyard Pizza (the best one), or Rendezvous. For most, Dervish takes top spot and, indeed, almost every weekend night you will be hard pressed to get your chicken burger in under 20 minutes. On a brief personal note, for me, I would recommend going anywhere BUT Dervish mainly because of my experience there on Halloween. I got into a little bit of a tiff with the proprietor because he refused to serve me the pizza I had paid for (the receipt was in my hand). It's true I was a little inebriated and dressed as a banana but still I WANTED that darn pizza. But again, no matter what your favorite, your nights at StAs will almost always end at one of those four eateries because what's better than cheap food after a night out?
April 15, 2013 by Andrew Schwieder
One of the activities that I picked up at William & Mary was rowing and I loved it. Coming to St Andrews there is a bit of a difference. We have to row in Perth which is about an hour away by car (which I also drive sometimes…on the wrong side of the road) and the weather is not really conducive to rowing. Some days it will literally be snowing while we're on the water and the water could potentially be frozen if it wasn't moving. Then there is also the fact that we don't have a dock, not at all, if you want to row you have to walk yourself into that freezing water to launch the boat.
Now don't get me wrong, there are definitely perks too. Over spring break we took a trip to Kastoria, Greece where we got to train at a facility that has produced several world class rowers in recent years. We rowed basically right into the town, nestled in between several breathtaking mountains. Plus our hotel had a spa—yes the trip was amazing. Then we were also supposed to get the opportunity to row on the Thames but snow and wind cancelled the race. There are also the weekly socials on Wednesday where all sports teams meet up in the Student Union in their respective uniforms and go berserk. (The rowing onesie may be revealing but at least it isn't a Speedo.) And of course, Thursday morning practice isn't tough enough if you're not nursing a hangover.
November 19, 2012 by Andrew Schwieder
Note: All St Andrews students are registered with the National Health System (NHS) during the first week (called Fresher's week), the system allows for completely free medical service for students and for that reason is fantastic. 90% of the heartache suffered in this post was because of my own stupidity and I in no way think poorly of the NHS.
Since I was supposed to be posting for the past few months, my first few posts are going to be some of what I believe to be my more interesting and unique experiences since arriving in StAs about two months ago.
About two weeks ago, during a routine workout for rowing, I somehow injured myself somewhere in my neck. I still don't know what the problem is, but every time my heart beat rose above a certain level I would get a really bad headache. This problem was severe enough that I decided I needed to go to the doctor and so I phoned my local GP Tuesday morning and an appointment is made for Tuesday afternoon. I recount my story to the doctor and he tells me that he will get in contact with some specialists and let me know what the problem is.
The next day my GP calls me and lets me know that he has made me an appointment at Ninewells Hospital at 10:00 the next morning for "scans" to ensure that nothing has gone airy in my head. He, understanding that I am a American student, tells me to go to the bus station and ask for directions from the counter and away I would go. So, knowing that the bus would take at least an hour, I set my alarm for 8:30 the night before and go to sleep. This is where the fun begins…
Cue waking up the morning of my appointment. I look over to my clock and it reads 9:30… apparently my trusty iPhone alarm isn't so trusty. With a constant stream of strong, mostly profane, encouragement issuing from my mouth I get dressed and ready for the doctor. At the door I run my usual keys, wallet, phone, and consider for a moment to bring my book bag but, no, I figure it'll be a quick scan, no need to bring any reading or studying materials. Half walking/half running down the street to the bus station, I pull up to the bus station counter to see that there is absolutely no one inside. Well, they made smart phones for a reason. I pull out my trusty iPhone and in minutes have an itinerary set to get me to the hospital even if a little over an hour late.
At this point I'm stressed, still groggy, and not at all sure where I am going. I locate the hospital on my phone and decide that I'll get off at a stop near the hospital and walk the rest of the way. The bus finally takes me about as close as it looks like its gonna go and I hop off and hoof it through yards, apartment complexes and parking lots to reach the hospital. After about a 20 minute walk I finally arrive at just over an hour and a half late from my original appointment, and oooh yeah that bus would have gotten me here if I had just stayed on for five more stops.
Whatever. I walk into the hospital and am just purely overwhelmed. The main entrance reminds me of an airport and I meekly pull out a scratch piece of paper on which I've scribbled the only information I have: "10:00, assessment ward, Ward 15." I follow the signs down to Ward 15 hoping to God that I didn't somehow misinterpret my GP over the phone, and not knowing what else to do I go to the nurses' station and ask for the assessment ward. By some miracle my name is written upon their little white board and for the first time of the day I feel as if I have done something right.
Eventually, after a few minutes of waiting, a very well dressed man comes up to me and asks "Who are you?" For some absurd reason I got the feeling of celebrity as I said "I'm Andrew Schwieder," pointing to the little white board that declared my fame. I am taken inside the ward, which could hold about six patients at a time and in due time the same man comes to me and asks for my symptoms. I recount my story and he immediately hits me with "This sounds like a bleed in your brain we will need to keep you overnight." Um, what?? I thought I was here for some scans, out of here in time to make it to my 2:00 class. Nope. They want to give me a CT scan and then WHEN that turns up negative give me a lumbar puncture. When trying to persuade the doc to give me the scans and then let me go home while awaiting the results he tells me that I need to be kept under constant supervision because a bleed in the brain could result in my paralysis or even death. Fantastic. A long hospital stay with nothing to keep my mind off of my possible impending doom.
Now, remember, I had my phone, wallet, and keys. My phone is already down to 53% power and I turn it off to save power. There are no magazines, books, or TVs to hold my attention. With nothing better to do, I take to watching the heart monitor of the patient across from me whose irregular heart beat actually made the jumping of numbers from 90 bpm to 130 at least somewhat entertaining. Eventually a porter with a wheelchair shows up to take me to the scanner, apparently a hospital policy with people with suspected head injuries but one that makes me feel as if I could be on the way out at any moment.
After the scan I am taken back to the assessment ward just in time for lunch. I initially decline my sandwich and snowball being served by a good-natured nurse. "Are you sure? They're free." Oh my god she's right. ALL of this is free, already paid by the taxpayers of the UK. Even, I, as a foreign student, that have paid no taxes to the British government except for the negligible amount in sales tax, is being allowed to get all of this treatment for free.  For some reason, that completely changed my mindset, after that I just accepted that the doctors and nurses must only be doing what they thought was right since they were actually losing money by having me there.
So I was admitted into the hospital to await my CT scan results which eventually came in as negative. Fantastic, now they get to stick a needle in my back. For those who have had a lumbar puncture before you know what an exceedingly awkward experience it can be, more awkward than painful to tell the truth. Curled up in the fetal position for about twenty minutes, I was reminded of a trip to the barber as the doctors asked me questions about how I liked St Andrews, my classes, etc. even as they drained a little bit of cerebral fluid out of my spinal cord. After which I had to lie flat on my back for about an hour, no trouble there, not like I had anything to do anyway.
Sleep that night was broken up into two hour segments by the night nurse coming by to take my heart rate, blood pressure, and temperature. Finally the morning came and so did my results. Completely negative. My diagnosis? "Muskuloskelatal pain headache." I'm not going to question it if it means that I can leave. I hop on the bus for another hour and a half long trip that was decidedly more relaxing than on the way to the hospital. I get back to St Andrews and go straight to Subway. The food at the hospital was free but it did leave something to be desired.
So my story did have a happy ending. After explaining my situation to my Spanish professor he arranged an alternative date for my test. I even received an email from Student Support Services at St Andrews making sure that I was ok over seeing I had been to the hospital. I may not have found out exactly what was wrong with my head aches, but at least they were able to rule out me keeling over at any time. And, most importantly, it was all free, gotta love that NHS.
November 16, 2012 by Andrew Schwieder
I started on this blog a BIT later than was planned (only about 4 months) so I have just a little catching up to do but first I'll start with a bit of an introduction.
Hello! And welcome to Andrew Schwieder's new blog. I am 20 years old, born in San Francisco and raised in Richmond, Va. I have three siblings: Elizabeth, 24, graduated from James Madison University in 2011 Robbie, 22, graduated from University of Virginia in 2012, and Will, my twin, University of Virginia 2015.  My parents, Wylie and Katie are teachers in Henrico County/Richmond area.
As you can probably guess I am a student at the College of William and Mary but I am also a student within the Joint Degree Programme between W&M and the University of St Andrews. The students and professors intimately involved with this program affectionately refer to ourselves as WaMStAs.
Within this blog my goal is to chronicle my experiences abroad, compare my years abroad to those spent at W&M, and share my experiences of a once in a lifetime opportunity.
If you are interested in the Programme and would like to contact me my email is akschwieder@email.wm.edu.