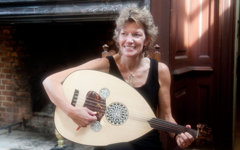 July 28, 2011 by Anne Rasmussen
AKR in Oman Part 3
3.5: The Sami'a of Salalah: Sheikh Ahmad and the Jalsa at-Tarab
There is a saying in Arabic:  "A chance meeting is worth a thousand appointments" (sudfa ghair min alf mu'ad).  I have been practicing this phrase in Arabic for 17 years since my colleague and friend, Dwight Reynolds, exclaimed it to me at a conference where we bumped into each other by surprise.  In my life the phrase often rings true and I have learned that the "chance meeting" an essential element of fieldwork.   My chance meeting with Ahmad Bin Suwaidan Al Balushi has led me into a world of music connoisseurship that I yet to experience in the Sultanate and has given me yet another perspective on the relationship between patrons and musicians in Oman.  My experiences in Sheikh Ahmad's music world have also helped me to see and hear the area of Southern Oman and Yemen as a musical region.
Here's how we met:
I changed my plane ticket from Muscat to Salalah so I could see the performance of the Al Majd ensemble, before the group and its director, Rageb Khamis, left on a tour to Zanzibar for ten days.  Because of the cool and rainy Khareef season, the flights from Muscat to Salalah were packed but I managed to find one seat in business class that would get me to Salalah just in time to make it to the festival grounds for Al Majd's performance.  I paid for the ticket change and the upgrade: opportunity cost.  When I boarded the plane the gentleman seated in the front row asked if I would change seats with his friend so they could sit together.  But after he saw me stowing my 'ud in the overhead compartment he must have changed his mind.  Following take off the man turned around and started talking to me through crack between our rows.  A few minutes later he invited me back to my original seat so that we could chat.
Ahmad bin Suwaidan Al Balushi is former Minister of Communication 1984-2000, a post he was appointed to by Sultan Qaboos, Oman's beloved leader since 1970.  He has seen and been involved in the process of warp-speed development in the country, much of which centers around telecommunications and the transfer of information, both from and to the outside world and within the Sultanate itself.   Born in Ibri but with also homes in Muscat and Salalah, Sheikh Ahmad is working on a manuscript that documents his life and work.  On our short ride from Muscat to Salalah, he opened his laptop and showed me most of his 300 page manuscript with its fascinating photographs and commissioned paintings of traditional life and historical scenarios.  He also showed me samples of the hundreds of videos of musical performances he has amassed as a private patron of the arts. After the archives housed by the Oman Center for Traditional Music, Sheikh Ahmad's collection of audio-visual recordings is the second largest in Oman he told me.  Sheikh Ahmad's collection is distinctive in that the great majority of these videos are edited footage of performances that were commissioned for private events in his homes. Sheikh Ahmad said he would be hosting one of these events within a few days and that he would call me to invite me.
Figure 1:  Sheikh Ahmad readies his camera, one of three that were shooting the musicians and dancers that evening.
Since our chance meeting I have attended two events at Sheikh Ahmad's and have had the opportunity to sit and chat with him about his life's work, his views on music and culture in Oman, and his plans for the future.
Jalsa at-Tarab:  The Private Listening Party
The word Jalsa comes from the Arabic verb "to sit" (the root is ja-la-sa, the Arabic letters, jim-lam-sin).  In the musical sense a Jalsa is an event where a group of people who know each other well come together to drink tea, and chat, and listen to music.  There is an expectation that camaraderie among the guests (sami'a or listening connoisseurs) and between the guests and the musicians will be enhanced by the music itself.  The term Jalsa is roughly analogous to the term Sahra (evening or private musical evening) a term introduced to me by musicians and patrons in the Arab American community in the 1980s.  Both the Jalsa and the Sahra are distinct from the Haflah, a music event that is much larger, more public – even if all of the attendees are invited — and which borders on a concert, often with lively dancing, and sometimes with food.  In fact here in Oman the term Haflah and concert have been used interchangeably.
Sheikh Ahmad's Jalsa was consistent with my expectations.  I arrived with my escort, Muhamad Al Nahari, the director of the regional office of the Ministry of Culture here in Salalah, who eased my way into this circle of elite music listeners.  At both events I was the only woman present among the guests, with the exception of the female singers and dancers who were among the artists.
Al Mazyun was the group featured on the first evening.  I had seen the group perform at the Mahrajan and had met its leader or Rais il-Firqa, Audh Said, who brought 17 musicians and dancers from Yemen to round out his troupe for the many performances they had scheduled for the Mahrajan season.  Premier among the Yemeni performers is Salah Ahmad Rajeb a blind singer and 'ud player and Qaisar Awad whose leadership of the group, even when he sits in the back row, is evident.  Qaisar is a fabulous dancer and adds great dynamism to the "back row" of singers, clappers and exclaimers of "tashgia" or shouts of encouragement during performance.
Figure 2:  Right to Left:  'Audh Said, head of the Firqa Al Mazyun, Said Swilan, head of the stage, and Qiasar 'Audh, one of the performers from Yemen, in front of the traditional house or Bait Turathi on the festival grounds.
Figure 3:  Sheikh Ahmad positions the microphone for Salah Ahmad Rajeb, singer and 'ud player.
The ensemble, Al Mazyun performed the many styles of music and dance that I have learned are distinctive to Oman's southern Dhofar province, genres and styles that are shared, with some variations, with the Southern region of Yemen.  Salah began most of his songs with an 'ud taqasim and mawwal, instrumental and vocal improvisations, respectively, that are more characteristic of the Arabic music from "balad ish-sham" or the northern Arab world countries of Syria, Iraq, Lebanon, and Egypt.  A musician's musician, Salah Ahmad Rajeb, added more than a touch of Arab multi-nationalism to the performance and helped to evoke an atmosphere of tarab (or shared musical ecstasy or enchantment) among the crowd.  The dynamic dancing by women, and men, and women and men together, who typically arose mid-song to dance, embodied patterned choreography in ways that looked completely natural.
Yemen and Oman: Political and Cultural Boundaries
I had seen Al Mazyun perform on my first night at the Salalah Festival and it was pointed out to me then and in several subsequent instances that the presence of the Yemeni artists at the festival this year is contested.  The reasons for this vary but the general sense is:  this festival is supposed to present Omani music.  When I question people here and in Muscat, both musicians and others in the business of culture, nearly everyone makes assertions about the importance of Yemen with statements like "Yemeni and Omani music are one and they same," or "Everything comes from Yemen" or "All Arab culture started from Yemen."  In spite of official objections to Yemeni artists at the festival, there is a clear chorus that the Dhofar region, and especially the plains and coastal region of Salalah share much with Yemen, particularly Mahar, the Yemeni region that borders Dhofar in Oman, and Hadhramaut, the region to the West of Mahar. This is really one musical region albeit with distinctive variations. Providing evidence for the connection people cite similarity not only in musical styles and instruments, but also in dress, food, language, and even, the weather.  And the connection is not just a historical one.  A young man who sang and played the 'ud at the end of the evening at Shiekh Ahmad's said he had been to Yemen, "maybe two hundred times."  Recordings of Yemeni music are easily available in the record shops here in Salalah, and the borders between the two countries permit a regular flow of artists back and forth.  Keeping the arts and culture of Yemen and Oman separate is largely a political exercise.
The Hajar: I found my drum!
My own interest in Yemeni music came into focus over the course of ten years of research on Indonesian Islamic because the Yemeni region of the Hadhramout is the historical and imaginary source of a great deal of Arab music and Islamic culture in the Southeast Asian archipelago.  Traders from the Hadhramaut and generations of their ancestors played a major role in the transmission of Islam and the Arabization of Islamic culture in Indonesia.  Continuing economic, cultural, and family ties are an indelible part of the relationship between the two nations.  Yemen, through my work in Indonesia, was the reason I became interested in the Arabian Gulf, and why I eventually ended up doing research in the Sultanate of Oman.  Of particular interest to me was a genre that is wildly popular in Indonesia today, called Hajar-Marawis, named after two drum types, the Hajar, a double-headed laced barrel drum and the small Mirwas, that produce interlocking complementary rhythms when played in pairs or in groups.
Figure 4:  Jakarta, Indonesia, January 2010:  The women's Hajar Marawis group from the Institut Ilmu Al Qur'an play and sing at an exhibition of Islamic performing arts. The smaller drums are the Marawis.  Front and center are two styles of Darabuka, played by the same person; just behind her another woman plays the double-headed Hajar drum with both hands.
Marawis (plural) are plentiful in Oman, but the barrel drums that are prevalent here are the Rahmani and Kaser.  Only one reference is made to the Mahjar drum (the term is obviously related to Hajar) in the Dictionary of Music in Oman originally compiled by the Egyptian musicologist Yusuf Showqi (1985-1987) in conjunction with his work for the Oman Center for Traditional Music and revised and republished by Dieter Christensen in 1994.
When I walked into large salon at Sheikh Ahmad's that served as the stage for Al Mazyun and sized up the percussionists and their instruments my eyes lit up!  I finally found my drum.  Adil Mohamad confirmed that was indeed the Hajar.
Figure 5:  At last, I found my drum!  The Hajar  (larger) and Mirwas (smaller) drums.
The Power of Patronage
Prior to the performance that evening and during the break and following a meal that was served at midnight to the musicians and guests (each eating separately on the floor but conversing with one another freely), Sheikh Ahmad played concert videos he had recorded over the years on a wide screen TV.  Some of the people remembered events at which they had been present, others were anxious to hear singers and poets they knew well.  Sheikh Ahmad showed me an even larger selection of his sharply edited performances when I joined him for tea one morning and explained the process involved.  He and his team video their concerts with three cameras and record the sound separately.  Sheik Ahmad edits the footage, using the sound from the audio recording, to produce a clean product with cutaways to shots of soloists and perhaps landscapes of nature, to create finished projects.  Many of the events he has commissioned combine artists he would like to see together or provide new opportunities for musicians and poets to collaborate.  On one occasion he invited a group that performs Malid, religious recitation, but asked them to prepare the poetry or Ibtihalat written by the most famous poet and singer from Salalah, Jam'an Diwan, who composed a set of devotional verses upon his return from Medina.  At both events it was clear that both the ensemble and the media team collaborated on the set list, which was written out in advance in one case, with requests from the Sheikh.   Ahmad bin Suwaidan Al Balushi would like to open a private television station or at least a radio channel where he can play some "decent music" in Oman, something beyond the commercial and nationalist pop that dominates the sound waves here.
Figure 6:  Dancers float across the floor in fast paced seemingly internalized choreography.  Although the Dhofari and Yemeni dress, called thobe, both have the same pattern with the front hem of the dress about one foot shorter than the back hem, these women wear belts, an aspect of Yemeni women's dress not seen in Oman.
I told Sheikh Ahmad that I was surprised to find anything like this in Oman.  Here in Salalah was a family of connoisseurs: Ahl al-Tarab, a term that denotes the association of musicians and patrons based on shared musical aesthetics and the social relationships and contextually situated behviours that are born from and facilitated by performance.  What I had experienced in Oman were hyper-produced events, such as those surrounding National Day, or carefully scripted productions such as the opening concert for the Amateur 'Ud Society in Muscat.  Then, there is the traditional music that is played in festival settings, such as the performances I have described in Muscat and Salalah.  The private concerts of the Sultanate's premier ensembles, The Royal Oman Symphony Orchestra and the Sultan's Arabic Orchestra (Firqa-t-is Sultaniyya Khas) take place within palace walls and the occasional concerts that happened at Al Bustan Palace, a 5 star hotel with a nice theater, are formal events with the protocol, pomp, circumstance, befitting of Muscat's political elite and international ambassadorial and business community.  And although I know THE place for music is the traditional wedding or other family celebration, it just didn't seem as though the people I met in Oman were really involved in music except as infrequent consumers.
"Yes, but we are in Salalah," Sheikh Ahmad said with a twinkle in his eye, "and here we are close to the culture of Yemen."
Sheikh Ahmad, with his unconditional love for music and camaraderie and his passion for documentation and production is an extraordinary force, operating under the official radar of cultural production in the Sultanate.  His life's work in telecommunications as it has been applied to commissioning and archiving hundreds of performances of music and dance is his legacy, which, one hopes, will become accessible to all of the Ahl at-Tarab of present and future generations.
AKR
July 23, 2011 by Anne Rasmussen
AKR in Oman Part 3
3.4 – The Pop Music Scene in Salalah: Cultural Symbiosis and Musical Mutualism
An extraordinary series of concerts is being presented parallel to and in consort with the Salalah Tourism Festival this year.  Organized and produced by Muscat Media Services, four concerts, involving some of the most famous and beloved pop singers from the Arabian Gulf as well as a number of more local Omani singers, have been staged over the past 20 days at the massive theater, Masrah Al Marouj.  I was told that this theater, which has been packed to capacity for these events, seats 7,000, and that it is the largest stadium-style theatre in the entire Arabian Peninsula.  It does not fall under the auspices of any government ministry, as I understand it; rather it was built at the initiative of Oman's beloved leader His Majesty, Sultan Qaboos bin Said, who presented the theater as a gift to the city of Salalah.
Figure 1:  Concert organizers from Muscat Media pose in front of the poster for the second of four concerts:  Ahmed M Safrar, CEO (left) and Photographer, Muntasir Zarroug or MZ, originally from the Sudan (right).
I became aware of these concerts because of a huge free-standing poster in the lobby of the Hamdan, a large and comfortable hotel with cheery, decorative arrangements of plastic flowers and plants in every corner, a huge swimming pool that seems hardly used, and a friendly staff, almost all of them Indian expats.  My host, Khaled Tabouk from the Ministry of Information, pointed out the concert series to me.  I was anxious to check out the scene and bugged Khaled persistently to arrange that I attend the first concert and meet the organizers.  In the early evening of the night I was to attend the first concert I returned to the Hamdan to find a group of men in suits with instrument cases — an unusual sight in Salalah, or actually anywhere in Oman.  Eureka! I thought – this is to good to be true! I introduced myself to the guys in the suits and learned that an entire orchestra of 25 musicians from Egypt would be staying at my home away from home, the Hamdan Hotel for the next 20 days to accompany all of the concerts.
Under the direction of Maestro Khaled Fouad, this Orchestra, Firqa Al Atwan, is no stranger to the Gulf.  They tour here frequently, "too many times," joked Mohamed El Nekhily, who plays trap-set drums with Orchestra's robust percussion section.   Firqa Al Atwan is a top-notch, professional orchestra and it has been thrilling to witness their stunning musicianship.  The organization of this ambitious series of concerts by Muscat Media Services has been equally impressive.  Each concert features four or five singers: two or three Omani singers open the show followed by the more famous singers.  The CEO of Muscat Media, Ahmed M. Safrar, invited me to greet super star Aidha Al Menhali, at the Salalah Airport on the day he arrived.
Figures 2 and 3: Aidha Al Menhali, a superstar from the UAE, arrives at the Salalah airport and is whisked away to the Hilton Hotel for an appropriate reception.
For each concert and with just two or three days, the orchestra and four or five solo singers, rehearse and perform, collaborating together, usually for the first time.  Maestro Khaled Fouad, prepares the music for his orchestra, transcribing melodies straight from recordings or just skeleton scores, and arranging the music for his orchestra.  One of his assistants converts the transcriptions into scores using the Sibelius 6 music notation program.  Parts are produced and copied and "gig-books" are assembled. Then with one only one or two rehearsals, concerts musically materialize.  The incredibly tight timetable and the, undoubtedly huge level of stress for the Orchestra director and his musicians, seems unbelievable, making the process of production all the more remarkable.
Figure 3:  Maestro Khaled Fouad in rehearsal at the Hamdan Hotel.  Aidha Al Menhali of the UAE is on the left in the ball cap.  Members of the six-person "chorale" are on the right.
Figure 4:  The front line of Firqa Al Atwan:  Qanun, Nay, Saxophone, and 'Ud.  Said, an 'ud player from Iraq plays an solid-body electric 'ud made by Viken Najarian, one of the most prominent 'ud makers in the United States and a friend of mine for the past 25 years.
Figure 5:  The librarian and assistant for Al Atwan, Salah Adawiyah, distributes the music for the next singer on stage at the Masrah Marouj.
Figure 6:  Yet to be replaced by synthesized strings, the large violin section (along with two 'cellos in this case) is de rigueur for the Egyptian Firqa.  Here is a picture of the violinists on stage.
There are several overlapping and intersecting phenomena at work here.  Many of them can be collected under two overarching and complementary processes.
First is the incredible role of the Sultanate of Oman as a patron of the arts both in the Arab World and in the international arena.  A country like Oman, with its financial resources and its initiatives to maintain traditional music while at the same time becoming more musical, plays a huge role in the mathematical formula of the Arab world musical economy.
Second, and to balance to the economic power of the Gulf states in contemporary cultural formulae, is the artistic dominance of Egypt, the importance of its musicians for the region, and the promulgation of Egyptian musical aesthetics and techniques including musical details like tuning, instrumentation, form, and arrangement.  Without the musical manpower of Egypt and, as I have commented in earlier blog posts, of Iraqi musicians who work in Cairo and in the recording industry of the United Arab Emirates, concerts like this one, and the performances and recordings of local stars from the Gulf would not be possible.
This is a musical symbiosis and a cultural co-dependence or mutualism that is an essential component of the music culture of the region.  To explore the biological analogy I evoke a bit further, lets consider the definition of symbiosis by the German micologist, Heinrich Anton de Bary, who in 1989, for his biological research on fungi 1989 defined the term as "the living together of unlike organisms" [1].  The majority of the Egyptians musicians with whom I have chatted during the past few days are not entirely "at home" with the music of the Gulf. Its music is not their lingua franca. When I complimented him on his orchestra, the Maestro frowned and said "yes, but this is not our normal work."  At the same time the "public ear" of Gulf audiences is localized.  Music from the Northern Arab countries of Egypt, Syria, Lebanon etc. is largely foreign fare as was demonstrated when a young singer from Kuwait sang three pieces made famous by the Egyptian singer Umm Kulthum, to a largely unreceptive audience of young guys waiting to sing and dance to their music, that of the Khalij, or Gulf region.  As Fahad Eid Subaity, mananger of the Musical Instrument Workshop for the Omani Royal Guard exclaimed during an interview I had with him two days ago:  even the takht (the small classic ensemble of Egypt and the Eastern Mediterranean countries including 'ud, nay, qanun, violin, and riqq) is completely new to the Omani public.
Figures 7 and 8:  Last night the crowd was waiting for Saudi Arabian singer, Khaled Abd Al Rahman, the featured performer of the evening.  This photo was taken from the "Ladies Section" of the theater. Figure 8: I got to have my picture taken with the star of the evening before his performance, at about 12:30 a.m., following 5 other singers.
The website for the Oman Center for Traditional Music [2] states that there are 130 different kinds of traditional music in the Sultanate of Oman, almost all of them the result of hundreds of years of interaction between the seafaring cultures around the Indian Ocean.  The scene I describe above is another example of musical fusion and diffusion in the contemporary moment.
AKR
Figured 9 and 10:  Maestro Khaled Fouad and a view of the stage at the Masrah Marouj in Salalah, Oman.  The logo for the Salalah Tourism Festival is pictured on the screen at the back of the stage.
For related discussions on the routes of musical production see my earlier blog posts on the events and the music composed for National Day and on the Jama'iyyat Howat al-'Ud, the 'Ud Amateurs Association in Muscat.
1. AKR in Oman Part 2 #2:  How Many 'Uds are too Many?, February 17, 2011
2. AKR in Oman Part 1 #6: Student Pageants: Dazzling and Spirited, December 17, 2010
[1]  http://en.wikipedia.org/wiki/Symbiosis
[2]  http://www.octm-folk.gov.om/meng/introduction.asp
July 17, 2011 by Anne Rasmussen
AKR in Oman Part 3
3.3: The Art of Bedouin Razfa — Salim Ali Kamis and Razfa Al Hamasiyyah
I have been moseying around the Salalah Tourism Festival for a week now.  Events are transpiring faster than I can keep track of them as each day brings new acquaintances and often with them, invitations that spin off into sub-plots of their own.  Let me describe then just one interesting person I met on the trail.
Salim Ali Kamis is the head of Razfa al-Hamasiyyah, a group from the Northern coastal city of Sohar, that perform the ancient Bedouin verbal art, Razfa.  When I came upon the performance area, just a long rectangular carpet on a huge plaza and food court, the group had apparently just finished but I inquired about the group's leader who was immediately identified to me.  I started asking questions and told him a little about myself.  We then exchanged numbers and everyone took a few photos. Salim and his companions explained that Razfa was an ancient Bedouin art dating back 2,000 years.  All of the troupes members were from Bedouin tribes but their families were now settled city and town dwellers.  They said they would be at the Salalah Festival for a few more days.
Figure 1:  We took pictures of each other on the night of our first meeting.  Note the signs for "Chick Hut" and "Crispy," two popular fried chicken chains in the region.  Salim Ali Kamis is pictured on the left.
When performed traditionally, two lines of men face each other and toss lines of poetry, that are "given to them" by the sha'ir, or lead poet, back and forth.  Various innovations in Razfa have occurred over the years, for example the addition of drums, then keyboard, and later pre-recorded sound tracks of both music and words. I had seen all of these variations in Razfa at the Muscat Festival in February.
Although Razfa is an art that celebrates machismo and victory after war, texts also can concern love and praise for people who have died or for heroes of the past.  Some texts are "from our grandfathers," others newly composed.  Everything I saw and heard of Razfa was confirmed by the excellent documentary multimedia ethnography, a book by Dieter Christensen and Salwa El-Shawan Castelo-Branco, with the assistance of Omani musicologist Khalfan Barwani, titled Traditional Arts in Southern Arabia: Music and Society in Sohar, Sultanate of Oman (2009).  This excellent work, which becomes more and more useful to me every day, is based on the collective fieldwork of the three co-authors conducted between 1985 and 1992 with re-visits to Sohar in 2004-2006, and includes companion CDs and DVDs of the performances they recorded.
While the great majority of performing arts here at the Salalah Festival are from Dhofar, I was curious about Razfa as the performing troupes in Muscat I saw seemed somewhat formidable to me.  The guys in Razfa al-Hamasiyyah were so nice and I was dying to get a better sense of the art so I made it a priority to call and find them again for another performance.
I looked in the same place for Salim's group the next day and the day after that.  Then I called!  Salim said they would be performing at the theater that evening but when I arrived they were finished and other troupes were performing.  No problem he said, we'll be here tomorrow too.  As we chatted and watched another group who was performing with a CD, I asked Salim if he wrote poetry.  "Of course," he smiled "Qasa'id," and he said he could do it live and on the fly but that he also had many, many long poems that he had composed over the years.  "Can you perform this way, in the traditional way?" I asked.  "We will try tomorrow night," he assured me.
The next night several Rafza groups, all of them from the Northern and Eastern regions of Oman, performed; all of them used a back up CD as their sound track. Some of the members mouthed the words, but clearly the role of the lead poet had changed – the sound track was completely canned with the keyboard synthesizer and drum track dominant.  Rather than two lines facing one another, there was just one line of men who stood holding the arm of their neighbor with one hand and the thin, light cane or "camel stick" called 'asa.  The 'asa has moved beyond the Bedouin environment and has become a mandatory accessory of formal male dress in Oman along with a belt and hanjar (dagger).  If men are dressed this way in Muscat, they are either going to some sort of formal affair or, they are ministers (or close to them).  Whether or not these men do anything with camels is beside the point. The 'asa is to be held in a dignified fashion when seated or standing (but not to be leaned on too hard).  It is the symbol that counts!
Figure 2: The light cane or camel stick is a popular item for sale to tourists and locals in the Nizwa market.
The men in the single line facing the audience toss their sticks up and down in unison – and usually in time to the music.  One or two or three men, sometimes more, break away from the line and twirl their sticks over their heads, sometimes twirling themselves.  And performers manipulate their sticks in other coded ways, the meanings of which are too nuanced for me to understand (at this point).   One of the most distinctive aspects of the dance is the way the men jerk their neck, bobbing their heads in a way that emulates the undulations of the camel.  They bend forward at the torso and hold this pose, bobbing their heads all the while, sometimes letting their sticks fall to the ground.  Sometimes two or three solo dancers will come forward and kneel down, all the while bobbing their heads like the camels whose aesthetic and economic value in Omani Bedouin culture is paramount.
Figure 3:  Two members of Razfa al-Hamasiyya danced up to me where I was sitting on the step at the back of the stage.
Figure 4: How many camels can you fit in a Toyota pickup? I met this pair in the town of Thumrait, north of Salalah, just over the mountain pass and back into the desert.
So last night I went to the festival hoping to hear Salim Ali Kamis deliver lines of poetry to his troupe "in the traditional way."  Alas this was just simply not meant to be.  Even though there were mikes set up in front of the row of men.  The sound guy put on the prerecorded music (and words) from a CD, definitively framing the performance.  Salim indicated that they hoped to perform in the traditional way for me for five minutes before the loud music but, in spite of Salim's gestures from the stage toward the sound man, it couldn't happen.   In this context the performance for and with the crowd was about the dance, not the poetry.  In fact security guards held off enthusiastic young guys who wanted to get up on stage and dance too until the very last group was performed.  I needed to meet the members of the Firqa Mirbat at another stage and so, resigning myself to things they way they were, I left before the performance was over.
Figure 5:  Razfa Al Hamasiyyah performs at the Salalah Tourism Festival, 2011.  The sound man is barely visible, next to the white chair, above the stage.
Then, just before I was ready to head home to the Hamdan Hotel, at about 11:45 p.m., Salim called.  My Arabic is certainly not great but I think it is a little better than Salim's English.  There was no way I could understand what he was saying over the phone so I went back to the stage to meet him.  "Look," he said: "We will perform 'live' tomorrow in Ain Sahnawt, why don't you come along?"
So this afternoon I met Salim and one of his troupe's members, and off we went.  We talked about many things as we headed into the green mountains above Salalah, including the art of Razfa, his job in the police force, camels, how to get to Ain Sahnawt (I had a map), and his car, a 1992 Mercedes Benz with almost 400,000 kilometers on the odometer!
"It's a great car!  I take good care of it.  It is made in Germany!" Salim boasted, "Hitler!"
We all laughed.
Salim said that the Fann ir-Razfa, an art that is shared by the desert people of Oman and the United Arab Emirates, is as much about the recording as it is about the poetry.  He explained what it takes to make a music video (video clip).  1,000 Omani Riyals for the studio time, the music, the chorus, the costumes and the shooting of four hours of footage for a 4.5 minute clip.  Four and a half minutes is too short for a classic Qasidah, which, ideally, he told me includes 14 lines of poetry.  Just eight lines are all you can include in a prerecorded song.  As we drove through the misty mountains he recited one of his Qasa'id, which he composed about 10 years ago: 14 lines, each made up of two halves (hemistich) with an internal rhyme of N (the Arabic letter nun) and a final rhyme of F (the Arabic letter fa).  I played the recording back for him as we waited around for the live shooting by Oman television to begin.  He was pleased and I promised to make him a copy to bring to him in Sohar.
Figure 6:  Salim Ali Kamis in Ain Sahnawt, driving his beloved Mercedes while reciting one of his poems for me.
At the live shooting, the producers from Oman TV blasted a pre-recorded soundtrack from their car while they filmed the two troupes dancing Razfah on the slippery grass in the very un-Bedouin-like setting of the wet, green mountains of Dhofar.  That's the way it was done – which is not to say that is how it is always done.
So, I have yet to see Razfa al-Hamasiyyah perform "in the traditional way" but I have learned a lot about Razfa and am grateful for the opportunity to spend time with the generous and friendly members of Salim's troupe.  They are all headed back to Sohar in their caravan of cars and pickups this evening.  Salim says they'll drive the 1,000 kilometers straight through in about 10 hours.  "That's all?"  I exclaimed.
"Sure," Salim asserted. "I'll drive 190 kilometers an hour.  This car can go up to 220!  I take good care of it! It is made in Germany!  Hitler!"
We all laughed.
Figure 7: Razfa Al Turath (another group from Sohar) performs in the slippery grass for the live shooting by Oman Television.
AKR
NB.  Tomorrow I am off to the town of Mirbat for the Festival Day of this special region.  Thursday, I am invited to another wedding and in a few days, I'll attend the second of three big pop concerts programmed as a part of the festival.  Stay tuned.
July 15, 2011 by Anne Rasmussen
AKR in OMAN Part 3
2. If you see Rabuba you will say: "I love Salalah"!
This is my fourth evening at the Salalah Tourism Festival also known as the Mahrajan al-Khareef held in the fall (khareef) season when the Salalah and its surroundings on the coasts and in the mountains of the Dhofar region in the South of Oman benefit from the annual Monsoon rains.
I am in the heritage village on the festival site listening to the first of three or four bands (firqa/firaq) that will play this evening at the "Heritage House."   The stage, or rather performance area, is a carpeted rectangle in the open-air plaza of the heritage village at the festival.  An area of about 18 ' x 40', the carpet demarking the stage is positioned in front of a traditional house (bait it-turathiya) which also serves as a "green room" for musicians and dancers preparing to set up, or, for those who have just finished their performance.  A desk for the soundmen and their equipment is positioned between the house and the stage.  Casually arranged rows of white plastic chairs surround the perimeter of the performance area.  One side is occupied by women and children, the other side by men, and some children.    The chairs are filled to capacity and additional crowds stand behind the seated audience.  In short the place is packed.
I have been given a warm welcome to the area every evening by the manager of the events at the "Heritage House Stage," Said Naseeb Suwielan, an impeccably dressed handsome gentleman who offers me a seat behind the band (where the other band leaders sit) and who has been advising me about which bands to see ("no, don't go yet, stick around for the next band" or "go on over to the arena now and see so and so").
Figure 1:  Said Suwielan, in dark turban and tassel on his dishdasha, is the manager of the stage in front of the Heritage House.
This evening the group Bahajat is-Salalah (the Happiness of Salalah) begins their set with a couple of songs without dance.   The musicians and back up singers (some of them also dancers) number about 14: a keyboard player and two singers, 4 male and 7 female back up singers (chorale), 3-4 percussionists playing some combination of the Omani drums kasir and rahmani, along with non-Omani congas, and riqq; a bagpipe player is on hand for the dance "mizmar," and an extra group of male dancers hang back and wait until it is their time. With the exception of the bagpipe player and of course, the dancers, all musicians sit on the floor on cushions. The first dance they present is Rabuba.  Two lines of 6 men and 6 women each weave in and out of one another floating across the carpeted area using deceptively simple steps and elegant choreography.  The women's flowing skirts and veils and the men's disdashas, uniformly tucked into their belts to reveal their matching and colorful wizars make the dancers appear all the more graceful – like waves on the ocean — I was told by Khamis Raja, my first host in Salalah.
My goal this evening is to enjoy the band and to see if I can identify the handful of distinct music and dance styles that will no doubt be presented.   I am largely on my own this evening and I am testing my musical literacy.  The Rabuba is followed by Bar'a, a male dance where an exact number of men – often 4 but sometimes 6 or more – dance holding their daggers (hanjars) high in the air.  Bar'a is the most common of the dances presented by various groups. It is also a social dance. And the last group of the evening at this stage will play Bar'a for the crowd to dance.  When Bar'a is a social and not a presentational dance, the dancers raise their cell phones above their heads and nod them back and forth in coordinated rhythm.  Majid al-Harthy, my colleague from Muscat, was the first to point this out to me last November, at an event he brought me to in Sur, in the Sharkiyya region of Oman.  I didn't think much of it until I saw young guys waving their cell phones at performance after performance in any number of venues.  Ethnomusicologists are interested in continuity and change.  Here is an example: when necessary, cell phones replace the all-important accessory, the dagger or hanjar for the extremely popular Dhofari dance, the Bar'a.
Salalah Grooves
The regional music and dance genres, performed by the Salalah groups are distinguished by their rhythmic patterns and grooves.  In fact, like jazz or popular musics in the western tradition the same song (melody, lyrics, and song form) can be rendered in more than one musical style, for example as Bar'a or as Rabuba, just as a jazz standard might be played in a swing, or bop, or Latin groove.
Interlocking patterns between the larger Rahmani and smaller Kasir, double-headed laced drums (often there are three of these in some combination complimented by extra congas, or an Egyptian riqq) distinguish the style.  Duple meters, sort of sound like the malfuf pattern of Arabic drumming from the north (Balad ish-Sham), a kind of beguine rhythm of 3+3+2, but with more sophisticated detail than I am ready to try to describe in prose.  Rhythmic grooves based in 3, for example the Sharh – which itself has three sub-styles that accelerate in tempo and change in dance style and function are created by the combination of musicians playing patterns in 3 and in 6 simultaneously (3/4 and 6/8).  Yet to say simply that the grooves in 3 are redolent with the polyrhythms of 3:2 or 3:4, would a be a complete oversimplification of the aural picture.
The raucous but rock steady percussion section, usually placed at the front or to one side of the ensemble – and not at the back – provide the foundation for the solo singer, and tonight, just a keyboard player, named Abdel Amir, also a music student at the Sultan Qaboos University, who I met earlier in Muscat.  The role of the back up singers is huge! Not only do they compliment the soloist's lines, by singing refrains and joining in on key phrases, they also call out lively shouts of encouragement called tashji'a (or tashgi'a), for example the words "YOLA!" and YASI!" in tight, antiphonal call and response.  Not only do they paint the sonic tapestry with exciting detail, they physically perform euphoric engagement in the music by bouncing and swaying from their seated positions and by waving their arms in graceful and coordinated motions that proclaim – "we are into it!"
Figure 2:  View from behind the band, Bahajat is-Salalah, performing Mizmar in front of the Heritage House.  Note the bagpipe player (left), the percussionists at the front of the band, the male and female singers in the foreground of the picture.  Two lead singers are in white and a part of the keyboard is in the left of the shot.  Male seating area is on the left, female on the right.  Male and female dancers prepare for the dance.  The men have yet to un-sheath their swords.
Following Bar'a, this group performs Mizmar, a genre that takes its name from that of the instrument, the double reed "folk-oboe," mizmar, which has been replaced by the louder and versatile, Scottish highland bagpipes, an instrument whose role in Omani music culture has been aggrandized by its presence in the Sultan's royal guard.  Bagpipes are part of the standard instrumentation of all military music and marching bands and there are perhaps, hundreds of pipers in Oman (and I'll have more to say on that later but see my earlier posts on the pageants for National Day that I attended in November 2010).
The Mizmar is danced by men and women whose repetitive footwork, again deceptively simple in appearance, propel them around the area in choreographed formations.  One distinctive aspect of Mizmar is the swords that the men hold straight up in the air and shake in coordinated unison to make them shimmy and shimmer in the light.  These swords, a mandatory accessory of the dance, are no longer real swords but have a light aluminum  flexible blade that wiggles and wavers when the men give the hilt or handle a vigorous shake with a snap of the wrist.
The dancers, many of them with now costumes visibly soaked by perspiration, retire to the area behind the band.  But now, two more emerge for Sharh, the final dance of performed by Bahajat is-Salalah lasts about 10 minutes.  The Sharh, with its three distinct sections starts off in the most moderate tempo of the evening for the "heavy section" later advancing to a faster (sar'i) section and finally to the section called al-hug, where female dancers replace the men for, what is traditionally, a "dance around the groom."
Just before the performance this evening, I asked about the quality of the group.  A young musician and student at Sultan Qaboos Univeristy, Khalid Mansur, who I also met in Muscat earlier this year, described Bahajat is-Salalah, as "mutawassat" (medium). "Nothing like the Al-Majd, ensemble!," the professional group led by one of my host's in Salalah, Khamis Raja. But as I watched Bahajat is-Salalah I found their performance to be electrifying!  Their arrangements were tight, the keyboard and bagpipe player were in tune, the singers were dynamic and focused, the audience (men, women, and children), were bopping, swaying, clapping, and waving their hands in the air.  Particularly effective were the sections in almost every piece when the otherwise dominant sound of the keyboard (and when used, bagpipe) dropped out and let the rhythm section and singers prevail, making the re-entry of the strident sounds of keyboard synthesizer all the more exciting.
After the performance, Khamis, the keyboard player and university student, and Said, the stylish "manager" of the Heritage House stage indicated in tandem that the group had exceeded their expectations.  Their eyebrows raised and their eyes lit up.  Yes!  They were really good tonight.
Welcome to Salalah!
My welcome to Salalah has been nothing short of extraordinary.  My "musical host," is Rajab Khamis Saad, Designer and Director of Arts Shows and Head of the Arts Section at the Directorate General of Heritage and Culture.  His troupe, Al Majd (The Glory) performed on the Washington Mall for the duration of the Smithsonian Festival of Folklife in 2006, and because of a connection through Omani musicologist, Dr. Majid al- Harthy, who was the presenter at the Smithsonian stage, Khamis connected me, even before my arrival, with band leaders, festival producers, his boss, Mr. Muhammad an-Nahari at the Ministry of Culture, and even with musicians to work with one-on-one.  Another of my hosts, Khalid Tabook, Head of Reception and Hospitality in the Public Relations Department of the Ministry of Information, came was introduced to me through Khalfan Barwani, another musicologist and with a long involvement in traditional music projects and publications in the Sultanate.  Khalid has facilitated the infrastructure of my visit, negotiating an affordable rate on a hotel in this expensive tourist season, a rental car, introductions to directors at the Ministry of Information, and he checks in on me every day for reports on my schedule and any needs I may have.  I continue to be inspired and humbled by their reception of me .
Figure 3: Khamis Rajab (right) and Khalid Tabook (left) meeting for the first time at the Salalah Tourism Festival upon my arrival, July 8, 2011, and agreeing on what they will do with and for me.  They have just exchanged phone numbers.
On my first evening here in Salalah, Khamis Rajab, a person who has been involved in cultural production since before he graduated from high school, stood by the side of the stage with me as his troupe, Al Majd, performed, providing contextual commentary on the music and dance and filling in the blanks for the questions I had and for those I had not yet even thought of.  Of the dance Rabuba, Khamis said:
Look!  The leader of this dance is a woman.  She can repeat a figure two or three or four times and everyone has to follow her.  The night before Rabuba will be performed, the men can barely sleep because they are so excited to dance with the ladies.  This dance can go on for four hours or more.  And the man has to keep up with the ladies! To drop out would not be acceptable.  And he has to know all of their names! Then, Khamis proclaimed:
If you see Rabuba you will say: "I love Salalah!"
Suffice it to say that I have made modest steps in my musical literacy of Salalah!  This is due only to the accessibility of music and dance every evening at the festival and beyond [1], and to the openness of the people I have met here who make me feel comfortable and welcome.
I have seen Rabuba and "I love Salalah"!
AKR
[1]  Future posts will describe my experience at a private music party or jalsah and the wedding I attended at the invitation of Abdul Hamid, leader of the Bin Taoufiq group, a musical lineage in Salalah that dates back countless generations, and perhaps even to the Middle Ages and early Islamic period.
July 13, 2011 by Anne Rasmussen
AKR in Oman — Part 3
[This is the first installment of my blog for the third trip I am making to Oman as a Research Fellow of the Sultan Qaboos Cultural Center.  My first post is a reflection on some of my experiences during my second trip to Oman during the month of February.]
1. The Muscat Festival and the Blind Ethnomusicologist
The Muscat Festival, a month long event of cultural display and public amusements has a history of more than 20 years.  My second trip to Oman was planned, in coordination with my hosts at the Royal Court of the Sultanate, to coincide with the Muscat Festival, because, I was led to believe, there would be lots of performers there for me to see, hear, and meet.  Indeed the density of culture-on-display was overwhelming and even though I concentrated primarily on the nightly action in the Heritage Village it took me most of a month just to figure out what was going on.
The Heritage Village is only one small aspect of the Muscat Festival which, this year, also included an international pavilion of artists and artisans from all over the Middle East and Asia, an amusement park for children, an area of exhibits by commercial businesses and educational or social organizations, several performance areas with international acts like ice skaters or flying acrobats, and each evening was punctuated by a 45-minute laser and firework show choreographed to music over a pool surrounded by a wide circular walkway that accommodated enthusiastic crowds numbering in the thousands.
All of these amusements took place beginning at 4 p.m. every day at the spacious and beautiful Qurum Park but off-site there were lectures at hotels, a festival of international cuisine, fashion shows by an international cadre of designers, an international bike race called "the Tour of Oman," and a similar Sailing race, all collected under the umbrella of the Muscat Festival.  The festival celebrated the 40th anniversary of the Sultanate and its ruler, showcased the city of Muscat, proclaimed the presence and prominence of Oman in an international arena, and invited national and international attendance including families from throughout the country enjoying their Spring break, international tourists, and professional artists, intellectuals, and athletes (and the publicity teams that accompanied them).
The Heritage Village
Although only a small part of the Festival's attractions, the Heritage Village, is central to the festival as it generates content the for the parallel discourses of local and global, traditional and modern, and past and future that are clear objectives of The Muscat Festival. Now that I have finally interviewed many of its key producers, I'd like to sketch the physical, temporal, and conceptual plan of the Quriat it-Turath or heritage village.
The visitor to the heritage village approaches it through the farm area where a number of traditional life ways and crafts are on display: drawing water by harnessing the labor of a cow, making bricks from mud and straw, threshing grain by hand, and cooking a sticky sweet Muscati helwa.  Camels are available for rides and various traditional style boats and activities related to fishing and maritime history grace the outside of the farm.  Giant adobe arches give way to a fairy tale village setting with lighting design that makes even and amateur photographer's work look spectacular.
Figure 1:  Hasan al-Balushi illuminates the physical plan of the heritage village for me.
Hasan al-Balushi walked me through the outline of the village's physical features which include a mosque, traditional and craft markets, a Bedouin environment, a seacoast environment, a school, and a madrassa school for reciting the Qur'an, places for agricultural demonstrations, and crafts unique to Oman, notably the numerous processes of weaving palm fronds and wool for any number of products from reed mats. to harnesses that assist in climbing date palm trees, to the colorful and distinctive wizar cloth that is worn under the man's dishdasha.
Figure 2:  Certain crafts people were present every night of the festival; the "studio" audience is pictured in the background.
The Television Program "Asala"
While a number of crafts people were at the festival for it's duration, demonstrating their work night after night, each night, one of Oman's wilayas, or regions, took the stage. One wall of the traditional village is flanked with grandstand style bleachers for a "studio" audience, who, literally witness village life unfold before their eyes.  While it wasn't apparent to me at first I soon discovered that each evening's events were choreographed as a live television show titled "Asala" (Authenticity), which aired nightly at 8 p.m. from the village.  One of the program's anchors, Ibtihal al-Balushi described the traditional village as their television studio.  She and co-host Abdallah al-Dhuhli, who has a passion for passing on the traditions of Oman to families throughout the Sultanate, narrate their way through the village, stopping to introduce and briefly interview select members of the 200-400 participants on hand from the featured region.
Figure 3:  Co-Anchors of the program "Asala" (Authenticity): Abdallah adh-Dhuhli and Ibtihal al-Balushi
Because everything must be covered within the time span of an hour, everything happens at once.  It was not unusual for four or five different performance troupes to be playing at top volume within earshot of one another as two huge cameras on rolling booms, several other ambulatory camera men, and countless photographers and onlookers, many of them, simply curious visitors, circulated.  Having been completely confused by the intersection and overlap of action in the village and the complete absence of any fourth wall (performers and non performers occupy the same space and non-performers regularly penetrate spaces that are marked by music, dance, and processions) I asked one of the producers, "isn't this a little chaotic?"  "Oh! This is complete chaos every night!" was the response.
From their television-production-studio-in-a-trailer just outside the village, Qais BaOmar, the director of "Asala" creates the narrative path of the program by choosing, on the fly, the sequence of shots and scenes streamed from the 7 cameras and 12 microphones that are out on the village square.  Although there is a quasi-rehearsal by way of a planning session with the leaders of the evening's participants, who indicate which special traditions and people should be showcased, the process is largely improvisatory.  Qais says he watches the rerun of "Asala" at 2:30 in the morning with "at least one eye open" just to see how things worked out.
Figures 4a and b:  Director of "Asala" Qais BaOmar (at right in the production van)
The Zest of Competition
Hasan al-Balushi who so generously explained the concept behind the Quriat it-Turath introduced me to his partner, Shamsa al-Harthy.  Together they are responsible for judging each evening's presentations and participants according to a roster of twelve criteria.  The programs presented by each wilaya are curated by local chapters of the Omani Women's Association (OWA), an arrangement that, according to Shamsa al-Harthy, works very well.  The regional leaders of the OWA choose and prepare the participants and tend to details of organization, for example, the transportation of people, exhibits, and sometimes, even camels, as was the case for the region, Biddiya.  Acting as artistic directors, publicists, and bursars, the OWA do their best to provide content according to the adjudicators' criteria: number of participants, discipline and commitment, number of environments presented, culture and customs, attitude of participants, crafts, arts, fashion, traditional games, food, level of interaction between participation and audience, the involvement of children, and new developments, particularly, as Shamsa explained to me, the development of micro-business and women's involvement and progress in the society and economy of the wilaya.
Figure 5:  Shamsa al-Harthy takes notes as she interviews the hosts of the wilaya's many exhibits.
Over the month 23 different wilayas paraded through the Heritage Village over the course of the month-long Muscat Festival and, on the final day, a ceremony declared the winning regions: in first place, Sohar, in second place, Mirbat, in third place, Barka, and the four regions receiving the 4th place prize: Shanas, Nizwa, Khabura, and Khasab.
Figure 6:  The closing awards ceremony of the festival.  The mayor of the Muscat Municipality is seated on the right.
Why produce and award heritage? What do festivals such as the Muscat Festival do to and for the traditional arts? How are traditional arts, all of them with roots that predate the founding of the modern nation of Oman and some of them with roots dating to the jahiliyya, the time before the Prophet Muhammad, transmitted and made meaningful in the present day?
As I absorb the Salalah Tourism Festival in July, 2011, I will continue to ask and try to answer these questions, all the while learning about the extensive repertoire of Omani performance arts and the processes and products involved in the material cultures of its three primary environments:  Desert, Sea, and Coast.
The Blind Ethnomusicologist
At the end of my first trip to Oman, in December 2010, I was received by the Mayor of Muscat, Sultan al-Harthy, who outlined many of the features and goals of upcoming festival scheduled for February 2011, when I was to return for my second of three trips to Oman. Nevertheless, I was unable to extract the names of any of the planners, producers, or artistic directors of the festival, from any of my hosts, official or unofficial, in Muscat.  I concluded, bit by bit, that I was simply to go and figure it out or myself, without any official introductions or connections, what, in Arabic is called wasta. It would have been nice to be ushered into a directors' office, to acquire a program of events, or a narrative statement on the festival, even to have a badge that l could wear that said,
"I am doing research on the festival – Please, Talk to Me!"
Figure 7:  Talk to Me!  AKR poses with women from the wilaya Jalaan performing "Abu Zuluf"
All of the details described above were revealed to me only bit-by-bit and day-by-day as I bravely approached one important looking person after another, explaining my quest for knowledge about culture and music in Oman.
There is a story about a blind man who gingerly touches an elephant, yet feeling only its tail, knows not what kind of creature it could be.  Later he touches an ear, then perhaps a leg.  None of these tactile experiences reveal the elephant before him but, eventually, by of feeling all of the very different shapes and textures of the creature's features, the blind man perceives the huge and presumably gentle beast in his presence. This story, which knows many variations through time and space, is attributed to the Sufi poet and saint, Rumi, and is a parable and metaphor for our knowledge of the divine.  I find it illustrative of my discovery of the Muscat Festival.
AKR, July 13, 2011
[Stay tuned for future posts on my third and final stint in the Sultanate of Oman]
February 23, 2011 by Anne Rasmussen
When I lived in Manila, Philippines (on and off from 2004-2007) and in Jakarta, Indonesia ('95-'96), and in Taipei, Taiwan ('91), my heart always jumped when I saw the international presence of Avon, the corporation, established in 1886, that gave opportunities for American women to sell cosmetics door to door. [1] My grandmother was an "Avon Lady" and as a little girl I accompanied her in rural northern Iowa as we made calls to various farms and small town businesses and homes to sell and deliver Avon products. Mary Hansine Hansen Rasmussen immigrated to the United States from Denmark when she was just six years old and the family established a farm in a largely Scandinavian and northern European community in Franklin County Iowa.  My grandma's business brought the family needed extra income and gave her some independence as a female farm-wife-mother-daughter-grandmother and Willy Loman of rural, Danish America. [2]  So when I saw the Avon booth at the Muscat Festival, "womaned" by lovely Omani ladies offering me perfume and lipstick, and presenting a catalogue that advertises both products and opportunities for women, I thought, "I know what this is all about."
Much has been proclaimed about women's development in Oman.  "Women's progress" is one of the chapter headings in the book of Omani nationalism, written only beginning in the post-1970 era when Sultan Qaboos took power from his father and brought the country from the dark ages into the modern world.  I had seen evidence of the Omani Women's Association in Mucat but I discovered just recently that this organization of women is integral to the Muscat Festival.  This NGO, with some 53 chapters throughout the country, was charged to find and organize the traditional arts in their respective regions and bring them to Muscat.
Shams al-Harthy, one of the judges from the Muscat Municipality who evaluates each region's presentation of tradition, based on 12 criteria explained to me how the OWA is involved.
Compared to other agendas of the Omani Women's Association, for example political involvement or women's rights, she said, the local chapters "do this very well." Everything presented at the festival is under the supervision of the OWA. One of their goals, Shams al- Harthy, told me, is to be guardians of the bridge between the new and the old.  In fact any region presented at the festival will get "more points" from the judges when children are involved and are seen learning, presenting, carrying on the old world and bringing it into the new.
So, as I metaphorically fumble my way through this festival, blindfolded, feeling the various parts of the elephant, I discover that it is actually Omani women who are in charge of curating and refining the traditional performing arts, fine arts, folk crafts and trades, of their region and who prepare and oversee its practitioners for the Muscat Festival.
Within a patriarchal model, familiar to women world-wide, our power is often harnessed to support, teach, maintain, procreate, and re-produce a male-oriented status quo.  In Indonesia this has been named Ibuisation; the title "ibu" connotes, Mrs. wife, mother, and as Ibu Anne, a wife and mother of two boys I am able to identify with the ways in which we are responsible for the enculturation of our kids into the institutions and values of the society.  I also identify with Monie Love as she raps in Queen Latifah's empowering hip hop hit of 1989, "Ladies First":
"We are the ones that give birth to the new generation of prophets because it's Ladies First." [3]
Women in the Mix
What else have I learned about women here in Oman?  Well I have met many of them but I work primarily in a man's world so, even as a female researcher my access to women has been somewhat limited. But here are several brief vignettes that reveal what some women have shown me about themselves. Of course I will use no names.
Last November I sat next to a young women in the ladies section of the stadium at the Sultan's Tattoo, one of a number of extravagant pageants prepared for the celebration of National Day and the 40th anniversary of the new era of His Majesty, Sultan Qaboos. Over the course of four hours we chit-chatted and she told me about her marriage.  Her bride price was 4,000 Omani Rials, about $10,000 and that doesn't include the cost of the wedding. I have read several articles in the paper discouraging outrageous bride prices, discussing the hardships for couples to raise or repay the cost of weddings, and even proposing group marriages and wedding parties.  Nevertheless, I read that 4,000 is about average.  Their union was not arranged but it was "an appropriate match." She confided that she was so thankful when her husband, who worked for two weeks at a time "in the oil field," was away because then she had time to concentrate on herself and be with her friends.  For this young woman, who works in journalism, the expectations that come with being a couple were a trying and a difficult adjustment.  She and her husband would both like to pursue the Ph.D. in the United States and although generally satisfied with life in Oman she shared a wish with me that just once, she could "fall in love."
***
Children
My host from the Diwan, Mohamad al-Shidhani invited me to lunch at his family's house near al-Mudaybi, about two hours from Muscat.  I stopped there on the way back from Sur and enjoyed a delicious meal and a delightful afternoon.  After our lunch Mohamed announced "I am going to play volley ball; you will go with the women."  So I went visiting with Mohamed's wife, who is a chemistry teacher, and their children to Mohamad's mother's place just two houses away.  I walked into the ladies' sitting room and was immediately given a brand new baby – just one day old – to hold.  Although handing a brand new baby over to a complete stranger would be unusual practice in my culture, I learned that in Oman this is considered good luck.  That Mohamed's sister-in-law had just given birth the day before gave me an opportunity to ask all sorts of questions about childbirth and pregnancy, and how issues of women's health fit into women's marriages and professional lives.  Two of the young women of the family were on hand to answer my nosy questions.  Both of them had just graduated from college, one in nursing and one in chemistry, both were looking for jobs, both were planning to wait to have children.  They also told me about the cross-cousin marriages in their family and the instance in their family of two sisters marrying two brothers.
We discussed the threat of hereditary diseases common in cultures that marry within extended families and they were well aware both of the social problem and the campaigns for awareness initiated by the government.  Thanks be to God (Al hamdulillah) all of the children in their extended family were healthy and the marriages, happy ones.  To complement our girl talk, my hosts, including Mohamad's mother initiated me into the world of women's social rituals including anointing me with various perfumes and balms and smelling up my clothes with the smoke from Frankincense or bakhor, one of the precious gifts of the wise men of biblical times, for which the region has been known for centuries.
***
Cross cousin marriage is not always a good thing, one of my hosts lamented.  He had been married for three decades, had only one deceased child, and no progeny.  He regaled me with the good qualities of his wife, a very traditional woman who did not sit with us when I visited and allowed me to take pictures only of the food she prepared.  At the age of fifty, he was looking for a second wife to have children with; perhaps a foreigner, that would ensure good offspring, he thought.
***
One expectant mother that I met in Muscat proclaimed that she would only hold certain visiting hours once her child was born and would not just let people come and go at all hours of the day – as was the tradition here.  Furthermore, she would hold her baby visiting hours at her mother's house!
Inheritance
On inheritance I hear alternating stories.  Some couples proclaim that shari'a law, upon which inheritance is based, protects women should their husband die by naming the brother the steward of a dead man's estate and by allotting a portion of inheritance to the widow. Other couples, especially, those with no male children, worry about a woman's limited rights of individual inheritance.  Special provision may be made through a will but I sense that among some people inheritance laws are a concern.
Clothing
Women are ministers here, and professors, and newscasters and police-women, and teachers and doctors.  And they are musicians.  In spite of professional integration, however, social worlds appear to be segregated, with separate lines for women in some places of commerce and separate seating areas at public events.  At a fairly informal evening that two musicians invited me to I ambled back into the kitchen and into the women's sitting room where all of the kids were playing. An apparently elite family (which one can mistakenly equate with Western or global practices), I asked the women, "why don't you join us for dinner" (thinking to myself, then I won't have to be the only woman at the table with all men).  They smiled and said simply "because we are shy."
Gender segregation is a social norm here and I am not sure that the primary reason for maintaining the practice is purely religious.  The state-of-the-art Sultan Qaboos University has separate staircases and separate cafeterias for men and women.  And a strict dress code was enforced just a few years ago.  Now Omani female professors and students all have to wear headscarves whereas just a few years ago, I was told, it was a matter of choice.  Male professors also are required to dress with the dishdasha, the kuma, kind of like a soft fez, but white and with thick embroidery, and then tightly wrapped turban on top of the kuma.  But dress, SQU colleagues have told me, is much more a marker of patriotic nationalism than of religious morality. [5]
Wealth and Segregation
"Completely different!" Proclaimed a Yemeni woman who has worked in Oman for many years when I asked her about the differences between women in these neighboring nations of Southern Arabia. "Wealth permits segregation" she asserted. "Here, women are protected by their men.  In Yemen, women really work, and they go out in groups, and they go out alone.  Many Yemeni men work away from the home; women are in charge, they are independent," she said matter-of-factly, and when Yemeni women party, she described, they wear fun dresses and risqué fashion.  In Oman, she noted with incredulity, women sit politely all night and never even remove their headscarf!  I took her word for it until I was invited to a lively party among family (except me) for a bride's upcoming marriage.  Everyone was singing, dancing, and playing music and the party was a veritable fashion show with everything from jeans to party dresses.
So What?
Not too much should be made of these vignettes.  Each of them, just a moment, or a conversation, or an observation, should not be taken as more than that and certainly not as a normative barometer or proscription for women or family life in Oman.
But it is not irrelevant to think about women for several reasons.  As a woman I am interested in what I call the global sisterhood – where might we connect and where might we not.  Second, women's rights, education, and health are always measured in the international evaluation of a country's march toward modernity.  Third, bragging about women in Oman is a theme in the national narrative.  But perhaps most interesting to me is that women, like music, are companion targets of prohibition in many cultures of the world and particularly in the Islamicate world, and by that I mean communities that are informed by Muslim histories and practices.  As I look at the ways music is being used as a marker of modernity and as a teacher and guide for the nation, I believe it is also important to keep an eye on the role and the potential in this musical, nationalizing project.
A woman working at the festival enthused that Oman has a national narrative that people "can believe in."  It is a civilized place. And as a woman "I've got the right to choose and to love and to say no!" It is also important to see where and when women are saying yes.
Ding dong, Avon calling.
AKR
[1] See the company's website and their history of "125 years of Avon empowering women." http://www.avoncompany.com/aboutavon/history/index.html
Check the following link to learn about the 100 countries, including Oman, where over 6 million women work with the company.
http://avoncompany.com/aboutavon/avonmarkets.html?zoom_highlight=oman
[2] Willy Loman is the tragic hero and traveling salesman in Arthur Miller's celebrated play Death of a Salesman (1949).
[3] Ladies First:  http://www.youtube.com/watch?v=wI9OkO-rMns
[4] Type Omani Women's Association OMA into your browser for an idea of its initiatives.
[5] Sultan Qaboos University: http://www.squ.edu.om/
February 23, 2011 by Anne Rasmussen
When I was in Muscat in November 2010 Dan Pattarini emailed me out of the blue inviting me to lunch at the American Embassy.  He said he had seen the Middle Eastern Music Ensemble perform during his senior year at the College of William and Mary, in 1995 and remembered me.  Would I like to have lunch at the American Embassy? I was flattered but only a little bit surprised.  Many students at W&M aim to work in the international arena and more than a few of our students have been brought up in families that work for the U.S. Department of State in the Foreign Service. I have met some of our former students at the U.S. Department of State when I have given seminars on Middle Eastern Music and Culture at the invitation of John Iskander, director of Middle East curriculum and programming for the Foreign Service Institute.
Later, Dan and I met just briefly in person at a reception hosted by Legacy International, an organization that I have worked with a few times in the past thanks to another W&M graduate Anne Elise Thomas.  The reception at the residence of Richard J. Schmierer, American Ambassador in Oman, allowed me the opportunity to meet and greet several Americans working in Oman and several Omanis connected in some way or another to the Embassy and its small circle.
So when I returned to Oman in the first days of February 2011 Dan and I met at the Embassy for lunch and a long chat.  Oman is Dan's first post and he is here with his wife also a W&M graduate and who teaches at TAISM, the American International School in Muscat, and their three young kids.  After graduating from William and Mary, Dan worked for Fulbright (I.I.E) several years and then went on to take the  Foreign Service Exam and train for a career in the Department of State.
Dan Pattarini is a poster child for W&M.  It will make him blush if I say so but I'll tell you what he told me.  He said something like:
… you know, when I was a student at W&M, I took courses from Jim Bill, Abdel Karim Rafeq and John Williams and I can discuss the Middle East with anyone from Princeton, Harvard, you name it.  Although my grades might not have reflected it at the time, my education in Middle Eastern history, culture, religion, politics is on a par and with anyone from anywhere. The fact that W&M professors teach W&M students with such dedication is singular in the world of higher education.
As Dan waxed poetic on his college years, spontaneously enumerating all of the elements that distinguish a W&M education, strains of the alma mater came into my head, I straightened my posture, I felt very proud!
But last night at the celebration of America's National Day, Dan became a personal hero as well.  In July the weather is impossibly hot I am told, so the American Embassy celebrates its National Day on Presidents' Day, February 21.  This high profile event, by invitation only, is an opportunity for the Embassy to thank its many friends, among them foreign ambassadors, ex-patriots and Omanis from the business and academic community, and distinguished guests from the Omani government.
Sand Happens!
I followed a line of cars into a large parking area across the street from the Embassy and pulled into what I thought was a legitimate parking space . . . but then something very bad happened. The font wheels of my Nissan Altima 2011, plunged into the sand. . . an endless field of infinitesimally soft lovely, warm, grains of tan sand.  Oh no, thought I, this is not good. I stopped, I thought for a moment and put the car in reverse. "vrrrrrrrr" said the car, as the front wheels spun, digging themselves deeper into the desert.  Just in case you are wondering, and at this point I am sure you are, the Nisan Altima has front wheel drive.  The back wheels still on the asphalt were worthless.  I was stuck. I just turned the car off and left it there.
Sheepishly I trotted into the Embassy, showed my invitation, went through security and met Dan who was one of the first greeters.  I told him of my situation and he laughed reassuringly and said. . . "not a problem, we can get you out, we have people here to help."
During the reception I learned that getting your car stuck in the sand is a sort of rite of passage in Oman.  Everyone laughed knowingly.  Still I was a bit worried.  So after about 10 p.m., when the reception was over, I found Dan who found Will, the Regional Security Officer, who in turn recruited three of his men, and we went over to my car.  One of the security officers, Troy from Texas, took the wheel, put the car in reverse. But four strong men, including two Omanis from the local guard force (all of them dressed in suits and ties) could not budge the front of the car out of the sand, which seemed now to have sunk down even deeper.  In fact there was only an inch or two of clearance between the bottom of the car and the ground.
"I'll be right back," announced Will and he went off into the dark returning about twenty minutes later with a Toyota 4×4 pickup and a chain.  Within a few minutes and within a great cloud of sand my lovely rental car was extracted from the "sand doom" and rolled up on to solid ground.
Tax dollars at work?
Nice people half a world away?
Great story to tell the kids?
All of that and more.
Thank you Dan, Will, Troy and the Local Guard Force of the American Embassy and…
Go Tribe!
February 17, 2011 by Anne Rasmussen
AKR in Oman Part 2 #3:  How many 'uds are too many?: The Jama'iyyat Howat al-'Ud, 'Ud Hobbyist Association
Last month, in Ann Arbor, Michigan I sat with the director of the relatively new Michigan Arabic Orchestra, Michael Ibrahim who has performed the small miracle of launching a group of musicians comprised of students who are new to the tradition of Arab music along with performers from the community who rehearse and perform seriously in concert settings. [1] The largest community of Arabic speakers outside of the Arab world resides just 30 minutes to the east of Ann Arbor in Dearborn, a city that is adjacent to Detroit, and while "Arab Detroit," as I have called it, is literally throbbing with music. But it is popular music and music for community rituals that drives this very diverse community of new refugees, primarily from Iraq, and first, second, third and perhaps even fourth generation Arab Americans who come trace their roots to the  Arab Levant Syria, Lebanon, Palestine, Jordan but also to other Arab world countries in the Maghreb (North Africa) and the Arabian Gulf, particularly Yemen.
About his ensemble Michael commented that only one or two 'ud-s were all that are needed in a group, based at the University of Michigan, and he questioned the large number of 'ud-s in all of the university-based ensembles.  From the standpoint of Arab musical aesthetics in the Mashriq, Michael is correct however, many University based ensembles have incorporated many more than two 'ud-s, perhaps five or ten, in part because the 'ud is one of the most accessible instruments for newcomers to Arab music and given the combined mission of education, exposure, and aesthetic excellence that must be part of any University-based Middle East or Arab ensemble, incorporating more players than might be heard in a Cairo or Lebanon ensemble is both a strategy and a certainty.
I wish Michael could accompany me to my recent visits to the Jama'iyyat Howat al-'Ud or the 'Ud Hobbyist Association in Muscat, where a completely different musical aesthetic is developing, particularly regarding 'ud performance and ensemble aesthetics.  Like most of the musical scenes in Muscat, the Jama'iyyat Howat al-'Ud is an initiative of the Diwan or Royal Court and we may thus attribute its founding and support directly to His Majesty Sultan Qaboos himself.  As one person involved in yet another one of the many musical projects of the Sultan, His Majesty could well be "the biggest individual sponsor of music in the world!"
On my first visit to Oman Faisal al-Busaidi from the Ministry of Heritage and Culture presented me with an impressive brochure that described, in words and photographs, a state-of-the-art-facility with rehearsal and performance spaces, practice rooms, recording equipment and a library, as well as a compact disc recording that "blew me away" when I listened to it .  Imagine 15-20 'ud-s playing challenging, flashy, virtuosic repertoire involving multi-octave scales, arpeggios and notes that are so high they seem to leap right of the neck of the instrument and into the stratosphere, at lightening speed, and in unison!  With the establishment of the 'Ud Hobbyist Association, long-gone is the "few -'ud" principle of the takht or firqah (small and large ensemble) of the "Cairo school" whose traditions are admired and emulated throughout the Arab world and in its Diaspora, including, notably in the United States.
A tradition of a solo 'ud player and singer is well known in Yemen and, like other Yemeni musical practices, also in Oman as well, but there is no Arab musical instrumental tradition that is indigenous to the nation.  Rather, the country is rich in folk music and dance, now called traditional arts, which feature ensembles of 3-10 musicians, most of them drums, and singing and which are integrated with dance.  From an anthropological point of view, this makes perfect sense.  There was no opportunity for a court tradition to develop here as it did throughout the Arab Ottoman world – no indoor chamber music.  Oman's music culture, documented only since the early 1980s, features numerous regional ensembles and styles that are infused with African and Indian flavors of their nearby trading nations. (We might pause to wonder why, given Oman's proximity to India and Iran, and it's centuries-long interaction with those countries, why the influence of the esteemed "classical" musical traditions of those regions also did not find their way to Oman.)
The ensemble traditions of Arabic classical music, and indeed the instruments, 'ud (lute), qanun (zither), nay (flute), violin, and various percussion have been  imported and adapted in Oman and in the early 1980s the Firqah as-Sultaniyya, the Sultan's own ensemble was initiated.  The group trained musical youth "from scratch" and the performing ensemble now involves about 60 musicians who practice daily and perform on demand as a part of the Royal Court.
But let's return to the 'ud, at to the 'Ud Hobbyist Association whose flashy unison playing I just described. The new practice of virtuosic, soloistic repertoire for 'ud comes from Iraq and the Iraqi school of Munir and Jamil Bashir who are the most well-known musicians of the Iraqi school.  (Just put one of their names into YouTube and you will quickly get an idea of their flashy and somewhat Westernized approach to tuning and the incorporation of harmony.)  The Iraqi school was taken a step further by Naseer Shamma who established the first Bayt al-'Ud  (House of the 'Ud) in Cairo in the late 90s (1999?), to train 'ud soloists in the Iraqi style.  A branch of Bayt al-'Ud (also Beit al-Oud) has also opened in Abu Dhabi. [2]
The Association's director Fathi Mohsin who I had met when we both performed at the Freer Sackler Gallery in Washington D.C. in 2007 told me that the Association was conceived in 2005 but opened with a bang in 2008.  There was talk of opening another branch of Naseer Shamma's Bayt al-'Ud but it was decided that Oman should "do its own thing."  The Association offers several levels of classes for students willing to learn.  Girls and women are also invited and because mixed classes are a bit awkward, a separate section for females will start this spring.  Classes are free but inscription is required and roll is taken.  Instruments are provided when needed.  Fathi invited me to the rehearsals of the advanced group who meet twice a week, directed by Salim Makrashi who is also a member of the Sultan's Firqah.
I have attended three rehearsals so far and they are disciplined and convivial.  Musicians learn both with music and by ear and they perform pieces in unison or composed harmony and counterpoint.  Heterophony, the musical texture, that is so characteristic of the ensemble sound from Cairo and the Eastern Mediterranean, is completely absent. As they worked on the piece "Caprice" by Jamil Bashir it became clear that  these musicians are very capable.  Most of them have developed perfect up and down picking technique, characteristic of Turkish and Iraqi 'ud performance as well as the ability to play scales and arpeggios way up the neck of then instrument and into the land of harmonics; all of them use a foot rest that elevates the right knee (an adaptation from classical guitar performance practice) and the majority of the players use an Iraqi style 'ud that has strings that come over a movable bridge and tie on where the face of the 'ud meets the body.  In spite of his incredible talent Salim Makrashi is incredibly patient and good-natured.  When someone comes late they are welcomed and those who take longer to "get it" just get more time in the rehearsal to perfect whatever phrase they are working on.  Collectivity, and protecting the integrity of the group is the name of the game here.
Which musical aesthetic for Oman?
Fathi Moshin and I looked through piles of music and it is clear that many pieces from the canon of Arabic classical music (forms including the Sama'i, the Longa, and the pieces of various well known composers and singers, particularly Muhammad 'Abd al-Wahhab), are practiced and performed here. Nevertheless, this is not the repertoire that the group is rehearsing now or that is on their inaugural CD.
Musallim Kathiri, Director of the Oman Center for Traditional Music, a fabulous 'ud player and composer himself, opined that importing Arabic music to Oman (from both Egypt and the Eastern Mediterranean, and from Iraq) has actually impeded or prevented a modern Omani sound and musical theory to emerge. He pointed out that Omani music has no music theory  (rules and guidelines about intonation and form, for example) at least none that has been codified and that could be applied to the composition and performance of Oman's own, urban classical or traditional music. But the musical advocates of the country, including notably his Majesty, Sultan Qaboos, do have the will and the means to import music from other parts of the Arab world and this process of adoption and adaption is what I am experiencing at the 'Ud Hobbyist Association.
Salim al-Marakshi, who has been directing the group is actually on leave from the Sultan's firqah and will return to Cairo where he is taking courses in takht conducting at the High institute of Music in Cairo.  During our breaks for cigarettes and tea, Salim flips through the music and videos on his iphone, playing for the group a particularly tasty taqasim or the music of Ziyad Rahbani or even of performances of religious songs, known to be the epitome of vocal maqam performance.  Through these exercises he performs musical competence and connoisseurship that is more in line with the "old school" musical styles of Egypt or Syria, and literally teaches the musical aesthetics required for both.  Advanced students stay late after rehearsal to get a tip or two on their own improvisations.  They are hungry for the music.  It is a great scene!
[1] www.michiganaraborchestra.com
February 12, 2011 by Anne Rasmussen
AKR in Oman Part 2 #2: Bollywood in Oman
I left the Beach Hotel at 4:20 on foot to arrive at Qurum (also Qorm) Natural Park after 40 minutes of brisk walking in the hot humid and windy afternoon.  Friday afternoon is like Sunday in the U.S.; folks were out on Love Street and on the beach, walking, picnicking, and playing soccer. When I arrived, I bought my ticket for 200 baisa at the window marked "women," entered the park and headed across the vast animated space of exhibitions, food booths, fountains, and lawn to where I thought the amphitheater was located.  There was nothing going on there – just a few people hanging around and when I asked about the Indian concert of the Bollywood star Sonu Nigam all I got was blank looks.  This annoyed me as quarter-page color ads for the concert were in every newspaper for the last week.  I wandered back into the park area looking for someone with a badge who could tell me where the Qurum Amphitheater was.  I found an official and he directed me back toward the opposite entrance.  Indeed the amphitheater was located just outside the park.
Three days earlier I met a radio anchor-woman who snagged me for a live interview in English.  She was from the Indian community here and when I expressed interest in the concert and in the other Indian music activities in the city her eyes lit up; in fact her husband was organizing the concert by Sonu Nigam, the "voice of Bollywood," that I had been reading about.  I hoped that maybe my new connection to the Indian art world in Muscat could put me on a guest list or at least secure me a ticket but my texts, calls and email produced no response.
I presented myself at the gate, tired from tramping around for now what was two hours.  Sold Out!  Damn!  But then someone was hanging around and his family wasn't all coming so he had a couple of tickets to sell.  25 Omani Riyal or about 65 dollars, way more than I wanted to pay.  But I hardly have daily expenses beyond my hotel and rental car and as Indian music is clearly an element in the musical tapestry here I thought I should attend an event.  Furthermore the concert was part of the Muscat Festival which has a huge international component of artists and performers.  Plus, I teach a unit on Indian music of some sort in my classes at least once a year.  Although still early, I was tired and the thought of just sitting down for a while seemed delightful.
My seat, in an amphitheatre that must have held at least 5,000, was pretty good.  I was glad I spent the money and it was fun to watch the crowd. I chatted with a family of four in front of me.  The father was the director of Suzuki Motors in Oman and we agreed that cars are very important here (camels, horses).  The crowd was distinctive from the large crowds I had been in for the National Day events I attended in November and December 2010 during my first trip to Oman.
First, men, women, and children all sit together – there was no separate section for women.  Second, Indians are recognizable for their dress: they either wear Indian fashion, like salwar kameez (khamis) or saris, or international clothes, like jeans.  Only Omanis wear Omani clothes, and most women wear an array of fashion from a black abaya and headscarf, both with elegant trim, or just long dresses with or without headscarves, men wear the dishdasha and a turban or cap.  I think it is safe to say that no Omanis, except for some of the younger shabab (guys, youth) wear pants.  So Indians look different. And, there are a lot of them. Out of about 2.5 million inhabitants in Oman 500-600 thousand are expats and of that population about 70% are South Asian (Indians, Bangladeshis, and Pakistanis) and the majority of these are Indians from Kerala. I had been noticing editorials by Indian authors in the three English language papers here, The Observer, The Muscat Daily, and the Times of Oman. And there is often news of happenings in Indian schools.  Furthermore there is reporting on Indian performing arts, either events that are happening in Muscat or reviews of events and celebrities from India.  My neighbors in the amphitheater told me that there are six Indian schools in Muscat (through 12th grade) and perhaps another 4 in Oman's other biggest cities, like Sohar and Salala.  So the presence of Indian arts and crafts and now this mega concert were not a surprise.
Sonu Nigam promised to please and he proved to be a versatile and charismatic performer backed up by a hot band and 8 dancers.  An emcee and a comedian took turns addressing the audience, calling out, to all of the various ethnic groups and regaling the crowd with self-depreciating humor (imitating various accents and mannerisms) before the superstar came out.  The emcee said you get 6 million pages when you google Sonu Nigam.  I just did it and got 3,444,000.  He is singer, composer, actor, radio and television host – he's a culture maker.  One of the highlights of his show was when he demonstrated how a song is made.  The audience called out various names of vegetables (Aloo, Gobi  — potatoes, cauliflower . . .) and he did it.  He created a "vegetable song" adding bass, guitar, percussion, keyboard, and then improvising his new hit in various Indian classical and popular styles.
Although the concert was ready to start at 7 as planned it was delayed by 40 minutes in respect for the evening prayers.  I thought this just a bit odd because inside the park music always seemed to be really gearing up right around 7:30.  The concert finally started at 8, and I left at 10, already late for a promised stop at the well-known maker of 'uds and qanuns, Ali al-Sabsabi who has a shop in the international pavilion.  The Syrian 'ud-maker's shop is in the International Pavilion that includes nine wings or hallways, each with about 14 stalls featuring arts and crafts from four central Asian nations and Iran, South Africa, Senegal, Pakistan, India, Turkey, Macedonia, Mexico, Japan, France, and the Arab nations of Egypt, Syria, Tunisia, Mauritania, Algeria and the state of Palestine as it is called here.
A miraculous turn of events occurred at Ali's shop.  First, the first words out of Mr. Sabsabi's mouth were "Jonathan Shannon," the name of a friend we have in common and a colleague who readers of this blog may know. Second, one of the artisans in the Syrian wing, a glass artist, has a marvelous voice and I was able to show off my repertoire of Syrian muswashshahat (in a land where they are not really heard and played) in a lively jam session.  And third, after receiving the message that I would never be able to attend a rehearsal of the Sultan's Firqah (Arabic orchestra) due to Palace security, I met Rami, a young qanun player from the palace group.  So, as it turns out, even though I can't get in, the musicians do circulate in the world and it will be good to get to know of this special royal ensemble, the only one like it in the Arab world, from these very friendly musicians (I have already met two of them).
After the visit and impromptu jam session at Ali Sabsabi's shop I walked back out of the park with Rami and his friend who were giving me a lift and was surprised to hear the Sonu Nigan concert still blaring on at full force well past 11 p.m.
Stay tuned for my description of the next musical scene in Muscat: Jamiyyat Hawat al-'Ud or the 'Ud Hobbyist Association."
AKR
For up to date official statistics see: http://www.omancensus.net/new/images/stories/docs/2010_Preliminary_Results.pdf
February 10, 2011 by Anne Rasmussen
AKR in Oman: Part 2:  The Muscat Festival 2011
Welcome back to Oman!  This is my second visit to Oman as a Research Fellow of the Sultan Qaboos Cultural Center in Washington D.C., an extension of the Royal Court or Diwan of the Sultanate of Oman.*  This visit is timed strategically to coincide with the Muscat Festival, a month long city fair, celebrated around this time every year. The festival now in its 10th year seems to be superbly produced, carefully designed, and well executed.  The combination of exhibitions of crafts and industry, performances by local and international artists, and fun and education for kids is held in a beautiful venue called Qorm Natural Park, a vast area adjacent to a preserve of mangrove trees (Qorm) and less than a kilometer from the Arabian sea.  This mangrove preserve lines a canal that feeds into the ocean.  It is visible from the corniche, walkway, and road, nicknamed "Love Street" (tariq al- hubb) where couples, friends, and families come to stroll, jog, or just hang out.  Weary travelers longing for a pick-me-up can quench their thirst for a laté or macchiato at the "Love Street" Starbucks.
Figure 1: A view from the balcony of Starbucks:  The Mangrove Preserve is visible on the right and Qorm Natural Park, the site of the Muscat Festival.  To the left on the hill you see the Crown Plaza Hotel, Tariq al-Hubb and the Arabian Sea.
Despite the fact that the park is located in one of the nicest and most elite neighborhoods of Muscat, the festival is accessible to all: daily adult tickets are 200 Baisa, about fifty cents.
The Muscat Festival is organized by the Muscat Municipality, and its mayor Sultan bin Hamdoon al-Harthy.  Although I met Mr. Harthy, when I was here in February I am hoping to be able to find the festival planners and programmers who can give me a better picture of their vision for the festival, its scope, their goals, and how the festival has developed in its ten year history. It is clear that this festival shares many of the features of the kinds of community celebrations, from the county fair to the Smithsonian Festival of Folklife with which I am familiar.  While the "heritage village" site of the festival is quaint and contrived as are all "framed and re-contextualized" performances of material culture and performance, the women and men who share their arts and crafts are real.  Whether it is a drum maker from Sur, or women specializing in the chemistry of the fragrances, (frankincense and myrrh among them) for which the region is infamous, or artisans involved in the textile arts, basketry, and various agricultural processes, like threshing wheat or hauling water, the carriers of these tradition are on hand to explain the techniques of their work and their importance in Omani culture. And while purists may argue that such quaint, staged representations are the antitheses of authenticity I think we can also see how these decontextualizations are also important and inevitable re-contextualizations in any society.
In addition to Omani crafts and heritage work are a number of foreign artisans — an 'ud maker from Syria, a calligrapher from Turkey, specialists in the textile arts from India – are also in the mix. [More on the international presence in a future post.]
The Ministry of Information plays an important role in publicizing, interpreting, and reinforcing the festival experience with live radio broadcast from the festival grounds, evening broadcasts on Omani television of various performances, and at least some reporting, every day, on the festival in all of the daily papers.
Folklore:  Natural, Official, Unbounded?
Of course, my attention is drawn to the performers.  On the first evening I was fortunate to run into Al Nojoom (the stars), a troupe from Sur that travels widely, both in Oman and internationally within and outside of the Middle East.  Al Najoom performs a variety of music and dance genres that fall, officially, under the rubric of Traditional Arts or, in Arabic, al-Funun al-Taqlidiyya.  The nomenclature and status of these kinds of regional folk musics and dances have been elevated and collected as consciousness about patrimony, history, and heritage have developed in this relatively young nation with a decidedly old history.  The process of rebranding the music, dance, and material culture of a people is not unlike what has happened in many other countries, like my own, where practices of the "un-elite" have been renamed and repurposed, expanding to occupy multiple contexts. Such processes have inspired endless debates about faithful representations – what I have called "the real version" in an article I wrote for the volume Performing Ethnomusicology [1] that are as much a part of the discourse of practitioners as they are among audiences, critiques, and scholars.
Figure 2:  Al Nojoom presented an array of music and dance in a participatory parade flanked by the festival audience and documentarians, like myself, until they reached a stage where they performed facing an audience.
From what I learned from one of the group's members and in visiting with Majid al-Harthy, a fellow ethnomusicologist and professor at Sultan Qaboos University, Al Nojoom is not an officially sponsored or trained folkloric ensemble, rather they are self motivated, self managed and thus have a great deal of freedom regarding the breadth and style of their repertoire. (And I just called Omar from the group to confirm this).  That Al Nojoom is free standing ensemble of men and women, musicians, dancers and singers who perform styles and genres from various regions of Oman is significant for at least a couple of reasons.  First, that the group is in demand outside of official presentations (or representations) pushes this traditional art into the realm of the popular and the commercial.  Second, because Al Nojoom chooses to perform a diversity of genres and styles, the group is not only versatile, but proof, that like in many places in the world, folk arts are not only tied to specific regions but also participate in the processes of fusion, diffusion, and innovation that are endemic to any healthy music culture (however prickly they are for the musical taxonomist to describe).
Figure 3:  A group from Sidab, a neighborhood in Old Muscat, perform Malid. The facing rows, the kneeling position, their shoulder-to-shoulder stance, and the way they swoop their arms and bodies down to the ground and out behind them connect this performance style to other religious performances around the Indian ocean, while at the same time being completely unique, in its detail to Oman.
Traditional Spiritual Arts?
Another group that I found completely compelling comprised two lines of men performing Malid.  Their song and movement is clearly related to the great variety of language performance that is characteristic of the Islamicate world, but seems, at least to my eyes and ears to be unique to Oman.
The rais or leader of the group sings out lines of text that are either repeated or complimented by the group's response.  For several of the "songs" the opposing lines of men kneel, shoulder to shoulder, and sway, bowing down to the ground, sweeping their left arms forward and to the right side and then bringing their arms across the body and back behind their sides to the left.  The texts certainly celebrate and narrate the life of the Prophet Muhammad and are likely to come from poetic biographies of the Prophet's life, by Barzjanji, or Ibn al-Jawzi.  According to Shawqi's Dictionary of Traditional Music in Oman, (compiled 1985-87) revised and expanded in English translation by Dieter Christensen (1994), Malid recitations, held in celebration of the birth of Prophet, are performed on a wide variety of occasions that mark both the Islamic calendar, as well as on occasions that celebrate life cycle events (weddings), or to bring blessings on the consecration of a new place or process (building a house, leaving for a journey) or as a catalyst for change (for someone sick or in danger or in need of a little extra good luck).  Incanting religious language with repetitive movement, usually, in an Islamic context, associated with Sufism, is also a mechanism for communal and individual experience of "the divine" broadly defined.   But Sufi performance has long been adapted to the proscenium stage for concerts, festivals, conferences and even restaurants throughout the world.  In the case of this Malid group from Sidab, an area within old Muscat, their performance space was an elevated corner of the "Traditional Village."  They were both in public and alone.  They were in their own separate space but available to the public.  They were both in private and completely accessible as I discovered when I approached them.  As with every advance I have made in this incredibly hospitable country I was received with warm enthusiasm and, in the case of the men of Malid, with a small cup of warm spiced milk:  "good for the throat" they assured me.  They must know.  They perform on and off for five hours a day throughout the duration of the festival.
Figure 4:  The men of Malid from Sidab also perform standing and with interlocking frame drums, called daff or duff, that are used throughout the middle East and Muslim World.
I hope to write more about the spectacular festival grounds and the use of space in my next post, stay tuned.
AKR
References
*More information about the Sultan Qaboos Cultural Center may be found here:http://www.mei.edu/SQCC/AboutSultanQaboosCulturalCenter.aspx
[1] Rasmussen, Anne K.   2004.  "Bilateral Negotiations in Bimusicality:  Insiders, Outsiders and 'the Real Version' in Middle Eastern Music Performance."  In Performing Ethnomusicology. Ed.by Ted Solis, University of California Press.  Pp. 215-228.
[2] Shawaqi, Yusuf. 1994. Dictionary of Traditional Music in Oman. English edition revised and expanded by Dieter Christensen. Wilhelmshaven: Intercultural Music Studies, Florian Noetzel Verlag.