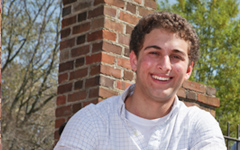 July 5, 2012 by Andrew Canakis
As the 7th best tour guide in the nation (self-proclaimed but my Italian grandmother would easily agree with this statement), I am going to give you a few tips on how to survive a tour during extreme weather conditions.
1) While on a summer tour, the death wrenching Williamsburg heat can sometimes make the Sahara desert look like a vacation spot. Luckily, the William & Mary admission office provides tour groups with ice cold water bottles. My tours have a 100% survival rate primarily because I strategically navigate between air-conditioned buildings – I can confidently tell you that all our tour guides possess the innate ability to talk while walking backwards in extreme heat. I would highly recommend bringing sunglasses, a hat, sunscreen, and a small towel. From a personal stand point, cheer your tour guides on and motivate them to go beyond the call of duty. Many times, this moral boost can help a tour guide discard the invisible heat blanket that wraps itself around ones energy reserves and vocal chords.
2) Encountering the rainy phase of a monsoon on the East Coast is a very unlikely event; however, if you experience an intense rainstorm during a tour then hopefully you came prepared with an umbrella or raincoat. My only advice for this situation is to check the weather beforehand and don't be embarrassed if one of your parents is equipped with various raingear (while its not raining). Also, since guys do not normally wear rain boots I would recommend investing in some Nike boots!
3) Being equipped with Nike boots (from a guys perspective…not too sure what the equivalent would be for girls but any who) during/after a snowstorm will enable you to playfully maneuver through the snow. In regards to Williamsburg, receiving a few inches of snow may shut down the whole town. However, William & Mary breeds the best tour guides in the nation, and snowflakes do not detour our operations. As a matter of fact, I will personally offer the whole family (and friends) a VIP winter wonderland tour (hot chocolate will not be included). If we embark on this journey, I would advise the standard winter gear and hand/feet warmers.
If you are still reading this – I commend you. I hope that you come and visit the admission office where our staff and current students will enthusiastically answer all of your questions and concerns. Nonetheless, do not let inclement weather discourage you, and take advantage of the vast resources that are available in the admission office and on the website.
July 3, 2012 by Andrew Canakis
One aspect of the College that really makes it unique is the close relationship that develops between students and faculty. Even before you to start your freshman year, each incoming student is paired up with an academic advisor who guides you through the first couple semesters. In addition, all freshmen are required to take a writing seminar (the topics range from the physiology of Lance Armstrong to German Horror Films in the Weimar Republic) where the classes are capped at 15 students. My professor even held classes along the Sunken Garden and at the local delis (where she bought us all appetizers). The way my professor taught the class is a great example of how William & Mary faculty members truly care about their students and are always striving to cultivate a dynamic academic environment.
Even outside of the classroom I have been able to foster relations with professors in various departments. For instance, Clay Clemens, who is the Chancellor Professor of Government, is the academic advisor to my social fraternity and invited a few of us to his house for dinner last week. It was a phenomenal experience to be able to converse with Professor Clemens on current events, school traditions, and sports. Furthermore, he has invited the 12 senior admission interns to his house this week for a 4th of July get to together.
Another example of teacher accessibility that I have personally witnessed has been with my biology research professor – Mark Forsyth. Professor Forsyth's incredible knowledge and fun personality have made my research experience at the college truly exceptional. He is always willing to help students in and out of the lab/classroom, and many times you can see Professor Forsyth at the Daily Grind meeting with students and discussing topics from microbiology to his road trip adventures all over the country. His commitment to his students and expertise in his craft is hallmark of the William & Mary experience.
My interactions with faculty members at William & Mary is a common occurrence among all students, and to have the opportunity to know your professors on multiple levels is an integral component of the school community that spurs productive communication and fosters active learning.