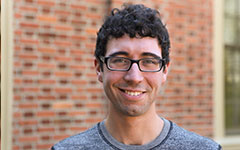 March 11, 2013 by Adam Labriny
As Spring Break comes to a close, I've been thinking about what an intense (yet immensely satisfying) month February turned out to be.  Between Charter Day, Mardi Gras, Chinese New Year AND midterms, it was definitely one of my busiest months here at W&M.
For Charter Day (that's on February 8th!), the Student Assembly asked my jazz combo to perform during a special dinner in the Sadler Center.  Since I don't have a meal plan this year, it was great to re-experience the dining halls (i.e. an endless soul food buffet, a sick salad bar, and ICE CREAM!)  Mainly, though, it was great to see my peers' looks of befuddlement change to excitement as they realized their dinner would come with a serenade!
The next week, Mardi Gras was by far the most pressing thing on my (non-academic) schedule.   In the past, I never really thought twice about Mardi Gras.  I didn't grow up with it, I didn't understand it—it just wasn't on my radar.  However, I've recently had the pleasure of befriending a native of New Orleans, Naomi.  Between her excitement about the holiday and the bits of New Orleans' history I've picked up in my Southern Cultures class, I was determined to make an effort to learn more about Mardi Gras this year.  Thus ensued a day of purple, green, and gold beads, dancing on the Sunken Garden, and (dreaming about) king cake.  Success?  I think yes.
With February also came the Chinese New Year!  This year, W&M's Chinese Student Organization (CSO) put on a spectacular event in PBK Hall, complete with calligraphy, dumpling making, video presentations, and a catered dinner.  The event also offered the opportunity for students to mingle with Chinese exchange and international students; I was thrilled to learn more about how the holiday is celebrated in China.
The latter half of February brought with it a whirlwind of exams, papers, presentations, and obligations—in other words, it was finally midterm season (cue dramatic "dun dun dunnnnnn").  My new home became Swem.  In fact, I was spending so much time in Swem that by the end of the month, I had established "study spots" around the library: the little nook near the Children's Book section with the round, sunny window overlooking Andrews Hall and the courtyard, the strangely-placed desktop on the second floor that only a couple other people like to use because it's vastly inconvenient, and another super-secret spot I will only divulge post graduation.  (But seriously, let me know if you're curious and I'd love to share.)  I developed weird eating habits that week, too.  Lunch?  Who needs it—I'll take a triple Americano and this bag of Cheez-its, please!
But as most things, midterm season came and went.  Looking forward, I've only got half a semester left at this lovely institution, and I plan on making the most of it!
February 1, 2013 by Adam Labriny
Just to be clear, this post is about The Daily Grind (aka The Grind), the best coffee shop on campus, so if you were expecting anything else, sorry to disappoint.  (But actually, get your head out of the gutter!)
The Grind has been a staple in my life since Freshman year.  Whether it's providing my morning fix on the way to class, a delicious sandwich around lunchtime, or a relaxing place to study, I find myself drawn here more often than I'd willingly admit.
Just last spring, I started working as a barista at The Grind, i.e., THE BEST JOB EVER!  Serving up coffee, tea, and espresso drinks to friends from all over campus barely even feels like work.  Not to mention the perks—all the coffee I can drink!
Students aren't the only people you can find hanging at The Grind.  Many (caffeine-friendly) professors are known for holding their office hours in the coffee shop, providing a more casual setting to discuss material with students than a stuffy office.  Many other professors can be seen alongside students grabbing a cup of coffee in between classes, offering opportunities to get to know professors outside of the classroom.
The Grind offers much more than caffeine and a place to study.  It's a place to meet new friends, have a first date, or hold a group meeting.  It's a place to laugh, dance around, or warm up by the fire.  It's a home away from home.
So next time you're on campus, be sure to check it out!  If you're lucky, I'll be there to serve you the best latte that you've ever had~
January 11, 2013 by Adam Labriny
For most William & Mary students, winter break means going home for some quality R&R with the folks.  For me, however, breaks mean hours on end of writing music, practicing, and spending quality time with the members of my band, Swampblossom.
After recording our E.P. last summer at TapTap Studios in Norfolk, we kept ourselves busy last semester by gigging around various local bars and restaurants in the burg—namely, The Crust and The Leafe.
The Crust is a relatively new local venue located right across from Blow Hall and next to Wawa.  They're known on campus for their wood-oven pizzas, ever-changing drink specials, and the Tribe Choices lunch special (i.e. $5 for a complete lunch—I know, right?).  Last semester, we landed Thursday nights from 8pm-10pm—which was AWESOME!  I've personally had a blast playing every week; helping to create a fun space for chilling, dancing, and socializing was just the cherry on top.
The Leafe (formally known as The Green Leafe) has a long history here at the College.  They've been around for decades, and offer some of the best micro-brews and pub food in town.  (Don't miss their half-price burger Mondays, I'm bummed I didn't find out about it until Junior year!)  So naturally, when the Leafe approached us about becoming the house band for next semester, I was thrilled! Free food, drink, and two hours of playing music?  What more could I want!
Break has flown by.  Slowly, ordering textbooks and job hunting are starting to take priority over music (once again).  Even so, this break has reminded me of the many extracurricular opportunities I've had the pleasure of pursuing during my time here at the College, and I'm grateful for that.
Oh, and if you happen to stop by the Leafe next semester while we're playing, come say "Hi!"
November 6, 2012 by Adam Labriny
I've learned many great things here at the College, like how to run an international video conference in Japanese, or how to convince a visiting CEO that my team's marketing strategy is both cost-effective and creative.  Surprisingly, though, one of the most useful things I've learned here is how to function on very little sleep.
This came in handy today, for example, as last night I passed out at 2:00 am, woke up at 5:00 am, drank some tea, and churned out a case study for my 8:00 am class, Organizational Behavior.  I suppose I could have finished it last night, but instead I was in the Swem Media Center laying down some tracks for my band Swampblossom's latest single, "Grey Blue".  I guess I also could have written it before the recording sesh, but between running from class to class and grabbing a bite to eat at The Grind with friends, there just didn't seem to be enough time.
This is a typical day for me here at the College.  I like to stay busy and involved—whether it's making lattes at The Grind on the weekends, playing gigs at The Crust, or hunkering down for an afternoon of studying in Swem, there's never a dull moment. And you know what?  Even though things get hectic (and I am officially addicted to caffeine), I wouldn't trade one minute of my busy day for more sleep.
Besides, that's what Sundays are for!