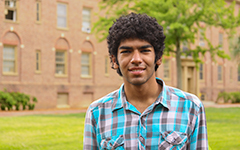 June 28, 2013 by Arvin Alaigh
In the time since my last post, I once again found myself the victim of my own appetite, though this time the culprit was not Buffalo Wild Wings, rather, it was Chili's. I arrived to the restaurant voracious, and, similar to my last scenario, this proved to be my ultimate undoing. Upon being seated, the server handed me the menu, and after briefly scanning all of my options, I found myself giddy with excitement at the possibilities.
One particular area of the menu caught my eye: that is, the $20 dinner for two section. This included one appetizer and two full entrees… no strings attached. I briefly considered the pros and cons of pursuing this. The pros? I could have delicious low/mid-tier restaurant quality food for a bargain, and as an out-of-state student living in DC, I will seize just about any bargain possible. Another pro was that I could enjoy a nice, eclectic mix of delicious foods for dinner. I was not chained to my dish exclusively; I had the flexibility to branch out and try my chances at three (3!!!) different food items. Having a problem with your bacon cheeseburger? No problem! You have an appetizer AND an entree, which should more than make up for it. I was allured by this possibility, seduced by this prospect. The cons? My main concern was that I would not be able to finish all of my food, and it would just find itself in my fridge for two and a half weeks before I threw it away untouched. Beyond that, I would have to live in perpetual shame with myself, knowing that I single-handedly devoured two full entrees and an appetizer alone in one sitting.
As soon as our server arrived to take our order, I inquired about the $20 dinner for two, still indecisive of my plans. He assured me that it is pretty common for people to get it for themselves, usually packing up one of the entrees and bringing it home. That was not something I was about to do. Perhaps it was my hubris that prevented me from pursuing this reasonable course of action – instead, I scoffed to myself, thinking of the lightweight plebes who could not handle this meal in one sitting. I proudly declared my intentions to order the $20 dinner for two with the following items: flatbread margherita pizza as my appetizer, and a 6 oz. sirloin steak and Honey Chipotle Chicken Crispers as my entrees. The waiter asked me once more, perhaps in an effort to persuade me to reconsider, whether I was to have any of this packed up. I was taken aback and slightly offended by this offer, and now made it my personal mission to prove him wrong and validate my self-worth by eating this entire meal. Blinded by a lethal combination of hunger and arrogance, I set forth in mentally preparing myself for the upcoming events. I was certainly hungry, but was I pushing it? Time would tell.
I began by inhaling my flatbread margherita pizza in just a few minutes, and though it was not necessarily delicious by any means, it was edible. That is the beauty of the $20 dinner for two – I had a safety net of two more food items to comfort me if/when one is lackluster.
Several minutes after finishing the pizza, I could feel all 700 calories of it beginning to settle in my stomach. Nevertheless, I remained steadfast in my goal, pushing aside all mental roadblocks and readying myself for the main course meals that would be the ultimate determinant in this battle for my self-worth. I had the entire establishment of Chili's betting against me. I flashed back to about 15 minutes prior, when my server insultingly offered to pack one of my entrees for me, doubting my capacity to finish all that I had ordered. He once again showed shades of his smug sense of self when he returned with my entrees, condescendingly placing them in front of me. I knew that I had to get to work immediately, so I started with the 6 oz. sirloin. It was on the 'light' options section of the menu, so I figured that it would be easiest to take down. Thankfully, I was correct in this assumption, and five minutes later, I was onto my next entree. The Honey Chipotle Chicken Crispers, on the other hand, were an entirely different animal, both figuratively and literally. Ordinarily, it is a very hefty meal by itself – in retrospect, this coupled with an appetizer and another full entree is a little too ambitious. But this was no ordinary night. I was out to prove myself to my haters. I was driven not only by my physical hunger, but fueled by my desire to satiate the doubters who had ever questioned my ability to finish my food. I started off strong and pounded them with callous disregard, the memory of my waiter fresh in my mind. But as time went on, my pace grew slower, and it was not long before I was reluctantly trudging through my meal. Failure was not an option for me. I mustered every last bit of resolve from every crevice in my stomach, and willed myself to finish the meal and alas, my spirit triumphed. Relief was my first reaction upon finishing this gargantuan meal, shortly followed by shame. I had just ingested >2300 calories in one sitting. That is repulsive. Though it was slightly gratifying to see the flabbergasted expression on my waiter's face upon collecting my dishes, it did not compare to my miserable physical state.
The aftermath was unpleasant to say the least. I spent the rest of the night sitting on my couch, groaning about my stomach pains. We had company over at our apartment that night, but I could not deal with interacting with anyone at that time. I felt like one of those teenagers in the Above The Influence commercials, completely flat and collapsed on my couch. I fell asleep shortly thereafter at about 11 PM. What was once a night filled with valor and determination turned into a gluttonous ego-trip which I wholeheartedly regretted.
Had my waiter never instigated me to finish my meal, I imagine that my night at Chili's would have been pleasant. But because he blatantly challenged me to eat all of the food that I ordered, I could not provide him with the satisfaction of coming away victorious. While I certainly won the battle, I have come to the conclusion that he won the war. I am sure he predicted the aftermath I would incur, goading me in an effort to bring forth my imminent self-destruction in a timely fashion. My hubris, determination, and desire to prove myself ended up facilitating my ultimate downfall. But I will not issue a sweeping declaration proclaiming the end of my affiliation with the Chili's chain. This was my own fault, and I assume full responsibility for the events that transpired on this fateful night, and I have learned a valuable lesson about my limits, as well as the price of arrogance.
June 27, 2013 by Arvin Alaigh
In my last post, I began summarizing my favorite site visits that our Leadership & Community Engagement Institute took during our two week class. Below, I have listed and described four more standout visits.
5. Perhaps one of our most resonating visits came Mike Powell, the son of former Secretary of State, Colin Powell. He opened by sharing his life story with us, beginning with his humble beginnings as a TWAMP (Class of 1985) – a Government major, Yates resident, ROTC cadet and involved student. He continued regaling us with anecdotes from his military career that was unfortunately cut short in an automobile accident while stationed in Germany. Because of the accident, he endured not only an incomprehensible amount of physical pain (he spent a year in the hospital rehabilitating), but emotional pain. Since he was young, he had been working towards a career in the military and following in his father's footsteps, but his circumstances forced him to change his life's direction and give up on his dream. These trying times taught Mike to persevere through hardships and redefine success as an attainable end. Following his departure from the military, he tried his hand (and succeeded) in seemingly everything, having attended Georgetown University Law Center, serving a clerk for the DC Court of Appeals, a private attorney and in the Justice Department… not to mention a stint as an advisor to the Department of Defense. He eventually ended up working in the field of communications, serving as the Chairman of the Federal Communications Commission (FCC) from 2001-05, and currently the President of the National Cable & Telecommunications Association. Mike shared insight on his principle-driven leadership style, which is highlighted by his ten core pillars that shape himself and how he leads. He sees them as sacred and unique to every person – so much so, that he refuses to share his own with anybody. To Mike, the contents of one's character reign paramount when assessing a leader, and their importance cannot ever be understated. The lecture itself was so captivating that by the end of it, I could not believe an hour and a half and elapsed. His stories, life experiences and advice took the shape of a motivational leadership seminar, and they truly inspired every person listening.
6. In terms of community engagement, DC Central Kitchens is likely the organization that is most directly impacting tangible change. We first met with Chief Executive Officer Mike Curtin, who chronicled a brief history of the organization, along with logistical information on how it is run. First and foremost, Mike made it clear that DCCK is not a soup kitchen. Instead, it distributes food to various soup kitchens and shelters around the District; but its primary purpose is to mobilize otherwise underserved individuals into the workforce. Through a training program that lasts several months, DCCK trains individuals to work in the foodservice industry. After they graduate from the program, the Kitchens will hire these individuals and provide them with a living wage and help them find housing in order to be self-sustaining. They will cook and prepare food that in turn goes out to various places, including soup kitchens, shelters, and as of late, to schools in the District. Throughout his presentation, Mike Curtin was very expressive about the role of his organization in providing opportunities for DC residents. He passionately averred that society had forsaken these individuals, and amidst the inefficiency and inaction of Washington bureaucracy, real people were suffering dire consequences. I thought it was particularly interesting when Mike said that DC Central Kitchens will have been considered successful when it can no longer stay open – it is not often that an organization sets out to go out of business and have its services no longer needed. Though its scope may not be as grand as MCC or Aspen (yet), there is no doubt that DCCK plays an incredibly important role in the lives of many underserved individuals, providing them with a venue to turn their lives around and find success.
7. Penelope Spain was one of only two site visits that actually came to visit us at the William & Mary DC office. She has her background in law, having attended Washington College of Law and graduating in 2005. While in law school, Penelope started a club that allowed students to go to a local detention center, and from this emerged Mentoring Today. She chronicled the organization's beginnings as a group at WCL dedicated to helping incarcerated youth get reassimilated into society – though it remains small (there are 3 full-time employees), the organization has garnered a fair amount of attention and recognition within the DC/Maryland community. She shared with us the intimate inner-workings of Mentoring Today, shedding light on how she runs a nonprofit with such small overhead. Though she has run into her fair share of hardships, she has remained unwavering in her mission to helping the oft-forgotten youth, providing them with the stable figures that have usually been absent in their lives. I loved her passion and drive, along with her do-it-yourself mentality that inspired her to start her own organization – for these reasons, Penelope was one of my favorites of our site visits.
8. William & Mary/Teach For America alumna/Anacostia High School teacher Lauren Sterner marked the final of our site visits, and in my opinion, it was the most profound. It was the only visit in which we got a firsthand view at a community engager in action. We sat in on two sections of Ms. Sterner's 9th grade English class, and though not every student seemed engaged in curriculum, she did a phenomenal job in captivating the attention of many. Despite a gentrification project that the school has been undertaking for the past few years, the district is still poorly funded – prior to starting her first class, Ms. Sterner explained that several English teachers would be cut due to budgetary restrictions. We witnessed even other poignant examples of this underfunding during the class itself, from the outdated textbooks that were being used (some were even older than the students themselves), to Ms. Sterner's announcement to the students that the classroom was out of paper. I view individuals like Lauren as champions of education. Despite having other opportunities, both in profession and in location, she chooses to serve those students who need it and can benefit the most, and I find this admirable to the utmost extent. As someone who has a general interest in education, I was inspired and motivated by seeing Lauren in action. Ideally, we would have gotten to speak to her for longer but this site visit nonetheless impacted our class greatly.
As I stated in my previous posts, our two week class was not a William & Mary class in a traditional sense. Sure, we had our fair share of readings, discussions, lectures and writing assignments, but we still found time to visit many outstanding organizations/individuals all around DC. At times, it seemed overwhelming, considering the sheer amount of people and places we visited; nevertheless, I am very thankful to have gained that kind of experience. Perhaps the most enriching part of the two weeks came in the form of exposure. We saw all the shapes and forms that engagement could manifest itself in, from working in international development, to the government, to the classroom. We all learned that there are countless ways to affect positive change within the community, and as leaders, we ought to follow our own path, find our niche, and excel.
June 5, 2013 by Arvin Alaigh
Before getting into the meat of this next entry, I would like to formally redact a statement that I issued in my last blog post. If my memory serves me correctly, I listed "eating Buffalo Wild Wings" as one of my hobbies – it is with a heavy heart (and most likely clogged arteries) that I must announce, as of Thursday, May 23rd, Buffalo Wild Wings and myself have decided to go our separate ways. Though we certainly had our fun over the past few years, it is time that our relationship must meet its end. You are undoubtedly asking yourselves how a holy union could possibly end so abruptly… Well allow me to be your muse.
I, Arvin Alaigh, have been a buffalo wing enthusiast for as long as I can remember. This particular Thursday, I was entranced by the temptation of 60-cent/wing night, so much so that earlier this day, I made the conscious decision of eating a light lunch. As a result, I was understandably famished by the time we finally headed to BWW around 7 PM. Once there I absolutely crushed my twelve boneless hot wings in about six minutes flat, scarfing them down with a tangible intensity that still haunts me today. This proved to be my ultimate undoing. The events that followed this "meal" were excruciatingly painful. Apparently, the Buffalo Wild Wings hot sauce has a corrosive property unbeknownst to most customers – I had the privilege of experiencing this firsthand. For the next few hours, I could feel my stomach and intestines slowly incinerating at the hands of this seemingly poisonous liquid. I spent the rest of the evening grimacing about in bed, chugging Pepto-Bismol, watching reruns of The OC on my computer and begging to God for mercy. I still felt aftershocks of my chicken wings the morning after, and it was then that I made the executive decision to sever ties with the restaurant. I acknowledge that I cannot blame anyone else for my misgivings, and I assume full responsibility for all events that transpired.
My first two weeks in Washington were mentally and physically exhausting, but in the most rewarding way possible. The Leadership & Community Engagement class consisted primarily of lectures, discussions and site visits. Though there was no set daily schedule, our activities fell between about 9 AM – 4 PM every day – the bulk of this time was spent visiting various individuals around the District. We ended up having eighteen site visits, most of which consisted of individuals representing their respective organizations in the nonprofit and/or political sectors. I could individually chronicle each detail of every site visit, but I feel that may be somewhat monotonous, and my goal with this blog is to secure my readers' interests. For this reason, I'll break down my top eight site visits (in no particular order) accompanied by brief descriptions –
1. Class of 1975 alumna Karen Schultz was our first visit of the Institute, and undoubtedly she was one of the class's favorites. Her political career was highlighted by the hotly contested race for the 27th District of Virginia in November of 2007. Though she ended up losing in a widely controversial fight, she gained much insight and expertise on how elections are run, much of which she shared with our class. But in my opinion, the most appealing aspect of Ms. Schultz was her authenticity and genuineness; frankly, she was one of the nicest, most sincere individuals with whom we had met. She has also been a faculty member at Shenandoah University since 1981, having served as the Director of the Institute for Government and Public Service at the university since 2009.
2. Mike Henry is currently the Chief of Staff for Virginia Senator Tim Kaine, whose primary expertise lies in managing campaigns, boasts an impressive resume with a wealth of experience in local, state, federal and even presidential elections. In addition to this, he also worked with the ONE Campaign, a nonpartisan advocacy group dedicated to ending extreme poverty around the world. Mike was relatively soft-spoken, yet he captivated the class with stories from his days managing campaigns, comparing them to his time at ONE. He also shared valuable insight on effective leadership qualities, speaking at length to Senator Kaine's abilities as a leader and an effective agent of change.
3. We met with Mickey Bergmen of the Aspen Institute on the third day of our site visits. He is the Executive Director of the Global Alliances program at the Aspen Institute, which serves as "the Institute's expert platform for establishing and implementing partnerships between the Aspen Institute, US government and public offices, the US private sector, and local counterparts and communities throughout the world." His work specifically deals with promoting private-sector relationships as a means of assisting relationships between nations with little diplomatic interactions, such as Israel and Palestine. He quickly won over our class with his kind and jovial nature, captivating us with many stories from his adventures facilitating diplomacy around the world. My personal favorite set of anecdotes was regarding his January visit to North Korea – he explained the dynamic of the government and its officials, and told several humanizing stories of people with whom he had met. He pointed out how Western society tends to villainize North Koreans, but his interactions with them showed that they were ordinary people, just like us. This was a theme throughout all of Mickey's anecdotes – though we have our emotional differences propagated by our respective individual identities, at the end of the day, we are all humans. Regardless of whether we're Israeli, Palestinian, North Korean, Russian or American, we will laugh, cry and emote, and it was refreshing to see Mickey's candor in discussing this. In summary, Aspen was a phenomenal site visit. Though I am not particularly interested in mediating foreign relations, Mickey's personability and knowledge made it one of the most captivating and enjoyable site visits of the two weeks.
4. The Millennium Challenge Corporation is a foreign aid agency that was first commissioned by Congress in 2004, so it is still relatively new. Essentially, it distributes very large sums of money (usually in the hundreds of millions of dollars) to developing countries over a certain period of time. A nation's eligibility is determined by its score on 17 different indicators under three categories: Ruling Justly, Investing in People, Economic Freedom. These indicators are compiled by outside parties, such as Freedom House, World Bank Institute, and World Health Organization. As for the site visit itself, it differed greatly from any other that we had – as we entered the office, we were greeted with an array of national flags and portraits of world leaders. Immediately, I felt a certain energy about the office; MCC's staffers seem to don a motivated, professional aura that was especially fitting for such champions of international development. Our presenters were informative in detailing the specifics of MCC compacts, going in depth on the protocol of how they are granted and implemented. Though it lacked the personable quality that made Mickey and Karen special, we still loved MCC and its work. We witnessed an organization truly excel at what it set out to do – that is, to effectively distribute hundreds of millions of dollars in aid. Out of all of the sites our class visited, I believe that MCC objectively operated on the grandest scale, and as a result generated the greatest number of tangible results for those in need. I feel that their work environment was representative of how the organization itself ran – with great professionalism, efficiency, and aplomb.
Okay because this is a lot longer than I anticipated (and I'm not sure I want this post to be >2000 words), I will post my next four site visits as well as some reflections on my next entry.
~~STAY TUNED ~~
May 22, 2013 by Arvin Alaigh
My name is Arvin Alaigh and I am the resident W&M in DC blogger for the Leadership & Community Engagement Institute. I am a rising junior majoring in Government and American Studies and minoring in Philosophy, and I hail from the beautiful state of New Jersey. My hobbies consist of watching of TV shows, primarily The OC, House of Cards, and Game of Thrones. I also love Buffalo Wild Wings, making music, playing/watching basketball, and studying Roman history. Current events are cool, too. On campus, I am involved in AMP Music, Campus Radio, the International Relations Club, and research with the Institute for the Theory and Practice of International Relations.
I try to be funny but it's not really successful most of the time, but it's okay. I'm over it. In the words of the illustrious Aubrey "Drake" Graham in the 2010 hit "Over" off his debut album Thank Me Later, "I'm doing me".
Monday, May 13 marked the first day in a 12-week long journey for the thirteen selected Leadership & Community Engagement fellows. This Monday morning, we were greeted by the normal, weekday morning Washington DC metro traffic en route to the DC office. This marked the first time I had ever commuted within a big city, let alone during rush hour. It began by paying an exorbitant amount of money – about five dollars round-trip – for what turned out to be a roughly eleven-minute train ride. While on the train, I had the pleasure of losing my bearings on several occasions, getting tossed around by the turbulent ride like a pinball as we approached each stop. It was exhilarating, to say the least. Upon exiting the train-car, I held up about six commuters behind me as I struggled to find the location of the ticket-scanner. In the words of the fabulous Sarah Adler, I fully embodied the "Metro-noob" stereotype, which undoubtedly ran rampant among my fellow out-of-state peers. All in all, I could not have been happier having truly received the delightful "first-time-commuting-in-DC" experience.
About an hour and fifteen minutes after leaving our Arlington apartments, our group of about twenty fellows finally arrived at the promised land: the William & Mary Washington Office. An eclectic array of sandwiches and pastries were provided for lunch, which was certainly a nice touch. Our group orientation followed, lasting roughly three hours, and detailed the logistics of the DC program at great length. The topics discussed were diverse in nature, ranging from practical tips about safety in DC, and networking at site visits, to seemingly bizarre advice regarding emergency protocol in the event of nuclear attack. We broke off into our smaller institutes at about 4:00, and for the first time, all 13 fellows, as well as Professor Drew Stelljes and our wonderful TA, Maggie Scott, met together as a group.
Individually, all thirteen fellows hail from diverse backgrounds, both in our personal and collegiate lives. Yet, we are all united under the common goal of affecting positive change within the community. This is essentially the goal of the Leadership & Community Engagement course – to better understand our goals and ourselves as leaders within our respective communities. While we are not assigned copious amounts of reading and writing assignments, I wholeheartedly maintain that our work is still toiling, but in a different nature than the typical William & Mary class. Self-reflection is our major mode of assessment, but it is difficult to operationalize something as abstract and personal as self-reflection; nevertheless, Drew does an excellent job in ensuring we have mulled over concepts discussed in class, as well as encouraging us to think outside the box when dealing with and studying leaders. We have tremendous chemistry as a group, which is especially beneficial for fostering thoughtful discussion within the classroom environment.
Despite my seemingly inauspicious start, which manifested itself in a multitude of misfortunes, I believe that the past week and a half have been more enriching and thought-provoking than I ever could have imagined. I am proud to say that I eventually mastered the art of the Metro, and I now scoff at the Metro-noobs who clog up escalators and/or hold up lines – although, I must admit that a little part of me does commiserate with them as I fondly recollect my first days as an inept, confused commuter. Overall, I am certainly looking forward to the ensuing weeks and adventures to come, and I certainly look forward to documenting them!