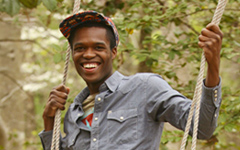 August 20, 2013 by Aaron Barksdale
After graduating a few months ago, I returned home to my friends, family and seasonal job. All three things are reliable staples of my hometown, and have become new routes that lead back to my experience at William & Mary. There is a fountainhead of W&M alumni that have migrated to DC from Williamsburg, and many of them eclipsed my time at the College. My first weekends back in town were spent reliving the glory days with friends from high school and fellow W&M grads. We shared stories about campus experiences, and the challenges and rewards that awaited me as a new graduate.
The transition back home felt a little odd, after being away at school. This summer many of my friends had left their hometowns, starting new careers or traveling abroad. On the other hand, I returned back to my parent's house to bide my time until starting grad school. I went on several interviews looking for something within my field of art education with limited success. My achievements were coming at slower pace than my time as an undergrad, and I admit that I was frustrated as well as a little confused. However, I settled back into my routine of working at my seasonal job at a local rock climbing gym, and my summer regained its initial momentum.
I first became involved in outdoor recreation as a freshman at W&M by taking a class called Adventure Games. I recommend it to any prospective or current student as a fun class to spice up a schedule filled with classrooms or labs. The majority of the class is taught on W&M's ropes course, which is an outdoor obstacle course with various activities and elements. My professor was upbeat and hilarious, and each class felt like a day at a playground for college students. Some days the class played games of Cyclops-tag, rappelled down the campus police station, or traversed the zip-line across Lake Matoaka. My time as both a student and later as an employee on the ropes course prompted me to work at the climbing gym in my hometown.
As a climbing instructor I encounter climbers of all levels, and the experience that I've gained in working an unconventional job has prepared me for my work in graduate school. In my classes I teach students the fundamentals of rock climbing, such as: how to use equipment and gear, knot tying and belaying. It's been incredible taking a hobby that began in a random class at W&M into a fun job. However, the most rewarding part of my time at the gym has been my encounters with W&M alumni who are also fellow climbers. The joy of meeting someone who is also a member of the Tribe is like meeting a new member of your family. My W&M community has continued to grow even though I have left the campus behind.
A summer of rediscovering familiar routes and reaching new heights has bridged my transition between Williamsburg and Manhattan. I leave for NYC in just a week, and I'm excited to start grad school. Likewise, I'm really excited to see if they have a climbing gym on campus!
February 4, 2013 by Aaron Barksdale
As a tour guide, one question I'm often asked is, "how good is the food here?" I always reply that the food is pretty good, which is either met by a speculative glance or a sigh of relief. Although I have had a meal plan for all four years at W&M, I decided to prepare myself for post-grad life by going off the meal-plan.  No longer will I browse the dining halls; instead, I will be sifting through the grocery store aisles. Unfortunately, I haven't had too much experience making my own food. When I'm at home my mom prepares most of my meals, even though I'm a senior in college, and until now I have had W&M's chefs cooking for me. Therefore, I will share with you my experiences "off-the-meal-plan," and show you how well W&M has really prepared me for the real world.
Recipe#1 Bang-Bang Shrimp
There's a restaurant near W&M named Bonefish Grill, and it has delicious seafood. However, my favorite item on the menu is the "Bang-Bang Shrimp." Imagine savory shrimp deep-fried and coated in a spicy sauce. I got the idea to make "Bang-Bang Shrimp" on my own, so I found a recipe online and went to work.
Here's the recipe and directions I was working from:
1 lb shrimp, shelled and deveined smaller shrimp
1/2 cup mayonnaise
1/4 cup Thai sweet chili sauce
3 -5 drops hot chili sauce, just a few drops (I couldn't find this at the grocery store, so I just bought hot sauce. It's all the same right?)
1/2-3/4 cup cornstarch, to coat the shrimp in
I put in pictures along with the directions, so you can see what a dorm kitchen looks like and see my process.
Mix mayo and sauces for coating.
The recipe said to bread shrimp in cornstarch, but I couldn't find it at Food Lion (one of the local grocery stores) so I used corn meal instead
Deep fat fry the shrimp until lightly brown.
The recipe said to drain the fried shrimp on a paper towel, and put them in a bowl and coat with the sauce. If you look at my first picture you'll see that I mixed the sauce in with the breading before I fried it…whoops!
So here is what Bonefish's "Bang-Bang Shrimp" looks like:
And this is what my version looks like:
It doesn't look as appetizing but it still tasted pretty good… I know the picture doesn't do my cooking justice, but it was my first recipe. Next week I'll be making Pad Thai Chicken, we'll see if that turns out better.
November 12, 2012 by Aaron Barksdale
At W&M not all the learning happens in the classroom. I have been fortunate to take some fun and unconventional classes through the kinesiology department at the College. Adventure Games, Ropes Facilitation, and Outdoor Leadership, just to name a few, are all taught on our campus ropes course. It has become my favorite place on campus because of the memories I made from doing silly activities from hula hooping to Frisbee tossing, tree climbing to zip-lining, and tightrope walking to high-top swinging. Although the classes are designed to be a good time, I've learned a lot about leadership such as: collaborative teamwork, effective communication, innovative thinking, and critical responsiveness.
My appreciation for leadership growth offered by my classes on the ropes course prompted me to work there. I began facilitating programs on the course that challenged groups to accomplish tasks both individually and as a whole while learning and having fun. Following up my love of the ropes course, I began working at a rock climbing gym in my hometown. Rock climbing is an exciting sport that encourages intelligent and creative thinking. After a year of climbing and working at the gym I became hooked and decided to a rock climbing course at W&M.
The rock climbing class was so much fun! Despite having experience, I learned a lot from my peers and professor about technique. In class we practiced knots, indoor climbing, outdoor rappelling, and climbing safety. The course culminated in a field trip over Fall Break to Shenandoah National Park where we went climbing and repelling on natural rock. We trekked through a portion of the Appalachian Trail to our first spot called Mount Stony Man for rappelling. Although we were prepared to climb in drizzling weather, a lightening storm cut our time short.
The following day we went to Mount Marshall for a day of real rock climbing. We set up anchors at the mountain summit and then prepared ourselves for adventures with harnesses and belay devices. Climbing the rock was much different than the rock wall at the gym in Adair Hall, home to the Kinesiology Dept., and rock wall at the SRC (student rec center). It was thrilling, and I believe each member of our class, including me, surpassed expectations for how well they thought they would do. The trip was a lot of fun and I continued to make great friends and lasting memories—I couldn't have imagined a better way to spend my Fall Break!
W&M has many different learning environments, and offers a wide array of diversity for students' interests. The ropes course is one of many, but the dance studio, Lake Matoaka, and scuba diving pool are others. While at the College I encourage you to find new ways to engage and learn outside the traditional classroom setting.
November 1, 2012 by Aaron Barksdale
Busch Gardens is one of the major tourist attractions for the City of Williamsburg. It's close proximity to the College also makes it one of the many exciting things to do off campus. Although it's a bit expensive, the park shows its appreciation for William & Mary students with an annual event around their Halloween themed feature: Howl-O-Scream. The amusement park opens up their fall season to W&M students and faculty at a reduced price of $21, which is about a third of what a ticket would usually cost.
Werewolves, crazed-clowns, and chainsaw wielding maniacs chased my friends and me around the park. Busch Gardens goes over the top to create the spooky atmosphere. The decorations ranged from jack-o-lanterns, webbing, to an eerie song continuously playing in the background.
There were haunted houses scattered all over the park, which were filled with costumed creatures lurking in the shadows. However the part that I enjoyed the most was riding the roller-coasters. It had been nearly ten years since I visited Busch Gardens as a kid in elementary school, and I was more fearless then than I am now. The speed, twists, turns, and drops of the roller-coasters had me unnerved.
Most of the rides have cameras that usually photograph you at the most suspense filled part of the ride. There were multiple pictures of me contorting my face in a scream as my friends gleefully laughed as our roller-coaster plummeted down a drop of over a hundred feet.
Busch Gardens Day is one of the most anticipated days of the year for William & Mary students, especially for those who are thrill seekers and Halloween enthusiasts. It's also amazing to see the Williamsburg community supporting the students of the College by offering the lowered admission price. This was definitely a great memory for my senior year!
October 12, 2012 by Aaron Barksdale
William & Mary's most recent main stage production, Joe Turner's Come and Gone, opened this Thursday. Written by playwright August Wilson, it is steeped in symbolism, mysticism, and history. The plot of the story focused on the large northern migration of the African-Americans after the Civil War, the hardships they faced in their new environment, and their connections to their historical ties. While watching the play I was reminded of the same artistic conventions from the African American Art exhibition on show at the Muscarelle, the College's on campus art museum. The images in the exhibition portray scenes of daily life of African Americans from the urban inhabitants of northern cities such as the painting by Allan Crite entitled "School's Out." Similar to the enthusiastic "juba," a traditional African song and dance featured in Joe Turner, the painting captures the vibrant essence and cultural ties within the community.
Both the play and the exhibition explore different African-American archetypes and how they relate to a collective identity. For example, in the play there is a character that is a conjure man or southern medicine man; similar to traditional African healers, he holds a pivotal and social role. Throughout the play he treats the spiritual and emotional illnesses that affect the other characters and his methods parallel certain rituals of Christianity. Likewise, Romare Bearden's piece in the exhibition, In the Garden the "Prevalence of Ritual" Suite, depicts a conjure woman. Bearden's print is an allusion to the biblical story of the Garden of Eden, and the woman is a symbolic representation of Eve. While in the garden she gathers ingredients for potions and divination practices. The correlation between the play and exhibit reveal characteristics of the social hierarchy and functions of members in this racially homogenous society.
The play and the exhibition correspond in aesthetic themes as well. The majority of artwork in the exhibition is done in abstraction to express themes or the artist's emotional response to the subject. The simple shapes and flat representations of figures winnow them to their most basic form, and examples of this style are in the paintings by William H. Johnson. The wall label notes, "[The scene] affirms the idea that southern blacks maintained connections with the cultural heritage of Africa. Though seemingly primitive, the flattened forms of and deliberately naïve perspective… were informed by years of artistic discipline." In the same manner, the play had a minimalist set for portraying a boarding house and the religious hallucinations of one of the characters. The bare design prompted the viewer to focus on the underlying context of the play.
Both the theatrical performance put on by the College and the show from the Smithsonian at the Muscarelle explore the context and history of African American culture. The similarities are more extensive than what I have written, and it's interesting to compare and contrast the presentation of these common issues. As someone interested in the performing or visual arts, both have intriguing cultural representations of what it means to be African-American and celebrate the culture.
This exploration of cultural identity and diversity is one of the many ways that W&M celebrates what sets our students apart as well as their commonalities. One of the aspects that I enjoy most about W&M is the sense of community that accepts, embraces, and welcomes such unique individuals. Joe Turner had it's final showing this past Sunday, but the Smithsonian show will continue until January 6, 2013.  The cultural and ethnic groups, all of which are autonomously run by students, and the Center for Student Diversity, a branch of W&M's Student Affairs, include the entire campus in this discussion about diversity. Although these programs are not permanent the conversation about diversity is, and it's exciting to see the community engage in it.
September 22, 2012 by Aaron Barksdale
I've been thinking about the William & Mary community and how to best describe it to prospective students. The word that immediately comes to mind is super-hero. Each person that makes up the College of William & Mary is a superhero: a seemingly average person with special abilities that make him or her different and extraordinary. William & Mary is a place of growth, and it's where potential can be groomed and cultivated. Each person has their own power that enriches the community or enlivens the campus, and we welcome and appreciate every individual's unique talents. The students that are admitted are special, interesting, and diverse.
Here you may not meet anyone with retractable claws or the ability to fly, but you will notice their costumes from the bright yellow shirts of your OAs, to the suits at the Dean of Students Office, or the scrubs at the Health Center. And there are those who go about saving the world in plain clothes as RAs, providing programs and activities, or Service Trip Leaders, volunteering in the country and abroad aiding areas in need of assistance, or the students conducting research either in a lab or in the library. At the College you will have professors who will challenge and inspire you to develop your skills. They, along with administrators, will become your mentors, motivating and encouraging you to fulfill your potential. Your classes will provoke self-discovery and force you to ask questions about the subject and of yourself. You also will meet other gifted students, like yourself, who will accompany you along your collegiate journey. If you are reading this as a prospective student or as one of our newest tribe members in the class of 2016, then I encourage you to be brave, confident, and willing to take on new adventures at the College.
September 13, 2012 by Aaron Barksdale
I have worked in W&M's New Student Orientation program for the last three years: twice as Orientation Area Director (OAD), once as a Transfer Orientation Aide (TOA), and once as a Freshmen Orientation Aide (FOA). After participating in an Orientation program each semester since my freshman year, I'm surprised that it always seems new and exciting. The excitement is really a response from new students, freshmen and transfers, their families, and their OA's. My experience at William & Mary has been amazing because of the relationships I've formed with a diverse set of students and staff.
I have gained a greater appreciation for this institution from working in the New Student Orientation program and in the Dean of Students office. As an Orientation Area Director I, along with nine other OADs, was responsible for setting a good example for the Orientation Aides who worked under me. As a previous Orientation Aide I understood the weight of their role and the responsibilities that they have to shoulder. In addition, I communicated formally and informally with students and family members, as well as college faculty members and staff.
Thinking back to my own Orientation experience as a freshman nearly four years ago I remember the grueling heat of Williamsburg in August. Accompanied by parents and the student volunteers on Move-in Day, I entered the Botetourt Complex (Nicholson Hall 217), and set my things down in my new room.  I was greeted by the smiling faces of the two students who would be my Orientation Aides (OAs): Benton and Carmen. They were involved in a wide array of activities on campus, and they each were excited to share their love of college with students on our freshman hall. I can recall our OAs rallying us across campus to awkward mixers with people we had never met before. Large meals in the dining halls (the Caf), programs about the values of the institution, and then registration were some of the many events I remember being packed into the long week.
However, when the program was finished, what resonated the most was the enthusiasm of the student leaders and the program's strength in establishing those life-long bonds with the College that I can look back on and laugh. It was these bonds that encouraged me to apply to become an OA and continue sharing that experience with other members of the Tribe.
Likewise, that same motivation inspired me to become an OAD and assist in the new student transition to life at W&M in another capacity. Now that I have  completed my last Orientation program, I'm left with nostalgic memories, and a bit of jealously for the newest members of Tribe who are set for the best four years of their life. Congratulations once again 2016!
August 6, 2012 by Aaron Barksdale
Williamsburg may seem like an unlikely place for a culinary expedition, but there are same places here to find something delicious and unexpected to eat. One great option for students who are eating on a budget is half priced burger night at the Green Leafe Café. Affectionately known as the "Leafe" by W&M students and Williamsburg residents, The Green Leafe Café has been a staple for tasty food and drink for members of the Tribe and locals since 1974. Their gourmet burgers are a luxurious indulgence, like most of their menu, and yet the low price allows you to feel even better about giving in to your appetite. Every Monday night they showcase these delicious burgers by offering a fifty percent discount including a side of their amazing battered fries. When you order a traditional Green Leafe Burger you can expect certified Angus beef with all the customizable fixings: lettuce, tomato, onion, and pickles. However, there are more options if you're looking for more variety.
The Bacon Cheddar Burger, with the aforementioned toppings and honey mustard, is always my go-to choice on the menu. If you like a bit of a sweet-spicy flavor then you have to try the Bottle Cap BBQ Burger. It has a savory citrus chipotle BBQ sauce and red hot jalapeno slices; it's definitely a kick of flavor. Another flavorful choice is the Alpine Burger, which has melted Swiss cheese and one of my favorite toppings: sautéed mushrooms. For the fancy cheese connoisseurs taste the Black & Bleu deliciously seasoned with Gorgonzola cheese. There's even an option for vegetarians; Annie's Blackbean is a mouthwatering meal for vegetarians or meat eaters.
The Leafe also has a trivia that follows the deal on the burger entrées, so stick around after the meal to pick your brain in a few random categories! So now you know where to spend your Monday evenings; starting at 7pm be there, or be hungry!
July 10, 2012 by Aaron Barksdale
When most people think of Williamsburg their minds usually tend to think of the historical and educational side of the city; however, this town is a vibrant community where students have multiple venues to have fun. Duke of Gloucester St., affectionately referred to as D.O.G. St. by students and locals, has several cool spots that will capture the attention of teens and twenty-somethings. One of my favorite places to spend time is the Kimball Theatre. The Kimball theatre specializes in showing independent and international films, and it also is the site for the College's annual International Film Festival, and where many guest speakers of William & Mary and the City of Williamsburg give readings, speeches, or presentations. Not only do amazing events happen here, but for students there is a discounted admission rate. Also, for casual movie goers Movie Tavern is right down the street and their student discount is really awesome—can you name the last time you were able to see a movie for under ten dollars?
Another great place to hangout on the weekends or in the evenings is the delis, Williamsburg's local pub scene, located in between Scotland St. and Richmond Rd. For those twenty-one years or older, the delis are places where you can relax and have a drink and indulge in delicious food. One of the really exciting Williamsburg activities is trivia night at the Green Leafe, another one of the local delis, and teams really get competitive for the prizes that the restaurant offers. Although, you won't be able to purchase alcoholic beverages, the Leafe welcomes the under twenty-one crowd. Sports games are usually on the TVs, and with delicious burgers and themed nights such as "trivia night" they encourage people eighteen and up to partake in sober events.
Similarly if you're looking for sober hangout spots in Colonial Williamsburg, or as the campus calls it "CW," there is Tribe Square. Tribe Square is the newest addition of the College to the Williamsburg community. It's an apartment style dorm above the first floor, but the ground level is really where the entertainment is. There are four restaurants located on the first floor that will satisfy any appetite. The first is The Crust, which serves delicious Italian cuisine and is popular for its flavorful pizzas. In the evening time The Crust becomes something of a night club and is exclusive for those who are twenty-one and older. One of the other restaurants is MooYah, feeding students gigantic burgers, savory fries, and knockout milkshakes, this venue is one of the favored restaurants of Tribe Square. The final two restaurants are the Pita Pit and Subway, each offering the community a healthy alternative to the more indulgent eateries. All the restaurants in Tribe Square are open until 2 AM, so you can nourish your late night cravings throughout the weekend.
Karaoke at the Hospitality House is also one of the secret gems of Williamsburg night-life. Another option for anyone twenty-one and older, karaoke nights happen on Fridays and Saturdays and they are some of the most fun events in town. Let your inner rock star out and sing along to the best songs of hit artists; from Frank Sinatra to Beyoncé. Finally, fun times in Williamsburg wouldn't be complete without mentioning WAWA. Although it may seem like your average convenient store it is the central hub for student activity after 10pm throughout the weekend night. People are either on their way to or from a party, and are getting one of WAWA's delicious Philly-Cheese-steak subs.
Also, if you are interested in something beyond walking distance Busch Gardens is only a fifteen minute drive, AMF Bowling Alley is within a 10 minute drive of W&M, and  Jamestown Beach is within biking distance. So if you're interested in fun things to do off campus these are just some of the many things available to the College.
July 3, 2012 by Aaron Barksdale
Imagine gliding down the hills of Williamsburg, winding back and forth on the brick paths or carving out the smooth pavement. The wind is in your face along with a smile, and your headphones are playing your sound track to life. This is what it's like to be a skater in the 'burg. If it weren't for my time at W&M I may not have found one of my favorite hobbies: skating on my longboard. Whether I'm riding to class or doing a run down a hill for fun, I'm having such a great time.
Most people are disappointed when they arrive on campus their first year and they're unable to have a car. They obviously don't know the sweet sensation of skating. Getting around on campus with a car is not too convenient. It seems like the majority of parking spaces belong to faculty or staff, and the price of a parking pass may be a stretch if you're on a tight budget.
Given the relatively small size of the campus a great way to get around is on foot or bike, but the best way is skating. My roommate sophomore year showed me how to ride a longboard and I must admit there was a bit of a learning curve (no pun intended). When I first started I was like this:

I couldn't stand on the board for more than fifteen seconds before stumbling off, but once I got the hang of it I was riding around like a pro. So now I'm more like this:

 My current board is a souvenir from my W&M study abroad program in Cambridge, so technically I can say I've ridden all over the world. It's a great form of exercise and the most entertaining form of transportation. After getting used to skating everywhere walking from point A to point B will seem so boring!