About Zack Brown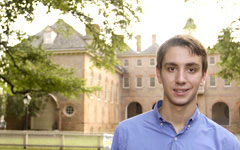 Hey everyone! My name is Zack Brown. I'm originally from Melrose, Massachusetts–right outside the bustling city of Boston. It was an exciting adjustment getting used to the smaller, close-knit community that is Williamsburg–especially the warmer winters!–but I came to feel at home here.
I was a Government major with a minor in Chinese. When I was not studying in Swem, I kept myself busy as a brother of Beta Theta Pi, a member of the Student Leadership Foundation and a member of the Undergraduate Honor Council. During my time at W&M, I have worked with the Development Ambassadors program helping our Tribe alumni maintain a strong connection to the College. I also tutored local middle school students with Project Phoenix, and during spring break I helped construct houses with Habitat for Humanity.
To me, one of the best things about William & Mary was the freedom and opportunity to do whatever it is you wanted to do. I loved my time at the College and always look forward to sharing my experiences with others. Go Tribe!