W&M Blogs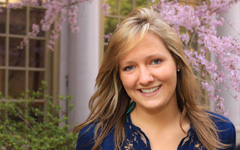 September 17, 2012 by Madelyn Smith
"I'm Good." "Great, Thanks!" "Doing well." "Having a great day!" On the outside, everything's fine… But, do you want to know the truth? Everyone struggles. Everyone faces adversity. Everyone feels insecure and everyone wants to belong. Everyone searches for love, longs to be needed and hopes to be OK.
It's all good. There is something to be said about acknowledging where you are and being who you need to be. We say that we're fine because of instinct, habit or simply because we don't want to "talk about it". And, that's OK too.  Just know that you're not alone. No one is perfect. Even those people who seem to have it all together, the perfect grades, the perfect hair, perfect car, perfect Facebook pictures; they're all searching too. Isn't that what life is? The process of discovering yourself. Getting to the place where you're not comparing yourself with others, but living life for yourself. Doing things you love to do, because you love them, not because someone or something tells you that you should. Part of discovering your heart and your passions is acknowledging these struggles and listening to them so that you can move forward.
I believe that you should experience one thing every day that puts you out of your comfort zone. You should seek these moments and embrace them, because it is those experiences that help you realize what you are capable of. Sometimes your greatest personal growth comes from those personal struggles and insecurities; those moments when you are completely out of your comfort zone. If you allow yourself to learn from failure and see imperfections as opportunities, you might just find that your weaknesses are your greatest strengths.