W&M Blogs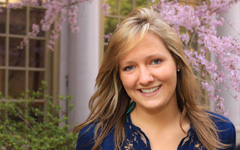 August 27, 2012 by Madelyn Smith
"Where are you from?" "What freshman dorm are you in?" "What introductory econ class are you taking this semester?" "Your mom cried when you pulled out of the driveway and didn't stop until after you moved in? Funny, mine too!"
There is nothing better than those first few, sometimes painfully awkward, days at orientation.
But let me tell you something, Class of 2016… YOU MADE IT! You have flipped the page and are currently writing the next chapter of your life. A chapter full of curiosity and wonder. A chapter where you can be any character, conquering any challenge and exploring any adventure… YOU control your story.
Three years ago I was exactly in your position with a blank sheet of paper in front of me, a pen in my hand and a few notes from my past beside me. I was so anxious to see what the next four years would bring and was dying to skip to the next chapter to see what the ending would be. Would I make friends at college? Would I live through my first chemistry class? How would I ever survive orientation that first week? I just wanted to know that I would be OK.
Class of 2016, I can promise that you will be more than just OK. In fact, chances are you are going to thrive at William and Mary! You were selected to be a part of this class because you are a remarkable student. Your hard work, determination and drive brought you to where you are today and you should be incredibly proud of yourselves. One of my favorite campaigns at William and Mary is the "I AM W&M" week. Say to yourself, "I _________ AM W&M" Because, you are. You are the essence of the College, the future of the College and the intellect that fosters the reputation of the College. Together you and your peers will make the College into what it will become. So, get out there and create the best story ever told!
If you don't know where to begin, start by taking initiative. Explore a facet of your character that you have always been curious about; dive into a new interest. Try a new sport or pursue a quirky passion. Experiment with different story lines and use the setting of this chapter, the College, to your advantage. William and Mary, it's students, faculty, staff and administration are here for you. These people are here to see you grow, help you discover and teach you how to learn.
Over the course of my time at the College, different characters have come and gone, taught me life lessons and given me pieces of advice. I have journeyed through frustrations, trials and great accomplishments. But, the beauty is that this is only one story. One story of 5,000 stories at the College of William and Mary. You have a chance to set your pen to the page for the first time in this chapter, what will you do?
Class of 2016, what's your story?