W&M Blogs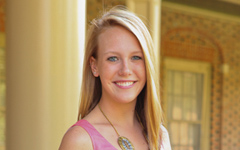 July 24, 2012 by Sam Fansler
Ok, so I am a huge foodie … for those of you who aren't really sure what I am talking about, Urban Dictionary has graciously provided us with a definition that I think suits me well.  "A foodie is a person who loves or a has a deep admiration for food and eating food. They might feel happy or very at peace when around food."  Jackpot!
But my main problem is that I don't have an ounce of cooking sense in my body. Try all I might, I always get something wrong in my dishes … so what is a foodie to do when she can't even cook for herself? First, I watch a lot of the Food Network wishing I could be like Giada or Bobby.  Second, I indulge and eat out a lot!  I am combining those two loves in this blog.  Ever seen the show "Best Thing I Ever Ate" where they interview Food Network stars about, yes you guessed it, the best thing they have ever eaten?  Well here is my version of Best Thing I Ever Ate – Williamsburg Edition, and it is from this adorable little bistro in Colonial Williamsburg called the Blue Talon.
First of all – let me explain how much I love mac n' cheese … That blue box is my go-to meal whenever I need a little comfort food in my life.  So I get to the Blue Talon and see mac n' cheese on the menu, and I'm a little skeptical at first because it is this fancy French restaurant, but I'll go ahead and give it a try. And it was absolutely delicious! It comes out in its little ramekin straight from the oven all hot and melty, and every bite is so rich and so delicious.  It makes my stomach growl now just thinking about it!
Yes, in case you were wondering, I did just write a 300-word blog about macaroni and cheese.  If you have made it this far, thank you for sticking with me! And go try that scrumdiddlyumptious Blue Talon mac n' cheese!