W&M Blogs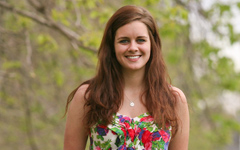 July 5, 2012 by Katie Fottrell
It's on days like these, when the temperature is 100 degrees and humidity is pushing 50%, that I like to reminisce about the days of our founding fathers. It's true.
I walk around all day with my fellow interns, in shorts and a t-shirt, and each time I'm giving a tour I swear it will be me last. This heat could break even the toughest of wills. Truthfully, I never knew I could sweat this much. I really am learning new things at William & Mary.
But back to the founding fathers.
Even though I'm sweating so much that my eyes sting, and I'm red-faced and out of breath from talking and walking in the heat, I always start to think about Thomas Jefferson. TJ had it bad. Full pants, stockings, leather shoes, dress shirt, jacket, (maybe a wig?) – imagine the horror! And the ladies, think of the ladies! Full stockings, corsets, petticoats, full-length dresses made of some rough-spun non-breathable fabric, plus a bonnet, with a flimsy handheld fan as your only weapon against passing out. I'm starting to have a hot flash just thinking about it.
Just take a second to let all of that sink in. Imagine the sweat. Feel the burn.
I always think back to TJ and the hot days he must have suffered through – living with no A/C, and far too classy to don anything less than his best outfit – and then I think: not only did he survive this, but he also did some serious business for America. Our hot dogs and hamburgers would all taste so empty and our sparklers and fireworks would have no spark or glimmer without TJ. Because of him our burgers taste of freedom and those pyrotechnic displays of light and sound instill the feeling of independence in our hearts and minds. It's a beautiful thing.
So try to remember that even though you may feel weak, your brow may be drenched with sweat and you may look like a literal "hot mess," TJ did it all with class and swagger, and we should all try to follow his lead.