W&M Blogs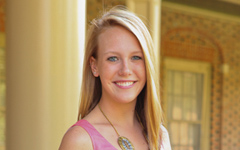 June 26, 2012 by Sam Fansler
Today something very exciting happened to me on a tour, a mom asked if my family was a "William & Mary family"—aka a family that has had a long-standing connection to the College with generations of Tribe members.  The question was brought on because I mentioned as I made the walk backwards throughout campus that my brother was going to be joining me in Williamsburg next year.
At first I thought it was ridiculous, coming from Chicago, to be considered a "William & Mary family."  I was the first in my family to even leave my home state of Illinois for college, and if you had asked me 3 years ago what my family's connection to the College is, I would have said absolutely nothing!  I have friends whose parents, and grandparents went here – and I even have a friend named Wren (as in the oldest academic building still in use in the country… drop!) – THEY are true William & Mary families—mine isn't, right?
But I was so excited to come to the realization on my tour that my family has, over the past 3 years, become a Tribe family.  Not only has my brother sent in his deposit check to enroll next year, but also all the way in Chicago, my parents are each driving cars around with green and gold decals on their windows and bragging to their coworkers about this "great school way down in Virginia."
So I guess the endless William & Mary paraphernalia that all of my family members receive from me at any birthday or Christmas has paid off! Tribe Pride has infected not only myself, but my parents and brother as well—turns out we really have become a "William & Mary Family" after all!