W&M Blogs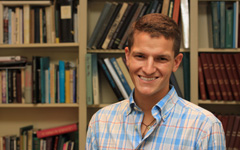 May 12, 2011 by Brian Focarino
Campus is emptying as underclassmen head off in the directions of their respective summer adventures, hugging and saying their goodbyes with a small "g," knowing they'll return again in the Fall. Starting tomorrow, however, the College will fill up with a different sort of crowd – the families and friends of those seniors coming to celebrate Commencement. Seniors, over the next couple of days, will be saying Goodbyes with a bigger, more final "G." Regardless of when we do end up returning back to campus, one thing is certain: we'll never quite be here again. Not in this way.
Commencement is coming, and with it our list of lasts: the last dance, the last walk across campus, the last mug night, the last time seeing many of our close friends in a very long time. It's hard for me to believe that the people I've always relied on will be half a world away, rather than half a minute.
Commencement comes on Sunday and my wanderings begin immediately. On Monday, me and my Haiti team will be up in DC making final preparations for our trip outward. On Tuesday morning before the dawn, we fly to Port au Prince for seven days. I'll work in an orphanage, in a hospital for children, walk amongst tent communities, eat dinner with a voodoo priest, fly to the mountains, ride on the back of a donkey up to an ancient citadel overlooking the sea, and visit community partners around the country. I arrive back in DC the night of the 24th and on the 25th I fly out to Europe for two weeks. There, I'll have breakfast in Paris, spend time rafting in the fjords of western Norway, and discover the beauty of Oslo and Stockholm, Sweden. I'm flying with a friend from Stockholm to Amsterdam for dinner. On June 5th, we fly from Amsterdam, through Kenya, to Tanzania. For six days, I'll climb to the top of Mount Kilimanjaro, the tallest free-standing mountain in the world, and look out through the clouds over Africa. After descending back down, I'll be on safari through the Serengeti for the next four days. It's only in late June that I'll finally be making my way back home for a period of time long enough to come to terms with the fact that I will have graduated. In the month and a half that I'm home, I'll be in the process of unpacking from four years of life at William and Mary and repacking for life to come in Edinburgh. I'll also be studying to take the LSAT in London in October. In mid-August, it's off to France, England, and Scotland with the family for more travels abroad. I'll move into the University of Edinburgh on September 10th and begin the process of orienting myself to a new school, a new country, a new program of study, and new people.
Between graduating from the College, serving in Haiti, backpacking through Scandinavia, climbing in Africa, studying in DC, and moving to Europe, there's certainly a lot going on, and much to look forward to. Looking around me, I know that it's only through our legions of lasts that life is breathed into an equally dizzying array of firsts.
This isn't the end of my time at William and Mary – it's simply the beginning of a different phase of my relationship with the place. Wherever I go, I'll always carry a bit of this College inside me. It will always be here that I learned to appreciate the singular beauty of being "home."
In the meantime? I'll continue blogging, right here where I always have. Follow along; together we'll discover all the places the road from home leads.
However far we roam
Brian